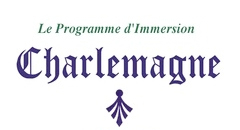 ---
A Fresh Start

Dear Families,
Other than some terrible smoky weather last week, we are off to a great start to the 2017-2018 school year!
It's a great time of year to commit to something new, challenging, and rewarding. For new families, it may be intimidating to raise your hand and offer help, but that is exactly what we need! This school's success is based on the efforts of many dedicated and talented parents and family members. Whatever your superpower, you are invited to contribute! We have many fun events throughout the year, important and valuable opportunities to host a French intern, and fundraising goals to reach.

How to get started? Be sure and join us on Sept. 19 for Curriculum night. This will start at 6 p.m. for 1-2 grade parents and then join us for an all parents meeting at 6:45 p.m. where we will introduce staff and PTO chairs and give you an opportunity to sign up for committees that you may be interested in. At 7:20 p.m., the grade 3-5 parents will meet with their teachers. This is a great time to learn what your child will be learning in the coming year.
We also have an immediate need for someone to coordinate the upcoming Readathon
. The Readathon is the first fundraiser of the year, and the students really love participating! Interested? Contact Debra McIntosh at
debralmcintosh@hotmail.com.
We also hope everyone can join us for our first PTO meeting on
Sept. 26 at 6:30 p.m.
Come and learn what is happening at our school and how you can get involved with all kinds of activities.
---
Upcoming Events
Sept. 12-16: 5th graders to Canoe Island
Sept. 19: Curriculum Night
Sept. 26: PTO meeting 6:30 p.m.

---
Welcome Interns!
A huge welcome to our five native French-speaking interns for the 2017-18 school year! We are so glad to have you be an important part of our children's education.
Clémence Courrech - Kindergarten with Mme Elise Salmond
Amira Begriche - 2nd Grade with M. Robin Chappell
Isabel Auzal - 3rd Grade with Mme Anou Hampshire and Mme Ariel Boggs
Mathilde Beguin- 4th Grade with Mme Jana Kincaid and
Mme Shelli Hopper-Moore
Guillaume Page - 5th Grade with Mme Carrie Grabowski and
Mme Adrienne Carlson
And thank you, Charlemagne families! Your support through donations, acting as host families, and in many other ways, makes it possible for us to welcome these great interns on campus. If your family might be interested in hosting an intern, please email charlemagneinternprogram@gmail.com for more information.
To learn more about the interns throughout the year, please join the French Intern Network Facebook page.
---
Introducing the AAC STEM Shuttle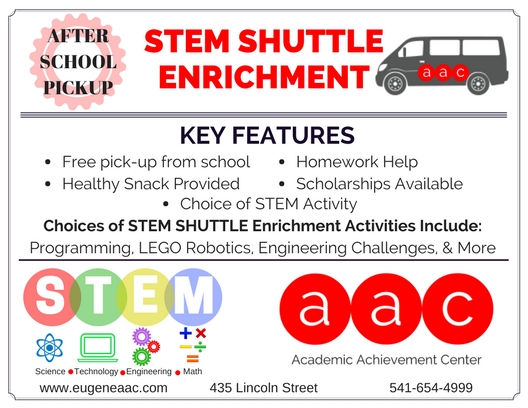 Our shuttle will pick your child up from school and bring them back
to the AAC for a healthy snack, homework help and STEM enrichment,
including: LEGO Robotics, Computer Programming, Engineering
Challenges, Circuits, and more! Visit our website for more info and to
request service to your school!
---
Fall After School Golf & Tennis Starts Soon!
All levels K-6 th are welcome whether you are brand new, or you are trying to earn your next TGA color level. TGA brings the golf course and tennis court to you, making it convenient and affordable to learn and play golf or tennis right on your school campus in a fun and safe environment. All equipment is provided! Financial aid is available!
Sign up today at www.playtga.com/soregon!
Tennis – Wednesdays 2:55-3:55pm
Golf -Fridays 1:00-2:00pm
Location: Charlemagne playground/field/gym
---
Charlemagne Chess Club
Charlemagne Chess Club will begin Friday, September 15, 12:45-2:15PM, meeting in Room 7. We have an awesome chess club, and the Charlemagne team has finished 1st or 2nd at the state tournament for the last 6 years! Your child will be very welcome to join us (no experience necessary). The period will be divided into times for lessons, as well as plenty of play time. You can go here to register: http://www.southsidechess.com/clubs.html.
Or you can call Jerry Ramey 541-232-0328, or email at southsidechessclub@gmail.com.
---
Repeated from Previous Weeks
The articles below were in a previous week, but are included again for your reference.
---
Parent Interest Surveys Due Sept. 15
Charlemagne has an amazing and vibrant community of parent volunteers and we need YOU to be a part of it! Whether you have time for just a quick one-hour task, or can commit to an ongoing position, we need everyone's help to make things run smoothly. Not free during the day? There are also ways to help out from home in the evenings. Even if this is your first time with a Kindergarten student, volunteering will introduce you to other parents and staff, along with the satisfaction of contributing to the outstanding education your students receive at Charlemagne.

Please fill out the Parent Interest Survey, or pick up a paper copy in the office, and let us know your interests and abilities.
Your time and energy will be greatly appreciated!

---
Back to School Notes

1) If your 1st or 2nd grade student has recently outgrown pants, rain jackets or gently used shoes please bring them to the office.

2) Speaking of clothes, please label all coats, sweatshirts, sweaters, rain jackets, (basically anything that might be taken off at school) lunch boxes, water bottles, backpacks, etc. Anything with a label will be a lot easier to get back to you when it is lost than if there is no name on it.

3) Bernadette is looking for some creative folks to help with bulletin boards and display cases. If you'd like to help with this please check in with her in the office
4)
A reminder that the school supply contribution covers all the supplies purchased for your students from pencils, erasers, papers, to notebooks, rulers, and planners - and it also covers the costs of field trips. By making the suggested contribution of $50 per student we can be sure to have plenty of supplies all year long. Don't forget a couple boxes of tissues as well. To the folks that ordered a case from Amazon to be delivered directly to the school last year thank you!
5) Soon after school begins,
profile updates
will be sent home so that you can update address, phone numbers, and emergency contacts. If you moved recently, you will need to bring in
original documents
. Please follow the following link to see what is required by the school district:
http://www.4j.lane.edu/instruction/enrollment/residencyproof/
6) A Reminder that fidget spinners are not allowed at school at any time, so please leave them and all other toys at home.
---
Shop at Market of Choice? Make Money for Charlemagne!

It's an easy way to fund-raise for our school, at no expense to you.

Sign up

with eScrip and select Charlemagne (ID#XXXXXXX).

Shop at Market of Choice and pay with your registered cards to earn up to 4% for your favorite school or nonprofit.


---
Safe Routes to School
September is a great time for active transportation like walking and biking to school, whether it's once a week or every day. Learn more on why and how your child can walk or bike to school from 4J's Safe Routes to School program.
---