Dear Friend of Heart for the World,
A few weeks ago, we felt a Spirit-led urgency to finish and send out a Pre-Release of our new song, "Awaken Us" for radio airplay across America. This song is a prayer of humble repentance, and an urgent cry for awakening in our hearts as Christians. After sending this song out to only 400 radio stations, we almost immediately began to get an overwhelming response we did not forsee... it was a miracle in direct answer to our prayer team's requests before God!
First:
Anne Graham Lotz
heard and shared our online listening page with over 100,000 prayer partners who signed up for her "777 Urgent Call to Prayer". Anne wrote,
"This song has moved me to tears as it expresses my heart's cry for revival."
What an unexpected blessing upon this new song release!
Click below to listen and read testimonies from other listeners: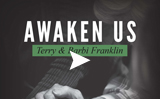 Anne Graham Lotz
also posted our listening link on facebook where over 2200
people responded
to the song and over 1,000 people shared it. She also tweeted this to more than 9,600 followers which was also re-tweeted numerous times. We are humbled by God's favor on this song. You can read more comments at the play link above (just click on the picture).
Because of this,
as well as getting immediate radio airplay across the country, we were blessed to get a large influx of encouraging emails and responses from faithful prayer warriors who's hearts were stirred by this song's message and production.
Forward this e-Newsletter to a friend
Second:
We have also now been told by several nationwide prayer organizations that they would like to use our song to inspire their prayer partners across our nation during some of their national prayer initiatives in the near future. Each of these organizations have continued to be on the cutting edge of God's heart for our country!
Learn more
about these prayer movements as well as read the story that inspired this brand new song. Stay connected with us and other worldwide prayer initiatives through our
prayer and revival website at:


Get up-to-date information on nationwide prayer movements
Learn about the story that inspired our new song
Download prayer guides, learn how to pray with power, etc
Listen to inspirational media to encourage revival in your heart
We can honestly say, "We hear the sound of a heavy rain coming..." But only IF, like Elijah, we will put our faces down, humble ourselves, repent, and cry out to God in unity together to heal our land! We MUST persevere in prayer for a true Heaven-sent revival and awakening to come!