Giving Tuesday - Today
You Will be Making a Difference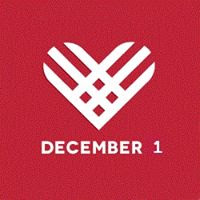 We know the holiday season kicks off with a lot of special days (Black Friday, Small Business Saturday, Cyber Monday). But, perhaps the day that has the potential for the biggest impact is today, Giving Tuesday. Here is your opportunity to join with thousands of others who are reaching out to non-profits all over the country; taking a minute to make a donation and give a gift that will truly make a difference.

Our goal today is to raise $5,000 for our public spay/neuter no-cost voucher program. Since 2011, we have been fortunate to secure $50,000 in grant funds to provide spay/neuter vouchers for more than 2500 pets whose owners needed help to do the right thing. MEOW has contributed an additional $15,000 to keep the voucher program running between grants. Raising $5,000 will provide another 250 spays and neuters. How many litters will that prevent? We're not exactly sure, but we know this: it's the best gift we can give to Be The Change for those 250 cats.
Here's just one of the many appreciative comments from voucher recipients.

"Hello, thank you so much for this. There are no words to express how grateful we are." – Amy

Help us provide this critical service to help others Do The Right Thing.
---
all nine lives are precious...
Ollie's Story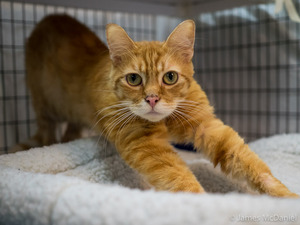 We get calls every day from people asking us for help, to accept a cat in need of a second chance. Several weeks ago, we were fortunate to meet Olie. He had managed to get himself locked in a shed. By the time the homeowner happened to need an item from the shed, the poor cat was

emaciated and extremely dehydrated and his fur was sparse. He was surely near the end. Once he was safe at the shelter, eating well and treated for parasites, he quickly began looking and feeling better. Olie is an absolute angel. Although he has now found his forever home, this wonderful boy was with us long enough to remind us of the critical work we do every day.
---
Holiday Craft Bazaar & Bake Sale
This Saturday December 5th in Kirkland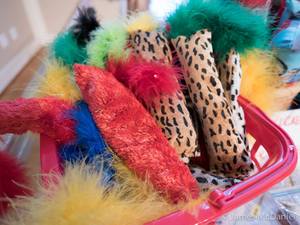 12 pm - 5 pm

The Chapel at Northlake Unitarian Universalist Church
308 4th Ave S

MEOW volunteers and supporters have been busy crafting and baking to fill the tables at this year's holiday bazaar this Saturday. For your shopping pleasure there will be cat toys, scarves, hats, bedding, jewelry, holiday decor, and of course lots and lots of home baked treats. These are just some of the items that will be available this year. Stop on by, and do some shopping, all to benefit the animals of MEOW. Then, head over to the shelter for our annual Holiday Open House for some refreshments and visit with other supporters and of course our feline residents.

Free parking and the Chapel are located behind the church on 4th Ave S.

Directions
---
Chloe, Chrissy and Ginger
Three's Company
Although they didn't all start their lives together, these three kitties would love to be adopted together. If you visit them in the community room at the shelter, you can see just how bonded they are. Chloe and Chrissy thought they had a forever home a few weeks ago, but it just wasn't quite right. When they came back, we could tell Ginger was beyond ecstatic. Maybe that home wasn't right because they were all meant to be together. That's what we think anyway. If you have room in your heart and home for three cats who won't be in your face, and will be each others' best friends, please come meet them. We're hoping that they truly will be home for the holidays!

Here's a short video where Chloe seems to be willing to take the first watch at the shelter, just in case their forever family is coming today. She'd really like Ginger and Chrissy to help out a bit, but no such luck. Could Chloe be watching for you? If so, hurry to the shelter and meet them all.
---
Your Holiday Shopping Can Help MEOW
Gifts That Save Lives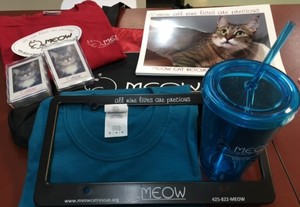 MEOW Merchandise -- Our logo says it all, "all nine lives are precious". This holiday season, give the gift of MEOW with a purchase of any of our great MEOW merchandise. New this year we have our commemorative playing card deck (celebrating 20,000 lives saved) filled with great pictures of our supporters' cats and dogs, a tasteful car magnet, and an understated window cling. We also have t-shirts, hoodies, ¾ zip sweatshirts (each in a variety of colors and sizes), license plate frames, travel cups, messenger bags and more. Many of these items will be available for sale at our Holiday Bazaar on Dec 5th at the Unitarian Church at 308 4th Ave S in Kirkland. Or, stop by the shelter during open hours and pick up the perfect items to stuff those stockings and help advertise MEOW.

Online Shopping--


Fashion Project -- Are you a designer label shopper? You can shop Fashion Projects' inventory of gently used designer label clothing. If you purchase an item that was donated by a MEOW supporter 55% of the purchase price is donated to MEOW. If you have designer labeled clothing, shoes, handbags, etc. that are gently used but are no longer on your "must have" list, you may donate them to Fashion Project and list MEOW as the charity you'd like to help. Either way, MEOW benefits. To find out more about Fashion Project, here's the link.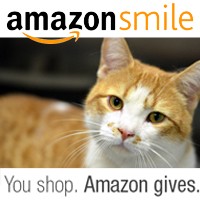 -Amazon Smile Foundation will donate .5% of your qualified shopping purchases made through smile.amazon.com. Select Mercer Island Eastside Orphans and Waifs (that's our full name) as the recipient. It works just like amazon.com and your account is the same. It costs nothing and it's a wonderful way to help the cats and dogs of MEOW, each time you shop. Here's the direct link.



-Link your Fred Meyer Rewards Card to MEOW Cat Rescue by following the link below (MEOW is organization 80427). Whenever you use your Rewards Card when shopping at Freddy's, you will be helping MEOW earn a donation from Fred Meyer. At the end of each quarter, Fred Meyer will make a donation to participating nonprofits based on the accumulated spending of the Rewards customers linked to each nonprofit. If you do not have a Rewards Card, you can sign up for one at the Customer Service Desk of any Fred Meyer store. Learn More.

-Register with iGive.com and shop through our portal, www.iGive.com/MEOW. From 2% - 26% of your purchase price is donated to MEOW by the participating business. There are over 1300 businesses in iGive.com, including pet supply stores, department stores, travel sites, booksellers, office supply stores, ebay, etc. The amount of the donation varies by business.
---
HAPPY HEALTHY CATS
How Long Should You Leave Your Cat on His Own?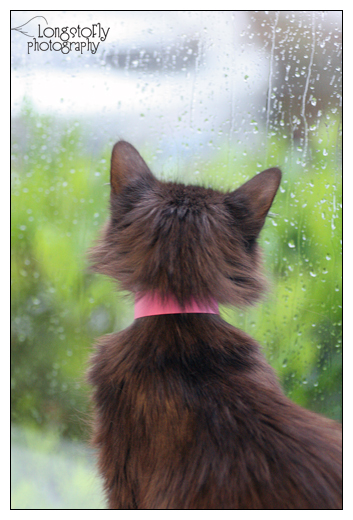 During the holidays, many of us find ourselves heading out of town to visit friends and family, for a weekend or longer. While cats don't seem to need the same level of care and attention as dogs, it may be surprising what experts say about leaving our feline friends on their own.

Dr. Debra Primovic, veterinarian and managing editor of PetPlace.com, believes strongly that the longest someone should leave their cats is about 24 hours. This is why. She's seen several problems from cats getting sick and no one being there to watch, know and help. There are a few conditions – such as feline urinary obstruction from which cats can die in less than 3 days. Dr. Primovic believes it is best to have someone check your cats twice a day and offer them a little of their favorite canned foods, making sure all cats are eating and accounted for. Ideally – your pet sitter will also spend a little time playing with them or sitting around – even if that means watching a movie and just "hanging out".

In the absence of an accident or illness, a cat left alone with what we believe is plenty of dry food and water could easily tip over the water bowl and eat all of the food on day one and be without food and water until you are home. A time delayed food dispenser and recirculating water fountain would help ensure this didn't happen, but even with these wonderful devices, the belief is that leaving cats for more than a day or two without care is not a good idea.

Other than food and water, there is the litter box. Your cat may not appreciate having to use a full litter box, which means you may come home to a few surprises.

Although some cats may do just fine on their own for a few days, there are many reasons why leaving them alone for more than 24 hours may not be a good idea. Having a trusted pet sitter or a pet savvy friend stop in once or twice a day to make sure everything is going OK will make your time away less stressful and lonely for your feline family members. And you can enjoy your trip, knowing your cat will be happy and healthy when you return.
HAPPY ENDINGS
Bailie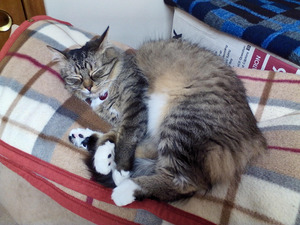 The Purrfect Gift!
Read More about Bailie

Meu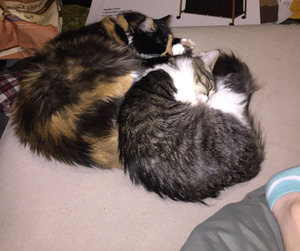 Fitting Right In
Read More about Meu

Have a great Happily Ever After story?
Share Your Happy Ending with us.

Banjo-Adopted!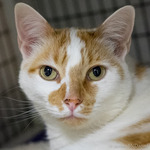 Pet Photos with Santa Claus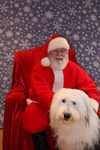 Weekends through 12/20 we'll be having photo sessions with Santa. Up next, on 12/4 is Mud Bay on Broadway at Pike.

See Santa's Full Schedule

Dec 5th Only
Photos with The Grinch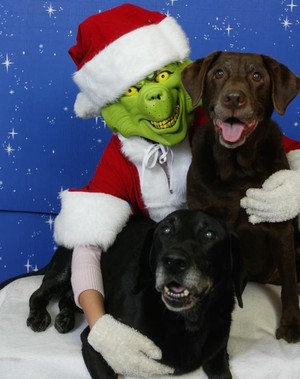 At Dooley's Dog House
more details


If you'd like to share your MEOW experience, we'd love to have you rate us
Write a review of us on yelp

MEOW Earns 2015 Top-Rated Award from GreatNonprofits (thanks to your reviews)!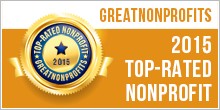 Share your experience with us on Great NonProfits

Visit MEOW on the Web

Follow MEOW on Facebook

Help MEOW with Your Fred Meyer Rewards Card



Last quarter FM donated $568 to us, a result of 150 card members. Learn More

Donations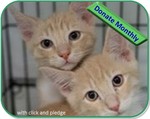 We are now able to accept recurring donations on-line via ClickandPledge
Donate Today-
It Makes A Difference
Online with Paypal
Check
Make checks payable to MEOW Cat Rescue or Mercer Island Eastside Orphans & Waifs and mail to:

MEOW Cat Rescue & Adoption
P.O. Box 58
Kirkland, WA 98083-0058

A tax receipt will be provided

Supplies - Wish List
-Canned Kitten/Cat Foods
-Royal Canin BabyCat
-Royal Canin Special 33
-KMR (Kitten Milk Replacer)
-Clumping clay unscented litter
-Copy paper - letter size
-Postage stamps
-Kitchen size trash bags
-Paper Towels
-Hand Sanitizer
-Liquid Laundry Detergent (HE type)
-Liquid Dishwasher Detergent
-Bleach
-Costco Gift Cards
-Target Gift Cards

See Shelter Wish list at Amazon
DONATE YOUR CAR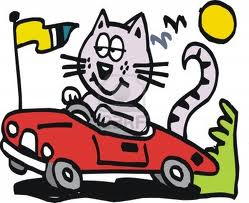 100% of the Proceeds
Benefit MEOW
Find Out How
CONTACT US
425-822-MEOW(6369)

10600 NE 68th St. Ste. F
Kirkland, WA 98033