MARCH 4, 2012 CONCERT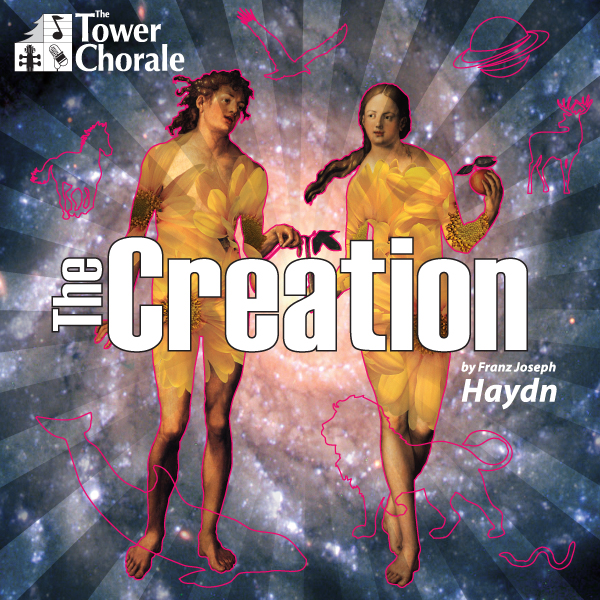 Under the direction of Maestro Patrick Godon, "The Creation", Haydn's masterpiece, is the featured work for The Tower Chorale's March Concert. It is an evocative piece, rich in orchestration, with a chorus that functions as a choir of heavenly hosts. The Chorale will be joined by four professional soloists.




(L to R) Christine Robertson, Soprano
Janet Mensen Reynolds, Mezzo-soprano
Javier E. Bernardo, Tenor
Jeffrey DeLay, Baritone
The Chorale will be accompanied by the International Chamber Artists (ICA) and Dennis Zimmer on harpsichord. Visit our website here.


Sunday, March 4, 3:00 p.m.
Divine Infant Church
1601 Newcastle
Westchester, 60154
TICKETS:
$18 Adults, $15 Seniors/Students,
Children 10 & Under Free
Tickets are available from Tower Chorale singers or at the door. Doors open 30 minutes before the concert.

THE TOWER CHORALE PERFORMS AT ST. MARY OF THE ANGELS CHURCH


The Tower Chorale and ICA have been invited to perform Haydn's "The Creation" on Sunday, March 11th, 3:30 p.m. at St. Mary of the Angels Church. Tickets are $30 general admission and $15 for students, ages 7 - 18. To obtain tickets or learn more information about this, click here.

26th SEASON OPENS WITH RECORD AUDIENCE

80 Voices were accompanied by a brass quartet, organ and a
special appearance by the youthful Highlands Show Choir.
The rousing performance in a large, acoustically fine church was enthusiastically received by record-setting attendance. Some unusual arrangements of popular holiday pieces brought kudos and comments from many regular and new attendees. Music Director, Patrick Godon, was very well-received.
Read more
about Patrick Godon here.


FOOD, FUN & FUNDRAISING


7th Annual Fundraiser Spaghetti Dinner
Saturday, February 18


Looking for a delicious feast and a way to support this fabulous group? J
oin members of The Tower Chorale for its Spaghetti Dinner. Menu: Spaghetti, Bread, Salad, Dessert, Coffee/Soda,
Cash Bar (Wine)
5:30 - 7:30 p.m.
Emmanuel Episcopal Church
203 S. Kensington
LaGrange, 60525

TICKETS (at the door):
$10, Children 10 & under $5

APPLEBEE'S FUNDRAISER
Monday, March 5

Join Tower Chorale members at Applebee's, located at 9380 Joliet Road, Hodgkins, 60525, for lunch or dinner from
11 a.m. to 11 p.m.
Applebee's will generously donate 15% of your bill to
The Tower Chorale.
What a delicious way to "give"
support!