OCTOBER 2011 Newsletter
Do you have a story to tell about successes and challenges at your school? Thanks to a grant from the Hawaii Community Foundation, HEM will be convening 'talk story sessions' for local families in early November. We know that "talking story" and keeping families engaged in education beyond the furlough crisis is important. We're starting to build the foundation for a Family Academy in the Kailua/Kalaheo Complex Area to help families stay involved. Research shows that when their families are engaged children do far better in school. In her book, Beyond the Bake Sale, Anne Henderson states, "The evidence is now beyond dispute. When schools work together with families to support learning, children tend to succeed not just in school, but throughout life." Currently over 30 states have Parent Academies that serve as an effective model to engage parents and families in meaningful ways. We will be partnering with principals, teachers and parents in the Kailua/Kalaheo Complex to develop workshops for an academy that will help parents build their capacity to get engaged.
Join us. Talk story with us. Check our website for additional information about how you can participate.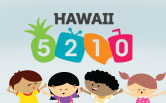 Healthy Families, Healthy Schools is a program of HEM that aims to

help parents understand the link between a healthy lifestyle and student success.

Using the five pillars of the First Lady's

Let's Move!

Initiative, HEM will provide resources to families to support them in their endeavor to eat healthy and be active.
About 28 percent of Hawaii's high school students are overweight according to the Hawaii Youth Risk Behavior Survey (YRBS). Although this rate is lower than the national rate of 32 percent, the Robert Wood Johnson Foundation study noted that Hawaii high school obesity rate rose from 10.5 percent in 1999 to 14.5 percent in 2009. Further, the National Association of State Boards of Education (NASBE) states that health and success in school are related, and schools cannot achieve their primary mission of education if students and staff are not healthy and fit physically, mentally, and socially. But the evidence also shows that making healthier choices can make a difference: healthy food choices and physical activity contributes to increased academic performance and a child's ability to pay attention in class.
In response to some of these childhood health issues, the Hawaii DOE now requires all schools to have a wellness policy. How is your school implementing its wellness policy? How do you know if a snack or beverage meets the Hawaii DOE wellness guidelines? For starters, you can log on to the Hawaii Action for Healthy Kids (AFHK) website for a list of items that meet the DOE guidelines. Here you'll find ideas for healthy snack foods and healthy fundraising. Another excellent resource, Hawaii 5210! , is an initiative to promote healthy eating and active living and prevent childhood obesity in Hawaii through a coordinated, collaborative, locally relevant health education campaign. On their website you will find ideas for supporting a healthy school environment that can help your school meet the DOE wellness guidelines. Doing something innovative at your school to support wellness? Let us know, we want to share your story.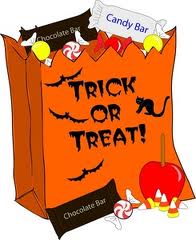 Halloween Horror or Happiness?
While it might be a fun holiday for those who love haunted houses and horror tales, Halloween can be something of a nightmare for parents, and teachers. Especially if your kids are in the early grades.
"The day after Halloween we see more temper tantrums, crying and tired kids than any other day of the year," says a Honolulu first grade teacher. And it's easy to see why. Mini mountains of candy might look festive as they tumble from your kid's trick or treat bag, but once the sugar high has gone, you can be left with a tired and cranky child. But how do you avoid the effects of too much sugar without seeming like a monster mom?
Here are a couple of ideas:
Trade candy for toys or books - establish a rule that all candy that's handed over may be exchanged for toy/book tokens. A trip to the bookstore the day after Halloween can become a tradition that kids look forward to as much as gathering candy the night before.

Or better yet, get your kids into the habit of sharing; Operation Soldier sends care packages to soldiers, and Halloween candy is one of the items they accept as a donation. Let your kids keep a handful of favorite treats and send the rest to people who'd really appreciate a sweet thought. Click

here

for more information.

On November 1st from 3:00 - 6:00 PM, bring your candy and trade it for sports equipment at Dr. Micaire Baxter's

3rd Annual Holiday Candy Trade In.

Candy can be traded

at 677 Ala Moana Blvd, Suite 605. For more information, call Dr. Baxter's office at 521-9686.
Other ideas? Let us know, we'd love to share!
Make a Difference
Civil Beat recently reported that Hawaii DOE special education teachers will loose their classroom supply fund. According to the article, the state's 2,000 special education teachers have each received a $1,690 classroom supply fund for the past 10 years. They and their schools use this money to buy pencils, workbooks and other items. They also use it to buy ink and the paper needed to print out lengthy forms required by law for students with special needs. When HEM asked a parent of a special education student how this funding cut impacts the classroom she responded by saying, 'Even more burden is being placed on dedicated teachers who work diligently with challenging situations and often pay out of their own pockets to get the kids what they need to learn. How can all students including special education kids be successful without the tools they need to succeed? It is like trying to ask a carpenter to build a house without a hammer.'
What can you do? Ask a special education teacher how you can help. Ask if you can offset some of their out of pocket costs by offering to purchase much needed supplies. This is definitely a situation where a little can go a very long way.


OCTOBER Events
October is Bullying Prevention Month, sponsored by the PACER Center - a parent center for families of children and young adults with disabilities—and cosponsored by NEA, the National Coalition for Parent Involvement in Education, and National PTA. It encourages communities to work together to increase awareness of the prevalence and impact of bullying on children.
PACER's National Bullying Prevention Center provides resources and information about activities and how you can sign up to become a Champion Against Bullying.
In honor of Bullying Prevention Month, the Hawaii DOE recently launched a series of student produced PSAs about bullying. Click here to view the PSAs.
October 6, Anti-Bullying Training for Youth Workers: A Practical Toolkit of Strategies and Activities
Hawaii Youth Services Network presents its quarterly membership meeting and workshop from 9 a.m. to 3:30 p.m. (8:30 a.m. registration) at the Ohana Airport Hotel. The course provides anti-violence and anti-bullying education and training for youth workers using an assets-based approach that focuses on positive youth development. The main objectives: Increase understanding of the nature and causes of bullying and violence; provide useful frameworks to develop effective solutions to the problem; and provide fun activities that can be incorporated into youth programs to nurture empathy, belonging, self-awareness, awareness of others, and communication skills to better deal with conflicts. Cost is $20, which includes lunch. Trainers: Alison Colby, M.S.W., social worker at Farrington High School; Ann Yabusaki, Ph.D., psychologist with Family Intervention Services at the Coalition for a Drug-Free Hawaii; and Karen Umemoto, Ph.D., of the Asian and Pacific Islander Youth Violence Prevention Center and UH professor of Urban and Regional Planning. To register, click here: http://www.123signup.com/register?id=cjxdp.
Growing Pono Schools 2011-2012 Campaign
As a cultural response to bullying in the schools, student groups are encouraged to actively Grow Pono—to foster respect, harmony and peace for everyone at their school.
E Ola Pono means to live with respect for and to seek harmony with those around you and the environment in which you live. The 2011-2012 Statewide E Ola Pono Campaign challenges student groups to create activities and projects which promote these traits within their schools and communities.
Monetary awards will be given to three first place and three second place schools in the Campaign's elementary, middle, and high school divisions. Generous donations from local businesses and foundations provide the funding for these awards.
This campaign is endorsed by the Hawai'i Department of Education, the Hawai'i Association of Charter Schools, the Hawai'i Association of Independent Schools, and the Governor.
Register your school here for the E Ola Pono 2011-2012 Campaign.
October 12, National Take Your Parents to Lunch Day
National Take Your Parents to Lunch Day is about communication—talking to your school and to your child to learn about what's going well, and how you can work together to make school food even better. This event is part of National School Lunch Week (October 10th-14th), supported by the School Nutrition Association with the theme "School Lunch: Let's Grow Healthy." Learn more about how lunch can help kids grow strong and healthy through the School Nutrition Association's special site for parents,Tray Talk.
October 13, Children & Youth Summit
Display the courage to make a difference by attending the 2011 Children and Youth Summit, hosted by The Hawaii State Legislature's Keiki Caucus. You can stand and work for a better and brighter future. You can be what our country and our world is in search for…leaders, leaders who are not afraid to do everything in their might in order to better our society. The summit will be held from 8:30 a.m. – 1:30 a.m. at the State Capitol. Registration must be received by 4:00 p.m. on October 4th.
October 15, Middle School Conference
The Hawaii Association of Middle Schools will hold its annual conference at Ewa Makai Middle School from 8:30 a.m. – 2:30 p.m. Register here.
October 16, Honolulu Academy of Arts, Family Sunday
The Society for Creative Anachronism turns this month's Family Sunday into a medieval fair at the Honolulu Academy of Arts. Kids can don helmets and battle knights, and the LEGO Enthusiasts Association of Hawaii (L.E.A.H.I.) wows the crowd with outrageous creations. This event is FREE and is from 11:00 a.m. -5:00 p.m., with activities ending at 3pm. Click here for more information.
October 16 - 22, Teen Read Week
Teen Read Week is an initiative of the Young Adult Library Services Association (YALSA). Teen Read Week started in 1998. This year's theme is Picture It @ your library®, which encourages teens to read graphic novels and other illustrated materials, seek out creative books, or imagine the world through literature, just for the fun of it. Libraries statewide will host free programs focusing on this year's theme, Picture It @ your library. Check with your local library for events or visit the Hawaii State Public Library for details.
October 27, Can you be Plastic Free?
Presented annually by Luke Center for Public Service, the Service Learning Teacher Institute (SLTI) is a program for educators from both public and private schools. The goal of the Institute is to provide resources for teachers that help them develop curricula related to service learning, sustainability and social entrepreneurship in their classrooms. The Institute provides a collaborative learning environment where teachers learn from one another, as well as from experts in the field. The topic for this training will focus on schools reducing single-use plastics for Hawai'i's health. Registration begins at 3:45 p.m., and the workshop is from 
4:00 p.m.– 7:45 p.m. 
Dinner will feature locally grown food.
Twigg-Smith Pavilion, Punahou School. Register by October 17.
Hawaii 5210! Songwriting Contest
Hawaii 5210! needs your creativity! Enter their songwriting contest by writing a 'healthy' jingle that makes people want to get up and move. All entries must be received by October 31, 2011. The winner will be announced on November 4, 2011 and awarded $2,000. Requirements for submission can be found here.


Grant Opportunities
State Farm Insurance and Youth Service Learning Good Neighbor Grant
The purpose of the Good Neighbor Service-Learning Grant is to promote service-learning projects in K-12 public schools across the US and Canada. The focus of the grant is to engage participating youth in service learning and promote academic achievement, workplace readiness, and stronger communities. The semester-long projects (a Semester of Service) should launch on Martin Luther King, Jr. Day of Service (January 16, 2012) and culminate on Global Youth Service Day (April 20-22, 2012). Log on to http://www.ysa.org/goodneighbor/ to apply.
Grants for Educators
The National Education Association (NEA) Foundation supports new ideas and practices to strengthen teaching and learning. Their goal is to fund and share successful strategies to educate and prepare students for bright and rewarding futures. Go to http://www.neafoundation.org/pages/educators/grant-programs/ for additional information.
Produce for Kids
In an effort to educate kids on the new MyPlate guidelines and encourage making "Half Your Plate" fruits and vegetables, PFK is challenging classrooms across the country to put their eating habits to the test! Simply track students' healthy eating routine for a week and incorporate fruits and veggies into a lesson plan, and your classroom could be the Play With Your Produce Challenge victor! Entries must be postmarked by October 30, 2011.
Who Can Enter? Kindergarten through 6th grades as well as all home school and afterschool programs. Entries are limited to one per classroom, although multiple classrooms from the same school may enter the contest.
Prizes: Three (3) winning classrooms will receive the following:
1st Place: $1,000 Cash Reward for the classroom

2nd Place: $750 Cash Reward for the classroom

3rd Place: $500 Cash Reward for the classroom
http://www.produceforkids.org/teachers
Whole Kids Foundation Garden Grant
Learning about the process of growing food helps children develop a deep understanding of the connection between healthy eating and a healthy body. School gardens offer an opportunity to integrate math, science and health curriculum into a dynamic, interactive setting. They also provide a base of knowledge that allows children to take an active role in healthy food choices.
School garden grant applications will be accepted through 5pm CST, December 31, 2011. Learn more about the application process and apply for a school garden grant.
Home Depot Garden Grants
The National Gardening Association and Home Depot have teamed to offer Youth Garden Grants. Five winners will receive gift cards valued at $1,000, and ninety-five winners will receive $500 gift cards, for the purchase of gardening materials and supplies specific to the needs of their program from their local Home Depot store. Schools, youth groups, community centers, camps, clubs, treatment facilities, and inter-generational groups throughout the United States are eligible. Applicants must plan to garden with at least 15 children between the ages of 3 and 18 years. Applications must be submitted by November 28, 2011. Click here for application and eligibility criteria.
Safe Routes to School Mini-grants
The National Center for Safe Routes to School is now accepting applications for 25 mini-grants of $1,000 each. These mini-grants support the goal of Safe Routes to School (SRTS) programs, which is to enable and encourage children to safely walk and bicycle to school. SRTS programs are implemented nationwide by parents, students, schools, community leaders, and local, state, and tribal governments.
Mini-grants fund activities that range from the nuts and bolts that help start or sustain a program to new ideas that explore the range of benefits of safe walking and bicycling. Selected mini-grant proposals will fit a school's identified needs and interests around safe walking and bicycling. The mini-grant activities should occur between January 1, 2012, and the end of the Spring 2012 semester. Applications are due Wednesday, October 19, 2011. Visit the National Center's mini-grant program for additional information.
The Leavey Awards - Honoring Excellence in Private Enterprise Education
Since1977, the Freedoms Foundation and the Thomas and Dorothy Leavey Foundation have honored outstanding teachers for bringing passion and creativity to their classrooms as they teach students about entrepreneurship and the free enterprise system. The awards program recognizes educators at the elementary, junior high school, high school, and college levels for innovative and effective techniques in teaching entrepreneurship and the free enterprise education. Up to twenty cash awards are made annually valued at $7,500 each. One meritorious award of $15,000 may be made for an outstanding entry. To date, the program has recognized nearly 500 teachers from across the country and awarded over $3 million. The deadline for entries is November 1, 2011. Click here for application and eligibility criteria.


Got Questions? Need Information? Want to Share a Story? Let us know. We'd love to hear from you. Email us at anndavis@hawaiieducationmatters.org or visit our website at www.hawaiieducationmatters.org