Dear Tender Care Supporters,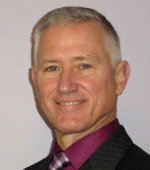 We at Tender Care hope everyone had a blessed Christmas and the New Year is off to a good start. As you may know, I am the new executive director. After a long public service career, to include law enforcement, environmental safety and program management, I am eager to bring my passion for service to Tender Care. In only a few short weeks on the job, I can't tell you how impressed I am with the Tender Care staff. Our clients are truly in good hands.
2018 will be a banner year for Tender Care. First of all we are celebrating our 30th anniversary, a milestone to say the least. In addition, we are going to increase our outreach efforts with a view to providing additional services.
Mark your calendars for our major fund raising events: Spring Fundraising Banquet in Westminster, Walk for Life Saturday Mother's day weekend, Fall Fundraising banquet. We are hoping to add at least one more event.
Tender Care sincerely appreciates your support, and I look forward to meeting as many of you as I can in the coming months. Please keep us and our clients in your prayers. Wishing you a Happy and Healthy New Year.
Vince Pacelli
Happy New Year from Tender Care Staff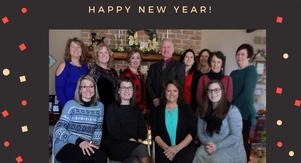 Sue, Jodi, Debbie, Vince, Mindy, Kate, Jackie K., Teresa
Cindy, Laura, Jackie H., Dominique
We are looking forward to serving our communities and making an even bigger impact in 2018! With your amazing help and support we will share love and touch even more lives!
In the month of January celebrate Sanctity of Human Life Month with us!
Co
ntact Debbie today to request our new Director, Vince Pacelli to speak and share about the work done at Tender Care and his passion for this ministry. 717-633-9685
Thanks Deep Run!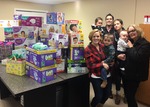 Deep Run held a Diaper Drive for Tender Care to help many women, babies and children. Th
ey provided 3289 diapers!
They have a congregation of approximately 100 people.
Such an amazingly generous group and a great impact in our community!
New School in the New Year
With the start of 2018, we will be teaching at Spring Grove Middle School for the first time. Yeah! For years we have been praying for open doors in other districts and this is a big one.
All 7th and 8th grade students will be hearing the Project W.O.R.T.H. presentations, learning about building healthy relationships, dating boundaries and the many benefits of waiting for sex until marriage.
Please keep us in prayer. It will be a very demanding schedule with combined classes over an eight day stretch. Pray for receptive hearts. Pray for good weather. Pray that our energy and health are sustained.
Thanks to each one of you for partnering with us.
Special Thanks to Knights of Columbus Taneytown
Knights of Columbus of Taneytown St. Joseph's Catholic Church collected over 2,000 diapers for Tender Care's clients this season.
This is a wonderful contribution that will help so many.
Can you help children with these material needs?
Similac Formula, Diaper Cream, Baby Wipes, Pacifiers, Receiving Blankets
Diapers sizes preemie, newborn, 5, 6 and pull ups, Gently used or new winter clothing all sizes Preemie through 4T, Winter Coats children's 12mth through 4T
All donations are given to those in need in your community.
Give a special New Year's gift to support LIFE!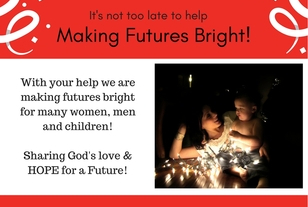 TenderCare is a 501(c)(3) Non-Profit Organization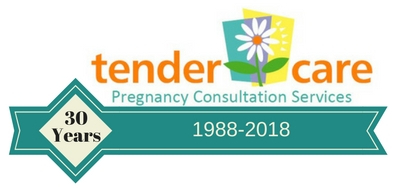 300 John St Hanover PA 717-633-9685 1844 York Rd Gettysburg PA 717-334-8613
95 Carroll St Westminster MD 21157 410-848-4023