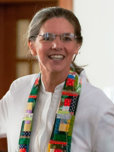 My first few weeks at Mt Carmel were packed with lunches. I had lunch or coffee with almost every committee chair, and lunch with those the Staff Parish committee thought would help me best understand the congregation.
One story was told at almost every meeting.
They told of a time when the church needed to grow physically. There was a vision for expanding the preschool and building a Fellowship Hall where everyone could eat together. Yet there were others who treasured the long-lived oaks on the property and did not want these cut.
The church agonized over how and whether to move forward. Then a tornado came through the area and destroyed the oaks. The conflict was gone and the church began to build.
This story scared me. Will God send a tornado every time we need to make a difficult decision? Can we make decisions when there are those among us who disagree?
I have been wishing for a tornado (I mean metaphorical, not actual) ever since June, when the Administrative Board and Council on Ministries began meeting together to discuss how to best revise the Sunday morning format.
In many ways our current structure limits how we can grow.
Partly the structure limits me. While I try to give my best at every service, I am often exhausted by the time we reach the service with the most attendance, the 11:00 service. More than that, I long for a time when I could meet with visitors before or after services—a coffee or lunch with the pastor—but our Sundays are so packed that there is little time for meeting with visitors.
But more importantly, the structure limits you. People seem to choose between being part of a Sunday morning small group OR attending worship service, but not both. It keeps us from growing as disciples.
It limits us from attracting families who want to worship together. The service most appealing to children and youth is 9:30, and yet that is the time when they leave for Sunday School.
The structure limits you. The service that has grown the most in attendance is 8:30 and yet most of our congregation has not experienced this consistently beautiful service.
At that first meeting in June, it seemed like there was a yearning to return to one service on Sundays. People who attend the 8:30 or 11:00 service miss seeing children. A visitor could come at these times and mistakenly believe that there are no children or youth.
But we discovered that there are a good number of people who deliberately avoid Sundays when we combine services. Even if we could convince them to attend, looking at the numbers—seating capacity and attendance—we soon realized this is not a solution. Most people don't want to step over someone else to sit in the middle of a pew. One combined service on Sundays would feel crowded, especially to visitors.
Without an obvious solution, the Admin. Board and Council on Ministries appointed a task force to develop talking points and proposals, which Gail Bolton presented at the Church Conference in October. Since then, members of the Administrative Board and Council on Ministries have gathered with small groups within the congregation to get feedback on these ideas.
Unfortunately, no clear consensus has come out of these discussions. People seem willing to make changes but only if there is a reasonable expectation that change will lead to growth. There is fear that change would have the opposite effect and lead to a decline.
What happens when change is needed but the answer is not obvious? When the answer is not found from focus groups or surveys?
As United Methodists, our practice is to elect leaders from within the congregation to both represent us and lead us. For eight months our leaders have been reviewing information and gathering feedback.
This Sunday the Administrative Board, with help from the Council on Ministries, will review the feedback and create a plan for moving forward. If you have not been part of one of the discussion groups, and want to provide feedback before the Sunday meeting, please provide that feedback
here.
Please be in prayer for the leaders of our church as they lead us in a new direction. Pray for a tornado—not the physical kind—but a fresh wind, the Holy Spirit to guide our leaders.
I'll see you this Sunday,
Pastor Cyndi