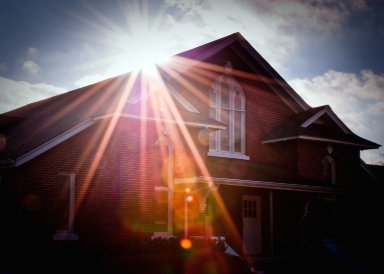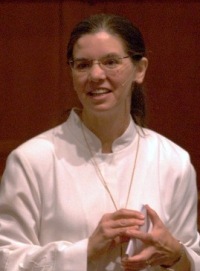 Fingerprints in Unexpected Places
Yesterday I attended a clergy meeting at Midway UMC. Much like our members, the Midway people are welcoming and serve delicious food. Much like our sanctuary, their chapel was built by the church's members in the 1920s.

Yet the Midway chapel boasts a feature that we cannot claim.

During the church construction the Midway members stopped for lunch—Rev. Hanson claims this must have been fried chicken—and evidence of that long ago meal remains. To everyone's surprise, when the crew stained the ceiling, grease handprints and fingerprints appeared.

I doubt that there are physical handprints and fingerprints in our sanctuary that have lasted since the 1920s. But I assure you that our church is covered with handprints and fingerprints!

Sunday afternoon I walked by the Fellowship Hall where the youth practiced for the upcoming dinner theatre. How many of our youth will be influenced by the time people like Hayne Thompson, Gail Bolton, and Lori Anderson have spent with them painting sets, blocking scenes, and cooking meals? I know their handprints will show up on these hearts!

Our youth are not the only people wearing handprints. This week the UMW honored Joyce Odom as woman of the year. If you visit Morning Star assisted living home with Joyce (and Neil), you will notice immediately the way residents respond. Their eyes light up when she enters the room. The residents' hearts bear the marks of her kind handprints!

When people visit our sanctuary for the first time, they often remark on the beauty of the room. I always agree. But for me, the room is most beautiful when the people—the body of Christ—gather and I can see Christ's fingerprint marks all over your hearts.

I'll see you this Sunday,
Pastor Cyndi
---
Sunday's Schedule - January 29, 2012

Remember that on Sunday, January 29th
there will be ONLY ONE SERVICE AT 10:30 AM!

Our 5th Sunday combined service will be followed by,

A SOUP & CORNBREAD LUNCH
provided by the Relay for Life Team.

All donations will support the
American Cancer Society's "Relay for Life."

We hope you will all be at church and then stay for lunch with your friends!
---
Oswald Brothers Band
Coming to Mt. Carmel!

Local Christian Rock Band, the Oswald Brothers, will be at Mt. Carmel on Saturday night, January 29th!

Tickets are $5.00 in advance from any youth or from the church office, or $7.00 at the door. Invite your friends and neighbors!
---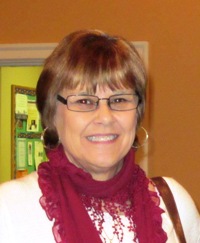 UMW "Woman of the Year!"
Congratulations to Joyce Odom, our 2012 UMW "Woman of the Year"!

There was a wonderful celebration on Sunday to honor Joyce, and everyone was delighted that her family could join us as well.

Joyce has served Mt. Carmel ministries faithfully as the UMW Sweet Shop Coordinator, member care volunteer, Bible study participant, and reaching out to the community via the Morning Star Assisted Living Center (just to name a few). Thank you, Joyce, for everything you have done and continue to do for the UMW and Mt. Carmel!

Thank you also to everyone (decorators and cooks) who helped to make our WOTY brunch such a success!
---
The Mt. Carmel Youth Group Presents


PIRATES and PETTICOATS!

A zesty pirate adventure dinner theater
by Pat Cook

FEBRUARY 10 & 11
7:00 PM

Adults: $20.00
Children 5-10: $10.00

(Childcare
with dinner
provided for children under five: $3.00)
Tickets will be on sale beginning Sunday, Jan. 29th, or contact office@mtcarmel-umc.org or (770) 449-4498. Seating is limited, so order your tickets today!
---
Mt. Carmel United Methodist Men's Retreat

On Feb. 3 – 5, the Mt. Carmel Men's Club will travel to Amicalola Falls for their winter retreat. All men are encouraged to participate. Please contact Steve Riviere for more information. (404) 473-6085 or sriviere@southernco.com
---
AROS Choir Festival and Training Event

Sunday January 29, 2012 from 2:30 PM to 4:45 PM
First United Methodist Church - Chamblee
4147 Chamblee Dunwoody Road Chamblee, GA 30341



Choir Festival:


Rehearsal, Saturday, January 28, 10 am until noon. If you wish to participate or have questions, please contact Rev. Beth Brown Shugart at bshugart@johnscreekumc.org

Choir will perform at 2:30 on Sunday. All workshops will follow this opening worship service.



Workshops:


Music & Worship
The Power of the Breath
Communications
Pastor/Staff Parish Relations Committee
UMC 201
Money 101
Trustees 101

Click here to register or call Katie Cook at 770-362-1002.
---
Wednesday Study Group Begins Matthew Study

THE WEDNESDAY NIGHT STUDY GROUP will begin The Gospel of Matthew study on February 8, 2012. The class meets at 7:00 p.m. in Room 112/114 downstairs. The cost is $10.00.

To register for this class, please contact Neil Odom at nonojo413@gmail.com or 770-827-2122.

---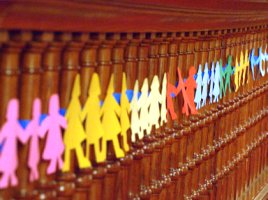 New Worship Arts Team Forming

Do you remember the images in the sanctuary during recent worship services?

Would you like to be part of a group that conceptualizes and creates the images for future worship services?

The Worship Committee has supported the formation of a Worship Arts Team for Mount Carmel. We will plan by season to illustrate the theme chosen by Pastor Cyndi and the Worship Committee. (Psst: The theme for Lent is "Journey to the Cross.")

We will have a brainstorming meeting for each season, then designate ad hoc subgroups or individuals to refine and implement the ideas developed. You can participate in the brainstorming or in one of the ad hoc groups or both!

We need all kinds of people: dreamers, photographers, seamstresses, computer experts, artists, floral arrangers, musicians, carpenters, crafters, collectors.

Please call the church office to indicate your interest or email Barbara Cooper (barbarascooper@comcast.net). The Lent planning meeting will be on Sunday, February 5, at 4:00.
---
Children's Ministry News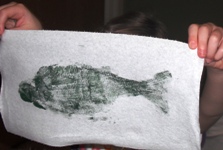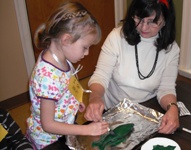 Fish Painting from last Sunday's lesson!
Since we are gathering togeth
er for the combined
service at 10:30 on Jan. 29th, Sunday School will not meet this week. There will be activities for younger children based on the scripture from Mark 1: 29-39. The children will go downstairs after the children's sermon.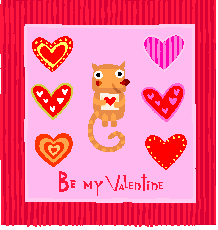 Valentine Workshop:
January 29th 3:30
A Card Making Workshop
for Children and Adults

It's this Sunday at 3:30 in the double classroom! Adults and children are invited.

Please sign up by Wednesday, January 25.
children@mtcarmel-umc.org

From Our Preschool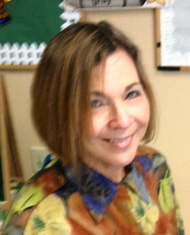 Meet Ms. Karen!

"My name is Karen Davis and I've been a Two's teacher here at Mt. Carmel for 6 years. I'm originally from Southern California and landed in Atlanta via Houston in 1999. I have two children; Jackson is 11 and Molly is 10. Both attended Mt. Carmel, which is how I ended up teaching.

Before I taught preschool, I was a Veterinary Technician for 6 years working in a small out-patient clinic in Houston, Texas. I always enjoyed working with animals and it was a natural leap for me to start working with children. Both jobs require equal amounts of love, patience, and a willingness to get a little dirty.

Mt. Carmel is such a special place for everyone. I feel blessed everyday that I get to work here with such an extraordinary group of teachers and that I get to sprinkle a little glitter on everything we do :) "

We have always had a blast with Miss Karen and go to her with all our animal questions!

This week marks our registration for the fall for students in the Preschool and church. We will register on Thursday and Friday in Fellowship Hall. Everyone should have received the enrollment package over the airwaves and returning students need only fill out the first three pages and update the Family History pages if there has been a change in the last year. We will have community registration on Wednesday, February 1, 2012 at 9:00 in Fellowship Hall. We hope to see everyone there!

Geof Johnson will be with us on Wednesday for a songfest dealing with manners. Even though our kids are the best behaved in Gwinnett County, it is always nice to have a refresher course. Everyone is invited to attend at 10:30 in Fellowship Hall. Don't miss this opportunity to hear some lovely music and to see your child in action!

We still have hats for sale! Lollie Hats are in the hallway for your viewing pleasure and we are so thankful for this fundraiser! Many thanks to Lollie for making the hats for us!

---
Please join with others in our church family in praying the thanksgivings and intercessions named in worship last Sunday and during the week:
CONCERNS:
J.W. Rikard
Jimmie Davis - in hospital
Anita Andrews
Phil Griffin's friend - grandmother died
Diane Bond's school, teachers, staff
Stephanie - surgery but not malignant
Kaylen Short's great aunt - ill
Gail Bolton's mother - health crisis
Ruby'Easley's brother Bill - cancer treatment
Gene Anglin - upcoming surgery
Donna Riviere's cousin - kidney cancer
THANKSGIVINGS:
Birthdays of:
Diane Bond, Daniel Smith, Lindsay Bolton & Ruby Bolton
Barbara & Tom Cooper's anniversary
Good youth ski trip - no injuries!
---
News to Share?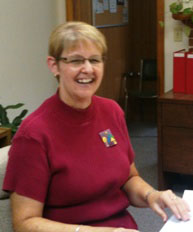 Do you have an article to include in next week's bulletin or newsletter?

Email these to Suzanne Foster or call the church office.
office@mtcarmel-umc.org
5100 South Old Peachtree Road
Norcross, GA 30092
770-449-4498
www.mtcarmel-umc.org