In the Newsletter this Week:
Children's Art on Bulletin Covers
Mission Moment
BBQ & Sweet Shop - October 4 & 5
Blessing of Animals October 6 - 4:00 PM
Red Cross Blood Drive Oct. 20 - 9:00 - 2:00
Church Conference - Oct. 20 - 2:30

Women's Book Club - October 11

Children's Ministry

Sunday School
Fall Festival - October 19 at 11:00
Christmas Pageant - December 8

Youth Collect Food for NCM - October 13
Preschool News

Moonlight Hike - October 19

Booth at Literacy Festival at Berkeley Lake Elementary
Thank You
---

Children's Art on Bulletin Covers

Thank you to Nicholas Follmer for his rendition of "The Burning Bush"
that was on the bulletin cover last Sunday!
Watch for more great artwork from our children on upcoming bulletins.
---
Mission Moment: Johnny Carroll
Johnny Carroll grew up in Norcross; his family has lived here since before the Civil War. His family helped start the church—the history room has a copy of the "resolution to form a church" signed by John Carroll, and the family name is on the stained glass above the sanctuary entrance.
Johnny graduated in 1965 from Norcross school and served in the Air Force 1967-1971.
He worked for the post office for over thirty years.
He has a daughter and two grandchildren, enjoys playing golf (his handicap is an 8 or 9) and ushers every Sunday at the 9:30 worship service.
You can view Johnny's Mission Moment
here
.
---
BBQ & Sweet Shop:
The Fall BBQ and Sweet Shop is THIS WEEKEND and lots of volunteers are still needed!
And remember to bring your friends and neighbors!
---
The Blessing of the Animals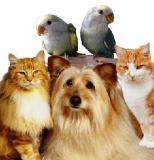 Sunday, October 6
4:00 PM
Join us on
the front lawn to bless these important members of our families!
All pets are welcome - with leashes and cages please!
---

Red Cross Blood Drive
October 20: 9 AM - 2 PM
Our next Blood Drive will be from 9:00 AM until 2:00 PM on Sunday, October 20 in the Fellowship Hall.
Since we have a weekend date, the Red Cross would like for us to schedule 50 donors for our drive, so PLEASE give if you can and invite your friends too!
Plan to give before church, afterwards, or before our Church Conference which begins at 2:30!
Please sign up
here
, using the code mtcarmelumc and help save lives!
---
Church Conference on October 20 - 2:30 PM
Mark your calendars now for our Annual Church Conference where w
e will hear details of the past year at Mt. Carmel, as well as plans for 2014.
If you are turning in a committee report for the Conference, please remember they are due in the office by Monday, Oct. 7th. Thank you!
---
Women's Book Club
The Mt. Carmel Women's Book Club will meet on October 11, 2013 at 7:00 PM at the home of Vicki Walden. This month's book is
Cold Sassy Tree
by Olive Ann Burns.
If you need a ride or more information, please contact Chris Bolton or Vicki Walden.
---

Children's Ministry News
Sunday School
This week's lesson is from Exodus 16:1-18 and is the story of manna or "Bread from Heaven". The people of Israel were now in the wilderness and were not happy. They did not trust God or Moses to provide for them. They worried and complained. God did not get angry with them, but showed his love by providing quail and manna. Our focus is how God took care of his people by providing food for them.
Our 3rd - 5th graders will be looking at the letters of the New Testament as they have almost completed their Learning to Use Their Bibles series.
Fall Festival: Saturday Oct. 19 11:00-2:00
The annual children's Fall Festival is almost here. We will have crafts, games, a hay ride, the monster truck moon walk, a cemetery scavenger hunt, cupcake walk, and crazy hair salon. Grilled hot dogs and chips will be available for sale to benefit the Wesley Walk for Others.
Fall Festival Needs:
volunteers: adult and teens
cupcakes: about 5 doz total
2 bales of straw
colored hair spray
hot dogs and buns
Please let me know if you can provide any of these. Thanks!
Christmas Pageant: December 8
I know it is not even Halloween, but our play "O Little Christmas Town" has a lot of new music. We are going to start learning the music this week during Sunday School and immediately afterwards. I will have a CD for each family. Actual play practice will begin Nov. 3 at 3:00. We hope that all of our children will participate!
Marian Long
Director of Children's Ministries
770-449-4498
http://mtcarmel-umc.org/#/children
---
Youth Collect Food for NCM During Our Food Drive Month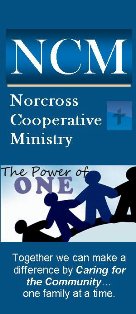 On Sunday, October 13th, our Youth will visit homes from 6:00 - 7:00 PM to collect non-perishable food for Norcross Cooperative Ministry.
If you would like for them to stop by your house, please check the box on the back of the Connect Card in your Sunday bulletin, or contact the church office.
October is also the NCM Food Drive Month for Mt. Carmel, so any other donations that you can make of food or money will be appreciated. Just place non-perishable food donations in the NCM box in the church foyer or mark your check "NCM."
Thank you for supporting those in need in our neighborhood.
---
Preschool News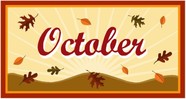 Dear Friends,
Wow, it's the first of October and the doors to the sanctuary are open for you to join us every morning! If you would like to experience sanctuary, go through carpool normally, park, and walk into the sanctuary then wait for the pitter patter of little feet. It will be a big surprise for your child to see you waiting there! After sanctuary, remain in the chapel and we will leave you. Don't be surprised if there are a few tears – this happens all the time! If your child has too much difficulty transitioning back into the classroom after your visit, we may ask you to wait a little longer to visit us again. If not, you can be there every day if you like! You will be blessed when you witness what we do every day!
We are looking forward to the Men's BBQ this Friday and Saturday, but we are also extra vigilant with our children. We know many people who are not aware of our existence, so we need to be super cautious when we go to the playground. Don't forget to join the Men for lunch or dinner. I suggest you buy pounds of pork and pints of Brunswick stew to freeze for later! I do that every year and somehow I never have any in the freezer. My girls love to have some of their own and confiscate my stash!
We love having Project 20/20 in the house this week, too. This special offer for vision screening is a gift from God! Pam uses a refracting machine which measures the eye and a read out emerges telling what a child's vision is in both eyes. I hope everyone takes advantage of this! We have found children every year in need of glasses. Don't pass up the opportunity to have your child tested.
Next week we are off to Berry Patch Farms on Wednesday. Everyone is invited to attend and we carpool to the farm, have lunch, take a hay ride, pick a pumpkin, drink apple cider, look at the small animals and play on the playground before we return to the school before the end of the day! We love visiting Miss Debbie and her crew!
We still have room for new friends, so if you find any children loitering on the street corner, bring them to the school!
In joy and love,
Lorrie
---
Moonlight Suspension Bridge Hike - Oct. 19th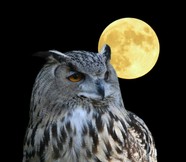 Our Chapel in the Woods group will travel to Tallulah Gorge State Park on October 19th to have a 1 and 1/2 mile
hike under a full moon!
Cost is $5 for the hike, and $5 to park. Everyone interested should meet at Mt. Carmel at 5:30 to carpool to the Gorge.
---
Mt. Carmel Booth at Literacy Festival
Mt Carmel is sponsoring the USA booth at the Berkeley Lake Elementary School International Literacy Festival on Thursday, October 10th from 6-8pm.
Outreach Donations needed:
2) gently used picture books or elementary level chapter books to give to students, and
3) packs of hot dogs.
Please place the non-food items in the USA bin in Fellowship Hall by Sunday, October 6th. Volunteers are needed as well. Contact Julie Jones for details -
jaj31@bellsouth.net
.
---
Thank You
Dear Friends,
Thank you so much for your kindness following the death of my sister, Bonnie. I received so many cards and notes, and words of support on Sunday.
I am so thankful to be a part of Mt. Carmel and to rest here when I am weary. It has been a long haul, but I am finally at peace with the thought that Bonnie is no longer suffering. I will miss her for the rest of my life, but am grateful that she spoke to me the night before she died and we had a conversation like we used to have when she was healthy.
God is good.
Love,
Lorrie
---
Prayers and Thanksgivings
Please join with others in our church family in praying our concerns and thanksgivings this week.
Concerns
Cheri Proels' brother Chuck - spinal surgery
Cheryl Martin's friend Kathy - cancer treatment
Easley's friend Melani - heart problems & pregnant
Christian communities in Middle East - peaceful resolution to conflict
Thanksgivings
John Waller sharing his music with Mt. Carmel
Successful Women's Retreat