Sunday School
This week's lesson is based on Psalm 8 and it is also Trinity Sunday. We are going to Praise God for all his creations. Did you know that in 1969, Pope Paul VI gave the astronauts a copy of Psalm 8, that was left along with other items on man's first visit to the moon?

Summer Sunday School Teachers Needed
Our regular teachers are off for the summer and we need some wonderful volunteers to teach for them.

The Preschool Class needs a teacher: June 2, June 16, July 14, and July 21.

The older class needs a teacher for June 2, July 17 and July 21.

Please let me know if you will teach on any of these Sundays. Lesson plan and materials are provided.

Nursery Changes
The Preschool has moved some of their classrooms this summer and our nursery will now be used only for babies and young toddlers for church events. As a result, the toys and books have moved to the new Preschool Toddler Class. To make our nursery more inviting we need:
Gently used baby friendly toys that can be cleaned easily (not stuffed animals) ages birth to 2 yrs

push and pull toys, Busy Box, Thomas the train toys, etc.

A play table

Bouncy seat

Books (sturdy enough for babies and young toddlers

Child size chairs for reading
Please keep a look out at garage sales and other places. We want our nursery to be inviting to new parents.

VBS and Safe Sanctuary Training
Wednesday, May 29
Safe Sanctuary 10:00 AM / VBS 11:00 AM
We will have one last training before VBS. If you are an adult who did not take Safe Sanctuary in 2012, you need to be recertified. We will schedule another class after Vacation Bible School.
VBS Needs
We do NOT need any more brown paper bags, Publix has donated 300.
We DO need 500 5oz. paper cups and 4 slinky toys.

VBS Set-Construction!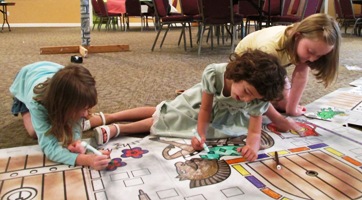 Snacks also Needed for VBS
If you can provide any of these items for VBS snacks, please mark them for VBS and leave them in the church kitchen. Thank you!
Instant Lemonade - 4 large containers (i.e. Country Time)
Grape Jelly - 3 large jars
Mini Marshmallows - 5 bags
Mini Pretzels - 5 bags (pretzel sticks OK too)
Plain M&M's - 4 large bags
Raisins - 4 large boxes
Marian Long
Director of Children's Ministries
---
Attic Clean Up - June 1st

In an effort to claim more storage space for the church, the Board of Trustees plans to clean out the attic and install more flooring and shelves to make the space more useful.

To do this however, they will need to sort through what is now up there and get rid of things no longer needed.

Please CLEARLY mark your important items BY JUNE 1ST to avoid having them discarded. Thanks!
---
Letters to Youth

Last year, a part of the youth's summer mission trip experience was to receive letters from members of the congregation and we need your help again this year!

The only responsibility is to write three cards to the youth who you're assigned. If you can help out, please email me at: mtcarmelumcyouth@gmail.com.
Blessings,
Kaylen Short -Youth Director
---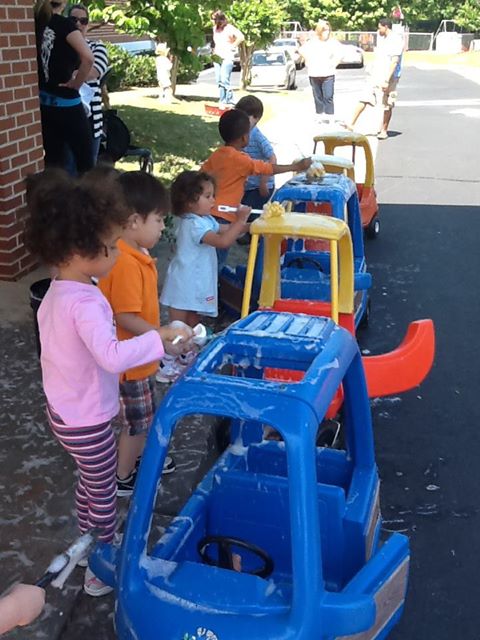 Preschool News

Now that the Preschool has gotten their cars and classrooms all cleaned up, they're out having fun for the summer!

Preschool resumes on August 26th with Camp Week, then regular classes begin on September 3rd.

There are still openings for the fall, so please refer your friends and family!
---
Trinity Soup Kitchen - Sunday, June 2

The Mt. Carmel Youth will once again travel to the Trinity Soup Kitchen in Atlanta to serve lunch. This time we will provide a Hot Dog Meal plus sandwiches. If you would like to serve at Trinity and/or donate any items needed, please contact Gail Bolton, sign up on the Sunday bulletin insert or online here.

Monetary donations for purchasing items for the meal are happily accepted too. Just mark your check "Trinity" and drop it into the offering plate.

Items needed are listed below. Thank you!
600 wieners
600 buns
300 small bags of chips
65 lbs coleslaw
9 lg. cans (177 oz. /ea) vegetarian baked beans
30 squeeze bottles ketchup
30 squeeze bottles mustard
120 family size black tea bags
---
Tuesday "Brown Bag" Study Group
Summer Break

The Tuesday morning "Brown-Bag" study group will take the month of June off. Their final meeting will be on Tuesday, May 28th when they will cover Psalm 23. The study guide for Psalm 23 can be found here.

The group, led by Pastor Cyndi, will resume in July when they will once again meet each Tuesday at 11:30 AM in the Hope House. They read and discuss the scripture which will be a part of the worship service the following Sunday, then enjoy having a brown-bag lunch together. Everyone is invited to join the group when they resume.
---
Mt. Carmel Book Club
Friday, June 14 at 7:00 PM

The June meeting of the Mt. Carmel Book Club will be at the home of Vicki Walden.

The book of the month is Still Life by Louise Penny. We invite anyone interested in discussing the book for a fun evening of fellowship and light refreshments.
---
Children's Books Needed

The teacher friend of a Mt. Carmel member operates a Children's Book-Mobile during the summer months while school is out. She travels to different neighborhoods, allowing children to come in and pick one book each to take home and keep. However, she needs help keeping a good supply of books.

If you have gently used children's books (for any age child) that she could have for the Book-Mobile, please bring them by the church office. The children will really appreciate your help!
---