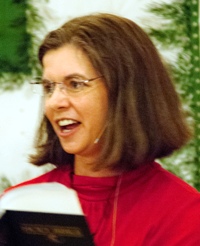 My New Year's Eve always begins at the church.
I open the doors at 9:00 on January 31, just in case someone wants to bring in a check and finish paying off their 2013 pledge. This is my third year spending the morning in the Hope House.
I will confess that my first New Year's Eve stint was a disappointment. No one showed up at the last minute with a budget-fixing check. There was only quiet.
I have come to expect quiet. Earlier this morning I nearly fell out of my chair when the Fed Ex delivery person banged on the office door!
Now I find that starting the morning in silence is the New Year's Eve ritual that I need. There is time to think about the last year and give thanks.
It has been a good year, hasn't it?
I am thankful for summer sandwiches and nights with Family Promise guests. I am thankful for times when we packed soap, welcomed blood donors, and supported those who long that everyone have clean water.
I am thankful for Bible study groups where I see God at work as people share about what is going on in their lives.
I am thankful for the times when we get to know one another in new ways, sharing dinner at the Berkeley Lake picnic or after a Sunday combined worship service.
I am thankful for those times when we left the church grounds to reach out to our community, offering apple pie slices at the elementary school literacy festival, offering Gatorade and caramels to runners in the Turkey Trot.
I am thankful on Sunday mornings for musicians offering gifts that nourish the soul, for people who welcome with a smile and handshake, for artists who tell the good news in the ways they arrange flowers, craft altar arrangements, and paint banners.
Most of all, I am thankful for those people that God brought into my life this year. I sit in the quiet and smile as I think of and pray for each new person. I can't wait to see who comes in the church doors in 2014.
Maybe next year, instead of opening the church office, I'll open the sanctuary. Someone else might want to make that a ritual, too, to end the year in silent thanks and prayer.
Gotta go…I hear someone else knocking on the door.
Pastor Cyndi McDonald
Mount Carmel United Methodist Church