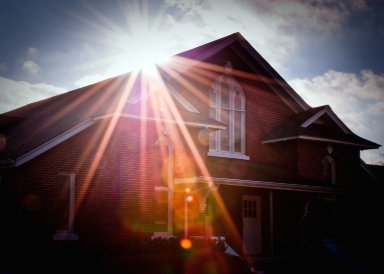 Dec. 11, 2012
In this issue:
From the Pastor
Dates
Introduction to Methodism
Children's News
Dinner Theater Rehearsals
Progressive Dinner
Down Home Holiday
Family Promise
Card Delivery
Preschool News
Angel Tree
Project Light
Kittens
Altar Flowers
Sunday's Prayers
Save the Date
In Worship this week
Birthdays / Anniv.
NCM
Counseling Center
Save the Date...
EVANGELISM MTG.


DEC. 11 - 7:00 PM
RM 112/114



FRIENDSHIP CLASS LUNCH


DEC. 12 - 1:00 PM
HOME OF JAN DODD



YOUTH PRACTICE


DEC. 12 - 6:30 PM
YOUTH HALL



WEDNESDAY STUDY


DEC. 12 - 7:00 PM
RM 112/114



ADULT CHOIR PRACTICE


DEC. 12 - 7:00 PM
CHOIR ROOM



PRESCHOOL NATIVITY & COOKIE SWAP


DEC. 13 - 12:00 PM
SANC./FELL. HALL



PAVEMENT POUNDERS


DEC. 15 - 8:00 AM
MEET AT CHURCH



ADULT CHOIR PRACTICE


DEC. 15 - 9 AM - NOON
SANCTUARY



PAIRS & SPARES PARTY


DEC. 15 - 6:30 PM
GARNER'S HOME



MEN'S CLUB BREAKFAST


DEC. 16 - 8:00 AM
FELLOWSHIP HALL



ADULT CHOIR PROGRAM


DEC. 16 - 11:00 AM
SANCTUARY



NO YOUTH MEETING


DEC. 16



NIGHT CIRCLE PARTY


DEC. 17 - 6:30 PM
ANDERSON HOME



DAY CIRCLE OUT TO LUNCH


DEC. 18 - 11:00 AM
DULUTH - PARK CAFE



BROWN BAG STUDY


DEC. 18 - 11:30 AM
HOPE HOUSE



DOWN HOME HOLIDAY


DEC. 21 - 6:00 PM
FELLOWSHIP HALL



CHILDREN'S BIRTHDAY PARTY FOR JESUS


DEC. 23 - 9:45 AM
SUNDAY SCHOOL ROOMS



CHRISTMAS EVE SERVICES

- DEC. 24
6:30 & 11:30 PM



CHURCH OFFICE CLOSED


DEC. 24 - 28



5TH SUNDAY SERVICE


DEC. 30 - 10:30 AM
SANCTUARY
NEW YEAR'S LUNCH
DEC. 30 - 12:00 PM
FELLOWSHIP HALL



OFFICE HOURS: 9-1


DEC. 31
Birthdays this week:
Seth Ragon
Jason Parrish
Robbie Furter
Lori Anderson
Pat Pollock
Jason Easley
Ryan Porterfield
Anniversaries this week:
Ken & Cheryl Smith
North Georgia Family Counseling Center

Family Wellness
through Counseling, Education and Research

Mt. Carmel proudly supports the North Georgia Family Counseling Center.
678-242-9355
ngfccumc@gmail.com
www.ngfccumc.org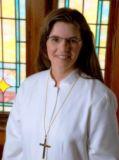 No Room



Suzanne just informed me to keep my newsletter article short. There isn't room.

The newsletter is already full with opportunities to serve. You can help with the homeless by volunteering with Family Promise during the holidays; help farmers in developing countries by purchasing Fair Trade coffee and chocolate.

The newsletter is already full with ways to grow in your faith, such as Christmas Eve services and the new Methodism 101 class in January. There are ways to grow in friendship, such as at the Down Home Holiday Celebration.

There is no room for my article because there are pictures of ministries and thanks to those who made a difference at the children's Christmas program, Breakfast with Santa, the Fair Trade sale, and the Youth Progressive Dinner.

When there was no room in Bethlehem for Mary and Joseph, God was at work in a new and miraculous way. There is no room this week for my article, because God is at work in and through the ministries of this church! Take a moment to read through this weeks' newsletter. In these words, you'll find there's room for you at Mt Carmel, a place of warmth and hospitality, where God is at work in new and miraculous ways.

I'll see you this Sunday,

Pastor Cyndi
December 16: Mary's Visit to Elizabeth (Luke 1:39-56)
December 23: From Nazareth to Bethlehem (Luke 2:1-7)

Christmas Eve: The Manger (Luke 2:8-20)
---
Save the Date

Christmas Eve Candlelight Services:
December 24: 6:30 & 11:30 p.m.
(childcare at 6:30)

5th Sunday Combined Service
December 30: 10:30 a.m.
followed by New Year's style lunch
---
Each Sunday afternoon in January, Pastor Cyndi McDonald will lead a study on the basics of Methodism. This study will be helpful to those new to the denomination, or to anyone who would like to learn more!

The study will begin at 12:15 in the Hope House each week. A light lunch will be provided. Please contact the church office if you'd like to participate.
---
Children's Ministry News: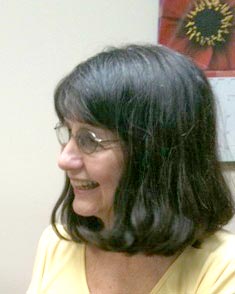 Sunday School:
This Sunday, the third Sunday of Advent, is the story of John the Baptist and how he came to prepare the people for the coming of Jesus. As you get ready for Christmas, think about how we can be as prepared as possible for Jesus.
Christmas Pageant: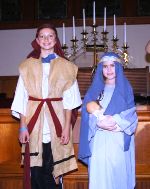 The Best Christmas Pageant Ever
Thank you to everyone who really made this year's production, "the best Christmas pageant ever," especially the members of the cast who memorized their lines and spoke loudly into the microphones. A special thanks to Cheryl Smith for providing the music, Ronda Bendig for working with the sound, Tim Foster for setting up the lights, Spencer and Lisa Grogin for working the lights, and Marianne Thompson who coordinated the reception.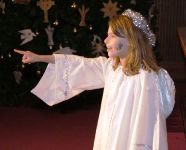 Cheri Proels, Kathy Sigmon and Julie Samples were the key people making sure everyone said their lines at the right time, got in the correct costume and got on the stage. They were at every rehearsal. Our backstage helpers, keeping the giggling down to a minimum and changing costumes, were: Mackenzie Gallagher, Katie Semple, Allie Bell, Alex Pittman, Mercer Wood, Johnny Roe and Andrew Bond.
Lastly a special thanks to all the parents who worked on lines and got their children to practice. Thank you very, very much.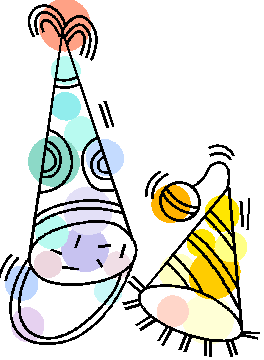 Birthday Party for Jesus
Sunday School on December 23rd will be a Birthday Party for Jesus. For a birthday present, please bring an item (food or clothing) for Norcross Cooperative Ministries. We will play some games, make a craft and of course hear the Christmas Story as we celebrate the real meaning of Christmas.

Marian Long
Director of Children's Ministries
---
Youth Dinner Theater Rehearsal

Rehearsals will begin this Wednesday, December 12 at 6:30 p.m. in the Youth Hall. All members of the cast should attend to get the rehearsal schedule and script. If you have any questions, please contact Lori Anderson or Gail Bolton.
---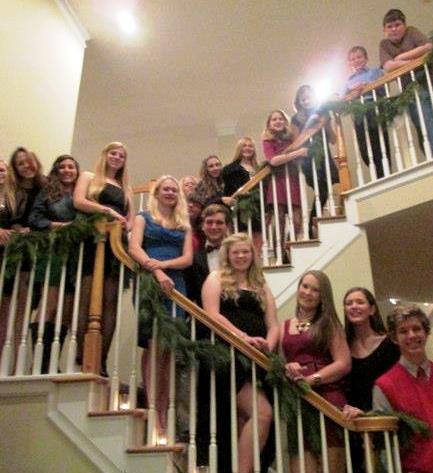 Youth Progressive Dinner

The Youth would like to thank Ed & Cyndi McDonald, Bob & Julie Jones, and David & Kris Bell who each served a portion of the Progressive Dinner on Saturday night.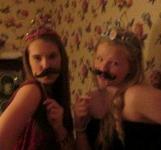 You were all wonderful hosts and everyone enjoyed the evening!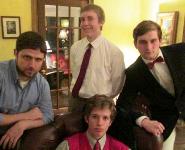 Thanks also to Gail, Phil, Mercer, Hayne and Kaylen for supporting us all year!
---
Fair Trade Sale Revenue $2000

Thank you for you support of our Fair Trade Sale! We expect the sales total to be about $2,000 upon sale of the remaining coffee/cocoa/chocolate. You will have made a difference in the lives of many artisans and farmers in developing countries with your purchases of Fair Trade items. We also thank Diane Smith, Lynn Koch, Barbara Cooper, Deb Pittman, Gail Bolton, Lois Salter, Marlene Porter, and Neil Odom for helping setup, staff, and cleanup for the sale.

Delicious Fair Trade Coffee / Cocoa / Chocolate Still Available
Great tasting stocking stuffers and small gifts are still available from the Fair Trade Sale. We still have cocoa (ask the youth from the progressive dinner about how good this is!) for $4, gourmet coffee at $6.50/bag ($7.50/bag decaf), and chocolate bars between 10 cents/bar and $3/bar. See the Fair Trade display in the foyer leading into the Fellowship Hall.
---
"Down Home Holiday"
Friday, December 21 at 6:00 pm
Fellowship Hall

You are cordially invited to a "Down Home Holiday" celebration on Friday evening, December 21 beginning at 6:00pm. (If you need to arrive later, that is perfectly fine too!)

Join us under the Christmas tree in the Fellowship Hall for hot chocolate, cider and refreshments. We'll sing our favorite Christmas songs, hear a favorite Christmas story, play some reindeer games and we just might have an early visit from old St. Nick himself.

Wear your favorite Christmas ensemble ... there will be a contest! And the little ones can even wear their p.j.s! If you need a little Christmas cheer, the "Down Home Holiday" will be the perfect evening for you, your family, and children of ALL ages.

Those who are able are encouraged to bring a "finger-food" type snack, but it is NOT mandatory! Please plan to join the fun!
---
Family Promise Needs Help Holiday Weeks

During the holiday weeks, two churches are providing space only for the Family Promise guest families. All host churches are asked to chip in and help fill the needed tasks / timeslots for these two weeks.

We have committed to cover Thu Dec 27 needs along with Peachtree Corners Christian Church. This will be at Grayson UMC. Please contact Ed McDonald 678-983-5588 edmacmo@gmail.com if you would like to help (dinner provider / dinner hosts 5-7pm / evening hosts 7-9pm / overnight hosts 9pm-7am).

Family Promise also sent the following list of the remaining needs/timeslots if you are perhaps available for these times:

Following are at Lawrenceville Presbyterian:
Wednesday, December 19 - 7:00 - 9:00 pm
Saturday, December 22:
Dinner
5:00 - 7:00 pm
7:00 - 9:00 pm
9:00 pm - 7:00 am

Following are at Grayson UMC:
Sunday, December 23 - 9:00 pm - 9:00 am
Monday, December 24:
9:00 - 12:00 am
2:30 - 5:00 pm
Tuesday, December 25:
9:00 - 12:00 am
Dinner
5:00 - 7:00 pm
7:00 - 9:00 pm
9:00 pm - 7:00 am
Sunday, December 30:
9:00 am - 1:00 pm (Day Center)
1:00 - 5:00 pm (Day Center)

We appreciate everything you do. Remember that 8 families are now living in a safe environment and that you are giving them hope. There is no better way to show Christ's love over the Christmas holiday than by taking care of those in need.
---
The Mt. Carmel UMW is still delivering your church-wide Christmas cards each Sunday! Just drop your cards to your church friends into the gift wrapped box at the back of the sanctuary. The UMW members will then deliver the cards on Sunday mornings during Advent, before and after each worship service.
---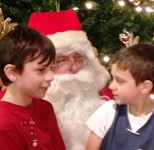 Preschool News
Dear Friends,
Wow, didn't we have the greatest Breakfast with Santa ever? It was so much fun to see all our students come into Fellowship Hall ready for breakfast and with lists ready for Santa. It was also so fantastic to see all our alumni and their families. Do you know one of our alums is having a baby in January? Someone got old, and it wasn't me! Congratulations to Mandy Trentini Haecker and her husband Matt and next year their little bundle of joy will be running around the sanctuary!

We also had the youngest visitor as a member of our Preschool family. Miss Virginia's granddaughter, Andie Daneke, brought her parents in for some pancakes and for a photo session with Santa. Andie didn't eat much since she is all of 7 weeks old. Needless to say, Team Daneke was proud of their newest accomplishment! We also had a member of the Norcross football team sharing a meal with us. Nathan Robinson is much bigger now than he was as a student. In fact, I don't think any of us believed that Nathan would end up as one of the biggest players on the Norcross team. Then Linnea turned to me in a hushed whisper and asked who the tall kid in the green sweater was because he looked so familiar. She had babysat him when he was about two and now he is a foot taller than she is. Keenan Kolbinsky looks just like he did when he was here except he grew about 5 feet! We also had a surprise visit from the Coughlin family – the same one who has a boy named Colby after whom our cocoa is named! Colby suggested a few years ago that we have cocoa in addition to the coffee and tea, so we took that suggestion and ran with it! It was just such a fabulous morning and I am thankful for my SWAT team of teachers who are always ready to turn pancakes, cook bacon, keep the table filled with food, pour juice, make coffee, bring griddles and decorations, spatulas, snow flake patterns, and great attitudes and THEN hang around to clean up! I am also thankful that the Trentinis were on hand to welcome our guests at the check in table and to all the families who made the lovely centerpieces. Do you know we had 34 this year!!! It was a gloriously decorated Fellowship Hall and Nora thought it looked very professional with how polished all the gifts looked on the tables! Last but certainly not least, we are thankful that Santa was able to take time from his busy schedule to spend time with our children. He was exceptionally thoughtful and present in listening to our children. I know you have all sent up a prayer of thanks for this special happening!

Remember we have our Nativity play on Thursday at 12:00. Following the play we will have a school wide cookie swap, so make 3 dozen cookies ( 1 to share with the children and 2 to swap) and bring an empty container to choose the cookies that tickle your fancy. We have been very diligent in practicing our parts, and are grateful to our parents who have been doing the work at home! Welcome to everyone on this special day!

In joy and love,
Lorrie
---
THANK YOU to everyone who participated in this year's Angel Tree!

Thanks to your generosity once again, we were able to deliver toys, clothing and food gift cards to families in need at four elementary schools, plus some for Norcross Cooperative Ministry!

It wouldn't have been possible without your support!
---
Evangelism Committee to Sponsor
Project Light
Project Light is a computer based learning center that teaches Literacy for Life Transformation. The program helps students learn English, study for their GED etc.

The Evangelism Committee is looking for an individual that is passionate about reaching out in ministry to neighbors in our community. For more information, please contact Neil Odom: 770-827-2122 or nonojo413@gmail.com.
---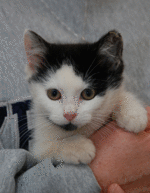 Two Kittens in Homes, One to Go!

Here is a picture of the latest capture. We are calling her Daisy. Daisy weighs 2.2 pounds and is likely about nine weeks old. She was spayed on Monday, December 10, had a rabies shot and distemper shot. She is a little skittish right now, as I would be if I had been trapped and operated on. Daisy's litter mates are passive and cuddly; Daisy most likely will be too, with a little handling. She seems to enjoy being held, when we stroke her and talk to her.

She is resting comfortably and will be ready for her fur-ever home this weekend. If you are interested in a Christmas kitten, please let me know!

Lila Hunter
678-687-9990
---
Please join with others in our church family in praying the thanksgivings and intercessions named this week:
CONCERNS:
Shelia Trentini's father - Timothy Lilley - hospitalized / tests
Leonard Siviero - pneumonia
Marian Long's father - Glenn Smith - congestive heart failure
Anglin's grandson Kyle - surgery
Billy Jones - staff infection / diabetes
Chris Bolton's friend Gail - death of ex-husband
retired teacher - house burned down
THANKSGIVINGS:
Breakfast with Santa
Angel Tree participation
Children's Pageant
---
News to Share?
Do you have an article to include in next week's bulletin or newsletter?

Email these to Suzanne Foster or call the church office.

office@mtcarmel-umc.org
5100 South Old Peachtree Road
Norcross, GA 30092
770-449-4498
www.mtcarmel-umc.org