In the Newsletter this Week:
From the Pastor

Lenten Schedule

Special Lenten Offerings

The Lenten Cross

Are You a Shepherd?

Mission Moment: Alex Smith

Children's Ministry

Women's Book Club

United Methodist Women's Night Circle - March 24

United Methodist Men's Sunday - March 30

Pavement Pounders Running Group

Preschool News

Outreach Opportunities

Thank You Very Much
---
Lenten Schedule
Please mark your calendars for the upcoming Lenten season: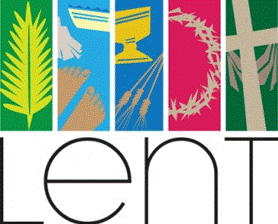 Wednesday Night Dinners and Conversation
March 12 - April 9
Dinner: 6:00 PM - provided by the Mt. Carmel UMW
Cost - Adults: $6.00 / Children 12 & under: $3.00
Family Max: $20.00
God in the Movies: 6:40 - 7:00 PM
March 19:
Dinner Menu
meatloaf, roasted veggies, green salad, fruit salad, bread, dessert, tea and lemonade (pb&j for kids too)
Movie Clip
Driving Miss Daisy
March 26:
Dinner Menu
baked chicken with dressing, green beans,
green salad, fruit salad, bread, dessert, tea and lemonade (pb&j and chicken nuggets for kids too)
Movie Clip
Forrest Gump
---
Special Offerings During the Lenten Season
During the season of Lent, we hope that you take on a practice that allows you to grow spiritually as you reach out to others.
If you are fasting in some way, could you set aside the funds you would have spent on chocolate or meals out, and give these to those who have less?
United Methodist Special Offerings are listed on the back of the
Hymnal Cards
and specially marked envelopes are provided in the sanctuary.
Please consider donating to one or more of these offerings as a part of your observance of Lent.
---
The Lenten Cross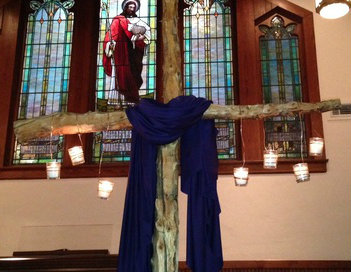 The cross used in worship on Sundays during Lent was built from two Christmas trees.
There are seven candles to remind of the 7 days in the creation story. The writer of the Gospel of John records 7 "I am" sayings and 7 "signs," suggesting that in Christ, creation begins again.
We extinguish one candle each week of Lent as we near Jesus' death on the cross. On Easter Sunday, the cross is covered with flowers to represent resurrection and new life.
---
Are You a Shepherd?
Has the Evangelism Committee asked you to extend hospitality to a visitor or new member? If so, why not invite someone to the Wednesday night dinner and make a point of sitting with them and introducing them to others.
---
Mission Moment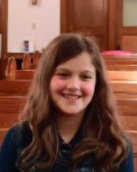 Thank you to Alex Smith for her Mission Moment on Sunday.
Great job Alex! We are so happy to have such a caring young lady as a part of our church!
---
Children's Ministry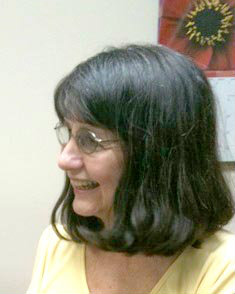 Sunday School:
As we move through the Biblical story to Easter, this week's lesson is from John 18:12-27. Jesus is on trial in the high priest's courtroom, standing boldly for this ministry. Peter and another disciple have followed behind. Peter waiting outside the gate is scared and denies knowing Jesus. During this week of Lent discuss with your children different ways they can stand up for Jesus.
Lenten Dinner: March 19 at 6:00 pm
This week's movie is Driving Miss Daisy. Before and after the children eat their dinner, and before the program starts at 6:40, we will make crosses for the Stations of the Cross. This week we will make nail crosses.
Family and/or Children's Movie Night:
March 28: 6:00-8:00 pm
You can come as a family or you can drop your children off. There will be a nursery for children under 3, along with popcorn and pizza and the movie Frozen.
Cost: $1.00 per person. Please RSVP by March 27 by contacting the church office at 770-449-4498 or Ms. Marian at
children@mtcarmel-umc.org
.
Save the Date: April 19 at 10:00 AM - Easter Egg Hunt
Marian Long
Children's Ministry
---
Mt. Carmel Women's Book Club: April 4th
All women of the church are invited to join the Book Club which will meet next on Friday, April 4th at 7:00 p.m. in the Hope House.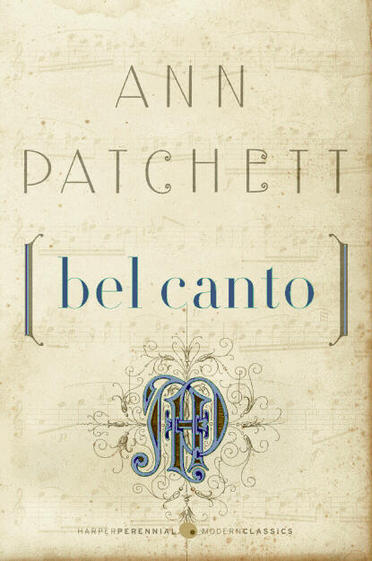 This month's book is Bell Canto, by Ann Patchett.
---
United Methodist Women's Night Circle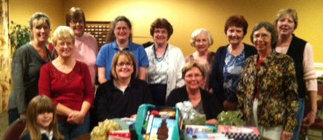 The Lola Belle Young Night Circle will meet on Monday, March 24th at 6:30 p.m. in the Fellowship Hall. The meeting will begin with dinner, followed by a program and short business meeting.
All women of the church are invited to attend - please RSVP to the
church office
so that there will be enough food. 770-449-4498.
---
United Methodist Men's Sunday: March 30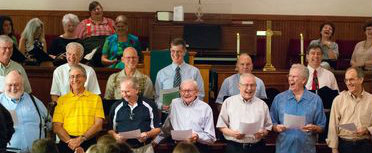 On Sunday, March 30th we will have a COMBINED 10:30 WORSHIP SERVICE, led by the men of our church. All men are invited to participate.
Plan to attend a short (1/2 hr.) organizational meeting on Wednesday, March 26th at 6:30 p.m., and a practice time at 8:00 a.m. on Saturday, March 29th, or contact
Neil Odom
for more information.
---
Pavement Pounders Running Group
Have you ever thought of joining the Pavement Pounders?
Now is a great time to get started with the super easy run/walk interval training method we use. If you can run for 60 seconds, you can do this!
The beautiful spring weather provides perfect temperatures for running. You will be amazed how fast the time goes by. Both eagles and sparrows are welcome; there is a place for you in the Pavement Pounders! We meet at Mt. Carmel at 8:00 a.m. on Saturday mornings.
---
News from the Preschool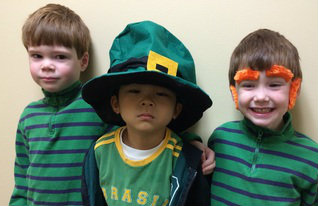 Dear Friends,
Wow, what a week! We have had a host of leprechauns around the school making mischief at every turn! You can see in the photo how we dressed in green lest we be pinched!
In spite of the cold and dreary weather, the inside of the school has been warm and busy. There is no time to be brought down by March's unpredictable showers!
We are gearing up for our studies of The Five Senses and Underwater Friends. Then we begin work on Easter and all things bright and beautiful. We are also in the middle of our Pennies for Patients campaign for the Leukemia and Lymphoma Society in honor of our hero, Watson Dufresne. Did you see the fish bowl outside my office? Please empty your change (or bills and checks) into the bowl and help us raise $500.00! We are a bit behind schedule and every penny counts! After you have left your change in the bowl, don't forget to fill out your name on the picture provided, and tape it on the bulletin board. We want to fill the board and the bowl to overflowing!
March 29th is our last day to collect, so you still have a week to dig in between the couch cushions or car seats! Please help us reach our goal.
We have openings in the fall and have a brag page on the Peachtree Corners Patch, which was lovingly set up for us by Nicole DeLeone. Stop by the page and leave a message about our program. We hope to have a full house in the fall. Go to www.peachtreecorner.patch.com/boards and leave a note!
In joy and love,
Lorrie
Preschool Director
---
Outreach Focus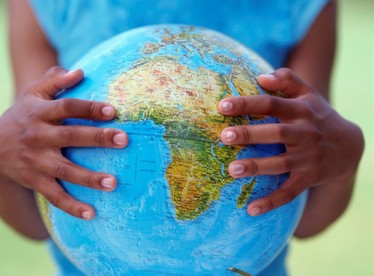 Earth Day
April 22 is Earth Day, a time to reflect upon the importance and vulnerability of the environment and to consider personal commitments to better stewardship of the environment.
You can begin to celebrate early and do some spring cleaning at the same time by taking your old electronics to Decatur's Spring Electronics Recycling Day this Saturday, March 22 from 9am – 1pm at 2635 Talley Street in Decatur, Georgia. There is a $10 fee for TVs. Payment must be made in cash and exact change is required.
Further details are available on the City of Decatur's website at
http://www.decaturga.com/index.aspx?page=138
. If you plan to take personal computers, please remember to take steps to remove personal and financial information from the hard drive to minimize the risk of identity theft.
Welcome Home Boxes
Is your small group looking for a way to serve people in our community? How about packing "Welcome Home Boxes" for homeless families moving into transitional housing?
Give Blood

---
Thank You Very Much!
We would just like to say thank you to everyone for the prayers, calls, and cards that were sent our way during Gene's illness. We truly appreciate you all! It is wonderful to be a part of such a caring church family.
With your prayers, Gene continues to improve and we appreciate all that you have done.
---
Prayers and Thanksgivings
Please join with others in our church family in praying our concerns and thanksgivings this week.
Concerns
McGee's sister-in-law with Alzheimer's Disease
Resident of Morning Starr home - cancer surgery
Family of Hal Crawford's friend Charles who died
Steve Pearson's uncle Ron - cancer treatment
Minnie Thomas - broken hip
Max Proels - foot surgery on Wednesday (March 19)
Lisa Long's son & family - son in hospital
Alison Alesi's mother-in-law - cancer surgery
Janis Hoge's father - recovering from hip replacement
Bob Jones: Dylan driving the Arkansas to rock climb during Spring Break
Jacque Tapley - job issues
cancer research & caregivers
Jeannie Klinetob's co-worker's granddaughter - bacterial meningitis - 3 mo. old / family / caregivers / doctors
Thanksgivings
Good church workday
Jacque Tapley's house sold in one hour!
Visitors on Sunday
Ignatius' niece had successful shoulder surgery
Gene Anglin's birthday
All three Ignatius girls in church on Sunday