In the Newsletter this Week:
From the Pastor
Welcome New Members
Congratulations Class of 2014!
Hot Dogs on the Lawn - Wednesdays in May - 6 PM
Blood Drive - May 21

Children's Ministry

Chapel in the Woods - June 7 - 8:00 AM
Preschool News
Women's Book Club: June 13

Parents of Young Children Picnic - June 22

Outreach Opportunities:

MUST Lunches, Family Promise, NCM News
---
New Members Welcomed on May 18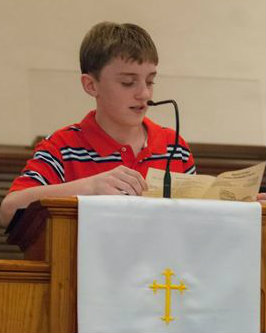 Sunday was a special day as members of our Confirmation Class were baptized in the river at Jones Bridge Park, joined the church, and led the worship service at Mt. Carmel.
The service included a devotion, special music, Holy communion, an interpretive dance and a Mission Moment, all led by our newest church members.
Congratulations: Megan Banks, Andrew Raye, John Roe & Elizabeth Sigmon
Thank you to the following adults who acted as mentors to the students: Paul Bendig, Sherry Blackwood, Lila Hunter, Neil Odom and Katrina Stone, as well as class leaders, Clair Carter Lovett and Pastor Cyndi McDonald.
---
Congratulations Graduating Class of 2014!
On Sunday, May 18th, we were happy to celebrate the hard work and accomplishment of the following graduates of the Class of 2014!
High School:
Zack Bond, Trevor Jones, Sam Medinger, and Will Thompson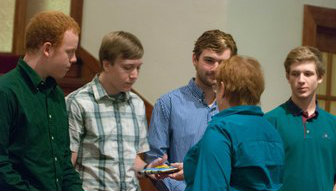 College: Mariah Hinson and Thad Thompson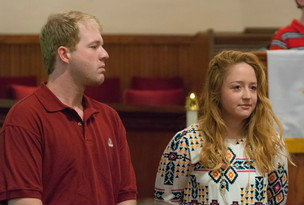 ---
Hot Dogs on the Lawn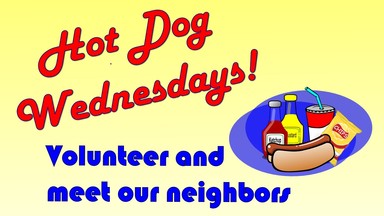 Each Wednesday in May we will invite our neighbors to come and enjoy free hot dogs, chips and dessert with us
from 6:00 - 7:30 p.m,
RAIN OR SHINE! (outside, weather permitting, or in lower fellowship hall)
There will be bubbles, chalk, a parachute and other fun things for the children to play with also.
Several church committees will be in charge of these dinners, but ALL church members are encouraged to come and help and visit with our neighbors!
If you can attend on one or more Wednesdays, please check the back of the Connect Card in the Sunday bulletin, or contact the
church office
.
---
The Red Cross is Here! Please donate Blood Today! 2:00 - 7:00 PM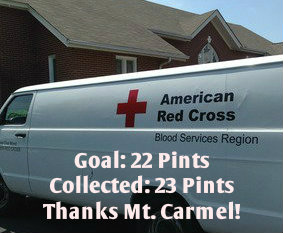 Please Donate: Lives are depending on you!
EXTRA BONUS: Each donor at our Blood Drive will also receive a coupon for a $9.99 oil change at Midas!
---
Children's Ministry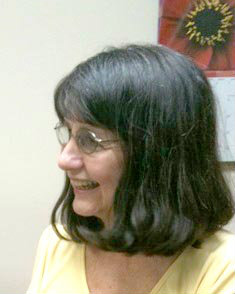 Sunday School:
Our last regular Sunday Class before the summer schedule begins on June 1. We are with Paul in Athens as he shares the good news with some Athenian philosophers. (Act 17) Paul proclaims the truth about Jesus and the resurrection.
Next week we begin our Summer classes with preschool – Kindergarten together and Grades 1- 5 together. Sunday School teachers are need for all Summer Sundays. Please let me know if you can teach.
Sundays' needed: June 1, 15, 22, July 6, 13, 20 and August 3.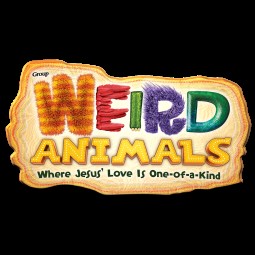 Weird Animal VBS:
Help us make Weird Animals wild and wonderful!
Here are some things we need if you can help supply some of them.
Please check the bulletin board outside the Sanctuary for the tags and if you can, pick a tag and return the item by May 25th. Thank you!
Some of the items needed
:
clear punch cups
large jar of maraschino cherries
3 large containers of non dairy whipped topping
150 non latex food gloves (the cheap one size fits all)
15 assorted gelatin packages
4 plastic baseball bats
4 packages of Starburst candy
100 12" blue balloons
30 6" brown balloons
box of lawn trash bags
roll of caution tape
2 packages of removable ¾" round stickers
3 boxes of saltine crackers
5 sheets of red poster paper
brown grocery bags
fine tip permanent markers
Snack items needed:
4 - 2 liter bottles of coke
5 - 2 liter bottles of diet coke
4 - 2 liter bottles of sprite
4 large bags of tortilla chips
10 doz. large sugar cookies (need to be large enough to decorate)
4 large bags of plain M&Ms
2 bags of twizzlers
4 containers vanilla frosting
1 large tub of margarine
Please place in church kitchen and mark for VBS.
Marian Long, Director of Children's Ministries
---
Chapel in the Woods Hike: June 7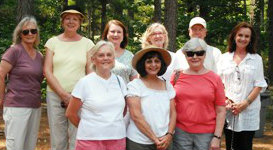 The Chapel in the Woods hiking group will meet at Mt. Carmel at 8:00 AM on June 7 and travel to Hard Labor Creek for a day hike.
Everyone is invited to join this group for the hike and short devotion along the way. Please contact Cheryl Martin if you have any questions. 678-464-7912
---
Preschool News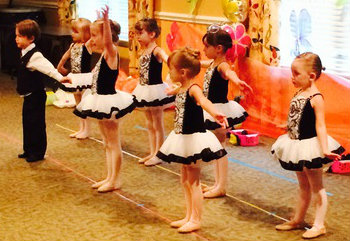 Dear Friends,
It is so quiet here in the halls of the Preschool. Miss Lin and Miss Virginia are the only other people here which makes the halls echo with emptiness. I had a tour this morning and welcomed a new 2 year-old and his family to the clan. As you know, there is space available and those who bring in new students will received $100 which kind of means you had free registration! If you bring in more, you will continue to receive $100 for every family who joins us, so let's see who can help the most!
Our ballet recital was delightful and the ballet dancers showed us all how hard they had worked all year. We had a full 45 minute recital with all the children on the stage for the entire time. I just love Miss Jess and Miss Oksana. Remember, classes are available in the summer, so go to
www.CreativeMovementandDance.com
and find one close to you!
We are so thankful for the year we all enjoyed and sadly said good bye to those who graduated and those who are moving to different schools. We wish the best of luck to our families and hope everyone enjoys a healthy and happy summer. Remember to spend a lot of time in the sun and water, wear sunscreen, drink a lot of water, eat a lot of delicious summer foods and grow bigger and stronger for the new school year.
In joy and love,
Lorrie
---
Women's Book Club: June 13 - 7:00 pm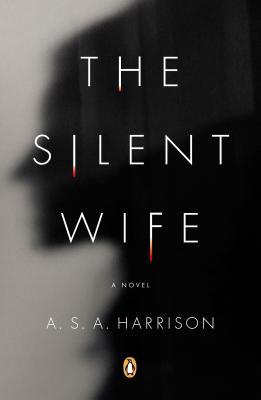 This month the Book Club will meet on Friday, June 13 at 7:00 p.m. at the home of Vicki Walden. (3746 Foxwood Rd., Duluth, GA 30096)
The book for June is
The Silent Wife
, by A.S.A. Harrison.
---
Parents of Young Children Picnic:
Sunday, June 22 at 12:30 p.m.
Jones Bridge Park
A new group of parents of children elementary aged and younger is organizing a picnic at Jones Bridge Park! While the target group is families with young children, everyone is invited, whether you have children or not!
This is a "Bring Your Own Picnic" event to have fun and get to know each other.
Contact
Heather Ayer
if you have any questions or would like more information.
---
Outreach Focus:
MUST Ministry Lunch Program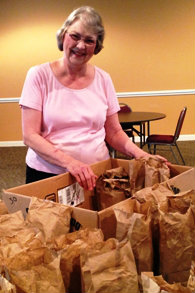 Mt. Carmel will be participating in the MUST Summer Lunch program again this year, providing lunches to local children who may not have lunch during the summer. This year we will provide and assemble all the lunches for the week of June 16th through June 20th. This means making 200 sandwiches a day and filling 1000 lunch bags for the week! It's a big undertaking, but we can do it with your help.
Volunteers will be needed after 11:00 worship on Sunday, June 15th (lunch will be provided) to help fill lunch bags with juice boxes, something salty (chips, pretzels, etc.) and a sweet (cookies, granola bars, etc.) We'll fill as many bags as we can at that time, adding the fresh sandwiches each day.
We'll also need volunteers to make sandwiches Monday through Friday and add them to the bags so they can be delivered at 11:00 to the church that will be taking them to the apartment complexes. We'll need to be at the Fellowship Hall about 9 or 9:30 a.m.
Donations of juice boxes, snack-size bags of chips, pretzels and cookies or granola bars, peanut butter crackers, etc. will also be needed to help fill the 1000 lunch bags. Please leave these items in the kitchen marked MUST Lunch program. We'll also need peanut butter, jelly, bologna, cheese and bread the week of June 15 to make the sandwiches each day.
If you would be willing to volunteer your time on Sunday the 15th or any morning that week, please mark the back of the Connect Card in Sunday bulletins, call Joanne Ragon (770-271-7350) or Suzanne in the
church office
. Your help will be appreciated!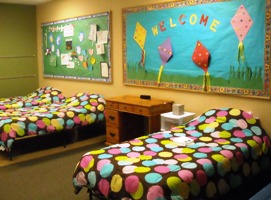 Family Promise Hosting:
This will be our 3rd summer of working with Family Promise of Gwinnett (
http://familypromisegwinnett.org/
) to serve homeless families
who are transitioning out of homelessness
. We use our preschool rooms during the summer as guest bedrooms for up to 4 families with children.
We will be hosting our Family Promise guests for 2 weeks, back to back this summer, July 13 - 27. This is a great opportunity to serve. We will be sharing more info and details over the next few weeks.
NCM News
Everyone is invited to the NCM
Annex / Playground Dedication
Sunday, June 1 - 2:00 PM
Everyone is asked to bring a food donation. Refreshments are also needed. If you can bring dessert, cheese, crackers, or fruit, and/or if you plan to attend, please email
Shirley
at NCM to let her know.
Present Needs
jelly, cereal, fitted crib sheets, baby blankets, baby towels, underwear, socks (all sizes / male & female)
---
Prayers and Thanksgivings
Please join with others in our church family in praying our concerns and thanksgivings this week.
Concerns
Clair & Sean Lovett and new baby
Lucile Jones: death of sister Voncile
Cheri Proels & family: death of Cheri's father
Dodger DeLeon: recovering
Cyndi McDonald's cousin Lisa
Melanie Bagwell's friend Patsy: cancer
John Posey: moving to Charlotte / new job
Bobbie Walden: major dental work
Emily & Zach Lalor: baby due in June
Jerry McDonald: recovering from hip replacement
Gene & Karen Weeks: safe travel back to Colorado
Susan Posey: eye surgery next week
Thanksgivings
Youth: graduates / confirmation students