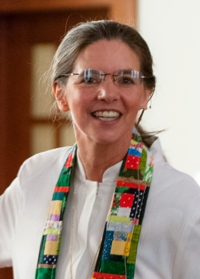 I have a theory about why church members argue over things like music. The theory explains why people are adamant about how to pray (Circle? With or without prayer requests? Prepared or spontaneous?) and whether to use a hymnal or words on a screen.
The theory goes like this. There was a time when you heard the song "his eye is on the sparrow" and knew that God's eye was on you. There was a moment when you sang "Sweet, Sweet Spirit" and could almost feel the movement of the Spirit creating bonds of love and hope in the room.
There was a time when it felt like your life was falling apart and you walked into the sanctuary and the golden light streaming through the stained glass windows seemed magical; in that moment you knew that it would work out. There was a time when the piano—or guitar or organ—played as you walked down the aisle, wanting to give everything to God.
We care so much about looks, sounds, and smells because they remind us of moments when we knew God present. Like an elderly couple that returns each year to the drug store soda fountain where they had their first date, we hope to recreate again those precious moments when we knew God.
This Sunday our regular 8:30 attenders evaluated how the transition to a lay led service is progressing. They had such positive words, sharing their appreciation for Neil Odom's sermons and music from Mark Bond, Dan Bailey and Bob Jones. Lay leadership had recruited five additional volunteers to serve at the service by providing sermons.
But for the last few weeks, there were times when there were more worship leaders up front than people in the pews. As one person put it, it doesn't seem fair to volunteers to continue with such a small group.
Based on this feedback, on Sunday night the Administrative Board determined to discontinue the services. The last 8:30 service will be on August 31.
This is hard.
In her
mission moment
, Michelle Hammond shared that the 8:30 service is her "date night" with God. In one of the original discussions about Sunday morning services, one 8:30 participant described this time as one that she shared with friends no longer with us like Mary Cofer, J.W. Rikard and Curt Raymond.
I ask that you pray for our regular 8:30 attendees, because it's hard to give up a time and place where you have met God and know dear friends.
All of us long to recreate the moments when we knew God with us. It will be our responsibility and honor to be present to the 8:30 attendees in ways that assure that God is present and we too want to be present with them.
We do this when we say, "I'm glad you're here" and "sit with me on this pew." We do this when we share prayer concerns.
We do this when we wholeheartedly attempt to sing unfamiliar songs; even though a song is not my song, we know they are the songs where someone else has met God.
Earlier this year, John Waller and Bob Jones met the Confirmation class to share their reflections on worship and how they pick songs for worship. They explained their primary goal is to select music that reflects the scripture for that day. But they also try to select music that will appeal to the different generations they expect to see on Sunday morning. One song might be for an older crowd; another for youth or young adults.
Where two or three are gathered, there will be four or five preferred ways to worship! Yet Jesus said that when two or three are gathered in his name, the presence of God is with them. Perhaps he meant, in part, that when one person sets aside his or her own preferences in order to be with another person, when we ask how God might be revealed through another person, we meet God.
Pray for our 8:30 family. Join them in worship on one of these final services, August 24 and 31. Look for the ways they can teach us, too, about meeting God.
I'll see you this Sunday,