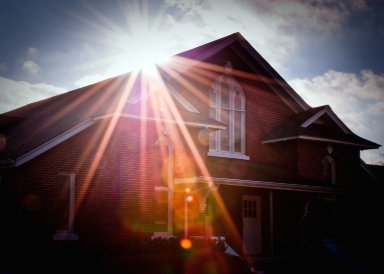 Oct. 16, 2012
In this issue:
From the Pastor
Shirts for Sale
Blood Drive
All Saints/Church Conf.
Youth Events
Children's News
Preschool News
Singles Group
Fall Festival
Wesley Walk
Bowling Outing
Sunday's Prayers
Save the Date
In Worship this week
Birthdays / Anniv.
NCM
Counseling Center
PRESCHOOL PTA MTG.


OCT. 17 - 6:00 PM
SANCTUARY / F. HALL



WOMEN'S STUDY


OCT. 17 - 7:00 PM
YOUTH ROOM



CHOIR PRACTICE


OCT. 17 - 7:00 PM
CHOIR ROOM



PAVEMENT POUNDERS / WALK & TALK GROUP


OCT. 20 - 8:00 AM
FROM CHURCH



FALL FESTIVAL / WESLEY WALK FOR OTHERS


OCT. 20 - 10:00 AM



LAY LDRSHIP. MTG.


OCT. 21 - 12:15 PM
HOPE HOUSE



YOUTH COUNCIL MTG.


OCT. 21 - 3:30 PM
RM 112/114



EXODUS STUDY


OCT. 22 - 7:00 PM
HOPE HOUSE



BROWN BAG STUDY


OCT. 23 - 11:30 AM
HOPE HOUSE

LOVE & LOGIC CLASS
OCT. 23 - 6:30 PM
RM 112/114



UM MEN'S CLUB DINNER/MTG.


OCT. 25 - 7:00 PM
FELLOWSHIP HALL



SPECIAL CHOIR REHEARSAL


OCT. 27 - 9:00 AM
CHOIR ROOM



YOUTH HALLOWEEN PARTY


OCT. 28



NEW CARPET IN FELLOWSHIP HALL


OCT. 31 - NOV. 2



STRIKES FOR JESUS


NOV. 3 - 10:00 AM
Birthdays this week:
Bobby Smith, Jr.
Hillary Whaley
Emmy Epps
Bob Jones
Katie Mauldin
Atticus Hicks
Chris Bryant
Jerri Phillips
Nell Pfautz
Anniversaries this week
Gail & William Bolton
Norcross Cooperative Ministry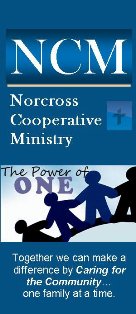 As one of the founding churches of NCM, we encourage your support as they assist those in need in our area.

October is one of the months when Mt. Carmel has a special food drive for NCM.
Please remember them when you do your shopping each week!

For more information on NCM, see their facebook page at
www.facebook.com
/norcrosscm.
North Georgia Family Counseling Center

Family Wellness
through Counseling, Education and Research

Mt. Carmel proudly supports the North Georgia Family Counseling Center.
678-242-9355
ngfccumc@gmail.com
www.ngfccumc.org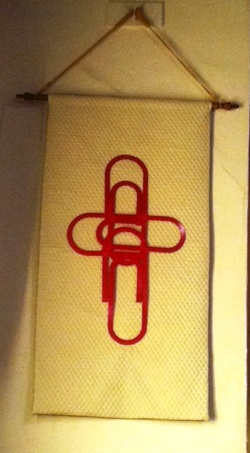 Oops!



During these three weeks of emphasis on stewardship, we are using the image of a red paperclip and remembering the story of Kyle MacDonald who, in a series of trades, traded a singled red paperclip for a house. We planned to give out paperclips as prayer reminders and to ask the questions: If Kyle could transform a paperclip into a house, how might God transform your gifts? How might God use your giving to transform you?

We were excited about using the paperclip image in the sanctuary, and the stewardship team asked Phil, resident master of cardboard cutting, to cut two huge cardboard paperclips for the banners.

Unfortunately, somewhere in the communication the request to Phil was garbled. Instead of two large paperclips, each one large enough to fill a banner, Phil provided 12 medium paperclips.

What do you do with the unexpected? We started playing with the paperclips. One paperclip on a banner was not enough—it looked lost on the wide expanse of fabric. The alternative—filling the banner with a bunch of paperclips—would appear as a jumbled mess.

Moving the paperclips around, all of a sudden the answer was in front of us. Arrange the clips into the shape of a cross.

It was one of those stunned "Aha" moments. This was more than an answer to how to make a pretty banner—this was a reminder that when God transforms, the shape of the cross is the outcome.

Kyle transformed his paperclip into a house—something bigger and more valuable. Those who preach the prosperity gospel argue that God takes our gifts and gives back more treasures like houses, cars, and land.

Looking at the pieces of cardboard shaped into a cross, it hit me that God's transformation takes the shape of the cross. Whenever we give of ourselves, we create a space in which God can work in our lives—in these moments, God shapes us to be more like Jesus.

God's cross-shaped love is always surprising and overwhelming. The cross is God's unexpected gift of love and life to the deadly pain of alienation from God and one another.

I'll see you this Sunday, in front of the cross.

Pastor Cyndi
---
Mt. Carmel Shirts for Sale!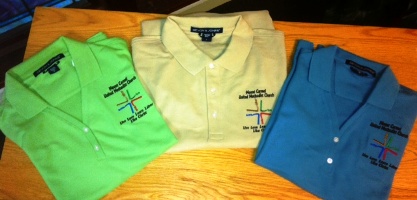 Stop by the display in the foyer near the sanctuary door to see the 3 colors available of our new Mt. Carmel polo style shirts!

Each shirt is $20.00 and has a logo depicting our mission statement, to: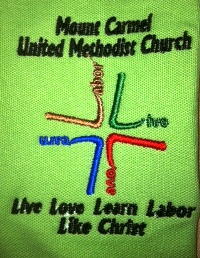 "Live, Love, Learn and Labor like Christ."

Order forms are available near the display. Just fill one out, enclose your payment and either drop it into the offering plate or by the church office.

What a great way to represent our church, wherever you go!
---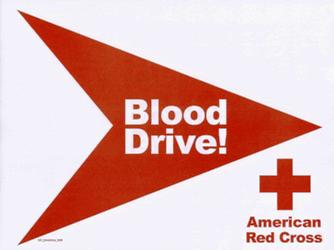 Thank You!

Our Red Cross Blood Drive last Wednesday was very successful! Our goal had been to collect 25 pints of blood, and that's EXACTLY what we got!

Thank you to everyone who donated, as well as those who tried to donate but were deferred for various reasons. And of course to those great volunteers who helped make the whole thing possible!

Mark your calendars now for the next Mt. Carmel Blood Drive on May 1, 2013.
---
November 4th:
A Special Day at Mt. Carmel!

10:30 AM - Combined Worship Service
12:15 PM - Church Conference & Lunch
We'll begin by celebrating All Saints Sunday during the worship service. We will read the names and light a candle in memory of our loved ones who have died during the past twelve months.

The names to be read MUST BE SUBMITTED TO THE CHURCH OFFICE. No name will be included in the service without being explicitly sponsored by someone in the congregation. In this way, we respect the privacy of those who wish it, while we celebrate the lives of those who have gone before us.

You are also invited to bring photos of loved ones who have passed away at any time, not just in the past year. These will be displayed during the worship service.
~~~~~~~~
Our Annual Church Conference will follow the worship service. Our District Superintendent, Dr. Ed Tomlinson, will lead the Conference where will will review the past year and hear the plans for 2013.
~~~~~~~~
A lunch will also be provided during the Conference in the Fellowship Hall. Please mark your calendars for this important day at Mt. Carmel!
---
Singles Group Events

The Mt. Carmel Singles Group has scheduled several upcoming activities.

Oct. 21: Lunch at Dog Days Restaurant after the 11:00 service.

Jan. 5: Dinner at Jeanne Manget's home

Upcoming plans include a trip to Gibbs Garden in April and a trip to hear the Michael O'Neil Singers this spring.

All singles are invited to join the group. If you need more information, please contact Jeanne Manget, 770-418-1659, or Marian Long, 770 449-4498.
---
- October 20: Fall Festival - 10:00 AM
- October 21: Youth Council Meeting - 3:30 PM
- October 28: Youth Halloween Party
- November 3: "Strikes for Jesus" Bowling (Note Date Change)
- November 9 - 11: Mid-High Retreat
---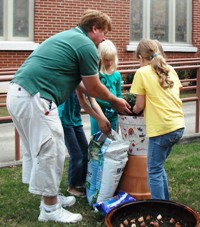 Children's Ministry News
Sunday School:
This week's lesson, James and John, comes from Mark 10:35-45. James and John ask for special places next to Jesus, but Jesus reminds them that he loves everyone and does not reward a special few. Talk to your children about a time when you or they let someone go first and why it is either easy or hard. How did it make you feel?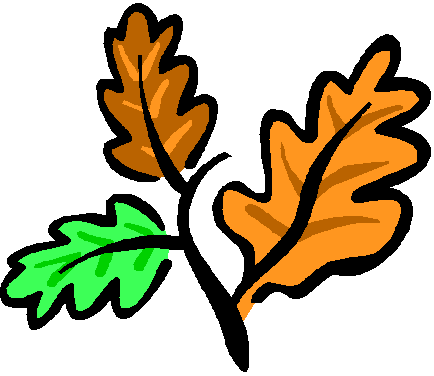 Fall Festival:
IT'S SATURDAY! 10:00 – 12:00. Invite your friends and neighbors to come. There are crafts to make, games to play, wild hair designs you can turn your hair into, a hayride that zooms around the parking lot, the big monster truck moonwalk and food to eat. The mysterious fortune teller will gaze into her crystal ball and give wonderful fortunes. Bring change and dollars with you, as all proceeds will go to the Wesley Walk for Others. See you Saturday.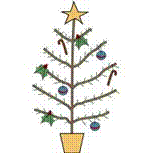 Christmas Pageant:
It is not even Halloween and here I am mentioning the Children's Christmas Pageant which will take place on December 9. The first practice is Nov. 2 after the combined service lunch, while the adults are at Charge Conference. Scripts will be given out that day. We are performing Barbara Robinson's "The Best Christmas Pageant Ever."
Dear Parents,

We had so much fun at Berry Patch Farms and loved seeing Miss Debbie, Mr. Andrew, and all our other friends! We had lovely hayrides, found baby pumpkins, drank delicious apple cider, saw the little animals and got a kick out of the fact that baby goats are called kids! That really made our day!

The Fours visit fire station #4 on Tuesday and the fire fighters visit the school on Friday. Everyone is invited to join us in the sanctuary on Friday to see our friends and discuss fire safety. You all remember that October is Fire Prevention and Safety month. Do you have a family plan if your house catches fire? If not, you might want to put time aside to learn what you should do! The fire fighters will be with us at 10:00 in the sanctuary on Friday, October 19.

Don't forget that we are having our first PTA meeting in the evening on Wednesday, October 17 at 7:00. If you need childcare, please contact me. We want to have enough care givers available to watch your children.

Looking ahead, we have our Halloween parties on Tuesday, October 30 for our T/TH population and on Wednesday, October 31 for the rest of the school. The parties begin at 12:30 and sign-up sheets are posted on the bulletin boards outside the classrooms. Please be sure to participate in these fun days. Parents are always invited to attend our parties.

In joy and love,
Lorrie
---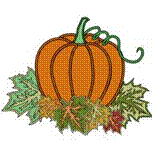 Fall Festival
October 20
10:00 am - 2:00 pm

Monster Truck Moonwalk, Crafts, Games, Cupcake Walk, Hayride, Hair Design, a Fortune Teller and more!

Our Children's Ministry and Outreach Team will work together to raise money for the Wesley Community Centers. The Flamingo Fling Grill Master will be cooking hot dogs on the grill too, so save your change and come join the fun!
---
Wesley Walk for Others at Fall Festival
October 20 ~ 9:00 am - 2:00 pm

We will walk at the Fall Festival and sell hot dogs as well, to raise money for the Wesley Community Centers which support low income senior citizens in our area. We will begin at the church at 9:00 AM for a walk of approx. 3 miles, led by Lila Hunter.

Following the walk, hot dogs, chips and drinks will be sold with the proceeds also going to the Wesley Community Centers. Get your walking shoes out and join the group!
---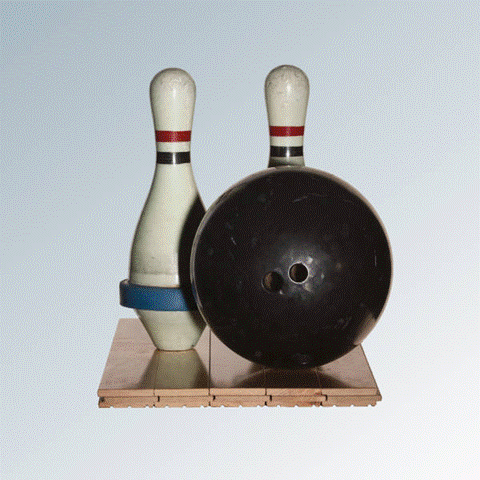 "Strikes for Jesus"
Date Change!

Please note "Strikes for Jesus" has been moved to Saturday, November 3rd!

We will bowl three games at the Brunswick Bowling Lanes on Spalding Dr. The cost will be approx. $15.50. This includes the games, shoe rental, a couple of slices of pizza, and soda.

We're bowling "STRIKES for JESUS," so you don't have to have ANY bowling skills. Please contact Neil Odom if you would like to join this fun event. (770) 827-2122 or nonojo413@gmail.com.
---
Please join with others in our church family in praying the thanksgivings and intercessions named in worship last Sunday and during the week:
CONCERNS:
Family of Craig German's cousin Merlin who died this week
Steve Ruhl - bronchial problems - can't work
Eva Proels - broken finger
Leslie & Jason Smith & family
Frances Griffith - broken hip (family of Morning Starr resident)
THANKSGIVINGS:
Thanks from Proels family for cards, prayers, concern after Alex's heart attack

Great UMW Retreat at Lake Harding, AL. 15 women attended.
---
News to Share?

Do you have an article to include in next week's bulletin or newsletter?

Email these to Suzanne Foster or call the church office.

office@mtcarmel-umc.org
5100 South Old Peachtree Road
Norcross, GA 30092
770-449-4498
www.mtcarmel-umc.org