Director of Children's Ministries
---
Native American Ministries Sunday

This Sunday in worship is Native American Ministries Sunday, one of the six churchwide Special Sundays of The United Methodist Church. Native American Ministries Sunday recognizes and supports the contributions of Native Americans to church and society.

Native American Ministries Sunday is celebrated with a special offering on the Third Sunday of Easter. The funds allow The United Methodist Church to collaborate with existing Native American ministries and create programs on behalf of Native Americans. Money collected also supports seminary scholarships for United Methodist Native Americans.
---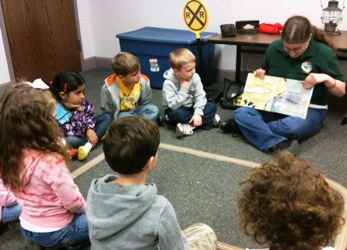 We had the best time ever at the Southeastern Railway Museum last week and even became explorers after our Thursday trip! Since we were stopped from leaving the museum by a train with bad brakes, we took a detour through the woods and ended up in the parking lot of Duluth Middle School! Can you imagine what people thought when they saw car after car emerging from the trees that day? It was a hoot to say the least. There is never a dull minute at Mt. Carmel Preschool!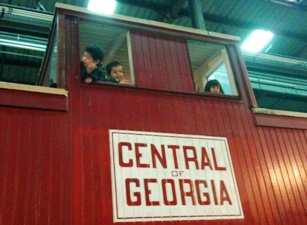 As you can see in our pictures, we had story time and then we were able to climb aboard the trains and see how people used to travel. How nostalgic! We think this field trip is a keeper, so we are surely going again next year when we study about ways we travel.

We are busy from this day forward with picture days, Mother's Day tea, end-of-the-year blast, graduation and our ballet recital. I know the time will pass so quickly that before you know it, we are out for the year. We still need everyone to wear closed toe shoes and no Crocs, please! We love our clean record of an accident free year at the school!

There are still openings in the fall and we need to fill our classes! If you know of any child without a preschool home, send him our way!

In joy and love,
Lorrie
---
Our Blood Drive is TOMORROW from 2-7! Thank you to everyone who has signed up to give. If you still want to sign up, just contact the church office.

Thanks again for helping to save lives!

---
American Cancer Society "Relay for Life":
May 4-5: Gwinnett County Fairgrounds

Thank you from the Mt. Carmel Relay Team for all of your support in our fundraisers this year. We are happy to once again be able to contribute to the battle against cancer.

This year you can also purchase a luminary on line in memory or in honor of someone who has been touched by cancer. These will then be lit at dusk at the Fairgrounds as a parade of cancer survivors and care-givers pass by.

Just click here - Our team name is Mt Carmel UMC - from there you can purchase the luminary .

---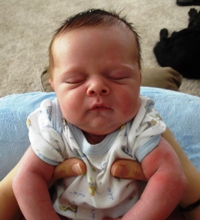 It's a Boy!

Congratulations to Preschool Teacher Virginia Daneke on the recent birth of her new grandson, Gavin. Congratulations to proud parents Eva & Paul also!
We wish them all the best!
---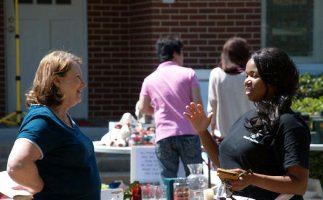 Yard Sale a Great Success!

The Transformers class would like to thank every one who donated goods to our Food for the Poor yard sale last Saturday.

If you haven't heard, it was a complete success, thanks to all of you, our hard working volunteers and all who came out to shop with us! Our original goal was $3,200, which is the amount needed for Food for the Poor to build a house for a family. Between this sale and our sale last fall, we collected $6,340, so we will be able to build FOUR houses, because Food for the Poor has agreed to match our contribution.

We are so blessed to be part of a church family that is so generous. THANK YOU from the bottom of our hearts. We could not have done this without you!!
---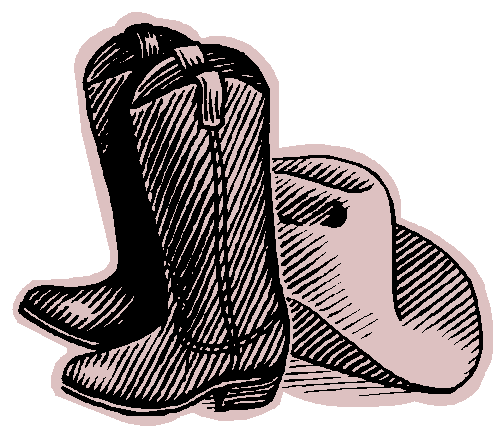 The "Cowboy Campfire" Untalent Show:
Saturday, April 21 at 7:00 pm

The youth still need a few more acts for the show, plus lots of people in the audience!

The Untalent Show is an evening that includes some wonderful talent, along with some acts that have no talent at all, which makes for a night of laughter and fun! There is no admission charge, but lots of opportunity to give free will donations.

Rumor has it that the Cowboys will have a jail and you will have the opportunity to pay to have someone arrested! Of course the person who is arrested has to pay to get out of jail too!

Our concession stand will have hot dogs, baked beans, s'mores, assorted candies, chips and soft drinks. All of the proceeds will benefit the youth mission trip to the Eastern Najavo Indian Reservation in Twin Pines, New Mexico. Come and join the fun!
---
Trinity Soup Kitchen on May 6

The youth, as well as other church members will go to Trinity Soup Kitchen on May 6 to serve the homeless. The youth will make 1200 sandwiches on Sunday morning before we leave, but we also need 60 gallons of vegetable soup, 17 boxes of saltine crackers (4 sleeves to a box) and 18 bottles of squeeze margarine. If you would like to serve at the kitchen, you are welcome to join us at JR's Restaurant for breakfast at 9:30 AM, or meet us at Trinity UMC at 11:00 AM. We usually are finished no later than 3:30 PM. If you would like to donate any of these items or join the group, please contact Gail Bolton.
---
Thank You Very Much!

The last three months flew by as I filled in as Interim Music Director/Organist, and I can't thank the Mt. Carmel Congregation, Choir and Staff enough for your unending support, as the search for a permanent Music Director/Organist took place. Thank you also for the unexpected gift I was presented on Easter Sunday. It was very much appreciated.

Mt. Carmel holds a very special place in my heart, and though I will be doing some work in various churches in the area, I will still be attending Mt. Carmel when I'm in town or not helping out at other churches.
In His Love,
Cheryl Smith
---
Stations of the Cross Follow Up
Thanks to all those who contributed art and volunteered as greeters for the Stations of the Cross.

We have two opportunities for those who want to remember these. David Jones made a video, now available at the worship section of the church website mtcarmel-umc.org , or you can access it directly here .

George Hunter has added a photograph album of the stations to the church facebook page.
---
BOY SCOUT CAMP CARDS

Pay any Mt. Carmel Boy Scout $5 and get a card that includes a $5 discount at Publix and $10 off at Sports Authority. While these are one time discounts, the card has several other discounts that can be used numerous times before the end of the year. It's a great way for the scouts to earn money for Summer camp, Philmont and Jamboree. Consider buying several cards! Mt. Carmel scouts are: Johnny Roe, Ryan Stark and Trevor Jones.
---