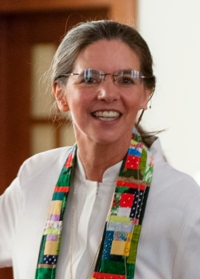 It was a crazy morning. Company was coming. After dashing and stashing all the toys and clutter, we were exhausted. Matt, Mark and I were hurriedly preparing a cake to serve.
Matt wanted to crack the eggs, but I was afraid of egg shells in the batter. I offered to let him count out the eggs as I added them to the batter. He was not happy with that answer but went along. We were all impatient with one another.
Matt held up and counted another egg to add to the batter. Then Mark got that glimmer in his eye, and suggested how funny it would be for Matt to throw eggs instead.
Matt took off, running through the house, holding eggs high.
"Don't make me come after you!" I called out, but that wasn't enough to stop the mess that followed. Next thing I knew, we were all on hands and knees trying to rub out of the carpet a long streak of egg slime.
I guess that my saying, "Don't make me come after you!" is not an effective threat.
But maybe the way Mercer Griffin says it will be more effective.
Mercer is putting together the pictures in the church directory. Her way of coming after you is to go through Facebook and old church photo albums. I saw the collage she made of the Thompson family. Believe me, you don't want her to decide what picture of you appears in the church directory!
Seriously, it isn't fair to ask the directory team to go through the church list, identify who needs a picture, send emails and make phone calls, and then spend more time hunting down old photographs.
The directory matters. People who attend 11:00 services need to know the names of the 9:30 crowd, and vice versa. If you are new, others want to know your name. If you are a long-term member, new people want to know your name! It's part of being a church family, to know one another's names.
If you have not sent your photograph, do it this week.
Don't make Mercer come after you!
Pastor Cyndi McDonald