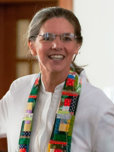 Jesus asks hard questions.
When we began reading through the Gospel of John, we heard Jesus ask two of his first disciples, "what are you looking for?" We took time to ask that of ourselves.
For myself, I looked first at my initial superficial answers
—lose 10 pounds, financial stability, the fear of what others think—and spent time reflecting on what deep longings drive each of these answers.
In the weeks since, I have reflected on my tendency to slap on another spiritual practice—add a Bible study, add a quiet time—when what I am truly looking for is a faith that pervades all of who I am.
I want to know Christ's peace when I get the mean email. I want to know Christ's joy when I wake in the mornings. And when someone does not do what I want them to do? I want to know gentleness, rather than forcing my will.
And I want this for others, too, not just me. I want others to know what it means to live in Christ, and know Christ's grace, forgiveness, and healing.
During this same time, leaders in the church have been asking an extension of Jesus' question in small groups.
What are you looking for on Sunday mornings?
The desire behind this question is not to slap on another Sunday School or to cut out a worship service, but to ask ourselves what we as a church are looking for.
Once again, we begin with the superficial first—convenient times, preferred music, comfortable habits—and see what fears and longings drive each answer.
What do our preferences about worship times and practices say about what we are looking for from worship? We know that we need deep relationships with other people—these relationships teach us how to love God and love the neighbor. Should we expect our worship services to provide all the intimacy that is needed for us to be a church?
What are we looking for on Sunday mornings for our children and youth? What do we hope our children become? Do our practices help our children grow into people of faith?
Please be in prayer for the members of the strategic planning team—members of Administrative Board and Council on Ministries. They will gather on February 16 to review the answers that you have shared in small groups. If you have not been part of a small group,
you can share your responses here
.
I am praying that they will dig deep, and get into what lies beneath the superficial answers. I am praying that they will have the wisdom to go beyond the superficial in our responses, and that through these responses they will see glimpses of God's call on our church.
Jesus asks hard questions. Following Jesus, we ask hard questions of ourselves, too.
I'll see you this Sunday,
Pastor Cyndi