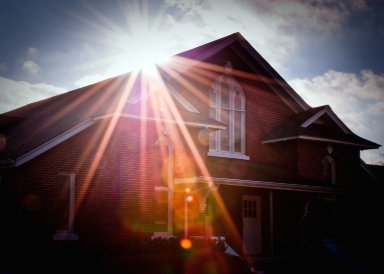 January 17, 2012

In this issue:
From Pastor Cyndi
Chapel in the Woods
Save the Date
UMW Brunch
United Methodist Men
Healthy Aging Workshop
Children's News
Youth News
District Choir / Training Event
Preschool News
In Worship this week
Birthdays / Anniv.
Sunday's Prayers
NCM
Counseling Center
MEN'S CLUB DINNER AND MEETING
JANUARY 19
7:00 PM
CHAPEL IN THE WOODS
JANUARY 21
8:30 AM

UMW BRUNCH
JANUARY 22
12:30 PM

SPR MEETING
JANUARY 22
2:30 PM

BOARD OF TRUSTEES
JANUARY 22
6:00 PM

PRESCHOOL IN-HOUSE REGISTRATION
JANUARY 26-27
9:30AM

HEALTHY AGING WORKSHOP
JANUARY 26
7:00 PM

OSWALD BROTHERS CONCERT
JANUARY 28
7:00 PM

5TH SUNDAY COMBINED SERVICE
JANUARY 29
10:30 AM

RELAY FOR LIFE BRUNCH
JANUARY 29
10:30 AM - 1:00 PM

VALENTINE WORKSHOP
JANUARY 29
3:30 PM

AROS DISTRICT CHOIR FESTIVAL / TRAINING SESSIONS
CHAMBLEE 1ST UMC
2:30 PM
Healthy Aging Workshop
January 26
7:00 PM - Hope House

"How to Get the Most Out of a Visit to the Physician."

Sponsored by the North Georgia Family Counseling Center

www.edu.ngfccumc.org
Birthdays this week:
Ruby Bolton
Audrey Ferguson
Daniel Smith
Cathy Smith
Diane Bond
John Tucker
Justin Portillo
Gary Cox
Anniversaries this week:
Chris & Jill Harshman
Norcross Cooperative Ministry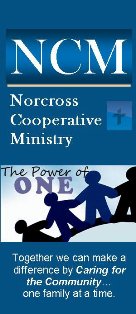 As one of the founding churches of NCM, we encourage your support as they assist those in need in our area. For more information on NCM, see their facebook page at
www.facebook.com
/norcrosscm.
North Georgia Family Counseling Center

Family Wellness
through Counseling, Education and Research

Mt. Carmel proudly supports the North Georgia Family Counseling Center.
770-861-7317
www.ngfccumc.org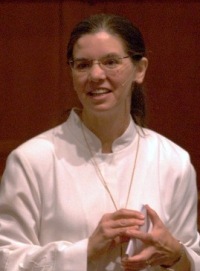 A Portion Meant For Others



On Sunday afternoon our finance committee met to develop a budget for 2012. Unlike past years, when the budget was set at church conference, we delayed setting a budget until after the stewardship campaign.

Tom Cooper, our finance committee chair, and Shelia Trentini, our treasurer, began by providing estimates of giving for 2012 and the details of the expenses we could expect. They put a lot of time and thoughtfulness in gathering and making accurate projections.

I was proud of the way the finance committee handled this data. Before we began the discussion, someone asked the essential question:

"Can we pay all our apportionments?"

The answer was immediate.

"Yes. In 2012 we will pay 100% of apportionments."

Apportionments are the way that we United Methodists work together. Each church pays "a portion". Together we support missionaries to spread the good news and show God's love. Together we provide seminary scholarships for those who are called by God into the ministry and need financial assistance. Together we provide aid during natural and manmade disasters.

I hope you take pride in knowing that we are a church that looks beyond ourselves to the world around us. Take a moment to see how your giving makes a difference: http://www.ngumc.org/pages/detail/2011.
You'll be proud, too!
I'll see you this Sunday,
Pastor Cyndi
---
UMW Brunch

All women of the church are invited to the
Mt. Carmel UMW "Woman of the Year" Brunch

Sunday, January 22, 2012
12:30 pm
Fellowship Hall

Please plan to join us as we recognize a special woman who has gone above and beyond in her service to our church.

Please RSVP to the church office at office@mtcarmel-umc.org
or call (770) 449-4498.
---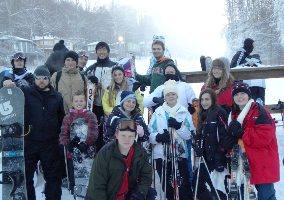 Youth News:
Greetings to all of you on behalf of the Mt. Carmel Youth! I pray that you all enjoyed your holiday weekend as much as we did. With fresh snow, a lovely house to stay in, and no significant injuries to speak of it is safe to say that our annual ski trip to Sugar Mountain was a huge success!

We do want to offer a sincere thank you to all of you who have been praying for us while we traveled. Of course, personally I am most thankful for the incredible parents and their remarkable youth, and our counselors who continue to amaze me with their resourcefulness, their willingness to try new things, and their ability to make a trip the absolute best it can possibly be.

We are certainly happy to be back home and back to one or two layers of clothing kind of weather.

You can see more pictures from the trip at
http://www.facebook.com/MtCarmelUMC
With thankfulness,
Kaylen
---
News from the Mt. Carmel Men's Club!

THE MT. CARMEL UNITED METHODIST MEN are busy in 2012!

The Men's Club will have a dinner meeting on Thurs., Jan. 19 at 7:00 p.m. in the Fellowship Hall.

Then on Feb. 3 – 5, they will travel to Amicalola Falls for their winter retreat. All men are encouraged to participate. Please contact Steve Riviere for more information. (404) 473-6085 or sriviere@southernco.com
---
"Chapel in the Woods" Plans 1st Hike of the Year

Mark your calendars now for the first hike of 2012!

The hiking group will meet at Mt. Carmel at 8:30 AM on Saturday, January 21 and carpool to Simpsonwood Retreat Center in Norcross. There they will hike the beautiful nature trails along the Chattahoochee River, stopping mid-way for a short devotion. This is an easy walk of approximately 2 miles and is appropriate for ALL AGES!

Just bring a bottle of water, wear your comfortable shoes and join the group on the 21st! If you have any questions, please contact Marlene Porter.
---
AROS Choir Festival and Training Event

Sunday January 29, 2012 from 2:30 PM to 4:45 PM
First United Methodist Church - Chamblee
4147 Chamblee Dunwoody Road Chamblee, GA 30341



Choir Festival:


Rehearsal, Saturday, January 28, 10 am until noon. If you wish to participate or have questions, please contact Rev. Beth Brown Shugart at bshugart@johnscreekumc.org

Choir will perform at 2:30 on Sunday. All workshops will follow this opening worship service.



Workshops:


Music & Worship
The Power of the Breath
Communications
Pastor/Staff Parish Relations Committee
UMC 201
Money 101
Trustees 101

Click here to register or call Katie Cook at 770-362-1002.

---
Sunday School: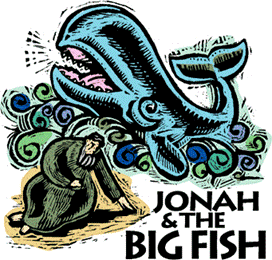 comes from the Old Testament, Jonah 1-4, and the story of Jonah. The children's story will focus on not being able to hide from God and that God is with us even in hiding places.

We will also begin practicing to sing in church on February 26.

See you at Sunday School.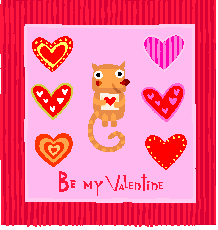 Valentine Workshop:
January 29th 3:30
A Card Making Workshop
for Children and Adults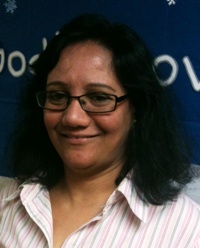 From Our Preschool
Meet Ms. Sarala!



"I was born in India and traveled to the US when I was twenty years old. Since then, I have lived in Atlanta, Ga. (so you can call me a native Georgian : )

I have been married for almost 28 years. I have two children: a 23 year old son and a 20 year old daughter. My son graduated a Biomedical Engineer from Georgia Tech and is currently studying medicine in the Caribbean. My daughter is in her third year studying Biochemistry at Georgia Tech. Our entire family is a Ramblin' Wreck from Georgia Tech! Go Jackets!

One of my hobbies is cooking. I love to experiment with different Indian and American spices to create tasty, new cuisine. Every evening, I like to walk about three miles with my husband. After a long day, I tend to relax and watch Bollywood movies.

I love everyone in my class and treat them as if they were my own children! Thank you Moms & Dads for sharing them with me!"

We are so lucky to have Miss Sarala as a teacher, aren't we?

This week the 4's are off to Fernbank to see the dinosaurs and we are very excited about our trip. We have an invasion of dinosaurs in our hallway, in case they escaped your attention!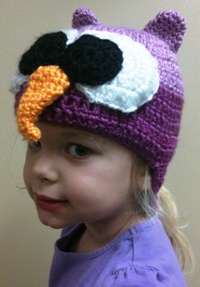 We are also blessed with wonderful hats that Lollie has made for us. All proceeds go to the Preschool, but I also think that the proceeds of love go to everyone who buys a warm and beautiful hat! We will continue this fundraiser as long as we have hats, so the congregation is encouraged to see these chapeaus. Just ask Diane Smith! She bought a hat before we even set them on display! Lollie's granddaughter, Landry, is the lovely model in our photo!

Registration for the fall for in-house and church families is January 26 and 27 and community registration (out-house) is Wednesday, February 1 at 9:00 in Fellowship Hall. We will be open M-F next year, so pass the word to friends and neighbors. We welcome four new students into the Preschool this semester, so greet Adeline, Linus, Miles, and Valor when you see them!

Please join with others in our church family in praying the thanksgivings and intercessions named in worship last Sunday and during the week:
CONCERNS:
Lisa Moore's step-mother - cancer
Cheryl Marthin's friend James - mother passed away
Penny Millar's friend - surgery
Julie Samples' friends - older couple - needs peace
Sam's friend's son - financial problems, then home burned
Ruby Easley's brother
Stephanie - lung surgery
Joyce Odom - baby Jude will have another surgery on 2/14
Lorrie Ignatius' friend Sue - hospitalized with circulatory problems
THANKSGIVINGS:
David Posey - starting grad. school at Boston Univ.
Jeanne Manget - two friends visiting
Blackwoods - good trip to N.Y. to see family
Barbara Cooper's sister - survived serious accident
Joyce Odom - baby Jude turned 2
Judy Peck's sister - recovering - able to return to church
---
News to Share?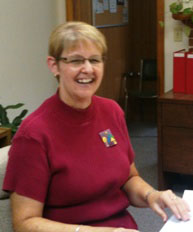 Do you have an article to include in next week's bulletin or newsletter?

Email these to Suzanne Foster or call the church office.
office@mtcarmel-umc.org
5100 South Old Peachtree Road
Norcross, GA 30092
770-449-4498
www.mtcarmel-umc.org