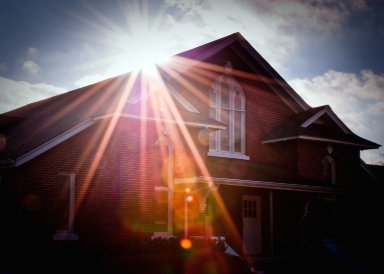 March 12, 2013
In this issue:
From the Pastor
Lenten Dinner
Holy Week
Youth News
Children's Ministry
Artwork Needed
Easter Lilies
Preschool News
Thank You
Chili Cook-Off
Relay for Life
Habitat Build
Sunday's Prayers
Save the Date
In Worship this week
Birthdays / Anniv.
NCM
Counseling Center
Save the Date...
LENTEN DINNER/ WORKSHOP


MARCH 13 - 6:00 PM
FELLOWSHIP HALL



ADULT CHOIR


MARCH 13 - 7:00 PM
CHOIR ROOM



WEDNESDAY NIGHT STUDY


MARCH 13 - 7:00 PM
RM 112/114



WOMEN'S STUDY


MARCH 13 - 7:00 PM
YOUTH ROOM



PAVEMENT POUNDERS RUN - MEET AT CHURCH


MARCH 16 - 8:00 AM



CHURCH WORKDAY


MARCH 16 - 9:00 AM



CHILI COOK-OFF AT IGNATIUS HOME


MARCH 16 - 7:00 PM



MEN'S BREAKFAST


MARCH 17 - 8:00 AM
FELLOWSHIP HALL



SUNDAY NIGHT STUDY


MARCH 17 - 6:00 PM
COUNSELING CENTER



DAY CIRCLE


MARCH 19 - 10:30 AM
FELLOWSHIP HALL



BROWN BAG STUDY


MARCH 19 - 11:30 AM
HOPE HOUSE



EVANGELISM MTG.


MARCH 19 - 7:00 PM
HOPE HOUSE



FINAL LENTEN DINNER & STUDY


MARCH 20 - 6:00 PM
FELLOWSHIP HALL



HOLY WEEK


SEE ARTICLE
NIGHT CIRCLE
MARCH 25 - 6:30 PM
FELLOWSHIP HALL
PRESCHOOL PIZZA WITH DAD
MARCH 28 - 12:00 PM
FELLOWSHIP HALL
PRESCHOOL CLOSED
MARCH 29
OFFICE CLOSED
APRIL 1



CHAPEL IN THE WOODS TO GIBBS GARDENS


APRIL 6 - 8:30 AM
MEET AT CHURCH



HABITAT BUILD


APRIL 13



UMM SUNDAY - COMBINED SERVICE


APRIL 14
10:30 AM



FELLOWSHIP LUNCH BY RELAY FOR LIFE TEAM


APRIL 14 - 11:30 AM
FELLOWSHIP HALL



SR. HIGH YOUTH RETREAT


APRIL 19 - 21



EARTH DAY FUN


APRIL 21 - 3:00 PM
LOWER FELLOWSHIP HALL

BBQ & SWEET SHOP! ~
HISTORY TOURS
APRIL 26 & 27



RED CROSS BLOOD DRIVE


MAY 1 - 2:00 - 7:00 PM
FELLOWSHIP HALL
Birthdays this week:
Amy Jenkins
Lyle Hoge
Scott Ragon
Alston Minor
June Spruell
Penny Millar
Gene Anglin
Anniversaries this week:
Bob & Pat Pollock
North Georgia Family Counseling Center

Family Wellness
through Counseling, Education and Research

Mt. Carmel proudly supports the North Georgia Family Counseling Center.
678-242-9355
ngfccumc@gmail.com
www.ngfccumc.org
Norcross Cooperative Ministry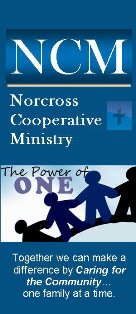 As one of the founding churches of NCM, we encourage your support assisting those in need in our area.

For more information on NCM, see their facebook page.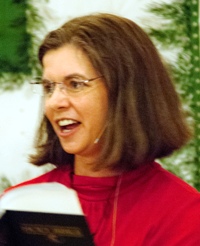 Snakes, Clovers, and a Breastplate
This Sunday is St. Patrick's day, when many of us don green and pretend our roots are among the Irish. All I knew as a child was wear green or risk being pinched, something about driving snakes from Ireland, and four-leaf clovers.

It turns out I was wrong on most counts. The driving out of snakes is a myth (although some say that this may reflect Christianity replacing the Druids and their serpentine symbols).

I was mistaken too, about four leaf clovers. I thought these had something to do with the luck of the Irish. Instead, it's a three-leaf clover that St. Patrick is said to have used to explain the trinity. Each of the clover's three leaves is unique, like Father, Son and Holy Spirit, and yet bound together as one.

Yet under these legends and stories, there was a real St Patrick who has much to teach us today. Born around A.D. 387 to Roman Imperials living in Britain, at age 16 he was kidnapped by Irish pirates who sold him into slavery. Later he shared that during this lonely time of captivity, prayer was his main comfort.

After six years as a slave in Ireland, he escaped and made his way to Gaul (modern-day France). There he studied to become a priest. Then in a dream, the Irish people called out for Patrick to return. I cannot imagine what Patrick thought when he realized this was God sending him back to Ireland where he had escaped from slavery.

This Sunday we will pray "lead us not into temptation but deliver us from evil." What temptations to his faith did Patrick bear during his six years of slavery? What trials did he face when he later returned?

This week in worship, as we reflect on praying about our trials—whether temptation or difficult circumstances—we will say together Patrick's prayer, known as the Breastplate of St Patrick. We don't know the circumstances under which he wrote these words, but I have no doubt that in his trials and temptations he discerned true and helpful words:

I bind unto myself the Name,
The strong Name of the Trinity;
By invocation of the same.
The Three in One, and One in Three,
Of Whom all nature hath creation,
Eternal Father, Spirit, Word:
Praise to the Lord of my salvation,
Salvation is of Christ the Lord.

Christ be with me, Christ within me,
Christ behind me, Christ before me,
Christ beside me, Christ to win me,
Christ to comfort and restore me.
Christ beneath me, Christ above me,
Christ in quiet, Christ in danger,
Christ in hearts of all that love me,
Christ in mouth of friend and stranger.

These are good words to remember when we pray for help. I bind myself to you, God, placing myself in Your care. I trust that you will be with me, surround me, protect me, lead me, comfort me, restore me. Salvation is in your hands.

I'll see you this Sunday,

Pastor Cyndi
---
Wednesday Lenten Dinners and Study

Mark your calendars for Lenten dinners and workshops at 6:00 p.m. each Wednesday through March 20th.
This week we will be praying with walking, as in walking a labyrinth. Weather permitting, there will be a large labyrinth outside to walk and pray. We will also have a finger labyrinth to use while Pastor Cyndi shares her message.
Dinner menu for March 6th:
chicken w/stuffing and cream sauce
pb&j for kids
green peas & carrots
fresh green salad
cool fruit salad
rolls
assorted desserts
tea & lemonade

Adults: $6.00 / Children 12 & under: $3.00 / Family Max: $20.00
Proceeds benefit the Mt. Carmel United Methodist Women's Missions.
---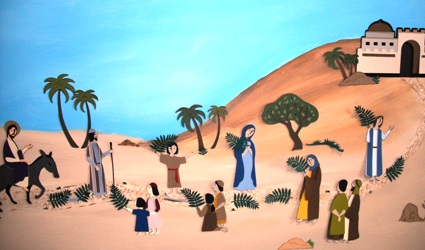 Holy Week Schedule

Palm Sunday
March 24th

8:30, 9:30, &
11:00 AM
Holy Week Prayers
March 25th - March 29th
Weekday mornings: 7 AM - 7:20 AM

Stations of the Cross
March 28th - March 30th
Thursday and Friday: 10 AM - 7 PM
Saturday: 9 AM - Noon

Maundy Thursday
March 28th
Worship Service: 7 PM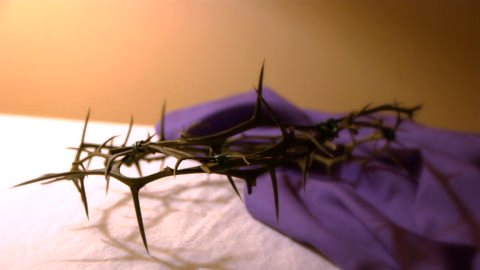 Good Friday
March 29th
Lunch:
11:30 AM and 12:30 PM
Worship Service: 12 PM


Easter Egg Hunt
March 30th
Games, Activities, Flowering Cross: 10 AM

Easter Sunday
March 31st
Sunrise Worship Service: 7 AM
Breakfast by UMM: 7:30 AM
Easter Worship Services: 8:30, 9:30, & 11:00 AM
---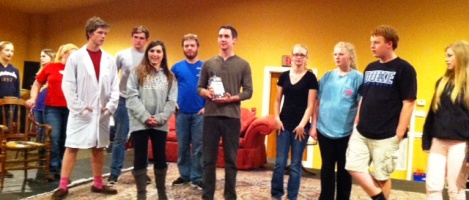 Youth News

As another dinner theater has come and gone, I would like to take this opportunity to say thank you. First and foremost to the youth, Gail, Lori, and all the volunteers who made it possible. Your tireless effort to put on a quality production truly was an inspiration.

I would also like to thank everyone who came out to support us on Friday and Saturday, those who offered us kind words on Sunday, and those who were in prayer for us throughout the process. It is truly a blessing to have so much support in our church.

I grow increasingly more excited about our youth mission trip this summer with each passing day. It would not happen without the desire that our youth have to make a difference in this world for the sake of God's kingdom, and without the entire church supporting that dream, so a sincere thank you to all the body of Christ in our church. We love you.

P.S. Youth, we are back to our regular 5:15 schedule this week so I look forward to seeing you all then!

Many blessings,
Kaylen Short
Youth Director
---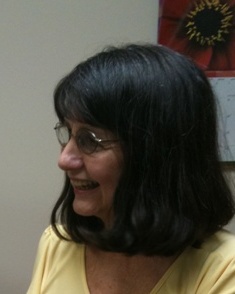 Children's Ministry News:
Sunday School:
The lesson for this week is really preparing us for Holy Week. It is the story of Mary Anointing Jesus from John 12:1-8. The children will focus on the many ways we can show our love to God.

Children Sing: March 24
The children will sing for both services on Palm Sunday, March 24. We will practice with John Waller accompanying us this Sunday in the Fellowship Hall, right after the children's sermon, before we go downstairs. Watch for an email with the song's words so you can practice.

Lenten Dinner:
Wednesday, March 14 at 6:00 pm
This week we will be praying with walking, as in walking a labyrinth. Weather permitting, there will be a large labyrinth outside to walk and pray. We will also have a finger labyrinth to use while Pastor Cyndi shares her message. I am going to have some large pieces of paper that children can draw pictures of Jesus in the Garden and/or the women at the tomb. These will be used for the Stations of the Cross.

Easter Eggs:
Watch for the tubs of empty Easter Eggs! Please take a bag or two of empty eggs and fill with individually wrapped candy. No chocolate (it melts), please. Return to church by Good Friday, March 29. Thank you.

Easter Egg Hunt:
March 30 at 10 am
Invite your friends and neighbors to come to Mt. Carmel's Egg Hunt on Saturday morning. In addition to hunting eggs, there will be food, crafts, games and the Stations of the Cross. Bring flowers to help decorate our flower cross for Easter Sunday too!
Marian Long
Director of Children's Ministries
---
Artwork Needed

Stations of the Cross will be a part of Mt. Carmel's Holy Week observance again this year and artwork is needed. If you have a piece of artwork, or would like to create one to be included, please see Barbara Cooper or contact the church office. Stations of the Cross will be open March 28 – 30 in the foyer and sanctuary.
---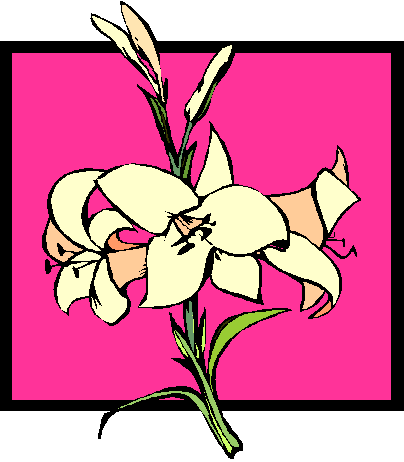 Easter Lilies
The UMW will once again be placing lilies in the sanctuary on Easter, March 31st, in memory or honor of our loved ones.

Cost is $8.00 per lily. If you would like to place one or more lilies, please complete the form found in Sunday bulletins, or contact the church office.

Checks should be made to the Mt. Carmel UMW. Thank you!

---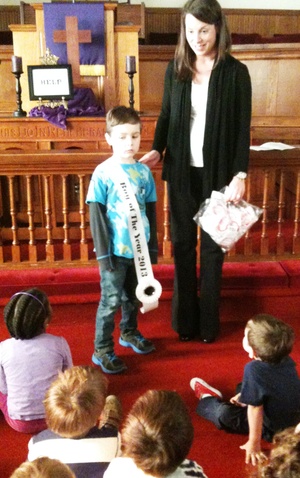 Preschool News
Dear Friends,

What a way to kick off the week! Did you know we have a hero in our presence? Indeed, we do! Watson Dufresne is the Leukemia and Lymphoma Society's "Boy of the Year" because he has heroically fought against his ALL – Acute Lymphoblastic Leukemia. Watson is about one month away from his very last treatment after 3 ½ courageous years of chemotherapy! Watson's parents, Andy and Jana, little brother, Liam, Aunt Andria, Uncle Brian, cousins Ansley, Luke, Landry, and Valor, his grandparents (Lollie being our favorite!) and all his friends have helped Watson through this period of time and we have been praying for the entire family. God has answered our prayers in a huge and powerful way. And the people said, "AMEN!"

One way we have helped Watson is by participating in "Pennies for Patients." Two years ago we raised $300.00 and we are trying to do better than that this year! If you have any spare change in your pockets or if you feel like having a treasure hunt in your home or car, please add your findings to the teddy bear outside the teacher work room that has Watson's and Liam's picture on it! Every penny goes to the Society in Watson's name! Come on, Gang, let's get crackin'!

As we go through our days and weeks to come, I think we have plenty to be thankful for, don't you? Take the time to thank God for His blessings, for His son, Jesus, and for the sacrifices that are made for us. We are a blessed bunch, aren't we?

In joy and love,
Lorrie
---
Thank You Very Much!

To our friends at Mt. Carmel,

Thank you so much for your calls, cards, visits and prayers during Paul's surgery and recovery. It means so much to have the support of such a wonderful church family.

Sincerely,
Paul & Ronda Bendig
---
Chili Cook-Off

It's almost time for the Annual Mt. Carmel Chili Cook-Off on Saturday, March 16th at 7 PM at Pekka and Lorrie Ignatius' home. Everyone who would like to compete should bring a pot of their very best chili. Those who don't want to bring chili are asked to contact Lorrie to sign up for side dishes and desserts.

Then everyone will enjoy the "taste-testing" before the grand prize winner is announced!

Please RSVP to Lorrie or the church office because you won't want to miss this fun night!
---
Please join with others in our church family in praying this week:

CONCERNS:
Ryan Stark - foot surgery on March 15
Tim Sawinski's sister Kathy - rehab for burns / skin grafts soon
Montgomery, Joy, Laura & Floyd - by George & Lila Hunter
Bryant family - cancer, Norwalk virus and heart attack
Paul Bendig - recovery from heart surgery
Cunkler family - death of father
Marsy Laurie's sister
Phil Griffin - upcoming school & work schedule
Gwen Lansing's Aunt Gloria - surgery on March 11
Sherry Blackwood's young cousin - in rehab
Barbara Cooper's aunt - Alzheimer's Disease
Kaylen Short's brother-in-law - danger as Atlanta police officer
Julie Jones' father - medical procedure, mother as care giver
Kathleen Moore's father
Lorrie Ignatius' sister Bonnie - hospitalized
THANKSGIVINGS:
Blackwoods back in their house after extensive reconstruction
Gift of memory
Pekka's sister's birthday
Posey's 33rd wedding anniversary
NHS boys & girls basketball teams both won State Championship
Leslie Smith's cousin expecting first child
Shelia Trentini - time with family
Youth Dinner Theater - hard work of Youth and all involved
---
News to Share?
Do you have an article to include in next week's bulletin or newsletter?

Email these to Suzanne Foster or call the church office.

office@mtcarmel-umc.org
5100 South Old Peachtree Road
Norcross, GA 30092
770-449-4498
www.mtcarmel-umc.org