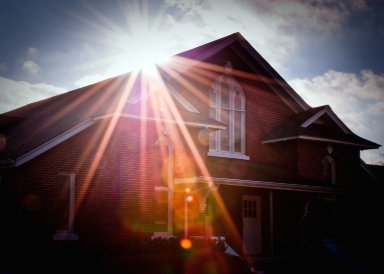 September 4, 2012
In this issue:
From the Pastor
Calendar Changes
Directories
Office Hours
Youth Events
Family Promise Lunch
Children's News
New Banners
Women's Study
Presch. Dedication
Preschool News
Sunday's Prayers
Save the Date
In Worship this week
Birthdays / Anniv.
NCM
Counseling Center
CHOIR PRACTICE
SEPT. 5 - 7:00 PM
CHOIR ROOM

PAVEMENT POUNDERS
SEPT. 1 - 8:00 AM
FROM CHURCH



WALK & TALK GROUP


SEPT. 1 - 8:00 AM
FROM CHURCH



PRESCHOOL DEDICATION SUNDAY


SEPT. 9



MEN'S BREAKFAST MTG.


SEPT. 9 - 8:00 AM
FELLOWSHIP HALL



CHILDREN'S COUNCIL MTG.


SEPT. 9 - 11 AM
RM 112/114



OUTREACH MTG.


SEPT. 9 - 12:15 PM
HOPE HOUSE



DIST. TRAINING


SEPT. 9 - 2:30 PM
DUNWOODY UMC



SPR MTG.


SEPT. 9 - 3:00 PM
HOPE HOUSE

LAY LEADERSHIP MTG.
SEPT. 9 - 5:00 PM
RM 112/114



GENESIS STUDY


SEPT. 10 - 7:00 PM
HOPE HOUSE



BROWN-BAG STUDY


SEPT. 11 - 11:30 AM
HOPE HOUSE



EVANGELISM MTG.


SEPT. 11 - 7:00 PM
RM 112/114



WOMEN'S STUDY BEGINS


SEPT. 12 - 7:00 PM
YOUTH ROOM



COM RETREAT


SEPT. 14 & 15
BEGINS FRIDAY - 6 PM



YOUTH TO BRAVES GAME


SEPT. 16 - 10:30 AM



FAMILY PROMISE MEAL


SEPT. 16 - 12:00 PM
FELLOWSHIP HALL



TRUSTEE MTG.


SEPT. 16 - 6:00 PM
HOPE HOUSE LIBRARY



UMW DAY CIRCLE


SEPT. 18 - 10:30 AM
FELLOWSHIP HALL



CHURCH WIDE PICNIC


SEPT. 23 - 4:00 PM
LAKE BERKELEY CHAPEL



UMW NIGHT CIRCLE


SEPT. 24 - 6:30 PM



UMW SUNDAY


SEPT. 30:
WORSHIP AT - 10:30 AM
LUNCH AT 12:00 PM



WORSHIP COMM. MTG.


SEPT. 30 - 5:00 PM
RM 112/114
Birthdays this week:
Leslie Smith
Nicholas Follmer
Kelly McVey
Margie Fisher
Katherine Peters
Dick Klinetob
Anniversaries this week:
Ernie & Christy Richmond
Dave & Lisa Spiller
Jim & Carla Agee
Norcross Cooperative Ministry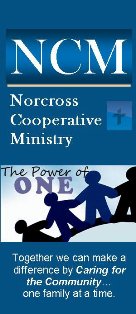 As one of the founding churches of NCM, we encourage your support as they assist those in need in our area.

For more information on NCM, see their facebook page at
www.facebook.com
/norcrosscm.
North Georgia Family Counseling Center

Family Wellness
through Counseling, Education and Research

Mt. Carmel proudly supports the North Georgia Family Counseling Center.
678-242-9355
ngfccumc@gmail.com
www.ngfccumc.org

Throughout the month of September, our worship services reflect the words our mission statement, "live, love, learn and labor following the example of Christ". We are singing our statement as we sing that classic and toe-tapping spiritual song, "I'm gonna live so God can use me". It's back to school for the congregation!

It's also back to school for our preschool children, and in their own way they are learning the mission statement. This morning they had their first "worship" time in the sanctuary. When Ms. Lorrie began to sing "Praise the Lord, Praise the Lord, let the earth hear His voice!", many of them remembered this from previous years and joined in singing.

Each morning, the children learn to pray by repeating after Ms. Lori. She begins by giving thanks. During the year, as they learn this is always part of prayer, they ask Ms. Lori to include in the thanks the things they are thankful for--a birthday party, a new puppy, a new baby sister or brother.

In their own way they are learning that God is the source of all life. We live, truly live, in and through the love of God for each of us.

My greatest hope is that each preschooler will learn deeply, all the way to the tips of their toes, that they are loved. Their teachers love them. Ms Lorrie loves them. And God loves them.

This week we will welcome our preschool children and their families to be part of our worship services. We will pray for our preschoolers, their teachers, and their families. It's a good Sunday to reflect on the next part of our mission statement, to "love following the example of Christ".

I'll see you this Sunday,



Pastor Cyndi
---
Date and Time Changes

Please note the following church calendar changes:

The Mt. Carmel "Pavement Pounders" and also the
Mt. Carmel "Walk & Talk" Group will begin meeting at 8:00 AM on Saturday mornings instead of the earlier summer schedule.

The Mt. Carmel United Methodist Men's Club Breakfast has been moved to Sunday, September 9th at 8:00 AM. All men of the church are invited to attend.

Please mark your calendars accordingly.
---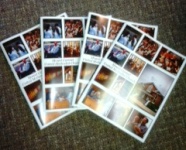 New Directories Have Arrived!
If you didn't get a new pictorial directory on Sunday, they are now available in the Sanctuary, Fellowship Hall, and Church Office.

We ask that you take ONE PER FAMILY at no cost. If you need a 2nd copy, there will be a $5.00 charge to help with printing expenses.
---
Abbreviated Office Hours

Due to the administrative assistant's vacation, volunteers have graciously agreed to staff the Church Office during the week of Sept. 4 - 7. Thank you!

Office hours will be from 9:30 until 1:30 on Tuesday, Wednesday & Thursday, and 9:30 until 12:00 on Friday. Please plan your church business accordingly!
---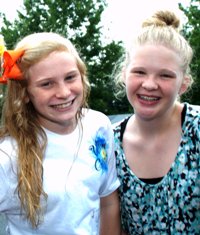 Upcoming Youth Events
Theme for This Week
Strength in Community is our theme for this week.

Good for the Braves...Not for Us
We planned on going to the Braves game on September 16th, but this game has been changed to an 8:00 pm nationally televised game. Instead, that Sunday we will go to Dave & Busters following the 11:00 service.

Families can make payments for the ski trip as early as you would like to this year.

September 23rd- Church family picnic @Berkeley Lake (Youth are in charge of games)

September 30th- Lunch fundraiser for UMW Sunday- Immediately following 10:30 service
---
Family Promise Lunch

Thank you so much to all who have supported Family Promise during our first two hosting weeks this summer.

We are planning a follow-up meal/get-together on Sunday, September 16, immediately following 11:00 AM worship. We would like to gather feedback on this year's experience, and hear your thoughts on changes for next year. I wouldn't be surprised if we hear a good story or two of being blessed by this ministry! It was an amazing time.

Please RSVP to Lila Hunter so that we can plan for enough food.
---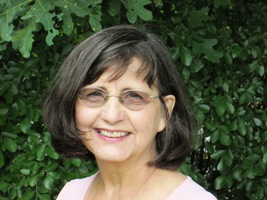 Children's Ministry News
Sunday School:
The story this week is about David becoming King of Israel. It is found in 2 Samuel 5:1-12. The focus of this story is that children learn that David listened to God and God helped David to be a great king. David trusted God to help him. The 3rd – 5th graders will continue their introduction to the Bible series.

Next week, we will begin again the lessons that follow the lectionary readings that adults will also be hearing in church. Our curriculum is SPARK.

Children's Council Meeting: Sunday, Sept. 9 at 11:00 AM in the Double Classroom

Upcoming events:
Sunday, Sept. 23: Berkeley Lake Family Picnic at 4:00 PM
Director of Children's Ministries
---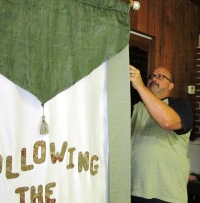 New Banners


Thanks to Hal Brickle for creating the new banners that represent our church mission statement.
---
Wednesday Night Women's Study

The Wednesday Women's Study will resume on September 12th at 7:00 p.m. in the Sr. High Youth room. Their first study will be "Mudhouse Sabbath – Seven ways of Christian formation inspired by the Jewishness of Jesus." Contact the church office for more information. 770-449-4498
---
Preschool Dedication Sunday
September 9: 9:30 and 11:00 AM

All Preschool Students, Parents and Teachers are invited to attend the 9:30 or 11:00 worship service on Sunday, September 9th when we will have a Preschool Dedication for the new school year.

We hope that everyone can attend!
---
Dear Parents,
We've done it again and with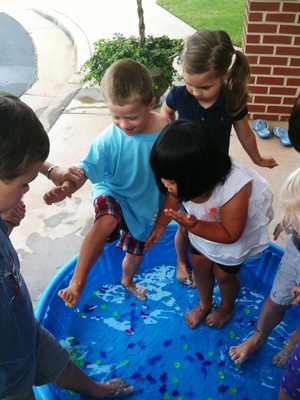 great success! Our toes have caught hundreds of fish and of many shapes and sizes. We never even had to leave the safety of our school! Yes, it was toe fishing time last week during camp and it seems as though this tradition is a keeper. You should have heard the squeals of delight when a fish was caught and raised out of the water. We even lost our balance and sat in the pool to the amusement of the children. Oh, goodness, it is good to be a fisherman.
This week we are on our normal schedule of 9:30-1:30. It's amazing what that extra hour does for us! There is no rushing around to get our work done, get outside, and have lunch. We can enjoy our lessons, and explore a little more. I do not know how neighboring preschools survive on 3 hours! Now, if only the weather would cooperate a little more.
We have started chapel again in the sanctuary and we are so happy to be back in that sacred room. We have missed it over the summer and enjoy looking up at Jesus and the lamb. This year we are studying Fruits of the Spirit and Love is our first fruit. Be on the lookout for love and for God Sightings. We are busy trying to keep up with all the clues around us!
In joy and love,
Lorrie
---
Please join with others in our church family in praying the thanksgivings and intercessions named in worship last Sunday and during the week:
CONCERNS:
Laraine's son recuperating from surgery
Bill's daughter dealing with stress
Bond's 15 yr. old neighbor - concussion
Donna Reviere
THANKSGIVINGS:
Baileys: Calvin's first visit to Mt Carmel
Susan's friend Julie - heart surgery went well
---
News to Share?

Do you have an article to include in next week's bulletin or newsletter?

Email these to Suzanne Foster or call the church office.

office@mtcarmel-umc.org
5100 South Old Peachtree Road
Norcross, GA 30092
770-449-4498
www.mtcarmel-umc.org