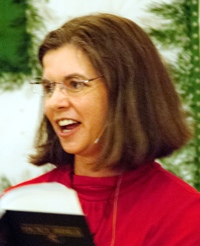 Our Story
When Christians tell the story of our faith, we usually begin with creation and the garden. We tell of the first people, created in God's image. We tell of sin and its consequence.
Sometimes I wonder why Jesus did not come right after Adam and Eve were sent from the garden of Eden. Why did God choose to work through people like Abraham, Moses, and Ezekiel? Why did God form a nation, Israel?
Apparently, God's salvation plan involved these people. That's why this fall, beginning September 8, our church will join with others reading through selections in the Old Testament in order. We will read a few bits from Genesis, a story or two from Exodus, and then stories from the formation of Israel to a nation, to its fall and people sent into exile. As we approach Christmas we will hear the promises they heard of new hope and new kingdom.
As we read, we will ask questions. Where was God in this story? How was God working in those circumstances towards healing and salvation? We will also ask how these experiences are similar to those of people in the world today. How might God be working toward healing and salvation?
My great hope is that this fall will be a time when each of us opens ourselves to God in deeper ways. I trust that the ways God often works—through small group Bible studies, through daily scripture reading—will be a means for you to grow as a disciple. Consider being part of studies that explore God's story in greater depth (
http://mtcarmel-umc.org/adults/bible-studies
.) Sign up for the email devotions that begin on September 2 (
http://livingingodsstory.com
.) Encourage a child or grandchild to do the family devotions provided in Sunday School.
As we read through scripture "in order", we'll see God at work in some odd people and strange circumstances. We'll look to the real world—also full of odd people and strange circumstances—with hopeful eyes. God is still at work in ways that lead to new life.
It's God's story. And it's our story.
I'll see you this Sunday,
Pastor Cyndi McDonald
Mount Carmel United Methodist Church