In the Newsletter this Week:
From the Pastor
Time Change!
Thanksgiving Pies / Flowers

Children's Art on Bulletin Covers

All Saints Sunday: November 3

Youth News

Photography Opportunity Nov. 5 & 6

Children's Ministry

Women's Book Club: November 8 at 7:00 PM
Preschool News
Thank You
Opportunity to Serve
Seminars for Parents of Teens
---
Tim
Remember to set your clocks BACK one hour on Saturday night, November 2nd!
---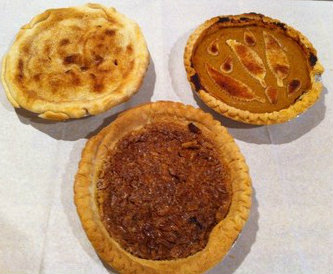 Order Your Dessert and Arrangement for Thanksgiving!
This year in response to several suggestions, the Youth Group will be taking orders for Homemade Apple, Pecan and Pumpkin Pies, as well as our traditional Pumpkin Flower Arrangements.
The pies will be $12.00 and be available for pick up on Sunday, November 24.
The Pumpkin Arrangements will be $25.00 and will be available for pick up on Wednesday, November 27 at 12:00 pm.
You may place your order by filling out the insert in the bulletin on Sunday, or calling the church office. Thank you for supporting the youth Summer Mission Trip.
---

Children's Art on Bulletin Covers
Thank you to Matthew Follmer for his rendition of "Solomon's Temple" on our bulletin cover on Sunday!
Watch for more of our children's artwork on upcoming Sundays.
---
All Saints Sunday: November 3
On ALL SAINTS SUNDAY during the worship service we will read the names and light a candle in memory of our loved ones who have died DURING THE PAST 12 MONTHS.
Families of those remembered are invited to take the candle with them at the end of the service.
The names to be read MUST BE SUBMITTED TO THE CHURCH OFFICE. No name will be included in the service without being explicitly sponsored by someone in the congregation. In this way, we respect the privacy of those who wish it, while we celebrate the lives of those who have gone before us.
Please use the space provided on the back of the Connect Card in your Sunday bulletin to submit names, or send them to the church office at 770-449-4498 or office@mtcarmel-umc.org.
---
Youth News
The Month of November will be filled with activities in the Youth Group.
Saturday, Nov. 9: the Mid High youth will be having a day retreat in downtown Atlanta. We will meet at the church at 10:00 and return between 4-5. If you have a child in 6-8 th grade who doesn't come to youth, we would love for them to join us. Please contact
Gail Bolton
for more information.
Sunday, Nov. 10: Senior High Youth will be going to dinner/ Mid High will not meet.
Sunday, Nov. 17: Magical Night of Lights Trip - All youth of the church are invited to go to Lake Lanier Islands to see the Christmas Light Show. We will meet at the church at 4:00, have dinner, see the Light Show and return back to the church at 9:00 pm.
Cost: $10.00 Admission plus dinner, hot chocolate and s'mores, and shopping as desired. We will be traveling by bus, so please reserve your seat by November 10 by e-mailing
Gail Bolton
.
Sunday, Nov. 24: Churchwide Thanksgiving Dinner
---
Preschool Invites Us to Picture Day!
The Preschool is happy to have Ms. Ashley from Precious Memories Photography here on
November 5 and 6 to take our pictures with a Christmas background.
The congregation is invited to come and have your photos taken too, between 10:00 and 11:30 or so. C
hristmas cards can be ordered at the same time!
Just contact Ms. Lorrie if you'd like to participate!
---
Children's Ministry News
Sunday School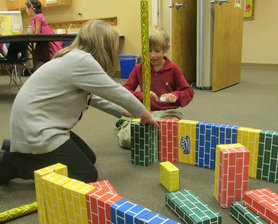 In this week's story, 1 Kings 19:1-18 " Elijah Meets God," the prophet Elijah is very depressed because of threats to his life. He goes to Horeb into a cave. The Lord comes to Elijah, not in a show of power, but in a small quiet voice.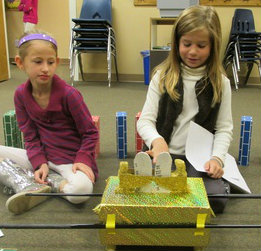 God shows his love for us through many people and situations. Talk with your children about how we can share God's love with other people through fellowship.
(Photos from last week of "Building Solomon's Temple.")
Pageant Practice: Nov. 3 - 3:00 - 4:00 pm
Pageant practice starts this Sunday. Be prepared to sing and read or say your lines. We will practice music during Children's Church and the girls' chorus will practice immediately after 9:30 the communion service.
Marian Long
Director of Children's Ministries
770-449-4498
http://mtcarmel-umc.org/#/children
---
Women's Book Club
All women are invited to join the Book Club which will meet in the Hope House on Friday night, November 8th at 7:00 PM.
This month's book is "Leaving Cold Sassy Tree," the unfinished sequel to "Cold Sassy Tree," by Olive Ann Burns.
Contact Chris Bolton or Vicki Walden with any questions.
---
Preschool
Dear Friends,
Well, Halloween has finally arrived. Did you realize it is tomorrow? Unless you have a preschooler in your home, it may have slipped your mind. We are over the moon about this day and will surely enjoy the parties, followed by trick-or-treating in the evening. Please remember to be safe, have a flashlight with you, and share the wealth. We don't want any sick tummies!
Next week marks our time with Miss Ashley from Precious Memories Photography. She will be here on Tuesday and Wednesday mornings, and everyone is invited to have a time with her. The Preschool opted for a Christmas backdrop and children will be dressed in their festive outfits, then changed into school clothes following the shoots. Ashley also offers Christmas or holiday cards, so this could be a real help to all of us during the busy days ahead! Please email the Preschool office if you are interested in joining us for pictures.
We are delighted to offer online tuition payments now and have about 10 families signed up. This is such an easy way to pay tuition as it is deducted from savings or checking accounts each month. No more remembering to send a check in! I encourage everyone to participate in this. It makes life easier for everyone!
We still have room for more students! Our last spot in the 4's will be filled in mid-November, but we have space in every other class. Please let me know if you are interested and remember, you will receive your registration fee back if you lead a family to our school!
In joy and love,
Lorrie
---
Thank You
Thank you to Norcross Supply Company on Buford Highway for the aromatic cedar samples used in the children's story last Sunday and to Bentley's Mulch and Stone on Medlock Bridge Road for the building stone sample.
We appreciate the gracious generosity of these neighbors.
---
Opportunity to Serve at the Berkeley Lake Fall Festival!
On November 16th from 11:00 AM - 3:00 PM, there will be a Fall Festival at Berkeley Lake Elementary School and Mt. Carmel will have a children's craft booth there.
A few church members are needed to staff the booth and if you have a Mt. Carmel shirt, please wear it. We want our community to know that we care about them!
---
Parents of Teens Seminars - November 10 from 2:30 - 5:30 pm at Roswell UMC
Who: Parents and anyone who relates to teenagers
What: Two great seminars: "A Parent's Guide to Understanding the Teenage Brain," and "A Parent's Guide to Understanding Social Media."
When: Sunday, November 10: 2:30 - 5:30 pm
Where: Roswell UMC, 814 Mimosa Blvd., Roswell, GA
Led by Mark Oestreicher and Adam McLane of the Youth Cartel.
Sponsored by the North Ga. Conference Connectional Ministries.
---
Prayers and Thanksgivings
Please join with others in our church family in praying our concerns and thanksgivings this week.
Concerns
Lila Hunter & family - death of her father
Lane Shutt - mother having major circulation issues
Tapley's friend Tony - mesothelioma
Laraine Downey's son - moving to MD / safe travels
Dorothy Edward's friend Robert - medical problems
Jan Dodd's sister - hospitalized
Vicki Walden - death of co-worker / prayers for family
McGee's son-in-law's mother - hospitalized
Ragon's neighbor's daughter - brain tumor
Cheri Proel's brother - recovering from spinal surgery
Bill & Susan Posey
Thanksgivings
Ken Smith - tests show he is cancer free!
Sam Tapley's daughter expecting 3rd child
Lamar & Chris Bolton's 46th anniversary
Youth provided lunch on Sunday
Lynne Smith for being guest preacher on Sunday