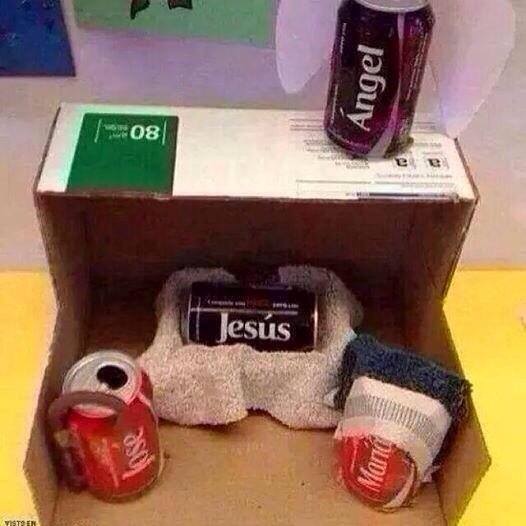 I began my collection as soon as I saw the picture of a Coca-Cola nativity set. Immediately I ran to the recycle bin and began pulling out cans.
So far, I have "mom", "dad", and a multitude of stars. (If this nativity set does not work out, I plan to do a rendition of Van Gogh's starry, starry night.)
I began thinking about the wisest people I know. If you see any cans with names like Neil, Joyce, Tom, and Barbara, please save these for me!
The cans are beginning to stack up in my office, and I am still looking for the can that best represents Jesus.
I considered "Go Getter". After all, Jesus becomes human and enters the world to defeat sin and death. That's a go getter!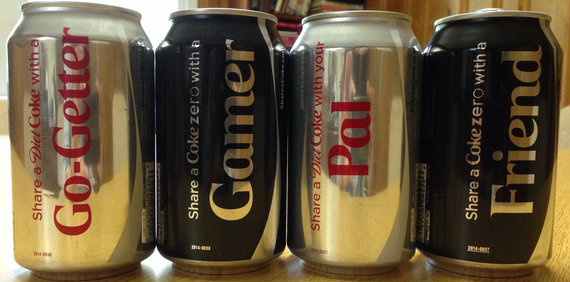 "Gamer" is also a possibility. One of the earliest theories about Jesus was the "Fish Hook" theory in which God ransoms humanity from the devil by offering Jesus as "bait." The devil takes the bait and trades humanity but is tricked in losing his prize when Jesus is resurrected. This is the atonement model used by C.S. Lewis in The Lion, the Witch and the Wardrobe — Jesus, the ultimate gamer!
What else could represent Jesus? Other Coke can possibilities are "buddy", "pal", and "friend." I am still looking. None of these quite captures my understanding of Jesus.
Even though I am delighting in the treasure hunt and enjoying the reflections on pop theology, I recognize why Coca-Cola marketing is encouraging us to "share a coke with a star," "share a coke with your bros," "share a coke with…"
Within each person there are longings for connections. We are created in the image of a trinity God, created for community and for a connection with God. We need to share our lives, not just sodas.
This is something the church has known for 2000 years. God comes into this world as a human to connect in a human way with each of us. In our baptism we are bound to Christ; this tie binds us to one another.
This Sunday in worship, the 9:30 musicians will lead us in Eleanor Rigby. Several people requested this when we asked for favorite songs. There are a lot of lonely people in the world for whom sharing a soda would be a treat.
There are playgrounds where children laugh along, afraid to do anything, when a bully harasses. There are offices where coworkers laugh, afraid to do anything, when a bully harasses.
There are teenagers who run away from home. Others are kicked out of home after sharing their sexual preferences.
Working with
PET
, Ed hears stories of people who are lame, whose families are ashamed and keep them hidden at home.
The author of 1 John writes that if you love a parent, you love the parent's children (1 John 5:1.) We know this, too, don't we? That one way we show love to God is by showing love to God's children.
God looked at Adam and said that it was not good for this first human to be alone (Genesis 2:18.) No one is meant to be lonely. So we build PETs. We take bread and juice to the nursing home. We gather on the church lawn and offer free hotdogs to anyone passing by, no questions asked. We advertise as a denomination, "open hearts, open minds, open doors."
This Sunday, after we sing Eleanor Rigby, we will remember that while we sometimes feel alone, we are not meant to be lonely. That is not God's desire for us. In our baptism we are bound to God. In our baptism we are bound to one another.
We live in a world that encourages us to share a soda with a buddy. That's not enough. We need Jesus. We need the church.
No wonder I can't find the right can.
I'll see you this Sunday,