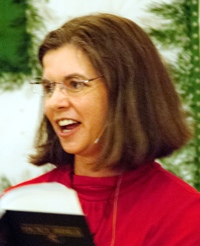 What Are Your Dreams for Mt Carmel?
Didn't you love hearing Rev. Jay Hodges speak on Homecoming Sunday? My favorite part was when he described the first Sunday that his family worshipped at Mt Carmel. Everyone came to meet his father the new minister. How many people? They filled three pews, and one pew was the Hodges family. Who could have imagined that on his return, 193 people would fill the room?
While the Hodges were here, the congregation dreamed of sharing meals together inside. Until this time, "dinner on the grounds" was outside and on the ground. They got out the shovels and dug out rooms under the sanctuary. That downstairs room and kitchen was the first fellowship hall. Who would have dreamed that youth would fill these rooms on Sunday afternoons and scouts would fill the rooms on week nights? Did they imagine that one day we would serve homeless (Family Promise) guests in those same rooms?
After lunch, the Council on Ministries and the Administrative Board met for a called strategic planning meeting to dream and listen to God's call for our church. We brought questions from the book Simple Church (make this a link to amazon for the book). Lois Salter has been collecting wild and crazy ideas, and she brought these.
Our dreams and questions? Here are a few highlights from the discussion:
We want to grow, both numerically and spiritually.
Does Mt Carmel focus on events and programs or on growing as disciples?
We need to be intentional in helping people grow as discipleships.
We want everyone to know someone — a friend to encourage and help them find a place in the church where they can grow.
We long for everyone to be part of a small group where they can share what is going on in their lives, encourage one another when there are hardship and doubts, and grow in their relationships with God.
Are we so overprogrammed that there is no time for the small groups where we learn about God?
Many of us returned to Mt Carmel because on the first visit it felt like home. We were welcomed and loved. We want to be a church that extends this kind of love to others.
We want to be a church for all ages. We want children and older adults to know one another and grow together. Can we restructure our Sunday morning schedule to create a more family oriented experience and grow together?
This last dream is impossible without the input, participation and commitment of families with children. Before going any further, we need their feedback. Gail Bolton and Mercer Griffin have volunteered to hold two sessions this Sunday morning at 10:45 and 11:15, downstairs in the mid-high youth classroom, especially to get input from parents with young children. Childcare will be provided.
This strategic group meets again on September 8. Listed below are the names of the Administrative Board and Council on Ministries. If you have wild and crazy ideas, or even normal ideas, for being more intentional about inviting others and growing as disciples, please share these with any of these people or with me.
When we look back on our history as a church, we see God working in unexpected ways through the hopes and dreams of God's people. How might God use your dreams for Mt. Carmel?
I'll see you this Sunday,
Pastor Cyndi McDonald
Mount Carmel United Methodist Church
Administrative Board
Mark Bond, Pekka Ignatius, Gail Bolton, Neil Odom, Lane Shutt, Tom Cooper, Tim Foster, Lorrie Ignatius, Lila Hunter, Shelia Trentini, Kris Bell, Carl Garner, Alston Minor, Lois Salter, Joe Davis and Andy Loftis
Council on Ministries
Gail Bolton, Neil Odom, Mercer Griffin, Julie Jones, Vicki Walden, Lila Hunter, Cheri Proels, Julie Samples, Steve Riviere, Marian Long, Marianne Thompson, Lynne Smith, Mercer Griffin, Cecelia Davis