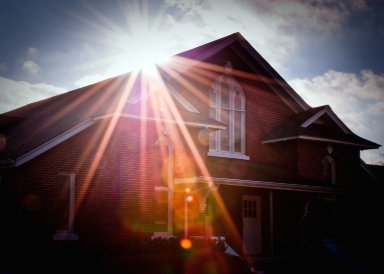 August 28, 2012
In this issue:
From the Pastor
Calendar Changes
Directories
Office Hours
Youth Events
Children's News
Women's Study
Presch. Dedication
Preschool News
New Baby
From Evangelism Comm.
District Training
Sunday's Prayers
Save the Date
In Worship this week
Birthdays / Anniv.
NCM
Counseling Center
STEWARDSHIP MTG.


AUG. 28 - 7:00 PM
HOPE HOUSE



UMW OFFICERS' MTG.


AUG. 29 - 5:45 PM
HOPE HOUSE



STUDY OF MARK


AUG. 29 - 7:00 PM
RM 112/114



CHOIR PRACTICE


AUG. 29 - 7:00 PM
CHOIR ROOM

PAVEMENT POUNDERS &
WALK & TALK GROUPS
SEPTEMBER 1
8:00 AM FROM CHURCH



LUNDQUIST MEMORIAL


SEPTEMBER 1
2:00 PM



NO YOUTH EVENTS


SEPTEMBER 2
LABOR DAY HOLIDAY



LABOR DAY


SEPTEMBER 3
OFFICE CLOSED



PRESCHOOL RESUMES


SEPTEMBER 4
9:30 AM - 1:30 PM



PRESCHOOL DEDICATION SUNDAY


SEPTEMBER 9



MEN'S BREAKFAST MTG.


SEPTEMBER 9 - 8:30 AM
FELLOWSHIP HALL



CHILDREN'S COUNCIL MTG.


SEPT. 9 - 11 AM
RM 112/114



OUTREACH MTG.


SEPT. 9 - 12:15 PM
HOPE HOUSE



DIST. TRAINING


SEPT. 9 - 2:30 PM
DUNWOODY UMC



SPR MTG.


SEPT. 9 - 3:00 PM
HOPE HOUSE

LAY LEADERSHIP MTG.
SEPT. 9 - 5:00 PM
RM 112/114



EVANGELISM MTG.


SEPT. 11 - 7:00 PM
RM 112/114



WOMEN'S STUDY BEGINS


SEPT. 12 - 7:00 PM
YOUTH ROOM



COM RETREAT


SEPT. 14 & 15



YOUTH TO BRAVES GAME


SEPT. 16 - 10:30 AM



FAMILY PROMISE MEAL


SEPT. 16 - 12:00 PM
FELLOWSHIP HALL



TRUSTEE MTG.


SEPT. 16 - 6:00 PM
HOPE HOUSE LIBRARY



CHURCH WIDE PICNIC


SEPT. 23 - 4:00 PM
LAKE BERKELEY CHAPEL
Psalm 1
Mark 7:1-8, 14-15, 21-23
John 17:3
Birthdays this week:
Kelly Hinson
Kevin Parrish
Jackson Smith
Connie Bagwell
Anniversaries this week:
Steve & Donna Riviere
Tom & Barbara Cooper
Norcross Cooperative Ministry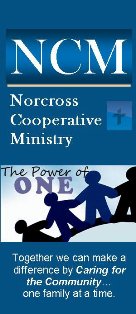 As one of the founding churches of NCM, we encourage your support as they assist those in need in our area.

For more information on NCM, see their facebook page at
www.facebook.com
/norcrosscm.
North Georgia Family Counseling Center

Family Wellness
through Counseling, Education and Research

Mt. Carmel proudly supports the North Georgia Family Counseling Center.
678-242-9355
ngfccumc@gmail.com
www.ngfccumc.org

I woke up that birthday morning feeling cheerful. The sky was a brilliant blue, clear of any clouds. Although it was August, there was a hint of fall crispness in the air. I beebopped to the office in my little car, singing with the radio as I bounced along. Life was good.

There seemed to be a lot of honking that morning, but I refused to let the hurried attitudes of others get me down. I had already decided to enjoy the day.

At a traffic light, a gentleman rolled down the window of his pick-up and motioned for me to do the same. He then leaned over, grinned, and said, "you don't look 39!" The light turned green, he drove on, and I pulled over, dazed and wondering what in the world was going on.

I got out, circled around the car and stopped, flabbergasted. Across the rear bumper of my car was a three-foot magnet with these hand-written words:

Honk! It's my 39th birthday!

I recognized the handwriting and muttered a sarcastic "thank you Ed" as I pulled the magnet off the car. My coworkers thought the story was hilarious. That night Ed, the boys and I laughed and joked about all the honking on my 39th birthday.

However, the joke wasn't over yet. Ed had been off by a year when he printed 39th birthday on the magnet. It was actually my 38th birthday. But when I saw the magnet, I didn't think about my age. I assumed I was 39.

For almost a year I mistakenly thought that I was 39. Then as the next birthday approached, I finally calculated my age and realized that I would be 39 "again".

I still wonder how I could have been mistaken about my own age for almost a year. I just assumed Ed was right and I didn't even calculate the years.

I suppose we do this often—make an assumption and find out we later we didn't understand the basics.

This Sunday in worship we will begin a four week series getting at the basics of being Mt Carmel. What does it mean to "live, love, learn, and labor according to the example of Christ"? The words sound "christian-y" and "church-y" but are they more than a clever phrase printed on the weekly bulletin?

We make mistakes when we assume; it's important to take the time to get into the basics and delve into the meaning of our mission statement.

I'll see you this Sunday as we consider what it means to live—truly live—following the example of Christ.

Pastor Cyndi
---
Date and Time Changes

Please note the following church calendar changes:

The Mt. Carmel "Pavement Pounders" and also the
Mt. Carmel "Walk & Talk" Group will begin meeting at 8:00 AM on Saturday mornings instead of the earlier summer schedule.

The Mt. Carmel United Methodist Men's Club Breakfast has been moved to Sunday, September 9th at 8:00 AM.

Please mark your calendars accordingly.
---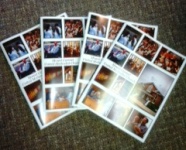 New Directories Have Arrived!
If you didn't get a new pictorial directory on Sunday, they are now available in the Sanctuary, Fellowship Hall, and Church Office.

We ask that you take ONE PER FAMILY at no cost. If you need a 2nd copy, there will be a $5.00 charge to help with printing expenses.
---
Abbreviated Office Hours

Due to the administrative assistant's vacation, volunteers have graciously agreed to staff the Church Office during the week of Sept. 4 - 7. Thank you!

Office hours will be from 9:30 until 1:30 on Tuesday, Wednesday & Thursday, and 9:30 until 12:00 on Friday. Please plan your church business accordingly!
---
No Youth Due to Labor Day Holiday - September 2

Braves Game - September 16th, leaving after 9:30 service.

Church Family Picnic - September 23rd - Youth in charge of games
---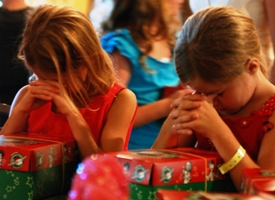 Children's Ministry News
Sunday School:
This week's lesson is one of the stories about David and Jonathan from 1 Samuel 20. David and Jonathan were best friends and had some difficult times when Jonathan's father, King Saul turned against David. The children will focus on what friendship means and how they can be good friends.

Children remember to watch for God Sightings this week.

Operation Christmas Child:
Thank you to everyone who contributed items. We were able to fill 85 boxes. The children did a wonderful job picking things to go in their boxes for someone about their age. I want to thank also the adults who helped on Sunday, Lila Hunter for her wonderful refreshments and inspiration, Deb Pittman for making all the boxes and filling zip lock bags with goodies, our Sunday School teachers who helped the children with their selections, Julie Samples, Leslie Smith and Hal Brickle who helped guide the children through the process. We were truly blessed by participating in this project. Be sure to check out the pictures that George Hunter took on the church website.

There will be a dedication of the boxes that we packed on Sunday, September 2nd so please mark your calendar.

Upcoming Events
Sept. 9: Children's Council - 10:45 AM - Rm. 112/114
Sept. 23: Berkeley Lake Family Picnic - 4:00 PM
Director of Children's Ministries
---
Wednesday Night Women's Study

The Wednesday Women's Study will resume on September 12th at 7:00 p.m. in the Sr. High Youth room. Their first study will be "Mudhouse Sabbath – Seven ways of Christian formation inspired by the Jewishness of Jesus." Contact the church office for more information. 770-449-4498
---
Preschool Dedication Sunday
September 9: 9:30 and 11:00 AM

All Preschool Students, Parents and Teachers are invited to attend the 9:30 or 11:00 worship service on Sunday, September 9th when we will have a Preschool Dedication for the new school year.

We hope that everyone can attend!
---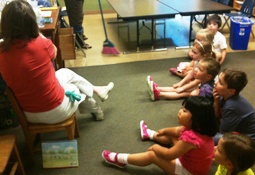 Preschool News
Dear Parents,
We have enjoyed one sunny day and one rainy day at the Preschool and both have been successful! We are absolutely stunned at how our students have grown over the summer and how happy old friends are to see one another. We are so happy to be back together once again and the halls of the school are full of noises only children can make.

This week is a shortened schedule, but next week we will be in full swing once again. I hope that everyone feels free to ask questions about the normal running of the school day. There is a ton of information given out at the beginning of the year and that can be overwhelming at best.

We are all getting a kick out of the cute lunch boxes that are coming in this year. We also ask that all drinks be in thermoses with retractable straws, juice boxes, thermoses with tight lids and not in the flimsy water bottles that fall over when looked at cross-eyed. You parents are packing healthy and diverse lunches and your children are enjoying your thoughtfulness!

Remember to wear close-toed shoes, play clothing, and sunscreen if needed. We know this year is going to be the best ever!

In joy and love,
Lorrie
---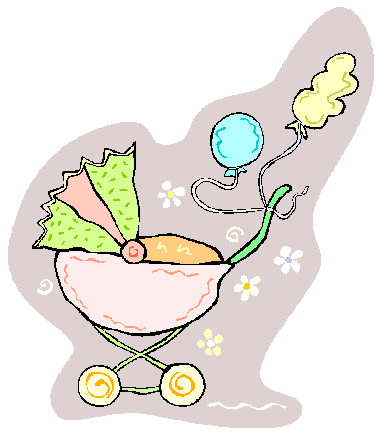 It's a Boy!

Congratulations to Nick and Molly (Joyner) Leeper on the recent birth of Charles Patrick!

Congratulations to Molly, Nick and big sister Eleanor, and to happy grandparents Charles & Ann Joyner!
---
Thanks from the Evangelism Committee

The Evangelism Committee would like to thank the following people for their hard work in organizing and producing our new church directory:

Pastor Cyndi McDonald, George Hunter, Donna Riviere, Shelia Trentini & Suzanne Foster.

We hope that the congregation enjoys it!
---
September 9, 2012: 2:30 - 4:30 PM
Dunwoody UMC

Contact the Mt. Carmel office for registration information.

Classes Offered:

Conflict Resolution - Rev. Chris Carlton, Emory Clergy Care
Making Meetings More Meaningful - Rev. David Melton, Dunwoody UMC

Charge Conferences Only Better - Rev. Royeese Stowe, Chamblee First UMC

General Conference 2012 Revisited - Dr. Ed Tomlinson, AROS DS; Dr. Phil Schroeder, NGC Connectional Min.

Looking at Children through Eyes of Faith as a Sunday School Teacher! - Dr. Ellen Shepard, Stone Mountain UMC

Sunday School, Small Groups, and General Curriculum Needs for Adults - Rev. Ashley Fitzpatrick and Rev. Keith Lawder, Dunwoody UMC

Perspectives on Youth Ministry - Rev. Tonya Lawrence, Dacula UMC; Matt Parker, Simpsonwood UMC; Rev. Sam Halverson, NGC Connectional Min.

Evangelism in the Neighborhood - Rev. John Cuentas, Mt. Pisgah UMC/Cristo La Roca Mission
---
Please join with others in our church family in praying the thanksgivings and intercessions named in worship last Sunday and during the week:
CONCERNS:
Bond's 15 yr. old neighbor - concussion
All those traveling over Labor Day holiday
Sam Tapley's daugher & her family
Marianne Thompson's friend Jan - rough cancer treatment
Susan Posey's friend Julie - heart surgery
Waller's daughter Fie Tie moved to Beijing to find a job
3rd grader having brain surgery Tuesday morning (8/28)
Catherine Stephens - teenager with bleeding on brain
Marian Long's daughter Alicia - hand surgery on 8/30
Laraine Downey's brother - has a blood clot following knee surgery
THANKSGIVINGS:
Sam Tapley - the Lord working in him
Boy Scouts for spreading mulch on our playgrounds
Cooper's granddaughter visiting
Dorothy Edwards' neighbor visiting
Isabel Waller's friend from Canada visiting
Downey's brother-in-law celebrated 20 years being priest at his church
Boyd Whaley joined the 9:30 musicians on Sunday
---
News to Share?

Do you have an article to include in next week's bulletin or newsletter?

Email these to Suzanne Foster or call the church office.

office@mtcarmel-umc.org
5100 South Old Peachtree Road
Norcross, GA 30092
770-449-4498
www.mtcarmel-umc.org