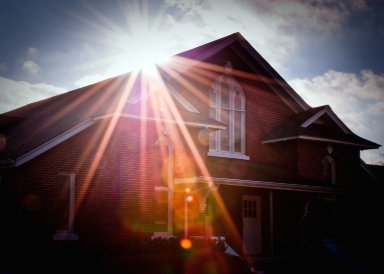 March 19, 2013
In this issue:
From the Pastor
OGHS
Lenten Dinner
Holy Week
Special Music
Children's Ministry
Counseling Center News
Artwork Needed
Easter Lilies
Preschool News
Housekeeping Note
Strikes for Jesus
Condolences
Sunday's Prayers
Save the Date
In Worship this week
Birthdays / Anniv.
NCM
Counseling Center
Save the Date...
EVANGELISM MTG.


MARCH 19 - 7:00 PM
HOPE HOUSE



FINAL LENTEN DINNER & STUDY


MARCH 20 - 6:00 PM
FELLOWSHIP HALL



WEDNESDAY NIGHT STUDY


MARCH 20 - 7:00 PM
ROOM 112/114



WOMEN'S STUDY


MARCH 20 - 7:00 PM
YOUTH ROOM



CHOIR PRACTICE


MARCH 30 - 7:00 PM
CHOIR ROOM



PAVEMENT POUNDERS RUN


MARCH 30 - 8:00 AM
MEET AT CHURCH



HOLY WEEK


MARCH 24 - 31
SEE ARTICLE



NIGHT CIRCLE


MARCH 25 - 6:30 PM
FELLOWSHIP HALL



BROWN BAG STUDY


MARCH 26 - 11:30 AM
HOPE HOUSE



PRESCHOOL PIZZA WITH DAD


MARCH 28 - 12:00 PM
FELLOWSHIP HALL



PRESCHOOL CLOSED


MARCH 29



OFFICE CLOSED


APRIL 1



CHAPEL IN THE WOODS TO GIBBS GARDENS


APRIL 6 - 8:30 AM
MEET AT CHURCH



HABITAT BUILD


APRIL 13



STRIKES FOR JESUS


APRIL 13 - 10:00 AM
SPALDING LANES



UMM SUNDAY - COMBINED SERVICE


APRIL 14
10:30 AM



FELLOWSHIP LUNCH BY RELAY FOR LIFE TEAM


APRIL 14 - 11:30 AM
FELLOWSHIP HALL



SR. HIGH YOUTH RETREAT


APRIL 19 - 21



EARTH DAY FUN


APRIL 21 - 3:00 PM
LOWER FELLOWSHIP HALL

BBQ & SWEET SHOP! ~
HISTORY TOURS
APRIL 26 & 27



RED CROSS BLOOD DRIVE


MAY 1 - 2:00 - 7:00 PM
FELLOWSHIP HALL
Birthdays this week:
Ollie Medlock
Josh Carroll
Lisa Grogin
Avery Ragon
Jan Geman
Virginia Mitchell
Anniversaries this week:
Bob & June Spruell
Bob & Julie Jones
Norcross Cooperative Ministry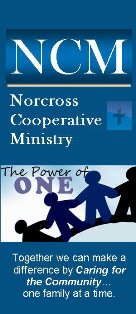 As one of the founding churches of NCM, we encourage your support assisting those in need in our area.

For more information on NCM, see their facebook page.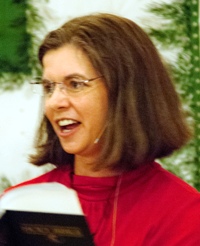 Cross-Shaped Prayers
Tomorrow is our last Wednesday night Lenten dinner. I will miss these evenings: the conversations over dinner, the amazing meals, and a time to think about and practice new patterns of praying.

So far our workshops have been about deepening our conversations with God. The tools we have used—colors, prayer beads, journals, labyrinth—have helped Christians through the ages to better shut out the noises of the world and instead listen to God.

The thing about prayer is that while it may start with listening to God, or with our own requests, it never finishes there. Prayer is cross-shaped. God reaches down to us, but then reaches out to others through us.

This week, instead of focusing on our own prayers, we reach out to others. We will make crosses from palm leaves; nails and wire; and sticks and string. You can keep one for yourself, of course, as a reminder that God's love reaches out through us to others. But the purpose of the workshop is to make crosses for others.

The crosses will be given to those who are going through difficult times, such as the sickness or the loss of a loved one. As a group, we will pray for those to receive the crosses.

Each cross will have a card:
We send this cross hoping it will remind you that God's love reaches out to you in this difficult time. We have prayed that you will know God's loving presence surrounding you, filling you with peace, and giving you strength each day.

A simple cross. A short prayer. A few words on a card. A little trust...God will use even these in wondrous ways.

I'll see you this Sunday,

Pastor Cyndi
---
One Great Hour of Sharing

On Palm Sunday, March 24th, we will collect the "One Great Hour of Sharing" special offering for the United Methodist Committee on Relief (UMCOR).

UMCOR responds to disasters and remains on the scene long after others have left. It also offers support to communities on the path to development.

Please give generously! Learn more at www.umcgiving.org/OGHS.
---
Wednesday Lenten Dinners and Study

Mark your calendars for our final Lenten dinner and workshop at 6:00 p.m. on March 20th. This week's workshop will be "praying with palms."
Dinner menu for March 6th:
ham
macaroni & cheese
sweet potato souffle
pb&j for kids
fresh green salad
cool fruit salad
rolls
assorted desserts
tea & lemonade

Adults: $6.00 / Children 12 & under: $3.00 / Family Max: $20.00
Proceeds benefit the Mt. Carmel United Methodist Women's Missions.
---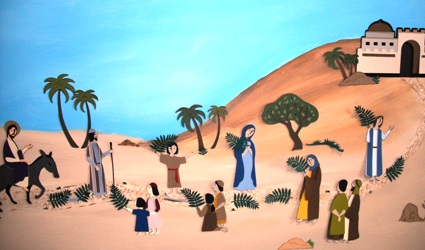 Holy Week Schedule

Palm Sunday
March 24th

8:30, 9:30, &
11:00 AM
Holy Week Prayers
March 25th - March 29th
Weekday mornings: 7 AM - 7:20 AM

Stations of the Cross
March 28th - March 30th
Thursday and Friday: 10 AM - 7 PM
Saturday: 9 AM - Noon

Maundy Thursday
March 28th
Worship Service: 7 PM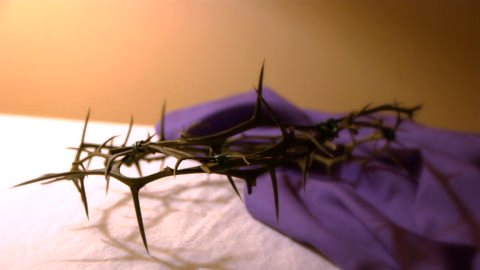 Good Friday
March 29th
Lunch:
11:30 AM and 12:30 PM
Worship Service: 12 PM

Easter Egg Hunt
March 30th
Games, Activities, Flowering Cross: 10 AM

Easter Sunday
March 31st
Sunrise Worship Service: 7 AM
Breakfast by UMM: 7:30 AM
Easter Worship Services: 8:30, 9:30, & 11:00 AM
---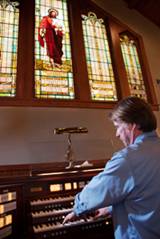 Special Music to Commemorate the Passion of Christ

This Sunday, our worship services will celebrate both Jesus' triumphal entry into Jerusalem and the passion story of the days that follow. Our children lead the way at both the 9:30 and 11:00 services, by processing with palm branches and leading our worship with them singing "Hosanna to the King" by Tom Fettke.

The 11:00 worship service will continue the story by weaving together scripture, anthems, and hymns. After entering Jerusalem, Jesus goes directly to the temple to cast out the money changers and to deliver a scathing , blistering series of messages to the Pharisees. On the Mount of Olives, he solemnly discloses to His disciples a foretelling of the ominous events to come…Here, the choir will sing the dramatic "Agnus Die" from Requiem by, John Rutter. The Agnus Dei, brooding and relentless, features sections of linear imitation, Anglican chant (scripture set to melody harmonized in four parts) and contrasting simultaneous dialogue between the ladies and men. The movement progresses and crescendos with a great, tragic, rhetorical question, "O Lamb of God that takest away the sins of the world; whom shall we seek for succor?," -which peacefully decrescendos in a transcendent musical resolve to Jesus' ultimate answer, "I am the resurrection and the life."

As Jesus and the disciples prepare for the Passover in the Upper Room, the choir sings the "Kyrie Eleison" from Requiem by John Rutter. The Kyrie, in it's serenity, peacefully depicts the Last Supper. Although pastoral in essence, somber undercurrents flow through the composition.

After the last supper, Jesus and his disciples make their way to the Garden of Gethsemane. While Jesus prays, we will all sing the Lord's Prayer. Ultimately, Jesus is betrayed, arrested and sentenced to death by Pontius Pilate for crucifixion. As a congregation we'll sing "Jesus Lover of My Soul".

For our offertory, I will play the Adagio movement from the 2nd Organ Symphony by Charles Marie Widor. During his years as Organist Titlulaire at the Church of St Sulpice in Paris, Widor played the Adagio (also known as Jesus, in thy Dying Anguish and Pain).

The choir will sing, "Behold the Lamb of God" from Messiah by GF Handel, not only as a literal response to the rhetorical question posed in the Agnus Dei by Rutter , but likewise as a musical backdrop to the rapid succession and conclusion of the passion events.

As the drama continues with Jesus hanging on the cross suspended between heaven and earth, Sherry Blackwood will sing "Pie Jesu" from Requiem by Maurice Durufle. In musical character, the Pie Jesu expresses heartfelt lines of resolution contrasted against crescendos and diminuendos of highly charged emotional, lyrical and harmonic drama. From this point, truly there is no turning back.

In a final heartfelt memorial to honor the full, final sacrifice and passion of Jesus, the choir will conclude with the majestic "My Eternal King" by Jane Marshall.

Blessings and Peace to All,
John Waller
Director of Music
---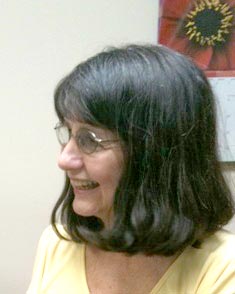 Children's Ministry News:
Sunday School:
The coming week is Holy Week and the lectionary passages, Luke 19:28-40, 22:14-23, 56 tell us of the events leading to Christ's crucifixion. This story and the story of Jesus' resurrection are the absolute, most important Bible stories –more important than all the other stories put together. The children's focus is that God can make something good out of something terrible.

Children Sing this Sunday:
The children will be singing at the beginning of the 9:30 and 11:00 services. We will meet in the Fellowship Hall at 9:20 to run through the song one more time. Please come earlier if you want a doughnut before we practice. No eating while we are practicing.

Lenten Dinner: Wednesday, March 20
Our last Lenten dinner activity is praying with a cross. We will make palm crosses and/or nail crosses that you can give to someone or use in your daily prayers.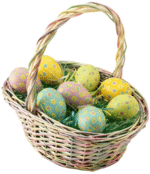 Easter Egg Hunt: Saturday, March 30 at 10:00 am
Invite your friends and neighbors to come for a morning of hunting eggs, making Easter Crafts, decorating the flower cross and a snack. The stations of the cross will be available for families to visit also.

I also need youth and adult volunteers to hide eggs, help with registration, and help with the indoor activities. If you can help, please contact me at children@mtcarmel-umc.org. Thank you!
Marian Long
Director of Children's Ministries
---
News from the
North Georgia Family Counseling Center

Rituals that connect us are important in family life. During this Lenten season the church offers many opportunities to develop or practice rituals that can add depth and texture and meaning to the fabric of your family life. Attending Lenten dinners, experiencing the stations of the cross, enjoying the easter egg hunt, bringing flowers for the flowering cross, greeting Easter at dawn during the sunrise service are all opportunities to practice rituals of connection within our families.

Find what brings meaning for your family, what brings you close and makes you feel connected, and enjoy the experience. While you're at it, be sure to tell your stories -- your favorite Easter memory, a funny Easter memory, maybe even a painful Easter memory.

God's grace and peace,

Rev. Lynne Smith
NGFCC Minister of Education
---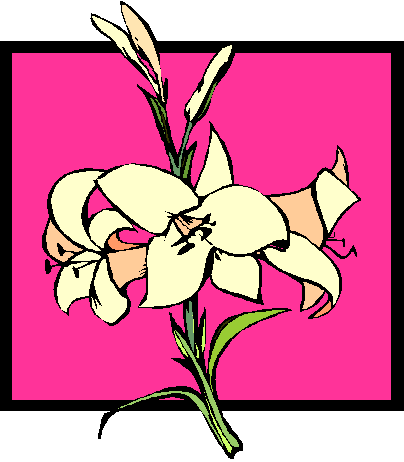 Easter Lilies
The UMW will once again be placing lilies in the sanctuary on Easter, March 31st, in memory or honor of our loved ones.

Cost is $8.00 per lily. If you would like to place one or more lilies, please complete the form found in Sunday bulletins, or contact the church office.

Checks should be made to the Mt. Carmel UMW. Thank you!

---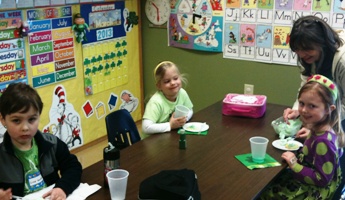 Preschool News
Dear Friends,

Well, we are seeing a light at the end of the weather tunnel! Pretty soon there will be yellow stuff all over our cars, clothing, hair, etc., and we will know we are on our way to spring. We really are ready for warm weather, less rain, and more time outside!

We enjoyed our St. Patrick's Day activities, as you can see in the photo. We ate all things green (artificial though they were) and listened to Gaelic music most of last week. We also wrapped up our Dr. Seuss studies with green eggs and ham, so that fit very nicely together. We have such clever teachers, don't we?

Our next exciting adventure is Pizza with Dad. As you know, this is only for the men in our lives since we are not together on Father's Day. We want to honor our boys by having this luncheon, tour the Stations of the Cross, and then head outside for our Easter egg hunt. Please send in 12 plastic eggs per child, filled with goodies of the non-chocolate variety. Should the weather be warm, we wouldn't want our children and their dates covered in chocolate, would we? Please remember to tape the eggs shut. You can only imagine the drama of finding an empty egg. Oh, the travesty. Please contact me ASAP if the man in your life is unavailable. We have friends in the wings waiting to stand in, but I would like to give them some time to arrange their schedules. Don't wait – take care of this right now!

The Maundy Thursday service will begin at 7 PM in the sanctuary with Good Friday the following day, so we will not be in session that Friday, March 29. Plan to join Mt. Carmel UMC for Good Friday lunch at 11:30 or 12:30 with the church service at 12:00. There is a Mt. Carmel Egg Hunt on Saturday, March 30 at 10:00 a.m. On Easter Sunday, there is a sunrise service at 7:00 AM, followed by breakfast provided by the Men's Club, and then worship at 8:30, 9:30, and 11:00. If you do not have a church home, please know a space is being saved just for you!

In joy and love,
Lorrie
---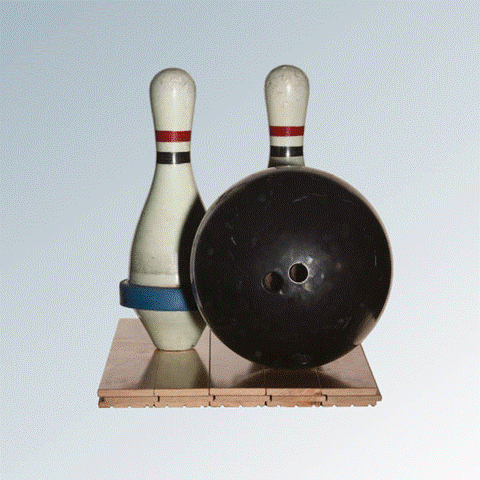 Strikes for Jesus

Joan Garner, all 110 lbs, is our current "STRIKES FOR JESUS" champion and she is looking for a little bowling competition!

We are having our second "STRIKES FOR JESUS" fun bowling event (no bowling skills necessary) at The Spalding Bowling lanes, April 13 at 10:00 a.m. The cost is $15.45 which includes 3 games, shoes, pizza, and a soft drink. Please come join the fun! RSVP to Neil Odom at nonojo413@gmail.com, (770) 827-2122 - cell, or (770)582-7457 - home.
---
Our Fellowship Hall set-up team has noticed that several of the rectangular, green, fabric tableclothes are missing. These are used on the serving tables.

If you know the location of these tableclothes, please contact the church office. Thank you!
---
Our sympathy is offered to Kathleen Moore whose father Robert died on Wednesday, March 13 at the age of 92. Please keep Kathleen and her family in your prayers.
---
Please join with others in our church family in praying this week:

CONCERNS:
Friends & family of the Hunters: Montgomery, Joy, Laura & Floyd
Fractured families
Marsy Laurie's sister - surgery
Marsy Laurie's friend in N.C. - cancer
Kaylen Short - DCOM meeting on March 21
Chris Bolton's friend Beth - hospitalized with pneumonia and also totaled car. No family in town.
Weathers' friend Charlotte - lymphoma
Death of Marlene Porter's cousin - pray for his sisters
Joyce Odom's niece - leukemia has returned
Children being bullied
Lorrie Ignatius' sister Bonnie - not doing well
Hansleigh - 5 yr. old fell from and run over by golf cart
Nell Pfautz - continued recovery from serious fall last year

THANKSGIVINGS:
Trevor Jones - made Eagle Scout
Great Chili Cook-Off at Ignatius' home
Good turnout for Church Workday
Gene Anglin's birthday
Valverde-Jensen's anniversary
Paul Bendig & Jan Dodd both back in church
Gwen Lansing's Aunt Gloria - successful surgery
Watson - preschool student with leukemia - doing well
Wonderful guest oboist at 11:00 service
---
News to Share?
Do you have an article to include in next week's bulletin or newsletter?

Email these to Suzanne Foster or call the church office.

office@mtcarmel-umc.org
5100 South Old Peachtree Road
Norcross, GA 30092
770-449-4498
www.mtcarmel-umc.org