In the Newsletter this Week:
From the Pastor

Youth Sunday / Fellowship Lunch: July 20: 10:30 AM

Church Office Hours

Family Promise is Underway!

Acolyte Training

Youth News

United Methodist Men's News

United Methodist Women's News

Children's Ministry

Promotion Sunday / Blessing of Backpacks: Aug. 3

New Pictorial Directory

Homecoming: August 17

Love and Logic Parenting Classes begin August 19
Thank You

Outreach Opportunities
---
Youth Sunday / Make Your Own Quesadilla Lunch: July 20 at 10:30 am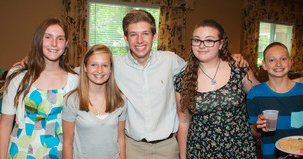 On July 20th the youth will lead a combined 10:30 worship service and share about their recent Mission Trip! We'll also enjoy music and worship, all led by our youth.
Following the service, there will be a "Make Your Own Quesadilla" Lunch provided by our Children's Department.
There will be chicken, cheese, salsa and all the toppings, plus salads and brownies for dessert.
Donations will help support Mt. Carmel Children's Ministry projects.
P
lan now to attend to support the Youth and Children of Mt. Carmel!
---
Vacation Church Office Hours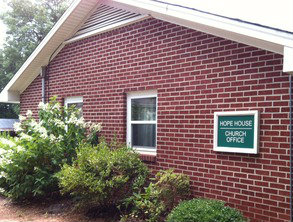 While Suzanne is on vacation, July 21 – 24, the church office will be staffed by volunteers from 9:30 AM – 1:30 PM. (Thanks volunteers!)
The office will be closed on Friday, July 25.
Please plan any church business accordingly.
---
Family Promise - Awesome so Far ... Ping Pong Victims Needed!
It's been a great start and we need your help to keep it that way!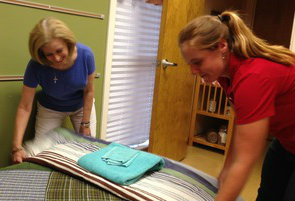 Setup finished in record time with all your help -- check out the photos -- maybe you can join us for Teardown!
We are hosting 3 moms and 8 children for another week and a half. Kids have been great and Duracell's still working to get their Energizer Bunny to catch up with 3 year old Breante's energy.
This weekend there are still a couple of slots open for hosting
Saturday and Sunday, possibly here or the Day Center.
Next week's coming up and several Prime Time opportunities are still available.
If you know how to make some food, you can help Joanne Ragon bring a meal next Tuesday!
If you know how to eat and be polite, we could use a couple more Dinner hosts.
If you know how to sleep in a strange bed, we're in need of some Overnight Hosts.
And, IF you know how play Ping Pong, I hear our little buddy Chris is looking for more victims!
For questions or signup please contact
Ed McDonald
/ 678-983-5588.
---
Join the Mt. Carmel Acolytes!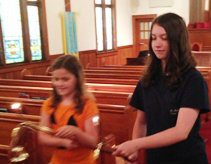 All rising 3rd graders and above are invited to join the acolyte ministry this fall! Acolyting is a special way for your child to participate in worship, and a great opportunity to experience the 11:00 service if that is not when your family regularly attends.
Please contact Lynn Koch at
lynnkoch@bellsouth.net
by July 20
if your child is interested in acolyting. There will be a training session in August for all new acolytes and any current acolytes who would like a refresher, and the new acolyte schedule will begin on September 7.
---
Youth News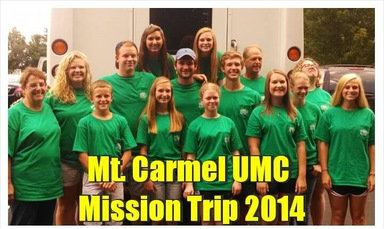 Mission Trip Team 2014!
Thanks youth, for making Mt. Carmel look so good!
On Sunday, July 20 the
Youth will leave the church at 12:30 to go to
Sky Zone
in Suwanee. We will return at 3:00. The cost is $20.00. Please let Miss Gail know via
e-mail
if you will be going no later than July 16.
White Water Rafting will be on Saturday, August 2. We will meet at the church at 8:00 a.m. and return by 6:00 p.m. Youth must be 12 or older. Cost: $44 plus money for lunch and snack - paid to Ms. Gail no later than July 20.
Pool Party: On Sunday afternoon, August 3 we will have a "Back-to-School" pool party. Watch for more information in email and bulletins.
---
Men's Club Dinner: Saturday, July 19
On July 19 at 6:00 p.m., all men of the church and a guest are invited to the Fellowship Hall for a summertime fish fry!
Please let
Craig German
know if you plan to attend and if you will bring a guest.
---
United Methodist Women's News
All women of the church are invited to the Lola Belle Young Night Circle which meets on Monday, July 28 at 6:30 p.m. in the Fellowship Hall.
We'll begin with dinner, followed by a program and short business meeting.
Please RSVP to Lori Anderson or the church office if you will attend.
---
SPR Searches for New Youth Director
Please continue to pray for our Staff Parish Relations Committee as they search for a new Director for our Youth Program.
---
Children's Ministry
Sunday School: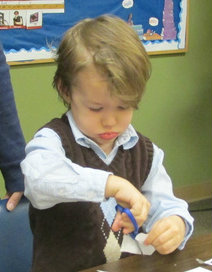 This week is Youth Sunday with one 10:30 worship service and the Children's Department is sponsoring the lunch afterwards.
There will be Sunday School and a nursery for children 2nd grade and under. The older children are invited to stay in church to listen to our youth share their mission stories. Children going into 2nd and 3rd grade may also help set up for lunch.
Lunch for Sunday July 20: Make Your Own Quesadillas
We will have chicken, cheese, salsa and all the toppings, plus salads and brownies for dessert. Donations will help support Children's Ministry projects.
Sunday School Teachers Meeting:
July 27th at 12:15 in the double classroom (RM 112/114)
Wacky Wednesday - More Weird Animals: July 23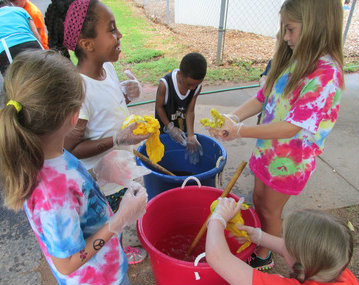 Wacky Wednesday - Going Buggy: July 30
For children ages 4 and up.
Cost: $5 per person.
Blessing of the Backpacks / Promotion Sunday: August 3
Marian Long, Director of Children's Ministries
---
Promotion Sunday / Blessing of the Backpacks: August 3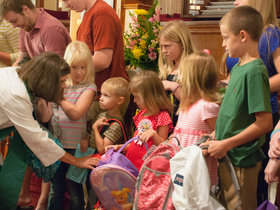 On Sunday, August 3rd all rising 3rd graders will be recognized and will receive a Bible from the church and the new Sunday school year will begin.
Also, students of all ages are invited to bring their backpacks to be blessed before the beginning of the new school year.
---
Homecoming! Sunday, August 17 - 10:30 AM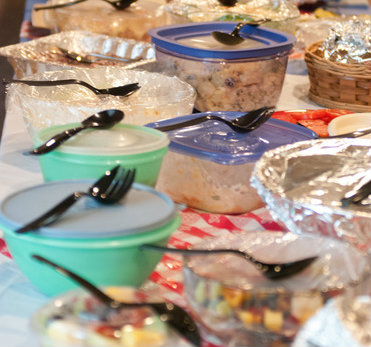 This will be a combined 10:30 worship service, followed by a covered dish lunch in the Fellowship Hall.
Come and hear from guest speaker Dr. Doug Thrasher, our new District Superintendent.
Everyone is also invited to bring a dish or two to share and enjoy lunch with your church family.
---
Parenting the Love & Logic Way
Learn practical tools and techniques that help adults achieve respectful, healthy relationships with their children and help them prepare their kids for the real world.
Love & Logic uses humor, hope, and empathy to build up the adult-child relationship.
Join Rev. Lynne Smith, 10:00am - 12:00 noon on Tuesday mornings downstairs in the Sr. High Youth room beginning August 19th.
The workshop lasts 6 weeks (skipping September 16th) and is limited to 16 participants. $100/person or $150/couple includes workbook. Church/preschool members receive 10% discount. Registrations are due by 8/11/2014.
---
New Church Directory Underway!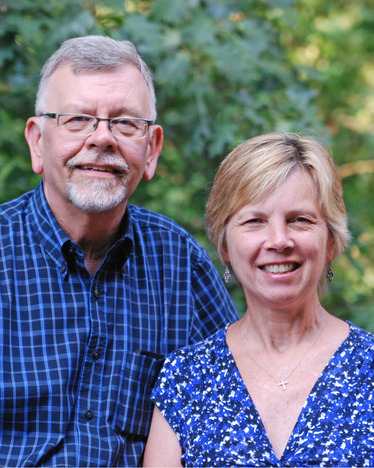 The Evangelism Committee will be collecting your photos for a new directory throughout the summer so send yours today!
(Photos may include pets, vacation scenes, etc.)
Everyone is asked to either:
1. Provide a photo of themselves for the directory. (P
lease send or drop off photos to the
church office
, in person or electronically.)
2. Use the same photo that was in the previous directory. (Let the church office know.)
3. Have a new photo taken by our resident photographer, George Hunter, who will be in the Fellowship Hall all morning on Sunday, July 13th to take directory photos.
---
Thank you Very Much!
Joyce and I want to say thank you for celebrating with us and making our 50th wedding anniversary so moving. The best way to express how we felt was that Joyce and I, as well as many in the congregation, teared up at the joy of the occasion.
Pastor Cyndi did a great job by delivering a very inspiring message and one that was perfect for the day.
Blessings,
Joyce & Neil Odom
---
Outreach Opportunites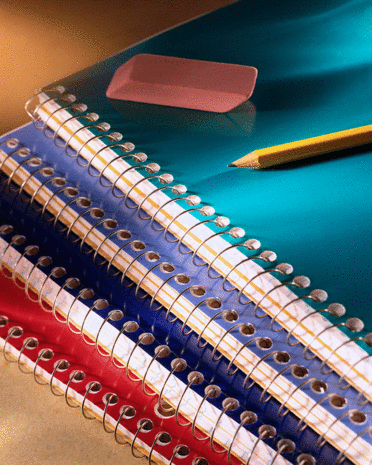 NCM School Supply / Book Bag Drive
Norcross Cooperative Ministry has begun their annual collection for local students to use when school resumes in August. Items from the list below may be dropped off at Mt. Carmel in the NCM bin, but the DEADLINE is July 31st so do your shopping now!
Thank you for helping these children get prepared for school!
Book bags / composition books (not spiral) / pocket folders with brads / loose leaf notebook paper / pencils / glue sticks / scissors / markers / copy paper / tissue / hand sanitizer
Save the Date
Harvest of Hope
is the ecumenical study, worship, and action mission trip program of the Society of St. Andrew. HoH offers opportunities to learn about hunger and a common sense solution (gleaning) to the issue. (See video on the Mt. Carmel website
here
.)
Together we will glean fresh fruits and vegetables which will immediately, through the help of local feeding agencies, find their way onto the tables of those in need. A simple, healthy lifestyle will be experienced during the event.
We will worship together, exploring what God wants us to do concerning our neighbors who are in need.
Join us and do something about hunger!
November 7-9 in Dahlonega, Georgia
Intergenerational / All Ages Camp facility: Camp Glisson
690 Camp Glisson Rd., Dahlonega, GA 30533
Facility website: CampGlisson.org
Produce historically gleaned: Apples
---
Prayers and Thanksgivings
Please join with others in our church family in praying our concerns and thanksgivings this week.
Concerns
The Anglin's granddaughter and her husband: going to Costa Rica as missionaries
Premature baby, Ava Grace
Joyce Ivy's granddaughter: on Haiti mission trip
Judy Bagwell's sister Alice: knee replacement
For rain
Isabel Valverde-Jensen: 3 friends with cancer
Ruby Easley's friends: Linda - loss of brother-in-law / Peter - in last stages of life / Angel - tumor on back / Morgan & Jay
Thanksgivings
Neil Odom: for friends / family at church for their 50th anniversary celebration
Anglin's grandson returned from being missionary in Thailand
Sherry Blackwood: Stephanie returned from 4 months working in Ghana
David Posey to marry Claire Davis in the fall: Claire's mother Cay visiting today