In the Newsletter this Week:
From the Pastor

Lenten Schedule

Special Lenten Offerings

The Lenten Cross

Are You a Shepherd?

Mission Moment: Stuart Dowling

Children's Ministry

Church-Wide Workday: March 15 at 9:00 AM

Preschool News

M

t. Carmel Women's Book Club: March 14 at 7:00 PM

Men's Breakfast Meeting: March 16 at 8:00 AM

Outreach Opportunities
---
Lenten Schedule
Please mark your calendars for the upcoming Lenten season: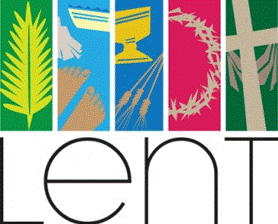 Wednesday Night Dinners and Conversation
March 12 - April 9
Dinner: 6:00 PM - provided by the Mt. Carmel UMW
Cost - Adults: $6.00 / Children 12 & under: $3.00
Family Max: $20.00
God in the Movies: 6:40 - 7:00 PM
March 12:
Dinner Menu
soups, stews, chowders & chili, bread, crackers, green salad, fruit salad, dessert, tea and lemonade
Movie Clip
It's a Wonderful Life
March 19:
Dinner Menu
meatloaf, roasted veggies, green salad, fruit salad, bread, dessert, tea and lemonade
Movie Clip
Driving Miss Daisy
---
Special Offerings During the Lenten Season
During the season of Lent, we hope that you take on a practice that allows you to grow spiritually as you reach out to others.
If you are fasting in some way, could you set aside the funds you would have spent on chocolate or meals out, and give these to those who have less?
United Methodist Special Offerings are listed on the back of the
Hymnal Cards
and specially marked envelopes are provided in the sanctuary.
Please consider donating to one or more of these offerings as a part of your observance of Lent.
---
The Lenten Cross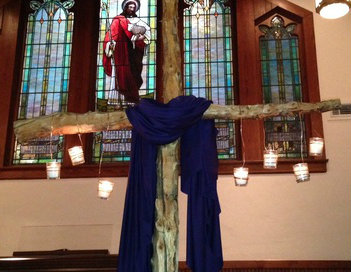 The cross used in worship on Sunday was built from two Christmas trees.
There are seven candles to remind of the 7 days in the creation story. The writer of the Gospel of John records 7 "I am" sayings and 7 "signs," suggesting that in Christ, creation begins again.
We extinguish one candle each week of Lent as we near Jesus' death on the cross. On Easter Sunday, the cross is covered with flowers to represent resurrection and new life.
---
Are You a Shepherd?
Has the Evangelism Committee asked you to extend hospitality to a visitor or new member? If so, why not invite someone to the Wednesday night dinner and make a point of sitting with them and introducing them to others.
---
Mission Moment

Thank you to Stuart Dowling for his second mission moment that he shared on Sunday.
In his second Mission Moment, Stuart describes how God brought about transformation by showing him how God saw him.
God sees us and knows us and loves us.
Watch either of Stuarts Mission Moments
here
.
---
Children's Ministry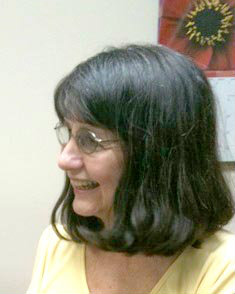 Sunday School:
In the story from John 13:1-7, Jesus shows us how to serve others by washing the feet of his disciples. The children will explore the cultural context of this story, and while we will not wash each other's feet, we will discuss and plan how we can do acts of service today.
Help your children find ways they can be of service around the house.
Lenten Dinner: March 12 at 6:00 pm
Before and after dinner, the children will be making crosses for the upcoming Stations of the Cross.
The movie topic this week is
It's A Wonderful Life
. There will be a short clip from the movie at 6:40.
Family and/or Children's Movie Night:
March 28: 6:00-8:00 pm
You can come as a family or you can drop your children off. There will be a nursery for children under 3, along with popcorn and pizza and the movie Frozen.
Cost: $1.00 per person. Please RSVP by March 27 by contacting the church office at 770-449-4498 or Ms. Marian at
children@mtcarmel-umc.org
.
Marian Long
Children's Ministry
---
Church-Wide Workday: March 15 - 9 AM


The Mt. Carmel Board of Trustees request your help at the upcoming Church-wide Workday. There are many jobs to be completed to keep Mt. Carmel in good working order and the more hands involved, the quicker they will all be done!
Please mark your calendar to meet at the church at 9:00 a.m. If you have any tools or cleaning supplies that you think may be helpful, please bring those too.
Thanks from the Trustees!
---
From the Preschool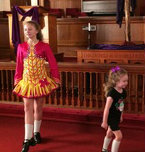 Dear Friends,
Oh, are we delighted with the spring weather! It just lifts the fog from the brain a bit, doesn't it? We are so full of energy after weeks of being indoors, we can hardly contain ourselves.
We were blessed with an Irish dance performance yesterday from the Drake Irish Dance School. Do you know there was even a 4-year-old who danced for us? We were mesmerized by their footwork and did you know they don't even move their arms? It was fantastic!
We are bringing our pennies, bills, and checks in for our Pennies for Patients fundraiser in honor of our hero, Watson Dufresne. Watson is Valor's cousin and he reigns supreme over ALL (Acute Lymphocytic Leukemia) with his last treatment being almost a year ago. We collect money in Watson's honor and thank God for His love and mercy. Please help us reach $500.00 which is our goal! I'll bet every single one of us could find a dollar's worth of change in our washer or dryer alone! If everyone helps, we will succeed!
We still have space for the fall and hope everyone tells the world about our wonderful school. I am available for tours daily and pray our fold grows so we can help others learn about God and ABC's at the same time!
In joy and love,
Lorrie
Preschool Director
---
Women's Book Club - March 14
The Mt. Carmel Women's Book Club will meet on Friday, March 14 at 7:00 p.m. in the Hope House.
This month's book is:
Faith Bass Darling's Last Garage Sale
, by Linda Rutledge. Please contact
Chris Bolton
or
Vicki Walden
if you have any questions.
---
United Methodist Men's Breakfast & Meeting: March 16
All men of the church are invited to join the Mt. Carmel Men's Club for breakfast and a short meeting on Sunday, March 16th at 8:00 AM.
They will meet in the Fellowship Hall for good food, a program and fellowship. Please contact the church office with any questions.
---
Outreach Focus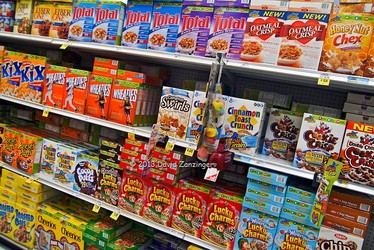 NCM Donation of the Month - Boxed Cereal
Share the Bread of Life! Please bring one or more boxes of cereal and place in the NCM bin in the hallway between the sanctuary and Fellowship Hall.
Another Rainbow Village Opportunity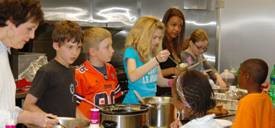 Do you love the food and fellowship of Lenten Dinners? How about extending that love to residents of Rainbow Village in Duluth?
Every Tuesday & Thursday the resident families, graduates, staff, and volunteers join for a meal. Volunteers are needed to prepare and serve these meals. Food may be prepared and brought to the dinner or prepared in the on-site kitchen.
This is a great opportunity for groups to volunteer together.
Thursdays, Rainbow Village children stay after dinner for Big Recess. Volunteers are needed to provide support, supervision, and a variety of exciting activities.
---
Prayers and Thanksgivings
Please join with others in our church family in praying our concerns and thanksgivings this week.
Concerns
JoAnn Weathers: family & friends of those on missing airliner
Dan Bailey's mother, Shelia / those recovering in Philippines / friend Joey's granddaughter
Ted Marcis' mother, Meery: worry & stress over dog with health issues / very dear to her
Ragon's friend Dave: chemo treatments & awaiting bone marrow transplant
Morgan, Jay & Breahna Nichelson
Isabella Fogel's friend who has cancer
Penny Millar's friend: improving, but still needs prayers
Cindy Jones' father not doing well
Preschool alum Watson: had health scare that leukemia was back, but turned out OK
Lila Hunter's friend: getting better, but still a long way to go
Thanksgivings
JoAnn Weathers: successful eye surgery
Christy & Ernie Richmond visiting
Youth Dinner Theater: for a great show, those who worked so hard to produce it, and all who supported it
Missing Peachtree Corners girl returned home safely