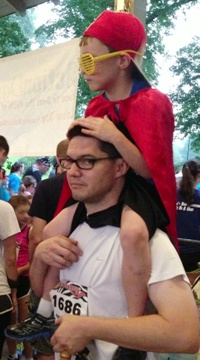 Labor Day Race Report
Labor Day morning I woke early and headed down to Piedmont Park. Despite the rain, I was looking forward to a 5K through the park.
The race was to raise funds for Action Ministries, which supports ministries like summer lunch programs and housing for the homeless. Playing on their name, Action Ministries invited runners and walkers to come dressed as "Action Heroes". There was an abundance of characters like The Flash, Wonder Woman, Batman, and this little fellow, complete with cool shades, who was dressed as Superman.
Just after the race started, I noticed that I was going at about the same pace as this young Superhero. I wondered how long he would be able to sustain this pace. He looked about five years old to me, and my experience is that younger kids run in spurts. I assumed he would tire soon and I would pass him. After all, he's only about five.
We kept running together, and as we were nearing the two mile marker, his Dad gave a warning. "When we hit the two mile mark, we're going to let it all out. We're going to floor it and run as hard as we can. Are you ready?"
And they did. They took off, leaving me well behind. For that last mile, I laughed at myself for being blown away by a five-year-old.
I should have known better than to compare myself to someone else. That's what we tend to do, isn't it? Make a judgment. He is better than I am. She is worse than I am.
Yet this Sunday, when we open the Bible to the beginning and read the creation story, we will see that everyone is created in the image of God.
Isn't that amazing? We bump into the image of God throughout the day, in the office, on the telephone, in the car…and in the mirror.
In the church, rather than make comparisons—too good, not good enough—we speak words of God's love. In our worship, small groups, and service, we open ourselves to God's Spirit working within, throwing out the sin that covers the image of God within.
No comparisons are needed. Within each of us is the image of God.
I'll see you this Sunday,
Pastor Cyndi McDonald
Mount Carmel United Methodist Church