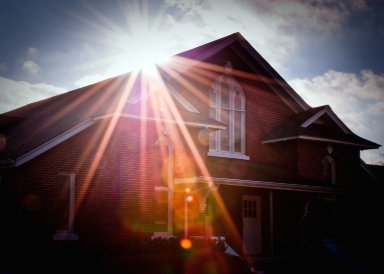 March 27, 2012

In this issue:
From Pastor Cyndi
Save the Date
Easter Schedule
Singles Event
Condolences
Stations of the Cross
Easter Lilies
Lenten Dinner
It's A Boy!
Children's News
Piano Concert
Final Coffeehouse
Full Moon Hike
Preschool News
Blood Drive
Thank You
In Worship this week
Birthdays / Anniv.
Sunday's Prayers
NCM
Counseling Center
JOEL COMMITTEE
MARCH 27
6:30 PM
HOPE HOUSE

FINAL LENTEN DINNER
MARCH 28
6:00 PM
FELLOWSHIP HALL

PRESCHOOL PIZZA WITH DAD
MARCH 29
12:00 PM

PIANO CONCERT
MARCH 31
7:00 PM
SANCTUARY
TRIP TO PASSAGES EXHIBIT
MARCH 31
1:00 PM

FULL MOON HIKE
MARCH 31
5:30 PM
PANOLA MTN. STATE PARK

PALM SUNDAY
APRIL 1

MAUNDY THURSDAY WORSHIP
APRIL 5
7:00 PM

GOOD FRIDAY
LUNCH: 11:30/12:30
WORSHIP: 12:00

EGG HUNT
APRIL 7
10:00 AM
FELLOWSHIP HALL

EASTER SUNDAY
APRIL 8
SUNRISE SERVICE: 7 AM
BREAKFAST: 7:30 AM
WORSHIP: 8:30, 9:30 & 11:00 AM

OFFICE CLOSED
MONDAY, APRIL 9

FINAL COFFEEHOUSE
APRIL 12, 7 PM

RED CROSS BLOOD DRIVE
APRIL 18
2-7 PM

UNTALENT SHOW
APRIL 21, 7 PM

TRINITY SOUP KITCHEN
MAY 6
Condolences

Our sympathy is extended to the Kilmer family on the death of Joey Kilmer on March 21, 2012.

Please keep them in your prayers.
Birthdays this week:
Madison Blair
Jacob Mauldin
Mark Bagwell, Sr.
G.W. Marsh, Jr.
Kyle Porter
Lorrie Ignatius
Anniversaries this week:
Nick & Molly (Joyner) Leeper
Norcross Cooperative Ministry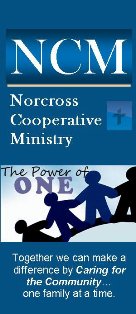 As one of the founding churches of NCM, we encourage your support as they assist those in need in our area.

This week their most needed items are:
cereal, jelly in plastic jars, canned meat (not tuna), canned fruit, meal in a can, 1# bags rice, diapers (larger sizes).

For more information on NCM, see their facebook page at
www.facebook.com
/norcrosscm.
North Georgia Family Counseling Center

Family Wellness
through Counseling, Education and Research

Mt. Carmel proudly supports the North Georgia Family Counseling Center.
678-242-9355
ngfccumc@gmail.com
www.ngfccumc.org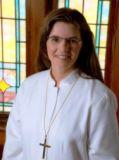 Seuss on the Loose



Tomorrow is our last Wednesday night Lenten dinner. I will miss these evenings: the conversations over dinner, reading a silly story, sharing in our table talk, and singing a song or two.

When we began the planning process, Marian, Suzanne and I sat around the table and selected books that we thought would reflect the scripture lessons on Sunday morning. The week we read about Jesus' temptation in the wilderness, we read The Cat in the Hat showing up with temptations; we began the 40 day period of Lent reading about Horton's patience in staying on an egg.

But a funny thing happened on the way to our dinners. The Seussian lessons became more than those initially planned. The Cat in the Hat became a tale of a stranger—perhaps an angel in disguise—stepping in and turning dreary lives upside down and offering opportunities for living an abundant life. Horton's egg hatches and out flies something new, an elephant-bird, much like through our baptism God transforms us into a new creation. (Thankfully, this transformation does not include a trunk or elephant ears.)

Some critics might argue that I am reading more into the stories than Dr. Seuss intended. But Dr. Seuss was raised in a Christian family and was a practicing Christian all of his life—it seems logical that his faith should, even if accidentally, shine through his writing. Through the rhymes and alliterations seep messages of hope, new life and transformation. Peeking out from behind the silly pictures and made-up words are stories of love that bind us together as a family.

I have a similar hope for all of us. My hope is that when we are talking about politics or the weather, underneath these stories shines through a faith in God's love. My hope is that when we tell just a silly story about what we saw on the way home, the listener glimpses the story of God's amazing work in the world.

That's my hope for all of us: that we are so immersed in the story of God's love that it becomes part of our very being, seeping out between the lines of life for others to see and hear.

I'll see you on Sunday,
Pastor Cyndi
---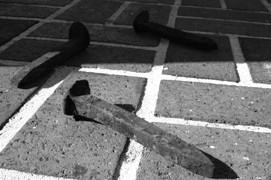 Volunteers for Stations

Thanks to members of our church and Berkeley Lake artists who are sharing art for the Stations of the Cross the days before Easter. Would you volunteer to greet guests for an hour or two during Holy Week?

A welcome table will be at the church entrance closest to the double classroom. You would welcome guests so that they know they are in the right place and direct them to the first station. The stations are self-guided, and participants simply follow the path from one station to the next.

Email Pastor Cyndi if you can volunteer.
---
Wednesday, March 28th
6:00 PM ~ Fellowship Hall

COST:
$6.00 ~ Adults / $3.00 ~ Children 12 and under
(family maximum of $20.00)

MENU:
Mexican Fiesta! Mexican casseroles, black beans & rice, fruit salad, green salad, bread, drinks and desserts

(pb&j will be available for children)

This week's study: Green Eggs and Ham!
---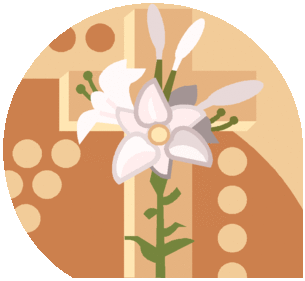 Holy Week / Easter Schedule

Palm Sunday: April 1

Stations of the Cross
(downstairs classrooms / sanctuary)
April 5: 10 AM - 7 PM
April 6: 10 AM - 7 PM
April 7: 9 AM - 12 PM

Maundy Thursday: April 5
Worship at 7:00 PM

Good Friday: April 6
Lunch at 11:30 and 12:30
Worship at 12:00 Noon

Easter Egg Hunt: April 7
10:00 AM

Easter Sunday: April 8
Sunrise Service: 7:00 AM
Breakfast: 7:30 AM
Worship Services: 8:30, 9:30 and 11:00 AM
Children will sing at 9:30 and 11:00 services.
---
Children's Ministry News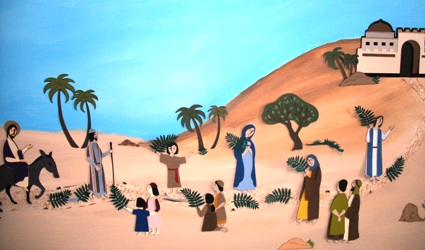 This Sunday is Palm Sunday and the children will process around the sanctuary waving palm branches. Our lesson is about what happened during the last week of Jesus' life. We will also practice the song that the children will sing on Easter Sunday.

Holy Week for children at Mt. Carmel:
During this very special week in the life of the church, there are opportunities for families to share the true meaning of Easter. On Thursday, Friday and Saturday morning, Stations of the Cross will be set up in the downstairs classrooms for individuals and families to contemplate and talk about the art work that represents Jesus' last days.





On Thursday evening, we will have a Maundy Thursday communion service, this service is appropriate for children, but there will also be childcare available for children under 5.





On Friday, there is a Good Friday service at noon and lunch is served before and after the service. There is no childcare availa

ble, but the service is short and appropriate for children.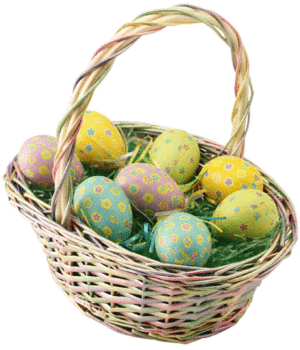 Easter Egg Hunt:
Saturday: April 7 at 10:00 AM
for toddlers through 5th grade

Bring your basket and get ready to hunt lots of Easter Eggs! Inside the Fellowship Hall there will also be crafts, Resurrection rolls and snacks. "Will the Bunny" will be available for photos too! Invite your friends and neighbors to come.
Everyone is also invited to bring flowers from your yard to add to the Easter Cross which will be in the church on Easter morning!
Marian Long
Director of Children's Ministries
---
Easter Lilies in Memory or Honor of Loved Ones

The Mt. Carmel United Methodist Women will place Easter lilies in the sanctuary on Easter Sunday. If you would like to purchase lilies to be placed in the sanctuary, please complete the form found in Sunday's bulletin, or contact the church office / 770-449-4498.

The cost is $9.00 per lily.

Checks should be made payable to Mt. Carmel UMW. Deadline for purchases is Sunday, April 1st.
---
Final Catacombs Coffeehouse

Please plan now to attend the last Catacombs Coffeehouse on April 12th at 7:00 PM. After many years of great Thursday evening entertainment, the Coffeehouse is coming to an end. Our own Gospelites will perform as the final musicians.
---

Mt. Carmel Singles Event

Join the Mt. Carmel Singles on April 14 at the Johns Creek Symphony for "An Evening with Oscar & Tony," selections from Academy Award films and Tony Award Broadway shows.

We will meet at the church at 6:00 to go out to dinner before the performance or you can meet us at the theater at 8:00. Tickets are $23.50. Let Marian (children@mtcarmel-umc.org) or Jeanne Manget know by April 10th if you plan to attend so tickets can be reserved.
Theater at Johns Creek High School
5575 State Bridge Rd
---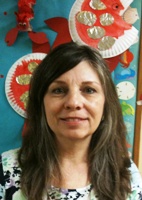 Meet Ms. Lin!
"Hello! I'm Lin Mayberry, Miss Lin, teacher of the fours. Although I hail from South Carolina, I am an Air Force brat who along with four brothers has lived in many states and in Europe. My husband Paul and I have been married for 36 years and have three daughters. We moved to Lawrenceville in 1987 from Columbia, SC. Our now grown daughters live in the Atlanta area and continue to bring us much joy and pride in all their endeavors. And yes, they continue to keep us busy! (The fun never stops!)

My preschool teaching career began at Mt. Carmel in 1992. Back then it was all about the threes and what a joy they were to teach! In 1999, I began teaching the fours. My, oh my! They have been an inspiration, a catalyst for my artwork and sheer delights to have in my charge 4/4 a week. We share many laughs, and lots of wonderful activities that I hope will be beneficial toward their formative school years ahead. Rest assured, they are much loved and cared for during their time here at Mt. Carmel. As each school year draws to a close, I am nearly brought to my knees with the parting, but I am soothed by Dr. Seuss's worthy words, "Don't cry because it's over, smile because it happened." I would be so grateful if you would visit now and then over the years to come! Miles of smiles to all."

Believe it or not, Lin taught my Nora! That really puts things into perspective because Nora graduated from UGA last May! What? Also, did you ever notice how organized Miss Lin is? That's because she is a mother of twins! I always put mothers of twins into a different category than anyone else. Lin leads her class with humor and loves to encourage children to bring in their own stories and jokes. No matter how corny the jokes are, Lin is rolling in the aisles over them. It has been a blessing to have worked with her for so many years. Lin is what you might call a Mt. Carmel mainstay.

Well, we are officially the Best Preschool in Peachtree Corners! Thanks to everyone who voted, wrote lovely comments, and who have supported and loved us all these years. I am so happy to be able to add that title to our name. It is a feather in our cap and a pat on the back to my wonderful staff and families!

Pizza with Dad is on Thursday and we are excited to have lunch with all our dads, granddads, uncles, or male escorts (ha!) followed by the Easter egg hunt. The teachers and I just love this special day because our men friends follow directions so well and enjoy being with their dates. The affair begins at 12:00 and is over by 1:00 at which time the dads are free to take their children home. If dads need to go back to work, just let the teachers know and we will go back to the classrooms for moms to pick up the children.

Friday we have no school and then it is Spring Break during the week of April 3-6! We are really charging to the end of the school year, aren't we?

Tuition is due on Thursday, March 29.
In joy and love,
Lorrie
---
Full Moon Hike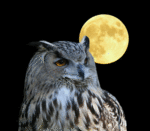 at Panola Mountain State Park
March 31

There is still time to join the Chapel in the Woods hikers for an enchanted evening hike to the mountain top under the full moon.

We will meet at Mt. Carmel at 5:30 p.m. and carpool to the event. You must register with the park in advance at 770-389-7801. Cost is $7.00 in advance and parking is $5.00.

---
Piano Concert

Erick Parris, Jr. (son of our previous music director Erick, Sr.) invites the congregation to his piano concert in the Mt. Carmel sanctuary on Saturday, March 31, at 7:00 PM. The concert will be followed by a reception in the Fellowship Hall.

A love offering will be taken.
---
It's a Boy!

Congratulations to Joe and Cecelia Davis on the birth of their new grandson last week!
---
Red Cross Blood Drive

Please sign up now for the upcoming Blood Drive at Mt. Carmel on April 18th from 2 - 7 PM. We need have at least 35 volunteers signed up for the Red Cross to come. You may register on line at redcrossblood.org and use the sponsor code: mtcarmelumc, or call the church office at 770-449-4498.

Please consider donating blood. Together we can save lives!
Please join with others in our church family in praying the thanksgivings and intercessions named in worship last Sunday and during the week:
CONCERNS:
Anita & Lamar Andrews
Gene & Linda Anglin
J.W. & Ann Rikard
Kilmer Family
Annette Rogers mother-in-law: bad fall
Kaylen Short's friend's family: death of father
Carol Jamieson's friend Jane
all those who are ill
Bill Taylor
Coffeehouse performance
THANKSGIVINGS:
Gene & Linda Anglin back at church
Church support of Kilmer family
Support of Boy Scout Fundraiser Dinner
Susan Posey's mother's 85th birthday
Bobby Smith's friend cancer-free
Jan German & Virginia Mitchell's birthday
Joe & Cecelia David: new grandson
Chris Bolton for organizing Lenten Dinners
Ours Voted best Preschool in Peachtree Corners
---
Thank You Very Much!

We would like to thank everyone for their love, prayers and concerns for us during Gene's surgery and recovery. It is wonderful to be a part of such a loving church family.

Gene & Linda Anglin
---
News to Share?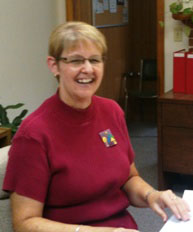 Do you have an article to include in next week's bulletin or newsletter?

Email these to Suzanne Foster or call the church office.

office@mtcarmel-umc.org
5100 South Old Peachtree Road
Norcross, GA 30092
770-449-4498
www.mtcarmel-umc.org