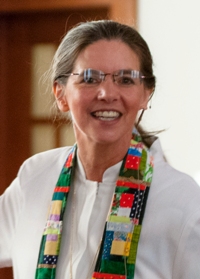 Rubber Ducks, Brain Burps, and Hospitality
Yesterday I read "10 Little Rubber Ducks" to the preschool. You would think that a counting book, in which the number of ducks remains 10, would not be exciting. But every time we started counting ducks, the kids joined in and counted louder and louder. By the end of the book—still ten ducks—they were squealing with laughter.
As we were counting along, pride showed on their faces. This was about more than being about to count to ten. They were able to join in the group, confident that they were saying the right words and making the right motions (making a face like a pelican and swimming like a sea turtle).
A few weeks ago I was reminded of how uncomfortable it can feel to not know what to say or do in a church setting. My mind burped during the Lord's Prayer at the 9:30 service, and the congregation had to finish the prayer without me. I felt foolish. Did people think I don't know the Lord's Prayer? It made me wonder about whether a visitor would feel foolish not knowing the words of a prayer or song.
Walking into a church for the first time is scary. The bulletin may have a "*" to stand, but what if I am the only one who stands? Are there words I am supposed to say after the scripture reading? Will I have to introduce myself?
Our Council on Ministries and Administrative Board are asking questions about Sunday morning worship. They will be approaching classes and small groups for input. They will invite those not part of a small group to special sessions to share.
They will ask questions about what worship times and service elements are inviting and welcoming to others. Is there a better time to meet? A time for children and small groups?
What is scary to a first time visitor? What about our worship helps strangers to know this as a place of hope, community, and compassion? What helps to make disciples and grow disciples?
I hope that you will be part of these discussions. More than anything, I hope you will reflect on what makes church a welcoming time and a growing time.
When I finished the story to the preschoolers, I told them that I was glad that the last rubber ducky finally found a home. I shared my hope that every child feels welcome at Mt Carmel and the Preschool makes them feel like the rubber ducky when he finally found a home.
One little boy chimed out "I do! Thank you!"
Wouldn't it be wonderful if everyone who walked into our sanctuary could answer this way?
I'll see you this Sunday.
Pastor Cyndi McDonald
Mount Carmel United Methodist Church