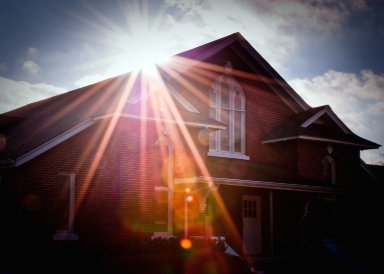 March 26, 2013
In this issue:
From the Pastor
Holy Week
Worship Feedback
Children's Ministry
Youth Note
Preschool News
Thank You
Book Club
Strikes for Jesus
Condolences
Untalent Show
Sunday's Prayers
Save the Date
In Worship this week
Birthdays / Anniv.
NCM
Counseling Center
Save the Date...
HOLY WEEK


MARCH 26 - 31
SEE FULL ARTICLE



WEDNESDAY NIGHT STUDY


MARCH 27 - 7:00 PM
RM 112/114



CHOIR PRACTICE


MARCH 27 - 7:00 PM
CHOIR ROOM



PRSCH. PIZZA WITH DAD


MARCH 28 - 12:00 PM



PRESCHOOL CLOSED


MARCH 29



PAVEMENT POUNDERS RUN


MARCH 30 - 8:00 AM
MEET AT CHURCH



OFFICE CLOSED


APRIL 1



UMW DAY CIRCLE


APRIL 2 - 10:30 AM
SANCTUARY / FELLOWSHIP HALL



NO BROWN BAG STUDY


APRIL 2



PRESCHOOL PICTURE DAYS


APRIL 4 & 5



CHAPEL IN THE WOODS TO GIBBS GARDENS


APRIL 6 - 8:30 AM
MEET AT CHURCH



HABITAT BUILD


APRIL 13



STRIKES FOR JESUS


APRIL 13 - 10:00 AM
SPALDING LANES



UMM SUNDAY - COMBINED SERVICE


APRIL 14
10:30 AM



FELLOWSHIP LUNCH BY RELAY FOR LIFE TEAM


APRIL 14 - 11:30 AM
FELLOWSHIP HALL



SR. HIGH YOUTH RETREAT


APRIL 19 - 21



EARTH DAY FUN


APRIL 21 - 3:00 PM
LOWER FELLOWSHIP HALL

BBQ & SWEET SHOP! ~
HISTORY TOURS
APRIL 26 & 27



RED CROSS BLOOD DRIVE


MAY 1 - 2:00 - 7:00 PM
FELLOWSHIP HALL
Birthdays this week:
Katie Reinhart
Ann Joyner
John Waller
Madison Blair
Jacob Mauldin
Jim Mitcham
Anniversaries this week:
Nick & Molly Leeper
Derrick & Ashley Karimi
Norcross Cooperative Ministry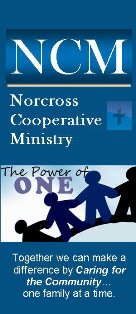 As one of the founding churches of NCM, we encourage your support assisting those in need in our area.

For more information on NCM, see their facebook page.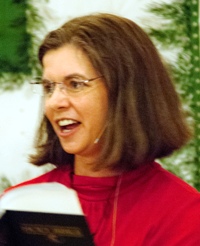 Having the Faith of Children
The hardest part of planning worship is the children's sermon. I enjoy most telling stories that use an object as a metaphor. For example, the words we say are like toothpaste squeezed from the tube. Once they are out, it's impossible to take the words back or put the toothpaste back in the tube.

Most adults enjoy these types of examples, too. They help us to understand the basics of the faith.

The problem is that young children don't understand these. The moment you say "this is like" you have lost the young children. No matter how you try, they don't get that the Holy Spirit is like the wind (you cannot see the wind, but you can see its effect moving the tree branches). Young children don't understand metaphors.

The best children's sermons are the ones where they hear and enter the Bible story. We hope that by acting out Jesus with the disciples entering Jerusalem, that God's story will become part of their life. Later, when they do understand metaphors and similes, they will see their own lives in light of God's story, saying for themselves "this is like the time when the disciples helped Jesus..."

This is Holy Week, and what I love most about our celebrations is that instead of focusing on how and why, we enter the story. On Thursday night we will hear the noise of water splashing and the story of Jesus washing the disciples' feet. We will hear Jesus say "this is my body" as he serves the disciples at their last supper. We will share in the meal, breaking bread and drinking juice at the altar rail.

At noon on Friday we will hear the story of the crucifixion. In the quiet of the moment, we will respond by singing, "What Wondrous Love is This?"

Usually in our worship services I am trying to lead and worship simultaneously. Perhaps that is why I appreciate the Stations of the Cross so much—I can quietly worship God with no one watching. I will wonder at Jesus praying so deeply in the garden that he sweat drops of blood. I will see my own face in the crowd calling "crucify him." And I will take a hammer and nail my sins to the cross. In years past, I have cried tears of thanks in that moment. What wondrous love is this?

I love Holy Week and entering the story of Jesus' path to the cross. I am especially thankful that the story does not end with the cross or at the grave. On Easter Sunday I will get up before sunrise and sing "Morning Has Broken." We will take the confessions off the cross and burn these. Our sins are forgiven and forgotten. Christ is risen and there is new life! What wondrous love is this!

It's Holy week, and we have permission to have the faith of children. Like little children, let's marvel at the stone that blocked the tomb, the hard wood of the cross, and the stunning and wondrous love shown in these moments.

I'll see you throughout the story,


Pastor Cyndi
---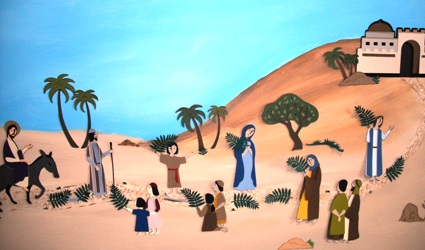 Holy Week Schedule
Holy Week Prayers
March 25th - March 29th
Weekday mornings: 7-7:20 AM

Stations of the Cross
March 28th - March 30th
Thursday and Friday: 10 AM - 7 PM
Saturday: 9 AM - Noon

Maundy Thursday
March 28th
Worship Service: 7 PM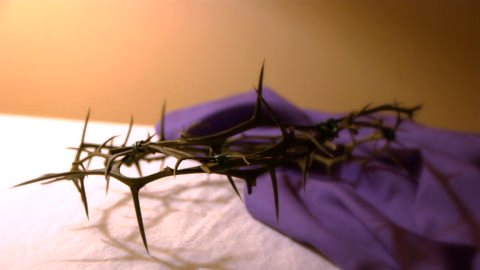 Good Friday
March 29th
Lunch:
11:30 AM and 12:30 PM
Worship Service: 12 PM

Easter Egg Hunt
March 30th
Games, Activities, Flowering Cross: 10 AM

Easter Sunday
March 31st
Sunrise Worship Service: 7 AM
Breakfast by UMM: 7:30 AM
Easter Worship Services: 8:30, 9:30, & 11:00 AM
---
Your Feedback Requested

Pastor Cyndi would appreciate your feedback on what was helpful and meaningful during the Lenten emphasis on the Lord's Prayer. Were the study guides helpful? Did you find meaning in the crosses? Did you appreciate the Wednesday meals and workshops?

Please provide your feedback with the survey here to help Pastor Cyndi and the worship planning team prepare for other times of emphasis.
---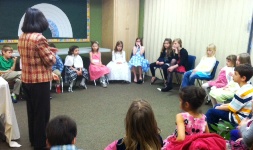 Children's Ministry News:
Sunday School:
Easter Sunday! The most important day of the Christian Year. We will celebrate the great news that Jesus Lives! Luke 24:1-12. The Easter story is amazing. Talk to your kids about other amazing things you see God doing. It's those God Sightings.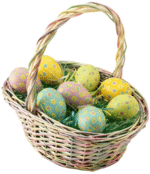 Easter Egg Hunt: Saturday,
March 30 (rain or shine) 10:00 am
Invite your friends and neighbors to come enjoy finding eggs and doing Easter activities. Bring flowers from your yard to put on the flowering cross. There will be photo ops with Easter Bunny Will also!

Kingdom Rock Vacation Bible School
Registration has started for VBS. Go to www.mtcarmel-umc.org and open the children's tab to sign up for VBS, for 3 year olds – rising 5th graders. (3 year olds must be potty trained.) If you want to have a "Rocking Good Time" this summer, volunteer to help at VBS!

Marian Long
Director of Children's Ministries
---
Youth Note

Thank you to our Youth for creating one of the scenes for Stations of the Cross! There will be no Youth meeting this Sunday, but make sure your Holy Week includes a walk through the Stations and see how your scene fits in with the others.
---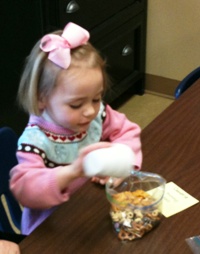 Preschool News
Dear Friends,

This will be a very busy week for us and we are so excited to have our dads, granddads, uncles, boy cousins, neighbors, or friends join us for pizza this Thursday. We are busy making special gifts, we are making bunny bait (see photo), and have been exceptionally busy planting seeds that we water at home and hopefully will plant outside in our gardens. We are just waiting for warm weather to decide to show up! Goodness, it is a chilly March!

As you know, weather in Atlanta changes on a dime. If you don't like it right this moment, just wait a bit and you will see something else. Because of the changes, we need to have all kinds of outdoor weather clothing available to us. Someday soon we may not need to wear a coat or hat, but as of this day, we need them in order for everyone to get on the playground. Please remember to label everything!

We ARE in school the week following Easter. I know Fulton County is out for Spring Break, but ours does not begin until Monday, April 8. We will be out the entire week and will be back in the saddle on Monday, April 15.

We are proud to announce that we raised $469.54, 1 safety pin, 5 nails, 4 euros, 1 Chuck E. Cheese token, 2 Canadian nickels, 2 Canadian quarters, and 1 rupee in our "Pennies for Patients" fundraiser! We are so thankful to all who dug into their pockets, between cushions, and piggy banks to donate coins in honor of Watson Dufresne, the Leukemia and Lymphoma Society's Boy of the Year! He will always be our Boy of the Year and thank you from the bottom of our hearts!

We do not have school on Good Friday, but welcome you to join in the high holiday services on Maundy Thursday at 7:00, Good Friday service at 12:00 with lunch offered before or after the service, and Easter Sunday services which are at 7:00 AM, 8:30, 9:30, or 11:00.

Happy and blessed Easter to everyone.

In joy and love,
Lorrie
---
Thank You Very Much ...

On Thursday morning I stepped into a room full of people I didn't know or knew only in passing. I knew that this room would decide whether I was able to continue on in my call to United Methodist ordained ministry or not. Needless to say, I was nervous and truly I tell you that it was the prayers of others that got me through. I was approved as a certified candidate, and I know that many here at Mt Carmel were among those in prayer for me.

I sincerely thank you all for your support and your prayers on my behalf. I would also appreciate continued prayer for myself and other candidates in the ordination process. Thank you again for your prayers because I couldn't have been approved otherwise.

Many blessings
Kaylen Short, Youth Director
---
Book Club in April

Our read this month is "Prodigal Summer" by Barbara Kingsolver. The Book Club will meet on Friday, April 5 at 7:00 p.m. in the Hope House. LIght refreshments will be served. We hope you'll join us!
---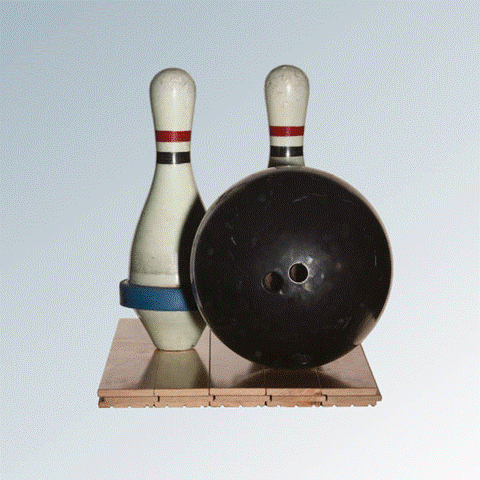 Strikes for Jesus

Joan Garner, all 110 lbs, is our current "STRIKES FOR JESUS" champion and she is looking for a little bowling competition!

We are having our second "STRIKES FOR JESUS" fun bowling event (no bowling skills necessary) at The Spalding Bowling lanes, April 13 at 10:00 a.m. The cost is $15.45 which includes 3 games, shoes, pizza, and a soft drink. Please come join the fun! RSVP to Neil Odom at nonojo413@gmail.com, (770) 827-2122 - cell, or (770)582-7457 - home.
---
Our sympathy is offered to Boyd & Hillary Whaley and their family on the death of Boyd's uncle on March 22. Please keep Boyd and his family in your prayers.
---
Untalent Show Acts Needed!

This year the Youth Untalent Show will be "Rolling on the River" on Saturday, April 4th at 7:00 p.m. Lots of acts are needed, so please start thinking about your act and sign up now!

Proceeds will support the Youth Summer Mission Trip to Cairo, IL.
---
Please join with others in our church family in praying this week:

CONCERNS:
Tim Sawinski's sister Kathy - recovering from burns
Ryan Stark - recovering from foot surgery
Isabel Waller - job security
Waller's daughter - to turn to God - living alone in Beijing
Judy Bagwell's uncle - acute leukemia
Karen Weeks' cousin - leukemia
Lila Hunter's father - fall & hospitalized
Kathleen Moore - recent death of father
Penny Millar - seeking a job
Phil Griffin's co-worker Jeff
Paul Bendig - recovering from heart surgery
Hal Crawford's mother - heart procedure on March 27
Hoge's friends Betty & Barbara - both have cancer

THANKSGIVINGS:
Kathleen Moore - thanks for prayers, flowers at father's death
Penny Millar - sold 2 of her alpacas
Lane Shutt - grandchildren visited
Barbara & Mary Jane - setting up Stations of the Cross
Jan German's birthday
Thanks for church family
Thanks for music leaders / Holy Week music
---
News to Share?
Do you have an article to include in next week's bulletin or newsletter?

Email these to Suzanne Foster or call the church office.

office@mtcarmel-umc.org
5100 South Old Peachtree Road
Norcross, GA 30092
770-449-4498
www.mtcarmel-umc.org