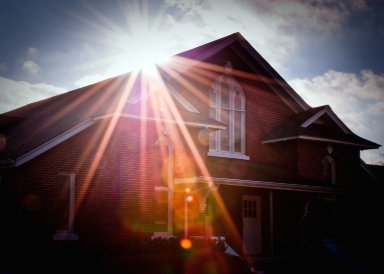 Nov. 20, 2012
In this issue:
From the Pastor
Children's News
Youth Events
Parents Night Out
Preschool News
Angel Tree
Chrismon Tree
Poinsettias
Project Light
Book Club
Cookies for Trinity
Sunday's Prayers
Save the Date
In Worship this week
Birthdays / Anniv.
NCM
Counseling Center
ADULT CHOIR PRACTICE


NOV. 20 - 7:00 PM
CHOIR ROOM

THANKSGIVING
FLOWER PICK-UP
NOV. 21 - 10:30 - 1:30
FELLOWSHIP HALL



HAPPY THANKSGIVING!


NOV. 22



OFFICE CLOSED


NOV. 22 & 23



PAVEMENT POUNDERS


NOV. 24 - 8:00 AM
MEET AT CHURCH



DECORATING SANCTUARY TREE


NOV. 24 - 10:00 AM



ADULT / FAMILY COUNCIL MTG.


NOV. 25 - 10:45 AM
ROOM 112/114



EXODUS STUDY


NOV. 26 - 7:00 PM
HOPE HOUSE



BROWN BAG STUDY


NOV. 27 - 11:30 AM
HOPE HOUSE
PARENT'S NIGHT OUT
NOV. 30 - 6:30 PM



1ST SUNDAY OF ADVENT


DEC. 2



YOUTH PLAY AUDITIONS


DEC. 2 - 3:00 PM
FELLOWSHIP HALL



CHILD. PAGEANT PRAC.


DEC. 2 - 4:00 PM
SANCTUARY



ANGEL TREE GIFTS DUE


DEC. 5



BREAKFAST W/SANTA


DEC. 8 - 9:00 & 10:00
FELLOWSHIP HALL



CHILD. PAGEANT PRAC.


DEC. 8 - 3:00 PM
SANCTUARY



CHILDREN "WALK THRU BETHLEHEM"


DEC. 8 - 6:00 PM



YOUTH PROGRESSIVE DINNER


DEC. 8 - 6:00 PM
MEET AT CHURCH



8:30 SERVICE MEETS AT BERKELEY LAKE CHAPEL


DEC. 9 - 8:30 AM

CHILDREN'S PAGEANT:
"THE BEST CHRISTMAS PAGEANT EVER"
DEC. 9 - 6:00 PM



PRESCHOOL NATIVITY & COOKIE SWAP


DEC. 13 - 12:00 PM
SANC./FELL. HALL



ADULT CHOIR PROGRAM


DEC. 16 - 11:00 AM
SANCTUARY



NIGHT CIRCLE PARTY


DEC. 17 - 6:30 PM
ANDERSON HOME
Birthdays this week:
Bob Spruell
Lauren Bryant
David Bolton
Brian Whitlow
Chris Smith
Frances Sigmon
Angie Bolton
No anniversaries this week.
Norcross Cooperative Ministry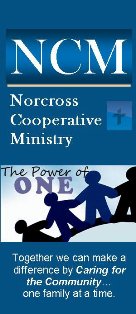 As one of the founding churches of NCM, we encourage your support as they assist those in need in our area.
For more information on NCM, see their facebook page at
www.facebook.com
/norcrosscm.
North Georgia Family Counseling Center

Family Wellness
through Counseling, Education and Research

Mt. Carmel proudly supports the North Georgia Family Counseling Center.
678-242-9355
ngfccumc@gmail.com
www.ngfccumc.org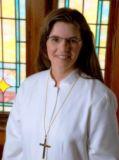 Traditions



Ever since I saw Lori Anderson in Fiddler on the Roof, I have been singing the song "Tradition!" Unfortunately, since that's the only word in the song that I know, I sing the one word over and over again!

It's not a bad word to sing as I prepare for Thanksgiving and think about our traditions.

My family will gather at my parents' and put together a jigsaw puzzle. We will laugh and remember the time when the last piece was missing…we turned the kitchen and living room upside down, and finally found the piece under the couch, chewed on by the dog.

Mom will be ready with an annual Christmas ornament for us to make. We will groan as she gets out all the pieces and parts for us to glue, cut, and paint. Afterwards we will compare our ornaments to her sample and laugh at how our efforts fall short. We will remember the year that Ed surprised us all when he painted a glass ornament with a toothpick and depicted a snow scene, complete with children sledding down the hill.

Our thanksgiving meal will include traditions like carrot soufflé. As I beat the eggs I will remember learning to make this while living in Baton Rouge. I will give thanks for those friends there with whom we shared this dish.

I will make a meringue pie and remember the ladies in New Franklin, Missouri, who taught me their secret for mile-high meringues. Even more importantly, I will remember and give thanks for their friendship.

Paul writes the Ephesians: "I have not stopped giving thanks for you, remembering you in my prayers" (Ephesians 1:16). As you reflect on your traditions this week, I hope that you will give thanks for the people with whom you have shared them. Give thanks to the God who gives life, and gives thanks for those with whom we share our lives.
I'll see you this Sunday,

Children's Ministry News: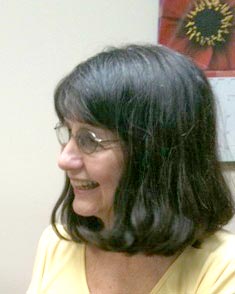 Sunday School:
This Sunday is "Christ the King" Sunday, the last Sunday of the liturgical year of the church. The colors on the altar are white. Next week the new liturgical year will begin with Advent. In the lesson from John 18:33-37 we will focus on the message that Jesus is a different kind of king, one that is not of this world. You can tell your children when they hear the word king, they can think of Jesus as the king of love.

Pageant Practice:
Our next pageant practice is at 4:00 on Sunday, Nov. 25. We are not going to use any scripts at practice, so please have your children practice their lines. The children are really doing well learning their lines. It is going to be a really good pageant!





Parents' Night Out at Mt. Carmel
Friday, Nov. 30: 6:30-9:30
Just a few spaces left!

Parents, enjoy a night out while your kids ages 2-5th grade have fun playing games, making crafts, building group gingerbread houses for Breakfast with Santa, watching movies, and of course eating pizza.

As a gift to everyone, the Mt. Carmel Youth will only be asking for a $5.00 registration fee per family, but space is limited.

Register now at children@mtcarmel-umc.org or call Marian Long at the church office: 770-449-4498. The registration fee is due by Nov. 27 to hold your spot.

Marian Long
Director of Children's Ministries
---
Upcoming Youth Events

Youth sponsored "Parents' Night Out"
Friday, Nov. 30 at 6:30 PM

Youth Progressive Dinner (meet at church)
Saturday, Dec. 8th at 6:00 PM
Youth Auditions
Sunday, December 2nd at 3:00 PM

Auditions for the 2013 Youth Dinner Theatre production of IS THERE A DOCTOR IN THE HOUSE? will be held Sunday, December 2, at 3:00 pm in the Fellowship Hall. Based on the comic plays of Molière, it's the story of Lucy Canary, the mayor's daughter, who loves Lester Goodbe, a likeable cowboy. But Lucy's father insists that she marry Otis Lackginger, a rich, old coot with one foot in the grave. Lucy pretends to lose her voice to stall the marriage, and everyone goes on a search to find a doctor to cure her. And what a passel of phony medics they find! The play is written by Tim Kelly (who also wrote THE PHANTOM OF THE OP'RY).
Cast includes 14 women and nine men. Auditions will be cold readings from the script. Performance dates are March 8 and 9, 2013. Questions? Please contact Lori Anderson at lori_m_anderson@uhc.com or Gail Bolton at flossygail@comcast.net.
---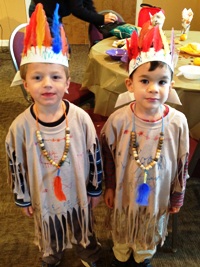 Preschool News
Dear Friends,

As you can see from the photo, the Preschool celebrated Thanksgiving with a Friendship Soup luncheon. All the 3's and 4's made Native American costumes, along with jewelry. The jewelry served not only as a decoration, but as an exercise in patterning, the precursor to reading. We don't mess around here. There is never an art project without an underlying lesson!

We celebrated with our families and friends, and decided once again that Mt. Carmel preschoolers are whizzes in the kitchen. Soup was the perfect meal on a crisp and sunny autumn day!

We are on vacation this week and resume on Monday, November 26, jumping right into practice for our Nativity play. As I told Alan's grandma and grandpa last week, Mt. Carmel turns into the Preschool for the Performing Arts in December!

Please be reminded that our Lollie Hats, Etc. are on sale downstairs in the education wing. There are envelopes marked for you and directions posted telling how to purchase a hat or blanket. Our purses went quickly! Please know that all proceeds go directly to the Preschool. We thank our Lollie for her hard work and devotion to us and she has asked that all that does not sell should be donated to our Angel Tree families. Does that just give you chills, or what?

The teachers and I wish you all a memory-making Thanksgiving. We are grateful to you for all your love and support. We are blessed to be a part of Mt. Carmel!

In joy and love,
Lorrie
---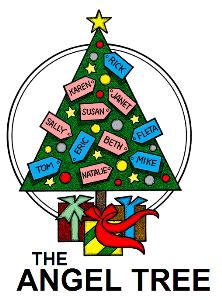 It's Time for the 2012 Mt. Carmel Angel Tree!

Each year, Mt. Carmel uses the Angel Tree to sponsor families in need and supply them with gifts and food for the holidays.

The tree stands upstairs in the foyer and is decorated with paper angels. Each angel has a gift that a member of a family has requested, and a number. To participate, just choose an angel and on the sheet nearby, sign your name beside that angel's number. Then do your shopping and attach the angel to the gift. The gifts MUST be returned to Mt. Carmel by Wednesday, DECEMBER 5th.

Please DO NOT WRAP THE GIFTS. Either place the gift in an open gift bag, or leave it unwrapped. This will help when sorting out the gifts.

Thank you for sharing the spirit of Christmas with our neighbors!
---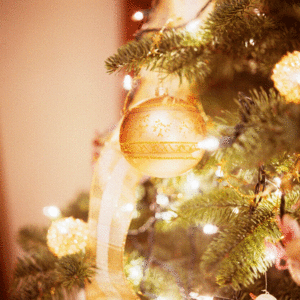 Sanctuary Tree to Be Decorated
November 24th

The Chrismon Tree in the sanctuary will be decorated with lights and Chrismon ornaments on Saturday, Nov. 24th at 10:00 AM.

Please contact the church office if you plan to help, then meet in the sanctuary on Saturday.
---

Order your Christmas Poinsettias
by December 9th!

Once again, the Mt. Carmel United Methodist Women will sponsor the placing of poinsettias in the sanctuary for the Christmas season. If you would like to have a poinsettia placed in the church in honor or memory of someone, please fill out the order form in Sunday bulletins and put it, with your check, in the offering plate.

Or you may contact the church office and send a check.

Cost: $10.00 per plant. Please make checks payable to: Mt. Carmel UMW.
DEADLINE FOR ORDERS: Sunday, Dec. 9, 2012
---
Evangelism Committee to Sponsor
Project Light:

What is Project Light? It's a computer based learning center that teaches Literacy for Life Transformation. The program helps students learn English, study for their GED etc.

The Evangelism Committee is looking for an individual that is willing to be passionate about reaching out in ministry to neighbors in our community. If you would like more information about this ministry, please contact Neil Odom: 770-827-2122 or nonojo413@gmail.com.
---
New Book Club Schedule

After our organizational meeting in November, we are off and reading!! Our book club selection for January 4 is "The Lion Is In" by Delia Ephrem. Joyce Odom is enjoying this book as we write this article. We have chosen the classic "A Tree Grows in Brooklyn" for February 1. On March 1, we will discuss "Molokai's" by Alan Rennet.

Our meetings will be held in the Hope House at 7:00 PM.

If you have questions or suggestions for books, contact Vicki Walden at vickiwalden@att.net or Chris Bolton at dorseylbolton@bellsouth.net.

Hope to see you at our next book club in January.
Vicki & Chris
---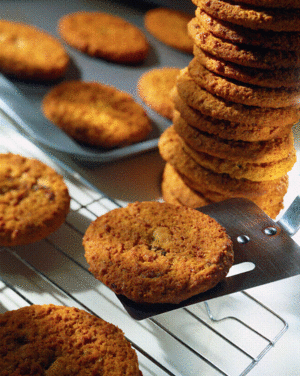 Are You Baking for the Holidays?

If you're doing any cookie baking this holiday season, could you possibly bake an extra dozen or two?

On Sunday, January 13th our Youth and others will be serving lunch at the Trinity Soup Kitchen in Atlanta. Part of the meal that they provide includes cookies.

If many of you could bake a couple of dozen extra and put them in the freezer, it would be a BIG help in January! Any type cookie is fine.

Also, please watch upcoming bulletins and newsletters for details on other ways that you can help with the Soup Kitchen meal.

Thank you and Happy Holidays!
---
Please join with others in our church family in praying the thanksgivings and intercessions named in worship last Sunday and during the week:
CONCERNS:
The family & friends of Linda Osborne
Bill Posey
All travelers
Steve Riviere's grandmother - can no longer live at home
Lori Anderson's friends Bill & Karen: Bill has pancreatic cancer
Marilyn McGee
Jerri & Chuck Phillips
Don Ragon - glaucoma
Alex Smith - pneumonia
Niece of Mary Jane Wilson - head injury
Peace in Jerusalem
Maxine Follmer's friend Scott - pancreatic cancer
Karin Garcia - law suit
Bryant Rivere's friend Desiree - cancer
THANKSGIVINGS:
Paul Cox visiting
Cheryl Martin's family visiting
Bobby & Cathy Smith's anniversary
Kaylen progressing towards ordination
---
News to Share?
Do you have an article to include in next week's bulletin or newsletter?

Email these to Suzanne Foster or call the church office.

office@mtcarmel-umc.org
5100 South Old Peachtree Road
Norcross, GA 30092
770-449-4498
www.mtcarmel-umc.org