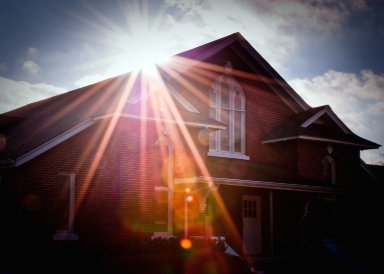 August 7, 2012
In this issue:
From the Pastor
New Members
Children's News
Brown Bag Study
Youth Events
New Walking Group
Fellowship Golf
Family Promise
Homecoming
Preschool News
Condolences
Sunday's Prayers
Save the Date
In Worship this week
Birthdays / Anniv.
NCM
Counseling Center
STUDY OF MARK


AUGUST 8 - 7:00 PM



ADULT CHOIR PRACTICE


AUGUST 8 - 7:00 PM



PAVEMENT POUNDERS


AUGUST 11 - 7:30 AM
AT CHURCH



"WALK & TALK" GROUP


AUGUST 11 - 7:30 AM
AT CHURCH



FELLOWSHIP GOLF


AUGUST 11 - 9:00 AM
RIVER PINES CLUB



3RD GRADERS BIBLES


AUGUST 12 - 9:30 AM



FINANCE MTG.


AUGUST 12 - 12:15 PM
HOPE HOUSE



ADMINISTRATIVE BRD.


AUGUST 12 - 7:30 PM
ROOM 112/114



GENESIS STUDY


AUGUST 13 - 7:00 PM



LUNCH / STUDY


AUGUST 14 - 11:30 AM



EVANGELISM MTG.


AUGUST 14 - 7:00 PM
RM 112/114



MEN'S CLUB DINNER / MTG.


AUGUST 16 - 7:00 PM



YOUTH LOCK-IN


AUGUST. 17 - 18
7:30 PM - 7:30 AM



HOMECOMING / COVERED DISH LUNCH


AUGUST 19 - 10:30 AM
LUNCH - NOON



UMW DAY CIRCLE


AUGUST 21 - 10:30 AM
FELLOWSHIP HALL



CPR CLASS


AUGUST 23 - 10:00AM
FELLOWSHIP HALL



OPERATION CHRISTMAS CHILD OPEN HOUSE


AUGUST 26 - 9:30 AM



UMW NIGHT CIRCLE


AUGUST 27 - 6:30 PM



UMW OFFICERS' MTG.


AUGUST 29 - 5:45 PM



PRESCHOOL "CAMP" WEEK


AUGUST 27 - 31
9:30 AM - 12:30 PM
2 Samuel 18:5-9, 15, 31-33
Psalm 130
John 6:1-21
Birthdays this week:
Derrick Karimi
Hudson Karimi
Jessee Hoge
Hayne Thompson
Bill Posey
Anne Bailey
Chris Mitcham
Anniversaries this week:
Jason & Michelle Jarrett
Norcross Cooperative Ministry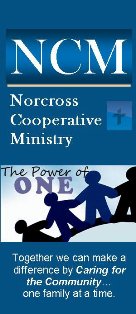 As one of the founding churches of NCM, we encourage your support as they assist those in need in our area.

For more information on NCM, see their facebook page at
www.facebook.com
/norcrosscm.
North Georgia Family Counseling Center

Family Wellness
through Counseling, Education and Research

Mt. Carmel proudly supports the North Georgia Family Counseling Center.
678-242-9355
ngfccumc@gmail.com
www.ngfccumc.org
On Sunday night, one of our Family Promise guests decided that I needed to play ping pong. Because she is five and Ed and I are not, it took both of us to keep up with her. I felt like part of a tag team, switching in and out for rest breaks.

As I interact with the children making a home in our classrooms this week, I am struck by how "normal" and well mannered they are. If I met them anywhere else, it would not occur to me that they are homeless.

How many times have you or I met and not recognized as homeless a child riding in a grocery shopping cart or playing on the playground at Pinckneyville Park? During the 2010-2011 school year, the Gwinnett County School System accommodated over 1,909 homeless students. Nothing is ever as it seems.

These last few weeks of preparing for and hosting guests have tugged at my heart. I am overwhelmed by the desire to help. Yet I must confess that my gut response to the need is to give things: raise money, send blankets, shop for food.

While things are needed for ministries to the homeless, Family Promise requires more than opening our wallets. We open our hearts. We share a meal. We string beads and make necklaces. We give time and our very selves.

Our mission statement says that we will "live, love, learn and labor following the example of Christ"; I think Christ would be pleased with our being part of a ministry that requires face-to-face interaction. His example is one of sharing meals with tax collectors and conversation with prostitutes.

Christ promises "I will be with you". That's the example we follow with our guests. Just be "with them" watching a DVD, playing ping pong, or washing the dishes after supper.

I bet Jesus would rock at ping pong!
I'll see you this Sunday,
---
Welcome Our Newest Members!

On Sunday, August 5th, two new members joined Mt. Carmel.

John Hammarlund was baptized and joined our church family at the 9:30 AM service.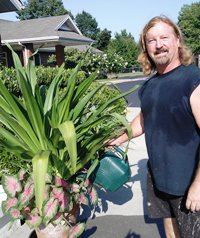 John is also the person who has brightened our church entrances and walkways with beautiful plants and flowers!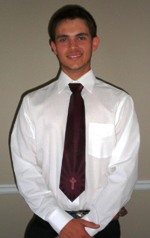 Mark Bagwell, Jr. also joined Mt. Carmel on Sunday at the 11:00 service.

We are so happy to have him with us!
---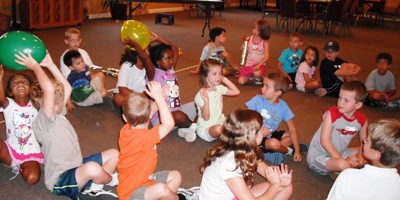 Presentation of Third Grade Bibles: August 12.
Our new third graders, Alex Smith, Clara Hoge and Cynthia Grogin, will receive their Bibles this Sunday at 9:30. Mt. Carmel is so proud of them.

Sunday School:
This week's lesson, "Samuel Anoints David," for the K-3 and preschool classes, is taken from 1 Samuel 16:1-13. God tells Samuel to go to Bethlehem to visit Jesse's home. He tells Samuel that one of Jesse's sons will be king. God picks David, the least likely son to be chosen.

Our 3rd – 5th graders will be helping Miss Cathy teach the third graders the introduction to their new Bibles. Be sure to bring your Bibles.

Operation Christmas Child: August 26
During VBS as our mission project, the children brought in small items for the OCC shoeboxes. On August 26th during Sunday School we will pack the boxes to be shipped all around the world. If you did not get to bring something during VBS, the list below has suggested items. Remember they must fit in a shoe box.

TOYS:
small cars, balls, dolls, stuffed animals, kazoos,
harmonicas, yo-yos, jump ropes, small Etch A Sketch®, toys that light up or make noise (with extra batteries), Slinky®, etc.

SCHOOL SUPPLIES:
pens, pencils and sharpener, crayons or markers,
stamps and ink pad sets, writing pads or paper,
solar calculators, coloring and picture books, etc.

HYGIENE ITEMS:
toothbrush, toothpaste, mild bar soap (in a plastic bag), comb, washcloth, etc.

OTHER:
Hard candy and lollipops (please double bag all candy), mints, gum, T-shirts, socks, ball caps, sunglasses, hair clips, toy jewelry, watches, flashlights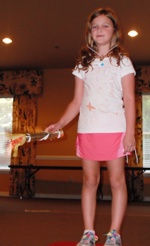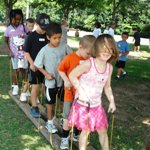 More Wacky
Wednesday Fun!

Director of Children's Ministries
---
Brown Bag Bible Study

It's not too late to join the brown bag Bible study with Pastor Cyndi. Join us on Tuesdays in the Hope House for discussion from 11:30-12:30, and then sharing lunch and more conversation. Download a copy of this week's assignment here.
---
Upcoming Youth Events

On Sunday, August 5th the Youth Group elected their 2012-2013 Youth Council officers. They are: Will Thompson: President, Lydia Thompson: Vice President, Sam Medinger: Secretary, Katie Semple: Senior High Rep, Tarin Hinson: Mid High Rep, and Jessee Hoge: Sunday School Rep. Congratulations!

And don't forget that the Youth Lock-In is coming up on Friday, August 17th from 7:30 pm Friday until 7:30 am Saturday at the church. Each youth should bring $5 to cover the snacks and breakfast which will be provided.
---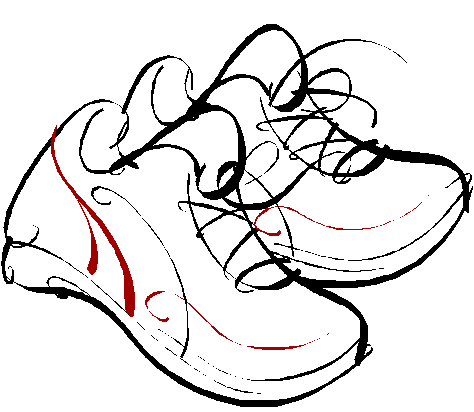 Attention Walkers!

A new walking group is now forming! Hal Brickle is organizing a weekly "Walk & Talk" on Saturday mornings. The plan is to begin at 7:30 AM at the church for a little exercise and conversation.

The first walk will be this Saturday, August 11th and then participants will discuss the final schedule, walking route, etc. Everyone is welcome to join, whatever your fitness level. Please contact the church office with any questions.
---
Fellowship Golf!

Golfers of all levels are invited to join in this "just for fun" event on Saturday, August 11. The first tee time is 9:00 a.m. at River Pines in Alpharetta, GA. Cost is $59.00.

To reserve a spot, please contact Neil Odom at nonojo413@gmail.com or 770-827-2122.
---
Family Promise Update

We have been blessed again this summer with guests from Family Promise this week. We welcome back one family who is ready to move into transitional housing shortly and a brand new family to the program. We have heard through the grapevine that our two previous families have graduated and are moving forward with their lives, just as we have all prayed they would be able to do.

This week marks a big leap of faith for Family Promise because soon the program hopes to house 8 families instead of 4. This means that Family Promise is depending upon the churches of Gwinnett County to step up and help as never before. Please keep this program on the top of your prayer list at this major juncture.

Deepest thanks to everyone who has volunteered to help! We have come together as a church and gotten to know one another at deeper levels than ever before. We have provided delicious meals, celebrated the first day of school with a special cake, shared wonderful DVD's and games, hospitality, and laughter but most importantly a safe haven for families during their times of trial. We have been able to see our mission statement put to the test and can say that we are doing our best to "live, love, learn, and labor following the example of Christ".

We are thankful for our laundry angels, guest hosts, chefs, sleepover friends, set up and break down crews, and the host of people who have been praying for Family Promise. Every role is important and necessary.

Love,
Lila, Lorrie, Marianne and Ed
---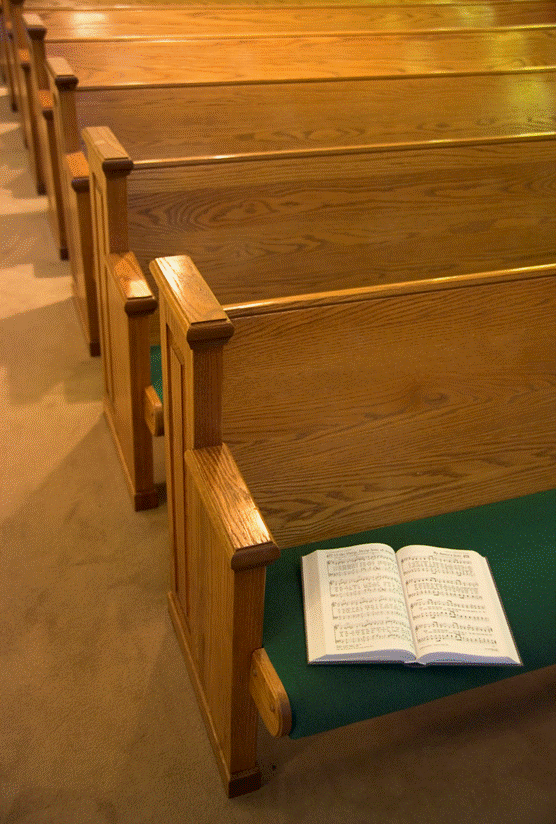 Homecoming - August 19, 2012
Join us for home style stories, music and food.

Do you know of someone who should be invited? Please contact the church office.

Worship at 10:30, followed by a covered dish dinner.
---
Dear Parents,

Does the picture look familiar to you at all? If not, do not fret. It is actually Miss Virginia's classroom which has been miraculously transformed into a bedroom for the guests who are staying with us this week at the church. Isn't it amazing?

We have been so fortunate to have the families stay with us this second week and now that we have the hang of things a little better, we are enjoying it more and more every day. Next Sunday our guests will leave and we will put the classrooms back to normal. Then our teachers can get in and start preparing for all our favorite people!

Please mark your calendars for Monday, August 27 because Camp Week begins on that day. Please have your children join us following the same schedule you have signed them up for this fall. If you signed up for M/W/F then those are the days your child will attend Camp Week. The only difference is we meet for 3 hours instead of 4. Please pack your child's lunch as normal, send it in his Mt. Carmel bag if he has one, or just a temporary bag on the first day if he does not. We will send him home with his new bag his first day.

Please plan to attend Orientation on Tuesday or Wednesday beginning at 9:50 in the sanctuary. Just drop your child off in carpool or walk him to class, then head up to the chapel for our Q & A time. That should last for about 45 minutes. Please be prepared to pay October tuition plus the one-time $75.00 activity fee on Orientation Day.

We begin in full on Tuesday, September 4!

I hope the first days of school are going well for all our alums and know that we hold you close in our hearts and are praying for you. You make us all so proud!

In joy and love,
Lorrie
---
Condolences

Our sympathy goes to Cheryl Martin and her family on the death of her aunt, Marian Radtke. Mrs. Radtke died on August 6, 2012.

Please keep them all in your prayers.
---
Please join with others in our church family in praying the thanksgivings and intercessions named in worship last Sunday and during the week:
CONCERNS:
Cheryl Martin's brother J. - lung cancer
Bob Dark, Lila Hunter's father - heart attack
Steve Riviere's father - Parkinson's Disease
Sam Tapley - returning to work in FL for several weeks
Randy Redner home but a lot of recovery needed (Linda Anglin)
THANKSGIVINGS:
Dick Easley at home
Will Thompson got driver's license
Lamar Bolton's birthday and grandchildren visiting
Sam Tapley's friend Emmett was baptized
Sherry & Michael Blackwood's grandchildren visiting
Jenny Jensen's friend handling cancer treatment well
Cindy Jones grandson improving after accident
David Jones' birthday
Waller's daughter graduated from Georgia Tech
Isabel Waller's family visiting from China
Lois Salter back in church
---
News to Share?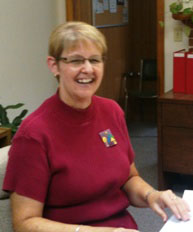 Do you have an article to include in next week's bulletin or newsletter?

Email these to Suzanne Foster or call the church office.

office@mtcarmel-umc.org
5100 South Old Peachtree Road
Norcross, GA 30092
770-449-4498
www.mtcarmel-umc.org