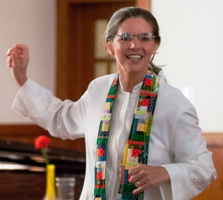 I never was a Beatles fan. My high school years were spent listening to Kate Bush, Elvis Costello and Men Without Hats.
But a few months ago I heard an interview suggesting that every age could appreciate the Beatles. They suggested that teens were the ones who really understand the group, but that older generations would appreciate this, too.
Since my hope is that every worship service would in some way connect with every generation, adding Beatles songs for the summer series on John Wesley seemed perfect. John Wesley could meet John Lennon (and Paul, Ringo, and George).
Since then, I have been seeing The Beatles everywhere. On a recent trip to Goodwill searching for ice cream scoops, a boxed set of CDs of The Beatles jumped into my shopping cart. I stopped by the guitar center and was greeted by posters proclaiming this is The Beatles month. This week Ron Howard announced he is directing a new movie about the Fab Four. I never noticed how much Beatles mania is out there!
A similar thing happened when I was preparing to run a marathon. Until then, I never noticed how many cars have 26.2 stickers. Every time I turned around I saw people wearing marathon t-shirts. Who knew that there was a marathon mania out there? Not me!
Isn't it odd? The Beatles mania and marathon mania were out there, but until I was interested, I didn't notice.
Have you noticed that when you buy a car, you began to pay attention to the other new cars on the road? When you buy a new grill, you begin to notice all the sales flyers related to grills?
Jesus said that where your money is, that is where your heart will be. That's the opposite of what I would have said. I would have guessed that where we already have a passion, we will spend money. But Jesus seems to think that if you invest in something, you will begin to have a heart for that.
Spend time at Family Promise, invest yourself there, and you may find you have an interest in helping children who are homeless.
Invest your time in worship—volunteer as an usher or reader, join the choir or 9:30 musicians--and you may begin to notice God at work in the scripture and songs.
Commit to being part of a fall Bible study. You may find a passion for how God is at work when we gather with others who long to know God in new ways.
Part of my faith journey was serving on a church finance committee. The church was in financial difficulty, and as I told stories to encourage people to support the church, I began to notice all the ways God was at work. Something happened to me—I began to fall in love with how God worked through the church.
It's amazing what happens when you have skin in the game. You ever notice that?
I'll see you this Sunday,