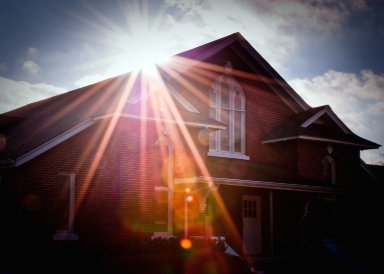 February 26, 2013
In this issue:
From the Pastor
Lenten Dinner
Family Promise
C.O.M. Note
Youth News
Children's News
Artwork Needed
Book Club
Dinner Theatre
Preschool News
Chili Cook-Off
Habitat Build
Golf Fans
Technology Event
Sunday's Prayers
Save the Date
In Worship this week
Birthdays / Anniv.
NCM
Counseling Center
Condolences

Our sympathy goes to Jeannie Porter on the recent death of her father.

Please keep Jeannie and her family in your prayers.
Save the Date...
YOUTH REHEARSAL


FEB. 26 - 6:30PM
FELLOWSHIP HALL



LENTEN DINNER/WORKSHOP


FEB. 27 - 6:00 PM
FELLOWSHIP HALL



ADULT CHOIR


FEB. 27 - 7:00 PM
CHOIR ROOM



WOMEN'S STUDY


FEB. 27 - 7:00 PM
YOUTH ROOM



WED. NIGHT STUDY


FEB. 27 - 7:00 PM
RM 112/114



BOOK CLUB MEETS


MARCH 1 - 7:00 PM
HOPE HOUSE



PAVEMENT POUNDERS


MARCH 2 - 8:00 AM
MEET AT CHURCH



YOUTH SET BUILT
MARCH 2 - 10:00 AM
FELLOWSHIP HALL



COUNCIL ON MINISTRIES


MARCH 3 - 4:30 PM
ROOM 112/114

QUEEN GLITTER TO PRESCHOOL
MARCH 6 - 10:00 AM
SANCTUARY



YOUTH DINNER THEATRE


MARCH 8 & 9 - 7:00 PM
FELLOWSHIP HALL



DAYLIGHT SAVING TIME BEGINS - SET CLOCKS UP ONE HOUR


MARCH 10



TRUSTEE MTG.


MARCH 10 - 6:00 PM
HOPE HOUSE



PRESCHOOL CLOSED


MARCH 11



CHURCH WORKDAY


MARCH 16 - 9:00 AM



CHILI COOK-OFF AT IGNATIUS HOME


MARCH 16 - 7:00 PM



MEN'S BREAKFAST


MARCH 17 - 8:00 AM
FELLOWSHIP HALL



DAY CIRCLE


MARCH 19 - 10:30 AM
FELLOWSHIP HALL



PALM SUNDAY


MARCH 24



NIGHT CIRCLE


MARCH 25 - 6:30 PM
FELLOWSHIP HALL



STATIONS OF THE CROSS


MARCH 28 - 30
Birthdays this week:
Ashley Russo
Ryan Jamieson
Andrew Spiller
Barbara Cooper
Judy Bagwell
Anniversaries this week:
None this week
North Georgia Family Counseling Center

Family Wellness
through Counseling, Education and Research

Mt. Carmel proudly supports the North Georgia Family Counseling Center.
678-242-9355
ngfccumc@gmail.com
www.ngfccumc.org
Norcross Cooperative Ministry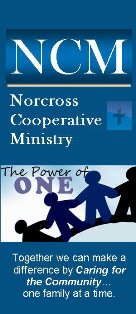 As one of the founding churches of NCM, we encourage your support assisting those in need in our area.

For more information on NCM, see their facebook page.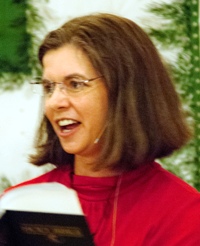 White, Wheat, or Wonder?



Our children made the cross for this week, "give us this day our daily bread". They have filled the cross with pictures of every sort of bread. If you look closely you will see muffins, cookies, artisan bread, biscotti, cinnamon rolls, honeybuns, loaf bread, and pizza.

Marian says that the children were deliberate about the breads they selected. They wanted to include the best tasting and most beautiful breads.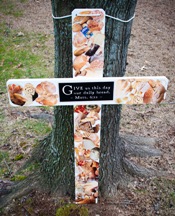 When I pray for daily bread, I usually think of basic necessities like food, water, a car for work, a home for shelter.

In contrast, the children seem to think that daily bread should include sweet blueberry muffins and whimsical gingerbread cookies.

This week as we pray, "give us this day our daily bread", let's take a lesson from the children and this world God created. God could have made a "wheat bread only" world, but instead chose to make a world full of sweetness and beauty: honeybees, crazy looking giraffes, sugarcane stalks, and the jonquils smiling outside the Hope House.

God's world is populated with surprises like roly poly bugs that curl into a ball when touched, honeysuckle flowers that taste like sunshine, and rocks just the right shape for skipping across a pond on a summer day.

As you pray for our daily bread, I hope that this will be with a sense of thankfulness for the lavish and surprising creativity with which God provides.

I'll see you this Sunday, and we'll give thanks together.

Pastor Cyndi
---
Wednesday Lenten Dinners and Study

Mark your calendars for Lenten dinners at 6:00 p.m. each Wednesday through March 20th.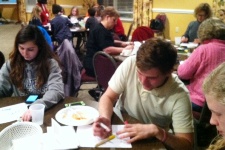 After dinner Pastor Cyndi will lead a study for all ages together. This week it will be on praying with beads. Dinner and study end by 7:00 p.m.


Invite a friend to join us each Wednesday!

Dinner menu for February 27th:
meatloaf
hashbrown casserole
green beans
fresh green salad
cool fruit salad
rolls
assorted desserts
tea & lemonade

Adults: $6.00 / Children 12 & under: $3.00 / Family Max: $20.00
Proceeds benefit the Mt. Carmel United Methodist Women's Missions.
---
Last Call!
Family Promise Needs Our Help!

Help make it a little bit more like "on earth as it is in heaven" this Saturday. Were you waiting til the last chance to volunteer? Well this is it! We have the following slots to fill this Saturday, March 2 at Berkmar UMC (recall they are providing the facilities and we are taking a turn to fill a portion of one day : )

March 2 at Berkmar UMC:
9am-Noon: Morning Host (provides breakfast) (2 people needed)
Noon-2:30: Early Afternoon Hosts (2 people needed)
2:30 - 5:00: Late Afternoon Hosts (2 people needed)

Please contact Ed McDonald, edmacmo@gmail.com or (678-983-5588) if you are able to help.
---
Council on Ministries Change

Please note that the time of the C.O.M. meeting on March 3rd has been changed. The meeting will begin at 7:30 p.m. in the double classroom, instead of the usual 4:30.
---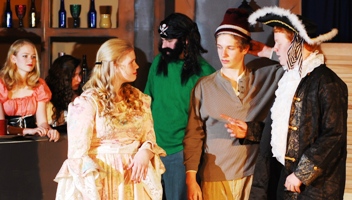 Notes from the Youth Director

This being my second year in the Mt Carmel Dinner Theatre (Yeah, I can't figure why they let me do it again this year either) I continue to be blown away by the youths' and adults' dedication. For the next two weeks, they will practice 5 nights a week in anticipation of the shows, and all so that we can raise money for our annual mission trip.

Not only do the actors and directors work hard, but so many others help to build sets, serve dinner, and help in whatever other ways needed. Even in the midst of spending so many hours together as a group, I have seen countless times of joy and laughter, whether over the script, missed lines, or side conversations. I am so proud of our youth and all that they put into it. For those of you in youth who are not in the production, I invite and encourage you to come at our regular youth time (5:15) this Sunday to support the work your fellow youth have done by cheering them on and getting a sneak peek of the performance.

Sadly for all the adults reading this, you'll just have to wait another weekend and buy a ticket like everyone else ;-) I hope to see you youth on Sunday for dinner and to be in the audience at 5:15 and I hope to see everyone else in those same seats March 8th and 9th.

Kaylen Short
Director of Youth
---
Sunday School:
This week's lesson is the Parable of the Fig Tree from Luke 13:1-9. The children will focus on the idea that everyday is a gift from God. God promises to take care of us everyday so we can grow and do the best we can for God.

Lenten Dinner: Wednesday at 6:00 pm
Hope to see you at Wednesday night's Lenten dinner. Pastor Cyndi is going to explain to us how to pray with beads and you will get to take home some prayer beads of your own.

New Activity Bags for Sunday Services
Look for the new Sunday activity bags hanging on hooks in the anteroom between the Fellowship Hall and the Sanctuary. Bags with purple writing have coloring sheets and bags with yellow writing have puzzle pages. If you see visiting children, please give them a bag too! And please remember to return the bags to the hooks after the service.
Marian Long
Director of Children's Ministries
---
Artwork Needed

Stations of the Cross will be a part of Mt. Carmel's Holy Week observance again this year and artwork is needed. If you have a piece of artwork, or would like to create one to be included, please see Pastor Cyndi McDonald or contact the church office. Stations of the Cross will be open March 28 – 30 in the foyer and sanctuary.
---
March Book Club Meeting

The Women's Book Club will meet on Friday, March 1st at 7:00 pm in the Hope House. This month they will discuss Moloka'i, written by Alan Brennert. All interested women are invited to attend!
---
Men's Retreat Focus: "Change the World"

We had a great Men's retreat at Unicoi State Park this month. As usual, Mark Bond and William Bolton provided their superb culinary expertise and the food was delicious.The guitar gang played a few sessions during the leisure time and into the night.
We enjoyed the fun fellowship and some of the apparently usual "guys only" humor regarding lactose intolerance and strangely named English dishes.

Also during the weekend, Sam Tapley and Ed McDonald facilitated the small group study "Change the World". Mike Slaughter, a highly noted missional focused pastor at Ginghamsburg Church, created this study based on his book of the same name. With a focus such as "Church is a Verb", we felt led to discuss how the Men's club could be a leader in providing more hands on / project oriented opportunities for our church. A few of the ideas that evolved from this study that we would like to further pursue are: a community garden (perhaps in association with NCM), a hands on project, perhaps building some of the PET mobility carts, anti-malaria project via Nothing But Nets, and something related to clean water in developing countries.

We plan to discuss these further in men's club meetings. If you have an interest in one or more of these, let us know by contacting Steve Riviere at sriviere@southernco.com, Sam Tapley at spt404@hotmail.com, or Ed McDonald at edmacmo@gmail.com.
---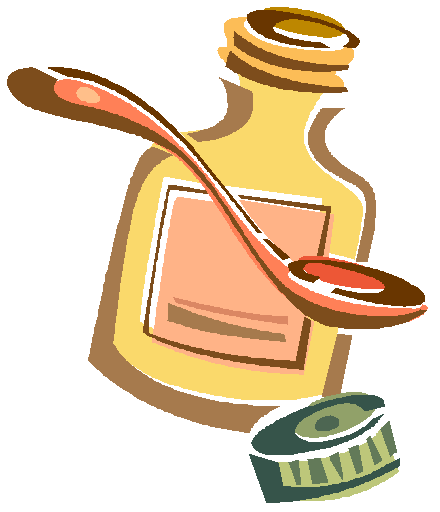 Youth Dinner Theatre:
March 8 and 9

Find the cure for whatever ails you at the Mt. Carmel Youth Dinner Theatre production of IS THERE A DOCTOR IN THE HOUSE? by Tim Kelly. (See a short preview during Sunday announcements this week!)

Performances are at 7:00 pm on Fri., March 8, and Sat., March 9. Tickets are $20.00 for adults, $15.00 for students, and $10.00 for children 5 – 10. (Childcare is provided for children five and under with dinner: $3.00) Tickets are available at the sales table on Sunday, or at the church office at office@mtcarmel-umc.org or (770) 449-4498.

Seating is limited, so please order your tickets today! And remember – laughter IS the best medicine!

IS THERE A DOCTOR IN THE HOUSE? is produced by special permission with Contemporary Drama Service, Meriwether Publishing Ltd.
---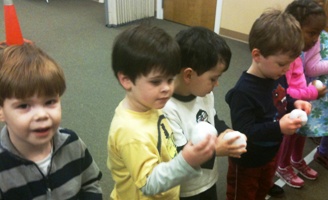 Preschool News
Dear Friends,

And so begins our last few days of February! Do you remember how long it felt between Christmas and Valentine's Day when you were little? The time has passed so quickly I hardly have time to change the bulletin boards these days! We have a normal week, which is something I wholeheartedly embrace! I just love regular, ordinary days, don't you?

We have sent home strips of material with the children and have received many of them back with prayers of thanksgiving, need, help, and strength. These strips will be added to the ones that already decorate the front lawn. The hope is that you will go through the prayer walk, reciting the Lord's Prayer with your child, looking at the beautifully decorated crosses, then look up at a strip of material and say a prayer for the person whose strip you have chosen. Someone else will do it for you. Please take a moment for yourself or with your child to love someone you don't even know. It is an amazing experience.

Mark your calendar for next Wednesday at 10:00 in the sanctuary when Queen Glitter will visit us with wonderful stories. She lands at Hartsfied-Jackson and drives to be with us from Glitterland, so please make sure to be here for this special time. We love her so much and look forward to her arrival. Even if your child is not scheduled for school on Wednesdays, please feel welcome to join us for sanctuary and then for her presentation! Remember, March 6 at 10:00 in the sanctuary – the Queen will be among us!

As you see in the photo, we have brought the snow inside during music with Miss Kathy. We had a snowball fight with fun music in the background last week and it was a hoot to see how some kids just picked up one snowball at a time and others stock piled their ammunition and ambushed each other. Hmmmm, I wonder who has played in the snow before? Check out our Facebook page and you will see a video of the fun!

In joy and love,
Lorrie
---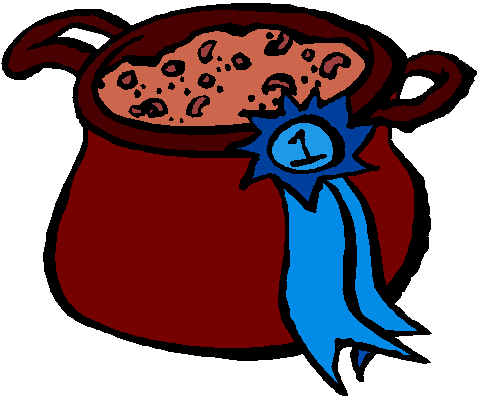 Chili Cook-Off

It's almost time for the Annual Mt. Carmel Chili Cook-Off! On Saturday, March 16th, Pekka and Lorrie Ignatius have invited us to their home for a fun evening of friendly competition! Everyone who would like to compete should bring a pot of their very best chili! Beef, venison, veggie, whatever! You can even give it a name if you'd like to!

Then everyone will enjoy the "taste-testing" before the grand prize winner is announced!

Those who don't want to bring chili are asked to contact Lorrie to sign up for side dishes and desserts.

Please RSVP to Lorrie or the church office because you won't want to miss this fun night!
---

Habitat Build Coming Our Way!

Thank you to everyone who has signed up to represent Mt. Carmel on our Habitat build dates!

We filled both our dates during the first week after the annoucement! We then requested and were given 5 more slots for the April 13 date and only 3 of those openings are left.

To reserve one of the final April 13 spaces, please contact office@mtcarmel-umc or 770-449-4498.
---
Please join with others in our church family in praying this week:
CONCERNS:
Vicki Walden's co-worker Nena - chemo treatments
Lisa Grogin's aunt & uncle on mission trip in Chile
Lisa Grogin's aunt Eunice - foot surgery
George Hunter's parents
Lila Hunter's friend and family, Joy, Montgomery & Bob
Canty family - death of 24 year old son
Mary Rezzuto, family and doctor
Bill Posey recovering from fall
German's grandson fell from tree - broken bone
John Charles Roe's mother - moving home from rehab.
Christina Dean - upcoming surgery
THANKSGIVINGS:
Scouts & families in church
Lisa Spiller's birthday
Girl Scouts - thanks for buying cookies
Bryant Riviere out of Afghanistan
---
News to Share?
Do you have an article to include in next week's bulletin or newsletter?

Email these to Suzanne Foster or call the church office.

office@mtcarmel-umc.org
5100 South Old Peachtree Road
Norcross, GA 30092
770-449-4498
www.mtcarmel-umc.org