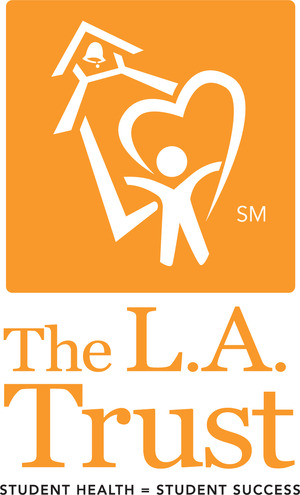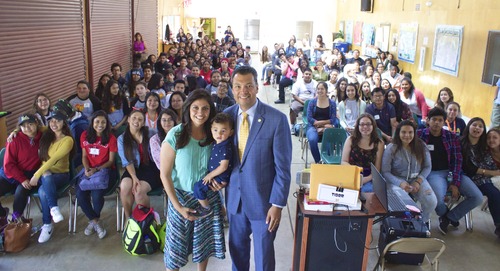 California Secretary of State, Alex Padilla, his wife, Angela Padilla, and their son, Diego, shared an important message to the more than 130 student attendees of The L.A. Trust's Youth 2 Youth Conference held last Thursday at Point Fermin's Outdoor Educational Center.
Dear Friends,
When an organization is so busy making strategic change happen it barely has time to report on the changes happening, that is a sign! And for us, it's a hopeful one which points to diligent and committed partnerships, momentum, and to a shared understanding of the deep need for the work.
After three
jam-
packed
weeks filled with our own events (including oral health screenings, youth conferences, a healthy hike to the Hollywood sign, a 5K race around Dodger Stadium, and an employee giving campaign, just to name some, here, under the wire, is our April update.

April is Child Abuse Prevention month. On Friday, April 1st, I attended a convening on Healing from Trauma and Building Resilience in Los Angeles: How Systems Leaders Can Make a Difference hosted by First 5 LA, the California Community Foundation, The California Endowment and the Ralph M. Parsons Foundation, all of whom support our work. This forum helped me to think more about our work and how best we can underscore the importance of acknowledging the systems and influences that surround our students and families.

Last Thursday, The L.A. Trust hosted our Y2Y (youth to youth) conference at LAUSD's Point Fermin Outdoor Educational Center. What a powerful day. In addition to over 160 students and adult allies bused in from Wellness campuses across the district, this year's gathering brought together powerful speakers including California Secretary of State Alex Padilla, his wife, Angela, and ex-Chicago Bulls cheerleader turned mental health advocate, Erika Kendrick, all of whom candidly shared their own stories around mental health, and the importance of seeking help when we need it -- help, I'm so pleased to add, that is available to every student there and so many more, thanks to integrated health care at our 14 Wellness Centers on LAUSD campuses.

I believe in our youth and I know that with our collective support, they will continue to spring into life and resiliency.
Student Health = Student Success,

Maryjane Puffer, BSN, MPA
Executive Director
The L.A. Trust for Children's Health
---



Earlier this month a group of Hollywood H.S. Sheiks made the trek and the leap during the 3rd Annual Sheik-a-thon!

3rd Annual Sheik-a-thon Brings Hollywood High to Healthy Heights

Each Spring, The L.A. Trust, along with partner, Kaiser Permanente, gather close to 100 students, faculty and staff from Hollywood High for a healthy fundraiser called the Shiek-a-thon -- a 3 mile hike towards the Hollwood sign. This year was no exception. Healthy foods (thanks Chef E and Frank!), great camaraderie, engaged political officials (so cool to have Tom La Bonge pass the torch to Mitch O'Farrell!), caring School Board president, Steve Zimmer, and active and engaged parents showed up to turn this yearly event into a tradition. For a superb video blog of the event

click here.

Thank you to Principal Sanchez and her crew. Without their buy-in, this type of systems change wouldn't be possible.

---

From Cradle to College: School Readiness Conference and Resource Fair: SATURDAY, April 30th

What will your little ones need to succeed in school? Don't miss this special event designed to support parents, guardians, and childcare providers of children ages 0 - 5 years to find out! The day will include educational workshops, a resource fair, free lunch, raffles, prizes, and child care for kids ages 4 and up. Put on by our own "Early Childhood Linkages to Wellness" (ECLW) program staff, this fair is sponsored by First 5 LA and LAUSD. You don't want to miss this and space is limited. For more details, click here.

TIME: 8:00am - 3:00pm
PLACE: Roybal Learning Annex
1200 W. Colton Street
Los Angeles, CA 90026



---





Pia Escudero, Director of School Mental Health for the district also serves as an expert Advisor to The L.A. Trust Board of Directors.

Expert Advisor to Trust Shines Light on Trauma

Pia Escudero, Director of LAUSD's School Mental Health, has been and remains a fierce supporter of The L.A. Trust's work. As a member of the team who helped developed the CBITS curricula (Cognitive Behavioral Intervention for Trauma in Schools) and the supervisor to the district's more than 300 mental health professionals, she also knows a thing or two about trauma. Recently she spoke with Jeremy Loudenback of The Chronicle of Change about the unfortunate reality so many LAUSD students face, and the challenges we in turn face in helping them succeed. In her straight talking interview, Pia reveals how in a universal screening of LAUSD 5th grade students from South Los Angeles, 73% had been exposed to a traumatic event, which potentially sets up a host of educational and physical challenges as children grow. Trauma-informed care is a growing movement in and across this country, and a crucial lens we must look through if we are to have an impact on creating healthy, well-adjusted, college and career ready students. Read the entire piece

here

.





5K Raises Health Awareness and Funds for Trust's Wellness Programs

On April 23, more than 5,500 students and their families from across the school district came together to run and walk in LAUSD's 5K "Move It" Challenge. Maryjane Puffer, our Executive Director, was a part of the team kicking off the event and prepping the cheering crowd. She reminded them that the funds raised through the event go directly back into supporting the health programs for LAUSD students and their families. The L.A. Trust also had a booth at the event which provided a combination of education and fun. Participants and their families had to answer a health and wellness question before they spun the wheel to win a prize. This event has become a healthy tradition by which LAUSD demonstrates, yet again, its commitment to the health and wellness of its students and families. Click here to see photos and read about it!

At last weekend's 5K, The L.A. Trust gave out pencils, chapsticks, and boxer shorts along with health education nuggets like the answers to "how many times a day do you brush your teeth?" and "where on a map is the closest Wellness Center to your school?"

---







Trust Co-Sponsors State Conference, Will Send 50+ Attendees and Present Findings

The L.A. Trust is pleased to be sending a major delegation of 56 school-based health advocates from across our Wellness Networks in Los Angeles to the statewide school health conference in Sacramento on May 5th and 6th -- an annual event we proudly co-sponsor. This year we will present on issues relating to oral health, asthma management and obesity prevention. In total, more than 550 attendees are expected to attend from across the state. We are excited to show such a large audience from around the state the progress we are helping to advance for education and health equity in Los Angeles.

Perhaps most exciting of all, The L.A. Trust will be sponsoring 7 student leaders from our Youth Advisory Board to join in for an important part of the conference -- Advocacy Day. These young folks will join larger groups as they meet with more than 30 political leaders, and seek their support for the school-based health care movement. We are thrilled to know that these important voices will be heard inside the Capitol, many for the first time!

---


Adriana Douglas is a proud member of The L.A. Trust's Youth Advisory Board. We couldn't be more pleased to have her on our team!

Meet Our Youth Advisory Board:

Adriana Douglas

(Junior at Crenshaw High School)

Why did you join The L.A. Trust's Youth Advisory Board?

I joined because I wanted to be a part of something that was going to change the school, and be positive towards the wellness center.



What are the changes you hope to make at your school?

I hope to see positive images about the Wellness Center, and get more people to go there for help if they need it -- but also to change students' perspectives on why people go.





What activities are you looking forward to this school year?


Mental health awareness week is coming up so we'll do tabling events and a health fair, and open it up to everybody in the school instead of just 10 and 9th graders.





What are your plans after high school?


I want to go to college and become a pediatrician so I'm working towards the medical field.



Has the Wellness Center been able to offer you a glimpse into that career?

Not yet. I haven't really had time. I plan to go and sit down with one of the doctors and ask them a bunch of questions.

---

To learn more about The L.A. Trust, visit our website

here!


Contact us

here.
Become our partner by making a donation here

.




To sign up for your own copy of this newsletter, click

here

.

---