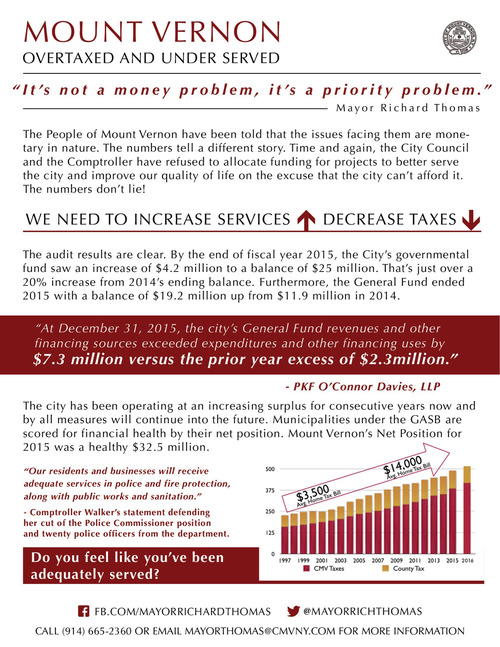 Mayor Thomas' Check Review
Mount Vernon taxpayers pay a premium in property taxes. In fact, since 1996, property taxes in the city have skyrocketed by 300%! Our residents are overtaxed and underserved. Since taking office in January of 2016, Mayor Richard Thomas has held a quality control check review process to ensure that taxpayer dollars are being spent appropriately. By carefully reviewing municipal expenditures, we can ensure that taxpayers are getting the best value for their dollar.
For example, did you know that Mount Vernon was paying three times more than other cities on our electric bills? It's because the city was paying a third-party to deliver electric and gas services instead of buying from the New York Power Authority which guarantees municipalities the lowest rate possible. These third-party providers are called ESCO's and many of them have been subject to censure and fines. New York State Attorney General Eric Schneiderman has won millions for consumers from forcing ESCO's to pay up for their disreputable and predatory business practices. Until Mayor Thomas began his quality control check review process, Mount Vernon taxpayers were paying over half a million dollars a year to a predatory ESCO! Instead of paying $500,000 for an energy scam, we could use that money to pave 125,000 square feet of road or hire a dozen new police officers. $500,000 is the equivalent of one point on your taxes! It's not a money problem, it's a priority problem.
This week, we published some of the information derived from Mayor Thomas' check review process. Please click the link at www.cmvny.com/mayorthomasreports for more information and to see how your money is being spent and what we still need answers for.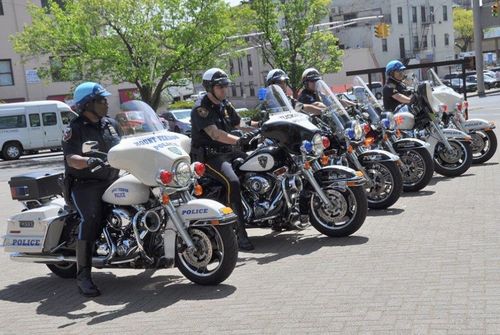 Police Memorial Week
This week is Police Memorial Week and an opportunity to recognize the brave men and women that keep us safe. Tuesday is Mount Vernon Police Memorial Day. Mayor Thomas will be holding an awards ceremony on the steps of City Hall at 11 am. This has been an exceptional year for the Mount Vernon Police Department who are often forced to do more with less. The ceremony is open to the public and Mayor Thomas encourages all residents who can make it to come out and recognize our fine officers for the great achievements and dedication to protecting our city and our quality of life.
Fire Department Training
The Fire Department has under gone their yearly mask and code training this past week, ensuring the highest quality of safety, fire prevention, and emergency response skills. The Fire Department is also pleased to announce the progress made in hiring a new class of firefighters. The positions in this year's class are expected to be finalized in the coming week. The addition of these men and women to our city's department will go a long way to making sure the FDMV is fully equipped and staffed to respond to emergencies across Mount Vernon.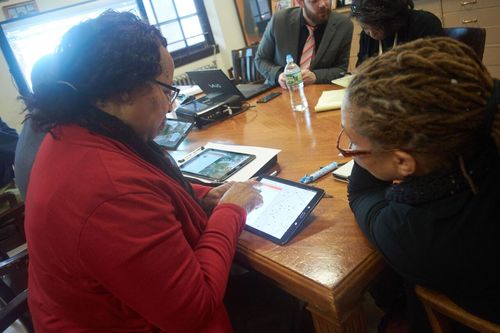 Building Department Going Digital
The Building Department continues to be proactive in improving how it services the communities of Mount Vernon. This week, inspectors began using smart tablets in the field. This allows them to do onsite inspections, input complaints, research properties, issue violations and give business and homeowners the answers they need immediately.
Youth Bureau
Our Youth Bureau is busy, hosting exciting events and preparing for our summer jobs program. The Mount Vernon Community That Cares Coalition, through the Mount Vernon Youth Bureau, will host its 12th Annual Youth Town Hall Meeting on May 22, 2017 from 3:30 PM to 6:30 PM at the Mount Vernon Armory. The Youth Town Hall meeting is part of a national effort spearheaded by the Federal Center for Substance Abuse Prevention. Invited guests include representatives from the Mount Vernon City School District and local government officials.
The Mayor's Youth Empowerment Council, whom continuously assists in planning the event, will present skits, poetry, artwork, and a short informational film on underage drinking and its impact. Through this presentation, attendees will gain the knowledge of the importance of higher education, positive peer influence, rejecting unhealthy behaviors, proper planning, and powerful examples mentorship.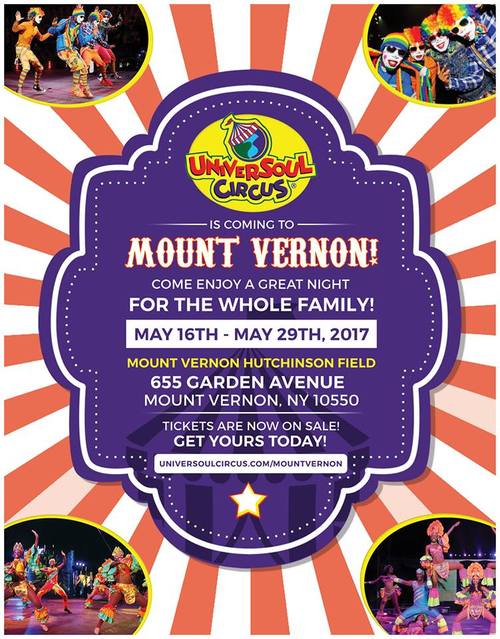 UniverSoul Circus
Universoul Circus's Opening Night is a celebration of Mount Vernon! This once in a lifetime experience is only 3 days away! Mayor Thomas will have the honor of serving as Ring Master for Mount Vernon Night, Tuesday, May 16th at the 7:00pm show. We'll also be recognizing the Mount Vernon High School State Championship Basketball Team, and Celebrating our City, so make sure you wear your Mount Vernon Maroon and Gold. Tickets are almost sold out, so get them now at www.universoulcircus.com/mtvernon.
If you want to sponsor tickets for veterans, children, and other groups please contact us at MayorThomas@cmvny.com or 914-665-2361. We would like to thank those that have contributed tickets already including Corporation Counsel Larry Porcari, Detective Alex Bates, Police and Fire Unions, School Board Trustees Omar MacDowell and Darcy Miller!
Attendees of the Circus can park in select levels of the Best Buy parking lot and in parking structures of the local shopping complexes. There will also be parking available along Sandford Boulevard and there are plenty of signs and attendants to help you navigate your way to the lots, along with shuttle services to get people from the lots to the tent and back again. As always, Public Transportation is encourged to prevent congestion. For circus updates, including parking and transportation information, visit www.cmvny.com/universoulcircus2017 or follow @MayorRichThomas on twitter and look for tweets using the tag #CMVCircus2017.
Help the Vets Honor Our Fallen Heroes!
The Veterans Service Agency is finalizing the plans for this year's Mount Vernon Memorial Day Parade. Get ready to march through the streets of Mount Vernon with larger than life Macy's style balloons, the first time ever for the Mount Vernon Memorial Day Parade. The 2017 Parade will be on Monday, May 29th at 9:30 am. For more information on participation in the parade click here.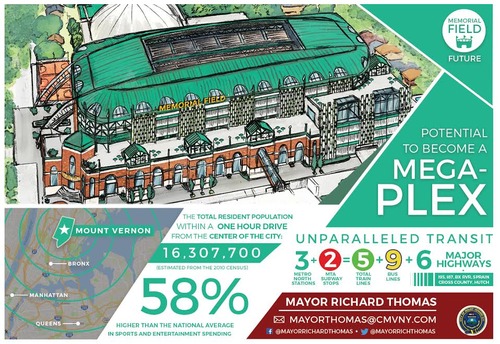 Memorial Field
Mayor Thomas outlined his three-phase plan for Memorial Field in his Op-Ed this past week. Phase One is almost complete. The first phase is cleanup, and in early April, the City Council finally approved the legislation and paid the totally avoidable fine of $40,000 to the New York State Department of Environmental Conservation. This fine could have been prevented if the city had complied with the DEC consent order from the beginning.
Now that the fine has been paid, the clean-up process has begun. The Department of Public Works had been hard at work on the clean-up. If you see backhoes and crews in the Field, no worry, it's just part of the testing and clean-up process. While the field will be opened, portions will be blocked off so that construction can continue without depriving the city the use of its once historic field. This is Phase 2 and it includes placing a temporary track and turf on the football field so recreational activities can begin again.
Phase three is the big vision phase and shows us what Memorial Field can be. Memorial Field was one of a kind, and the Thomas administration believes it should be one of a kind again. In May 2016, the Mayor's office released the "Memorial Field Playbook" and held community input sessions to determine next steps. The new vision represents the vision that the people of Mount Vernon gave to Mayor Thomas and it is the vision that Mayor Thomas has given the country. The new stadium will seat approximately 25,000 people with shops, restaurants, pool, a movie theater, and other commercial space at the park, which will feature an 8-lane track and super-sized grass field under a retractable dome. This will create hundreds of permanent jobs, thousands of indirect jobs, and increase sales tax revenue to offset property taxes while enhancing quality of life.
Water Department
As promised, on May 11, 2017 the Water Department threw a pizza party for the children at Cecil H. Parker Elementary School. This promise came after their visit to the school last December where we addressed the water crisis in Flint, Michigan and the importance of clean and safe drinking water as well as conservation. Mayor Thomas, Commissioner Anthony Della Mura and Superintendent John Arena spoke to the children about their roles in conserving water and they were very receptive to the information. After the visit, the school sent us essays written by the students on how to help Mount Vernon save water and a very crafty thank you card. As a reward for their great essays, we threw them a pizza party with a special appearance from the Water Department's mascot, Drip Drop, who they were extremely happy to see.
Happy Mother's Day! Please be safe and try to stay dry this Mother's Day Weekend!
Mark Your Calendars: The Zoning Board of Appeals will be meeting Tuesday May, 16th at 9:30 am, Tuesday is also election day in Mount Vernon School Board race so be sure to go vote as your voice matters. Tuesday also marks Mount Vernon Night at The Universoul Circus. Don't miss this historic night!
Listen to us live:
Every week, Mayor Thomas speaks to Yonkers Tribune radio with host Hezi Aris: Catch interviews here for an unvarnished look at what's happening in Mount Vernon: Mayor Thomas also hosts Mount Vernon Moving Forward every Friday on WVOX, from 5pm to 6pm. You can listen to this week's show here for an in-depth discussion about what's going on in Mount Vernon. On the Internet, tune in to Future 98.9 every Wednesday at 8:30am to listen to Mayor Thomas and Minister Tyson. On Tuesdays at 8am, you can hear Mayor Thomas on 101.5 Linkage Radio. Catch this week's discussion here.