Lighting the Chanukia at the Kotel Hakatan
Shani Hikind, Our Executive Vice President and her husband NYS Assemblyman Dov Hikind join The Two Chief Rabbis of Israel, Rabbi Lau and Rabbi Yosef, Mati Dan, founder of Ateret Cohanim and other dignitaries lighting Chanukah candles at the Kotel HaKatan
| | |
| --- | --- |
| | |
| Ashkenazi Chief Rabbi Lau | Sefardi Chief Rabbi Yosef |
| | |
| | |
| Minister of Housing Uri Ariel | Davening at the Kotel Katan |
| | |
HaKotel HaKatan is not as well-known and not as crowded as the larger part of the Kotel (Western Wall). This section of the wall is of deep spiritual significance because of its close proximity to the Holy of Holies. Ateret Cohanim has placed an emphasis on our right to visit the Kotel HaKatan without fear. By bringing esteemed Chief Rabbis and other notables to the Kotel HaKatan we solidify our rights to all of our Holy Places.
---
A One Line Dvar Torah from Jerusalem
Courtesy of Michael Lourie (Rights Reserved)
ח וַיַּרְא יִשְׂרָאֵל, אֶת-בְּנֵי יוֹסֵף; וַיֹּאמֶר, מִי-אֵלֶּה.
Moral: Be identifiable as Jewish
Rabbi Riskin, Chief Rabbi of Efrat, explains that despite the question, "Who are these individuals," it is clear that Yaakov recognized his grandsons (how could he not?). Rather, when Yaakov asks, "who are they?" he is referring to their Egyptian clothing and look: How could these two children be MY grandsons? Who are these people? Since Efraim and Menashe dressed and even acted like Egyptians, Yaakov wanted to stress this point, in essence saying, "lets return to our roots, BE, LOOK and ACT Jewish, for this is the way to retain our heritage for generations to come.

Book a Tour With Us CLICK HERE
---
Flower's Gate Playground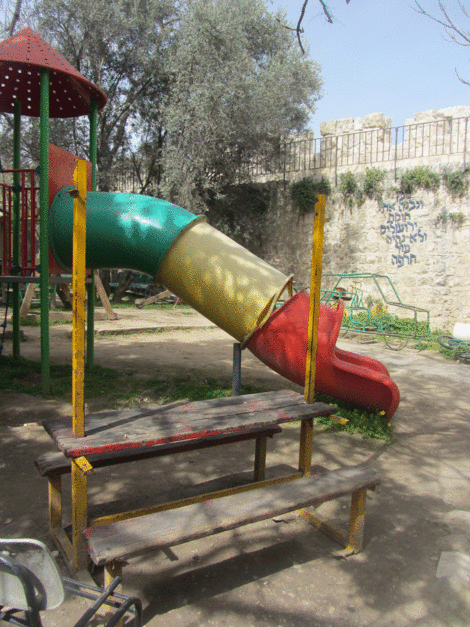 Our children need to get outside, run and play and be children. Our Flowers Gate Children's Playground is the perfect antidote to escape from the stones and rocks (human missles) thrown at them as they venture outside to enjoy some time in the sun. Our playground is in need of a facelift.



Help us improve the toys and equipment so our children can be children.

Thank You
Our current projects in the Old City of Jerusalem and areas adjacent to the Old City actualize our mission of "Making the Old City, Young Again"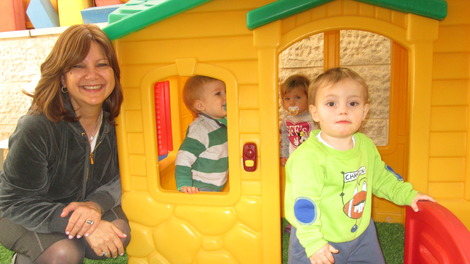 Shani Hikind with Children of our Yaldei Zion v'Yerushalayim Nurseries

Today, the walled city of Jerusalem (the Old Yishuv) and the areas immediately adjacent to it, have come back to life with children and families due to the work of Ateret Cohanim. The miracle that was the rebirth of the State of Israel in 1948, the reunification of Jerusalem in 1967 and the continued growth of the Jewish community in these areas, are constant reminders of the eternity of our religious belief. Help Us Continue our Work,
---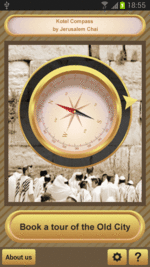 Our Kotel Compass



Always pointing in the direction of Jerusalem (and follows the halacha in Israel). A phone app and companion for your trip to Israel. The Kotel Compass App (Available in the ISTORE or ANDROID MARKET is free and you can book your tour from the App.
Our Nurseries - So Many Little Children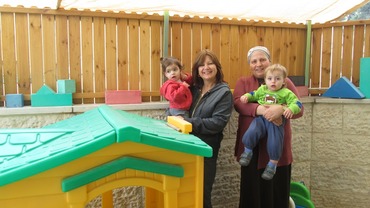 Shani Hikind with Tami Nisimi, Coordinator of our 4 Yaldei Tzion Nursereis, pictured here at Maalei HaZeitim
Our nurseries are expanding to meet the needs of the residents who live in "Ateret Cohanim" neighborhoods. At Maale Hazeitim, our nursery has about 18 babies aged three months to a year and a half and is open from 7:30 AM to 4:00 PM every day.

The children are fed three fresh and nutritious meals daily and enjoy the care of three licensed professionals.
.
Over the last year we have invested heavily to insure that our nurseries maintain the highest an strictest safety precautions.
Our children are our future.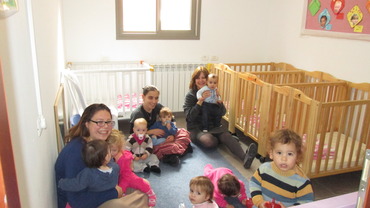 Be our partner in the rebuilding of Jerusalem.
---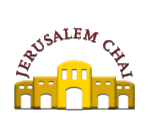 American Friends of Ateret Cohanim / Jerusalem Chai
The Old City is home to nearly 35,000 people..
The Jewish population of the Old City
numbers 5000 of which 4000 reside in the Jewish Quarter. The additional 1000 are living and learning in the area of the Old Jewish Quarter (Referred to as the Moslem and Christian Quarters in East Jerusalem)

For the past 35 years the efforts of American Friends of Ateret Cohanim/Jerusalem Chai have been instrumental in meeting the social, recreational, and educational needs of the families and Yeshiva students who have returned to areas that were once predominantly Jewish.

5775 -תשע"ה May it be the year of
"The City - Jerusalem" (עיר), of Hashem. ('ה)
May G-d's City - Yerushalayim, be rebuilt and restored to its previous glory for Am Yisrael.
Next year in a united Jerusalem with
a flourishing Jewish life centred around
religious educational institutes.
Lehitraot BaAretz