Truck and Bus Fleets: Register TODAY
Northeast Regional HTUF Fleets Workshop
and Ride & Drive
WEDNESDAY, APRIL 16, 2014
8:00 A.M. – 4 P.M.
Flushing Meadows Corona Park, Queens Theatre & World's Fair Marina Park
- Queens, New York -
New York City Goes BIG on
Clean Transportation Alternatives!
Participate in a one-day workshop filled with the latest on alternative fuel trucks and buses, vocation-specific fleet best practices, incentives and regional solutions to advance clean transportation.
Test Drive an Alternative Fuel Truck or Bus
Listen to what industry experts think it will take to advance alternative fuel vehicles in the Northeast. Participate in a highly engaging interview with fleet managers from the NYCT, New York City Fleet, Frito Lay and more to learn how affordable clean vehicle solutions equal smart business decisions.
Ride & Drive Highlights
The latest in Class 2B to Class 8 alternative fuel trucks and buses
Features vehicles eligible for $ incentives $ through the New York Truck – Voucher Incentive Program and the Hunts Point Clean Trucks Program
Technology expo exhibiting more than 20 clean transportation companies
Enjoy the Northeast Regional HTUF luncheon at the World's Fair Marina Restaurant
Test-drive the full range of alternative fuel vehicles
SPECIAL OFFER: Be one of five fleet managers to first respond to this e-blast by emailing agilde@calstart.org and receive FREE registration.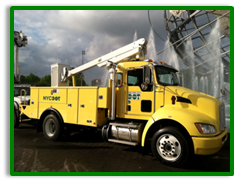 Visit our Website and learn more about our program and how to participate!

Register Today!

Sponsorship Opportunities

HTUF invites clean vehicle technology OEMs and vendors to exhibit and showcase your technologies to key fleet decision makers.


The Northeast Regional HTUF Fleets Workshop & Ride and Drive is an important partnership between CALSTART and the City of New York including the Department of Citywide Administrative Services (DCAS), New York City Parks Department (NYC Parks), New York City Department of Transportation (NYCDOT) and the New York City Department of Sanitation (DSNY).


Many thanks to our Gold Sponsor:






Many thanks to our Silver Sponsors:




Many thanks to our Regional Outreach Partner:





HTUF is the nation's leading program driving production and use of medium- and heavy-duty high-efficiency trucks and buses. HTUF is a national program operated by CALSTART in partnership with and under contract to the US Army TARDEC National Automotive Center.

You are receiving this email because you have expressed an interest in CALSTART's High-Efficiency Truck Users Forum. To make sure you are receiving these messages, add CALSTART@mail.vresp.com to your address book.