Connect With Us On Social Media





Make A Gift To Vibrant Pittsburgh
Make a gift today to grow a diverse workforce and a brighter future for our region. Contact melanieh@vibrantpittsburgh.org or call 412.281-8600.

Did you know that Pittsburgh was named one of the 2012 Best Places for Veterans?
Tips To Promote Dignity and Respect
Tip #28:
Get Involved
Make a difference. Get caught being good.
Looking For A Job?
Visit our website to see who's hiring today!
January Diversity Holidays
January is National Mentoring Month
January 14 is Makar Sankranti
January 18-25 is Week of Prayer for Christian Unity
January 20 is World Religion Day
January 21 is Martin Luther King, Jr. Day
January 24 is Eid Milad-un-Nabi
Our Vibrant Pittsburgh Members
January 2013
Hello Friends,

Happy New Year! We hope that you had a safe and happy holiday celebrating the traditions of your family. We are excited to start a new year at Vibrant Pittsburgh! We have several exciting things on the horizon and cannot wait to share them with you -- stay tuned!

For those of you living in the Pittsburgh region, you may have seen our new television commercials airing on WPXI, WTAE and KDKA. These commercials were developed as part the Hola Pittsburgh Project, a Latino talent attraction collaboration with The Pittsburgh Promise, Allegheny Conference on Community Development and its ImaginePittsburgh.com initiative, the Pittsburgh Partnership for Neighborhood Development, the Pittsburgh Metropolitan Area Hispanic Chamber of Commerce, Allegheny County, the City of Pittsburgh and many others. The commercials will run throughout the next few months.

To learn more about this initiative or about other programs and initiatives under way, please visit vibrantpittsburgh.org or give us a call. As we celebrate the life and legacy of Dr. Martin Luther King, Jr. this month, we wanted to share what is happening around the region to realize his dream. I hope you enjoy this month's newsletter!

Sincerely,



Melanie Harrington
CEO, Vibrant Pittsburgh
Would Dr. Martin Luther King, Jr. Be Proud Today?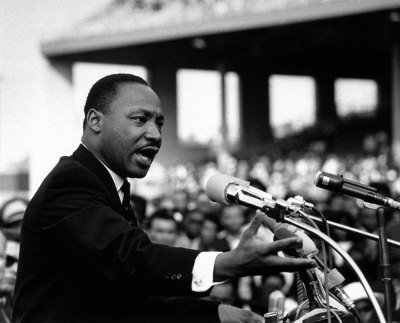 On January 21st we will celebrate the life and legacy of famed Civil Rights leader, Dr. Martin Luther King, Jr. who would have celebrated his 84th birthday yesterday. Best known for his non-violent approach to advocate for equality and Civil Rights for all; we are reminded every year as we remember his legacy that the struggle lives on.

Examining the progress that we have made as a nation and here in the Pittsburgh region, what would Dr. King think? Have we achieved his dream of the "beloved community"? Would he be proud of the current state? Would he say job well done, or would he be disappointed?

The current state of Civil Rights, equality, diversity and inclusion might best be described as a journey. We have witnessed many great achievements, but there is still some work to be done.

Dr. King spoke at the University of Pittsburgh in November 1966. He told the audience then that:

"We are tied together--white and black Americans--in a single garment of destiny. There cannot be a separate black or white path to power, there cannot be fulfillment for one group that does not
share in the other's aspirations… we will transform the jangling discords of our nation into a symphony of brotherhood."
In the 47 years since Dr. King made that speech there has clearly been much progress in the areas of education, equal employment, health care and socioeconomic status. However, there is still significant work to be done. Across the nation and here in Pittsburgh we still see disparities and inequalities in education, job opportunities, access to health care and wealth. Dr. King's movement for equality and justice included people of various backgrounds and cultures – each and every person was needed in order to achieve change. Just like each and every person is needed here in Pittsburgh and across the nation to spark change.

The Pittsburgh leadership community has been working diligently toward an inclusive and welcoming community through various activities and programs. Highlighted below are some organizations and events in the region promoting unity, the bringing together of cultures and inclusive behavior.
Our Vibrant Pittsburgh Affinity Groups have helped to attract and retain diverse groups to the Pittsburgh region.
The Dignity and Respect Campaign encourages behavioral change in individuals, communities, schools, and organizations. To date the D&R Campaign has received more than 137,000 pledges of people committed to treating others with dignity and respect.
The YWCA Greater Pittsburgh's Center for Race and Gender Equity responsible for developing and implementing strategies and/or programs that address individual and systemic racism and gender inequity and directs the development and integration of the Association's programs and initiatives around gender, race and social issues.
Over the next 10 years the Hill House 1000 Stories Project will share positive stories of Pittsburgh residents whose lives have been changed with the help of the Hill House. These stories are a testament to the power of social service.
The Pittsburgh community came together last year to host more than 1300 young people from 182 countries for the One Young World Summit. The four-day Summit served as a platform to address and identify solutions to the same issues that world leaders tackle every day – including global business and health, education and sustainable development, unemployment, the role of government versus global business, leadership and governance and social business.
A few years ago the Allegheny Intermediate Unit opened the Latino Family Center to provide support services for the Pittsburgh region's growing Hispanic community.
Great Collaborations is a 7-month series of cultural programs presented by the August Wilson Center in partnership with the Jewish Federation of Greater Pittsburgh. These cultural programs explore past collaborations, with the hope of creating dialogue that leads to collaborations in the future.
The Immigrant and International Advisory Council advises the Director and Executive Staff of the Department of Human Services regarding the human service needs of immigrant and international county residents. The Advisory Council identifies issues of concern, important changes in needs of the immigrant and international community and general ideas for improving the Department's mission to be culturally competent and inclusive.
The Southwestern Pennsylvania Urban Revitalization Project's (SPUR) goal is to connect residents from underserved communities—particularly the Hill District—with the local energy and health care industry clusters. This will be accomplished by focusing programs and activities on predominantly African-American communities that have, to date, not benefited from the resurgence of Pittsburgh through its notable clusters.
Last August the Pittsburgh Sikh community held a candlelight vigil honoring the victims of the shooting at the Wisconsin Sikh Temple, bringing the community of Pittsburgh together to remember and resolve not to let that kind of thing happen again.
So would Dr. King be proud of us, Pittsburgh? Yes, he certainly would be, however he would surely push us to do more. What can you do to bring more unity to the Pittsburgh community? How will you contribute to the successes we have seen and help continue to realize Dr. King's dream?

Dr. King would likely spur us on telling us not to give up until "justice rolls down like water and righteousness like a mighty stream."
Diversity and Inclusion Resources / Articles
Events Around The Region
(For more events, visit our website or follow us on facebook)
Culture Club at the Carnegie Museum of Art Culture Club: Great Objects Inspire Great Thinking on January 17 from 5:30pm-9:00pm; admission is $10 (includes museum admission and one drink ticket).

Martin Luther King Jr. Leadership & Diversity Awards and Celebration 2013 on January 18 from 5:30pm-8:30pm at the August Wilson Center for African American Culture. The event celebrates Martin Luther King Jr.'s values-based leadership, embraced by the Coro Center for Civic Leadership, and honors the individuals and organizations in our region that lead from their values in the service of building a more inclusive democracy. Click here for more information and to purchase tickets.
Duquesne Light Conservation Day on January 21 from 10:00am-5:00pm at Carnegie Science Center, Northside. FREE admission to the Carnegie Science Center thanks to generous contributions by Duquesne Light. This day also includes free parking plus a free Omnimax film.
East Liberty Celebrates Martin Luther King, Jr. Celebrate Dr. King's legacy of peace and unity on January 21 from noon-4:00pm with incredible FREE performances on stage by local Pittsburgh performance groups working toward a greater cause through art. Visit our lobby for family friendly crafts and learn about organizations making a difference in our community. This event will take place at Kelly Strayhorn Theater, 5941 Penn Avenue Pittsburgh, PA 15206.
Union Project's annual Martin Luther King Jr. Day Celebration at Eastminster Presbyterian Church (250 N. Highland Avenue, Pittsburgh, PA 15206) on January 21 from 4:00-7:00 pm with dinner served at 4:30 pm. This event is free and open to the public.
Global Pittsburgh First Thursdays International Happy Hour at AVA Lounge Join Global Pittsburgh First Thursdays international happy hour at AVA Lounge in East Liberty on Thursday, February 7 from 5:30-8:00 p.m. (or later). Admission is FREE for paid Global Pittsburgh members. Admission is $5 at the door for everyone else. www.globalpittsburgh.org/membership
Cornell University Diversity and Inclusion Training in Pittsburgh, PA - Begins February 13; Click here for more information and to enroll.