---
Make A Gift To Vibrant Pittsburgh
Make a gift today to grow a diverse workforce and a brighter future for our region. Email Melanie Harrington or call 412.281-8600.
---
Tips To Promote Dignity & Respect
Tip #29:
Lend a hand.
A little help can go a long way.
---
Share Your Small Acts of Inclusion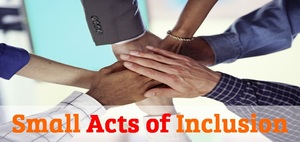 What are you doing within your organization or community to promote diversity and inclusion? Share your story with us! Email your act of inclusion to us at
info@vibrantpittsburgh.org.
---
Looking For A Job?

Sign up to receive our
Jobs Bulletin!
---
December Diversity Holidays
December 5 is the Last Day of Hanukkah (Chanukah)
December 1 is World AIDS Day

December 8 is Bodhi Day, a holiday observed by Buddhists

December 10 is International Human Rights Day

December 12 is Feast Day at Our Lady of Guadalupe

December 16-24 is Las Posadas

December 25 is Christmas Day
---
Pittsburgh Guide for Diverse Newcomers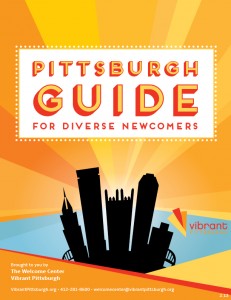 Read full guide
---
Our Vibrant Pittsburgh Members
Employers that have come together to grow the diversity of the region. Interested in becoming a Vibrant

Pittsburgh

Employer Member? Contact us at info@vibrantpittsburgh.org!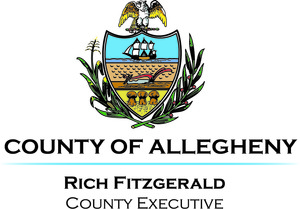 ------------------------------
Bayer
Alcoa
BNY Mellon
MSA
Community College of Allegheny County
Shell Appalachia
Erie Insurance
Morgan Stanley
Robert Morris University
Bechtel Plant Machinery
Valassis
December 2013
Hello Friends,
Earlier this month we hosted close to 200 emerging leaders at our first annual Vibrant Leaders Summit. Our keynote speaker, Dr. Freeman Hrabrowski, President of the University of Maryland at Baltimore and noted author and speaker, left us inspired as he gave young professionals a road map to leadership. He challenged everyone to perform with integrity, lead with courage and build trust, noting that developing these key character traits and values will help position us for great personal and professional opportunities. The Summit's other guest speakers emphasized the importance of knowing and protecting your personal brand. Thank you to our attendees; our event sponsor, Ernst & Young LLP; our Vibrant Pittsburgh Members; our location host, PNC; and our event partners Allegheny Conference for Community Development and ALPFA Pittsburgh!

As many people celebrate the holidays, we recognize that there is diversity in how we choose to express our traditions. Such diversity can engender controversy when those who are of different faith expressions feel excluded when their tradition is not acknowledged. In this month's newsletter, we offer guidance on how you and your organization might handle these dilemmas and remain inclusive. Email your best practices on how you've handled similar situations at your organization to be included as part of our Small Acts of Inclusion.

2013 was a great year for Vibrant Pittsburgh, and we could not have done it without our Members and supporters like you! We look forward to providing you with great resources in 2014 that advance diversity and inclusion and help ensure the Pittsburgh region's economic prosperity.

We send our season's greetings and wish you and yours a very Happy New Year!
Be Vibrant,


Melanie Harrington
President & CEO, Vibrant Pittsburgh
---
Holidays at Work: How to Remain Inclusive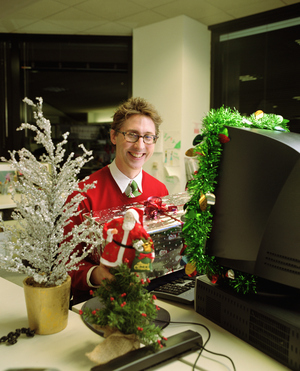 Diversity offers our workplaces and community-places a whole host of different values and beliefs. For some, the visibility of and desire to celebrate these differences can become more prominent during the holiday season. How do you value these differences in inclusive and respectful ways?

Creating inclusive cultures in organizations and behaving inclusively as individuals are not easy pursuits. During this time of year, as seasonal festivities and holiday parties are most common, organizations continue to struggle with the most appropriate way to include everyone. It is easy to overlook the depth of the diversity present in America during this season when the majority of retailers capitalize on Christmas. Many events, both spiritual, religious, and tradition based, are being celebrated in many different ways.

It used to be that sending out politically correct "Happy Holidays" greeting cards and changing Christmas office parties to "holiday parties" was enough to be inclusive. Some organizations even make the decision not to mention or celebrate holidays at all. At times the very things that we do in the name of inclusion actually create more exclusion and divisiveness. Understanding that you will never please everyone, extreme decisions like eliminating all holiday decorating or canceling all holiday celebrations do not foster an inclusive environment. Celebrating diversity and inclusion is about using the holiday celebration time to build understanding and awareness about others.

If you're struggling with how to remain inclusive during the season, here are some tips for addressing the holiday conundrum:
Learn about other religious or holiday celebrations. Encourage individuals to learn more about the traditions of others. Conduct lunch and learns or forums that are open to all employees to learn about how others celebrate the holidays. Use your organization's intranet, blog or diversity website and ask employees to share their holiday traditions.
Recognize that one size does not fit all. Acknowledge the range of ways that people in your organization may celebrate the holidays (or not). Send a message that you respect each person's or group's' right to express their traditions and while you may not see visible displays for all holidays your attempt is to provide a joyous and reverent atmosphere that will appeal to a broad range of employees.
Include this topic in training to help individuals recognize that inclusion does not necessarily mean that every single holiday that someone might celebrate will be visibly acknowledged by the company. Inclusion is the ability to adapt and accept, even if we don't always agree. It is finding a way to bridge across differences to include most people.
Provide an atmosphere of openness where it is okay to make a mistake. If someone says "Merry Christmas "to another employee who does not celebrate Christmas, the receiver of the wish can simply say, "thanks for the well wishes even though I don't celebrate Christmas." This can open the dialogue to learn more about others beliefs. We have to recognize that we will make mistakes and that everyone is not always going to know what your belief system is. It is an opportunity for learning.
Teach the idea that each of us is responsible for contributing to an inclusive environment by being sensitive to the other, not judging and learning to be okay with a wide range of different expressions of holidays that may not always be consistent with their own traditions. Does a Christmas tree really offend you or can you understand that while it may not fit your values, it works for others. Can those who celebrate Christmas accept that there are those who do not and be okay with that? These are the real questions of inclusion.
Have these issues come up in your organization? What are some ways that you have created an environment of inclusion during the holiday season? Share your tips with us as part of our "Small Acts of Inclusion".
---
Diversity and Inclusion Headlines & Resources
---
Events Around The Region
(Vibrant Pittsburgh sponsored events are highlighted. For more events, visit our website or follow us on facebook)
Kappa Scholarship Endowment Fund of Western PA (KSEF) is once again looking for talented minority high school seniors that will be attending college in the fall to apply for our scholarships. Each year KSEF awards 4 full-time tuition scholarships as well as 4 financial assistance awards to deserving students in our region. Applications are due January 31, 2014. For more information contact Mr. Michael Phillips at 412.263.2903 or map5@psu.edu.

The English Language Institute (ELI) at the University of Pittsburgh offers non-credit English as a second language community education courses for internationals in the Pittsburgh community and at the University of Pittsburgh. A variety of courses are available Summer, Fall and Spring. For more information, visit the website.