Booster News, December 2011
Dear Booster Friends,

We'
re looking forward to seeing many parents of winter sports athletes at the Sports Night Meeting tonight, Wednesday, November 30th at 7 p.m., in the main gym. Best of luck to all of our Churchill winter teams as their seasons begin.
Prior to tonight'
s meeting, Booster Club volunteers will open the school store at 6:30 p.m. for spiritwear and apparel sales. Varsity athletes from any sport who are interested in purchasing varsity letter jackets should attend to order and size their jackets. An apparel rep will be on-site for assistance or questions.
Finally, don'
t miss our upcoming monthly meeting, this Monday, December 5 at 7
p.m. in Room 126. The Booster Club welcomes new volunteers.

Wayne Cohen
President,

Big props to Varsity Ice Hockey! Before the team'
s recent 8-4 season opener win against Wootton even took place, the players'
families had secured 100% membership in the Booster Club! Many thanks to those families and all of the Churchill supporters who have already "
joined the club"
this year. Your membership dues play a critical role in supporting our student-athletes and Churchill teams, especially now when athletic department budgets across MCPS are seeing significant cutbacks.
2. Booster Club Sports Physicals Clinic A Big Success!
The Booster Club offered its first-ever sports physicals clinic in mid-November and the program met with great success. The fundraiser, spearheaded by Booster Club Board Member Representative Jim Edwards, raised $1,000 for Winston Churchill High School sports programs and student-athletes. Many thanks to Jim for organizing this event, which the Booster Club plans to offer up to three times a year in the future.
The fundraiser was made possible with the generous help of several volunteers, and especially Dr. Daniel Pereles of Montgomery Othopaedics, who donated his time to administer the physicals. Thank you to everyone who helped make it a success! Watch for news about our next clinic, tentatively scheduled for mid-June.
3. Holiday Gift Items for Churchill Fans
Looking for the perfect holiday gift for a Churchill fan on your list? Check out our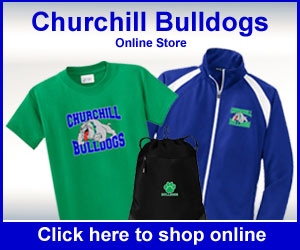 new Online Spiritwear Store—
also known as Bulldog Central—
for an extensive line of Churchill apparel and accessories, available in numerous customizable colors, styles and sizes! The Online Store offers i
tems for men, women, youth—even toddlers and babies. Not sure what to get? Purchase a giftcard at the site and let your Bulldog fan make the choice.
And that'
s not all: the Spiritwear Store is also your source for ordering season sport passes. Follow the easy instructions at the new
Online Spiritwear Store
and the passes will be delivered directly to your home.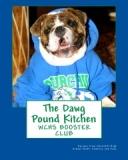 For the Churchill chef on your list, don'
t miss your chance to purchase a copy of the "
The Dawg Pound Kitchen"
cookbook.
Filled with fabulous family recipes, local restaurant and
Potomac Village Farmer'
s Market recipes,
"
The Dawg Pound Kitchen"
cookbook makes a great gift for recent graduates, WCHS alumni
, Churchill parents, staff and more.
4. Third Annual Bobby Miller Bulldog Classic Basketball Tournament

Mark your calendars! The slate is set for the Third Annual Bobby Miller Bulldog Classic Basketball Tournament, to be held December 27-28 at Winston Churchill High School.

The
Churchill Boys'
and Girls' V
arsity Basketball teams will host the event,
named in memory of long-time area youth basketball coach Bobby Miller, who died in April 2009 following a courageous battle with cancer. Through the generous sponsorship of Town & Country Movers, the two-day tournament will benefit the American Cancer Society in Bobby'
s name, with a collection of donations from those attending the tournament.
Need a way to promote yo
ur business, supp
ort Church
ill athletes, or both? The Churchill Booster Club has ju
st the answer:
advertise your business with a
sponsorship banner prominently displayed in our stadium or baseball field. Let us help you score the goals and homeruns your business needs.
For a full list of our generous sponsors, along with details on our sponsorship opportunities, please click here.
7. Booster Club has a New E-mail Address & Website
Please help us get Churchill Booster Club News out to all Bulldog supporters. Know a Booster fan who should be receiving our news? Need an e-mail address added to our mailing list? Interested in sharing news about Churchill student-athletes? Contact us at our new email address: info@churchillboosterclub.org
Bookmark our website www.churchillboosterclub.org for helpful information, scores and related links.
See current and upcoming Booster Club activities, find updates and media coverage on Bulldog teams and athletes, check out our generous sponsors, or get directions to away-game locations.
8. Booster Club Calendar of Upcoming Events
November 30 (Wed): Winter Sports Night Meeting, 7 p.m., in main gym. Spiritwear and varsity letter jackets for sale in school store starting at 6:30 p.m.
December 2 (Fri): Mid-Day Madness Lunch-Time Pep Rally to mark the opening of the boys' and girls' basketball season.
December 5 (Mon): Booster Club Monthly Meeting, 7 p.m., Room 126
December 27-28 (Tues-Wed): Third Annual Bobby Miller Bulldog Classic Basketball Tournament at Winston Churchill High School