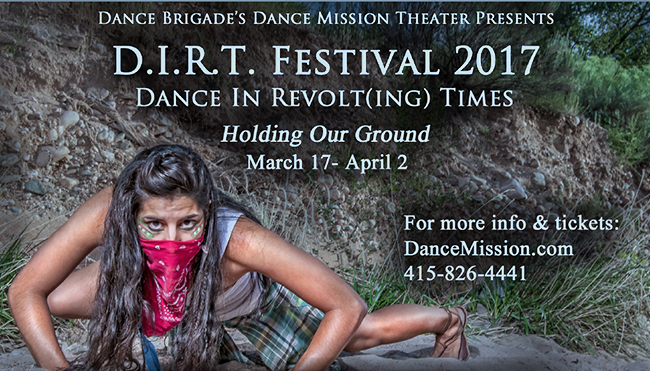 This project is made possible by support from the San Francisco Arts Commission,
SF Grants for the Arts, Zellerbach Family Foundation & our community partners, Eastside Arts Alliance,
NAKA Dance Theater & Support for Inter Tribal Gatherings.
photo: Lupita Salazar,

DANCING EARTH / © pauloT.
---
THE MOVEMENT of
MOVEMENT BUILDING
MOMB

is a workshop series initiated by Rulan Tangen,

creator of Dancing Earth, to respond to the current political climate. MOMB is led by diverse cultural & creative leaders to connect inte

rsecting circle to revitalize community through creativity as a foundation of resistance, both envisioning & enacting change.
Global Water Dance -

June 24

These will be held respectfully in the traditional territories of the Tewa, Towa,
Keres & Ohlone peoples in the regions now known as Santa Fe & San Fran.

Coordinated cooperatively on a volunteer & in-kind effort by Dancing Earth along with creative cultural leaders, A Blade Of Grass, NMDC, Pomegranate Dance Studio, SITE Santa Fe, Retake Our Democracy, SFAI Water Rights Residency, CCA, Dance Mission, Dance for Revolt(ing) Times Festival & other partners.
---
DANCE IN REVOLT(ing) TIMES!
We present the next version of an emerging new work
"We Stand Together: Treaty Making"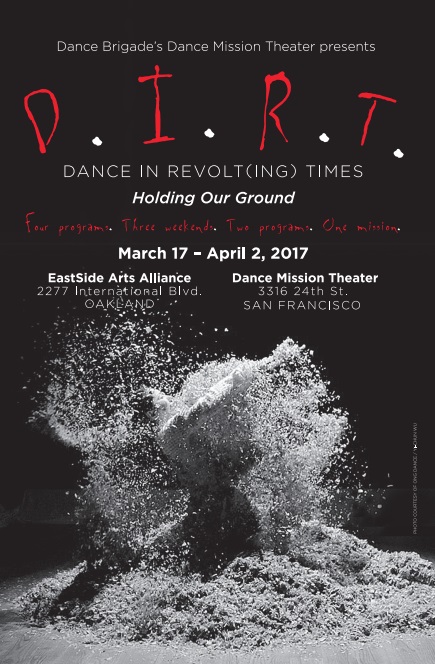 Rulan is deeply inspired to work again with the intercultural cast featured at FLACC's Indigenista event in Dec. We will collaboratively explore other dimensions of the theme, rooted in the spoken words of the first Indigenous Women's Treaty, Defending Mother Earth as spoken by co-author Pennie Opal Plant. To this we will add video and spoken words recorded at Standing Rock, a collaboration by artist-activists Ginger Dunnill, Cannupahanska Luger, Dylan McLaughlin, Nicolas Galagin & Merritt Johnson.
From these call outs to the world for recognition of Indigenous caretaking of sacred land & water, we re-center in the issues & live soundscape by local California artist-activist-culture carriers Kanyon Sayers Roods, Ras K Dee, and Desirae Harp - representing Ohlone, Pomo & Wappo peoples.

Dancing Earth's Bay Area dance artists: Rulan Tangen, Christina Leyva, Daniel Arizmendi, Javier Stell-Fresquez, Sammay Dizon, Natalia Aceves Ghezzi, Lydia Neff, Andreina Maldonado, Ashley Le Blanc, Anisah Abdullah, all in costumes created from re-purposed, salvaged & organic materials created by Connie Windwalker & Ali Zadeh (fabric donors).
---
Dance Mission Theater's D.I.R.T. Festival
Dance In Revolt(ing) Times & Dancing Earth present
MOVEMENT OF MOVEMENT BUILDING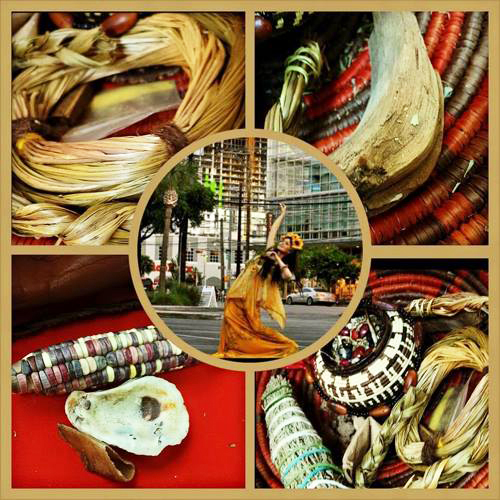 MOMB Workshop Series
March 21, 24, 28 & 31

(Tues. & Fri.)


11 - 12:30pm

Dance Mission
3316 24th Street, SF 94110
415- 826-4441

$60 for all 4 classes or $18/workshop.
Contact dancemission.com to signup in advance!
Attendance to all workshops is advised for
maximum impact, but walk-ins are welcomed.

More Info HERE
---
NATIVE CONTEMPORARY DANCE
HISTORIC EVENT!

DANCING EARTH at post show panel & gathering with illustrious colleagues: Elsie Ryder, Christopher K Morgan,
Santee Smith & community guest artists Lumhe & Samsoche Sampson! Onstage tech rehearsal photos - Thaiphy Phan-Quang
Dancing Earth amazing tour of Mni Sota at the Ordway Theater
for the historic Oyate Okodakiciyapi Festival.

The 1st Indigenous contemporary dance festival in a major theater in the USA in collective memory. Curated by choreographer Rosy Simas & Ordway Director Dayna Martinez, w/ incredible staff including Tommy, Jenea & Shellie. It included a stellar array of Indigenous artists including Christopher K Morgan & Santee Smith who presented solos, Tanya LukinLInklater whose work was presented in the All My Relations Gallery where she was the 1st, Artist In Residence, along w/ Maura Garcia, Sam Mitchell & Zoe Klein included in the artist's panel. The Sioux Chef also offered culinary arts at Two Rivers Gallery! The audience was welcomed by elder Sharon Day.


Dancing Earth was overjoyed to come to Dakota & Ojibwe lands & the Ordway where Rulan had danced years earlier in the pivotal show TRIBE, directed by Raoul Trujillo & choreographed by Alejandro Ronceria. Lumhe & Samsoche Sampson, sons of TRIBE cast member and powwow dancer Darice Sampson, joined us as local community guest artists along with the lovely Hollie Dee & Tynielle Ziegler.

Many members of our extended cast & crew had spent extensive time at Standing Rock & our scenes of water protection were deeply felt for their heightened relevance. Besides the show for the public, we also had 4 matinees for students & workshops w/ elementary school children participating in Dakota & Ojibwe language immersion programs & a workshop for the public reaching over 7,000 people! In attendance was Rulan's former dance company director Michael Mao, flying in from the Middle East via Europe via NYC to see the company for the 1st time!
---
SPRING & SUMMER
March 14
ALL are invited
to a FREE Jitterbug Session w/ Mike Garcia! As a new board member of NM Dance Coalition, we're happy to invite our community to dance gatherings the

2nd Tues, every month, 6-7pm @

Pomegranate Dance Studios!
Initiate interconnection to inform & celebrate the vibrant body practices in our region
Strengthen the visibility of the important role of movement in our lives
Intersect circles to join forces for creative embodiment in these challenging times
Grow the membership circled leadership of NMDC


April - June
Rulan is pleased to be selected as an Artist In Residence for Water Rights,
at SFAI, culminating in her leadership of Global Water Dance on June 24, at Santa Fe Botanical Gardens & at a Bay Area.
April 27
Dancing Earth's women dance to honor the amazingly accomplished tribal representatives of Miss Indian World.


April 27
DEAR PATRIARCHY: "Indigenous Women Power the Resistance"
April 29 - 30 Rezilience Concert
REZILIENCE Indigenous Arts Experience is an event that takes place on April 30 @ National Hispanic Cultural Center that celebrates Indigenous arts, education, wellness & technologies through interactive programs & activities for ALL Ages. www.rezartx.com
April 29 - FIERCE FEMININE RISING
Dancing Earth's Esme Vandraager & Rulan join Santa Fe women artists as we come together to present poetry, dance, ritual & music in raising positive energy in the wake of the current political climate. 7:30pm @ Railyard Performance Center
THANK YOU SUPPORTERS

Thank you to the Zellerbach Family Foundation for their support of "We Stand Together." The Mission of the Zellerbach Family Foundation is to be a catalyst for constructive social change by initiating and investing in efforts that strengthen families & communities.

Thank you to Honor the Earth for their support of "The Re-Story-Ing" ongoing project . The mission of Honor the Earth is to create awareness and support for Native environmental issues & to develop needed financial & political resources for the survival of sustainable Native communities. Honor the Earth develops these resources by using music, the arts, the media and Indigenous wisdom to ask people to recognize our joint dependency on the Earth and be a voice for those not heard.
Thank you to the New England Foundation For The Arts, & their support of Dancing Earth through the National Dance Project award. NEFA's mission is to build connections among artists, arts organizations, & funders, powering the arts to energize communities in New England, the nation, & the world. The National Dance Project supports the creation and touring of new dance works & connects artists, cultural organizations & audiences across the nation.



Rulan Tangen is honored to be a recipient of A Blade Of Grass 2016 Socially Engaged Art Fellowship. ABOG provides resources to artists who demonstrate artistic excellence & serve as innovative conduits for social change. They evaluate the quality of work in this evolving field by fostering an inclusive, practical discourse about the aesthetics, function, ethics and meaning of socially engaged art that resonates within and outside the contemporary art dialogue. The Fellowship supports individual artists and collectives who are working in leadership roles and in partnership with communities, in ways that are relevant in everyday life, at ambitious scale, to enact social change. Rulan & Dancing Earth are sincerely thank A Blade Of Grass for this support!

Thank you to the The Marshall L. &
Perrine D
. McCune Charitable Foundation for their support! The McCune Foundation is dedicated to enriching the health, education, environment, cultural, & spiritual life of New Mexicans. The Foundation memorializes its benefactors through proactiv
e grantmaking that seeks to foster positive social change.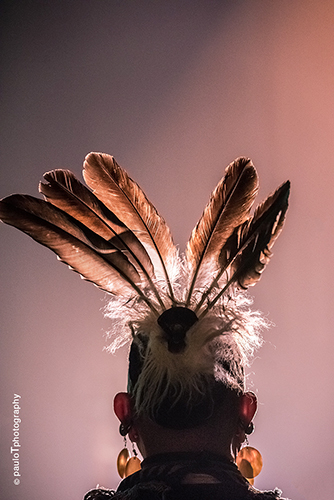 Special Thanks
Michael Mao for mentorship & support Keith at Clear Light Cedar Mountain for his awesome donation of essential oils for our multi-sensory workshops & performances.

Deborah Fisher, Elizabeth Grady, Joelle Te Paske at A Blade of Grass. Alicia Ledezma for PR & Marketing consult. Ananya Chattarjea for ongoing encouragement, coaching & hosting in MN. Winona LaDuke for amazing vision of Honor the Earth foundation. Eric Gent & Seth Friedman for in kind support of bodywork for dancers. NM Dance Coalition & their growing community circle!
Rehearsal space from Myra Krien & Pomegranate Studios, Gent Family & Railyard Performance Center, Wise Fool NM, Layla Amis & SFUAD.
Special thanks to Deirdre Morris for aerial choreography & coaching to our guest artists: local community dancers Lumhe & Samsoche Sampson, Thomasina "Tynielle" & Hollie Dee Ziegler & Two Spirit Guest Artist Janice BadMocaasin, Rosy Simas, Dayna Martinez & the amazing crew @ Ordway Theater.

MOMB Support
CA

Stella Adelman & Dance Mission
NM CCA, SITE, Arlene Goldfarb, SFUAD, SFAI, Re-Take Our Democracy, John Meade, Enchanted Cafe Bulletin