---
---
As winter approaches...
NOVEMBER / DECEMBER

IN SOUTHWEST:

Nov 4, a performance of excerpts from Re-Generation at BUILDING CREATIVE COMMUNITIES conference, with Rulan Tangen, Justin Giehm, Anne Pesata, and Trey Pickett, with musician Ehren Natay and his talented students from IAIA, Lee and Nicole. Performance installation by Carmile Leonard. Film installation by Marion Wasserman with Louis Leray. Spoken work poetry by students of NM School for the Arts. What the people had to say: "I will never forget this!" "You have such a gift, thank you for sharing this with us!"
THANK YOU Solar Banner for your support, and NM Arts and NM Main Street, for this opportunity to express the powerful creativity and diversity of New Mexico! Learn more at
www.buildingcreativecommunities.org

Nov 6-8: Grand Canyon Trust convening of inter-tribal culture carriers w/ Dancing Earth at Ghost Ranch.

N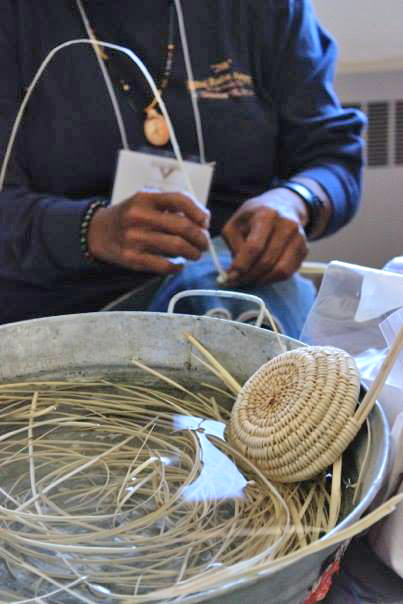 ov 13: The amazing students of "Devised Performance" (a class taught by Daniel Banks, Ehren Natay, and Rulan Tangen) showcased at IAIA's Open House.

Nov 14-15: Anne Pesata presented her basket weaving solo at the NACA Indigenous Food Symposium in Tucson, alongside amazing chef Karlos Baca, and Basket weaver Melanie Pesata.

Nov 15: Rulan joins illustrious members of Living Stories Collaborative Design Cohort developing pilot for Creative Facilitation Training for creative practitioners, in any field, who would like to deepen their practice for working in community to activate change. The amazing group includes: Columbia University's visiting Research Scholar Mijan Tho-Biaz Celie, Daniel Banks - Chair of Performing Arts at IAIA, Hakim Bellamy - former Poet Laureate of Albuquerque, and US Dept of Arts and Culture founders Adam Horowitz and Arlene Goldbard.
Thank you McCune and Academy for the Love of Learning for this extraordinary convergence!




IN CALIFORNIA: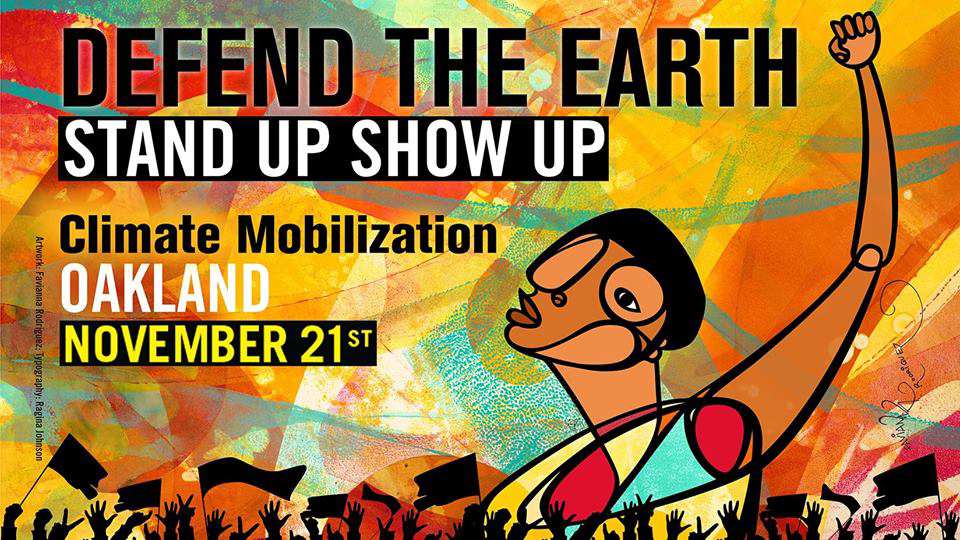 Nov 21: Bee Dancers (led by David K and Christina Leyva - www.beedanceproject.org) will animate the Nor Cal Climate Change Mobilization.

Dec 2-4: Rulan joins leadership trainings at Native Wellness Institute in San Diego: http://www.nativewellness.com/events.html

Dec 5-12: Rulan featured artist/instructor at the renowned Rancho La Puerta.
---

AND LAST MONTH, October was aflame with Indigenous art activations in the Bay Area, with Dancing Earth involved in all of the following!



- Rulan leads Indigenous Dance F at UC Berkeley


- 8th Birthday celebration of beloved Poet-Activist-Scholar
Rafael Gonzalez in East Bay



- Berkeley Indigenous People's Day Powwow




- Cultural Conservancy Organic Garden at Indian Valley

- CA Native Big Time event




- Attending Rosy Simas Dance in San Francisco's ODC Theater. Special thanks to Rosy for outreaching to Native community!




- Sunrise ceremony at Alcatraz



- Dancing Earth leads SEEDS AND
SOUL community workshops in Yelamu (San Francisco) at AVE & Embodiment Arts Collective


- Indigenous Knowledge Forum of BIONEERS, and in performances on Friday midday at Sunstage, and Sunday midday at Sunstage alon with AudioPharmacy –
with interactive dances for youth and audience participation!
- First weeklong Indigenous Dance Festival at CS East Bay: which included nightly potlucks and cultural dance workshops with Kanyon Sayers-Roods, Powwow and Hoop dance with Eddie Madril, Dancing Earth's Trey Pickett and Justin Giehm, Danza Azteca with Grupo Lluvio Preciosa and culminating festival showcase with Dancing Earth, Kumu Kaui Peralta, Navarrete x Kajiyama Dance Theater, Piñata Dance Collective, Maori Mo Ake Tonu, Neil Marcus & Eric Kupers, Sammay Dizon, Inclusive Interdisciplinary Ensemble, and Taiko drumming!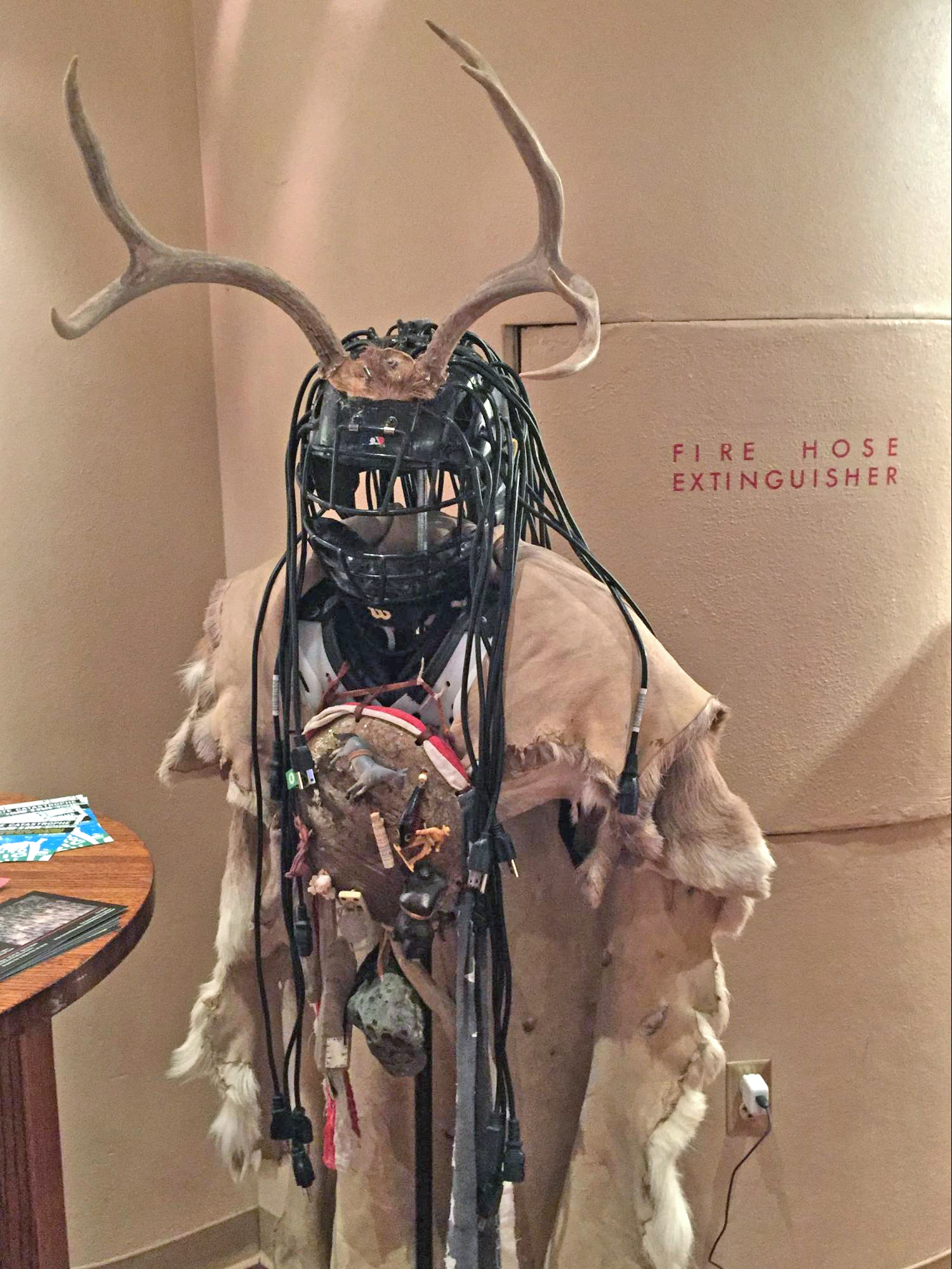 "Having Dancing Earth with us for the entire festival elevated
the discussions, movement explorations, and cultural exchanges to profound levels."


- Eric Kup
ers, Co-Director of CSUEB Indigenous Dance Festival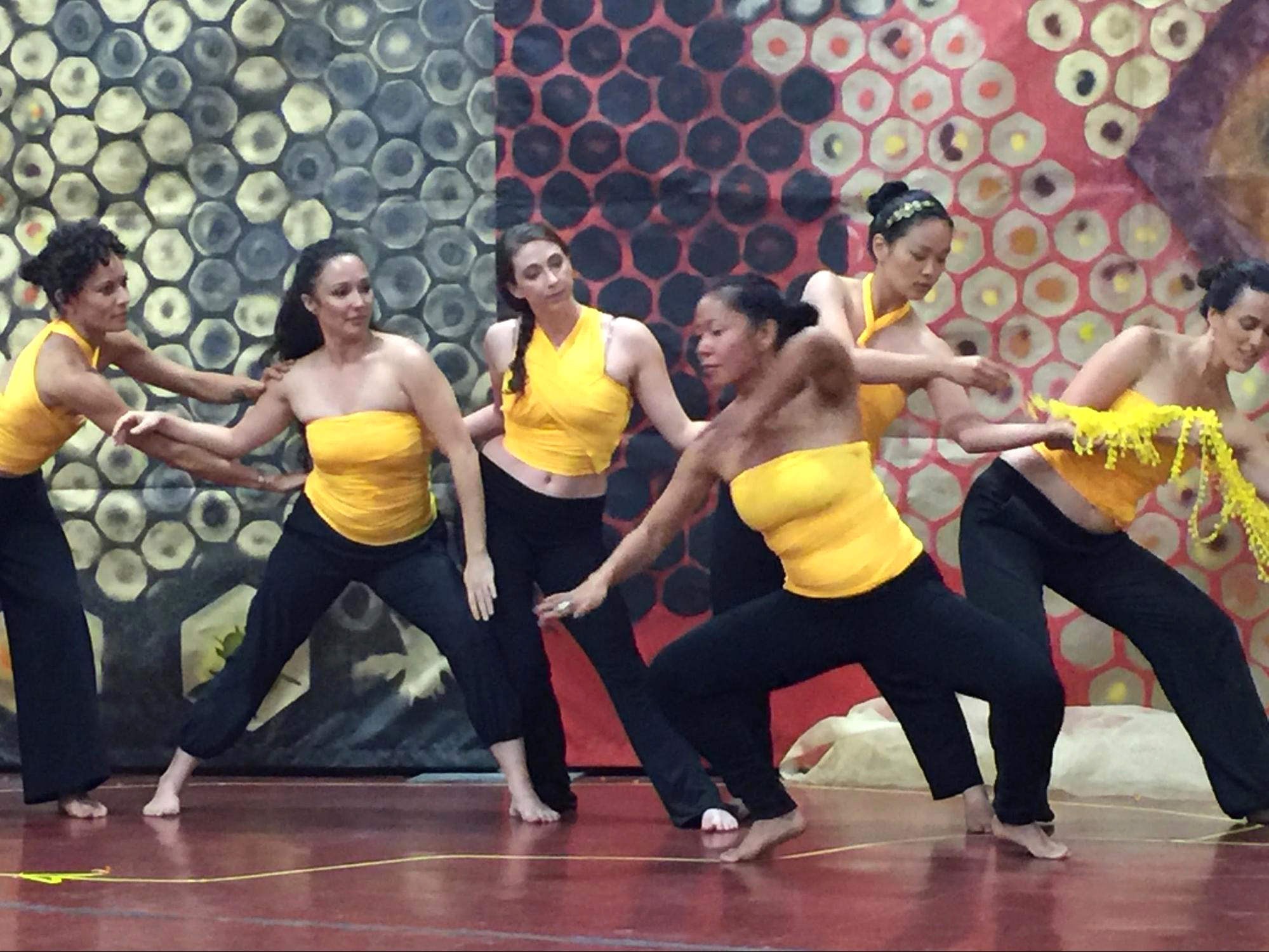 (left) Art installation at Bioneers,
and (right) Anne Pesata as guest dancer with the Bee Dance Project.
On Oct 24, together with Audiopharmacy Prescriptions, Dancing Earth co-presented an all-day festival of cultural exchange and art at Oakland's Lake Merritt. Thanks to a hard-working steering committee of community organizers, dozens of volunteers, and several co-sponsors, we harnessed the power of the

ARTS and INDIGENOUS CULTURAL EXCHANGES

to bridge SF Bay Area Indigenous communities.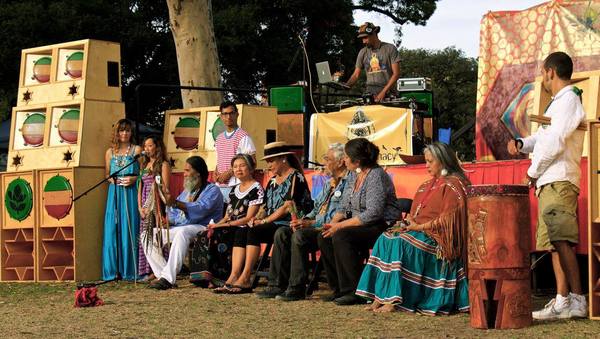 Photo Credit: Nikila Bauda
Highlights included:


- An honoring of Oakland's Intertribal Friendship House, and later of community elders (photo above),
- A community mural, earth mandala, and altar,
- An audiovisual cinema in Lumenscape's geodesic domes,
- A gorgeous Beehive art installation at the mainstage by Alaskan Native Artist David K.
of the inspiring Bee Dance Project,
- Amazing performances by Jennifer Johns, Bangka Canoe Project, choreographers Natalie V. Aceves &
Co., and Sammay Dizon's Spirit of the Streets, as well as Dancing Earth and Audiopharmacy.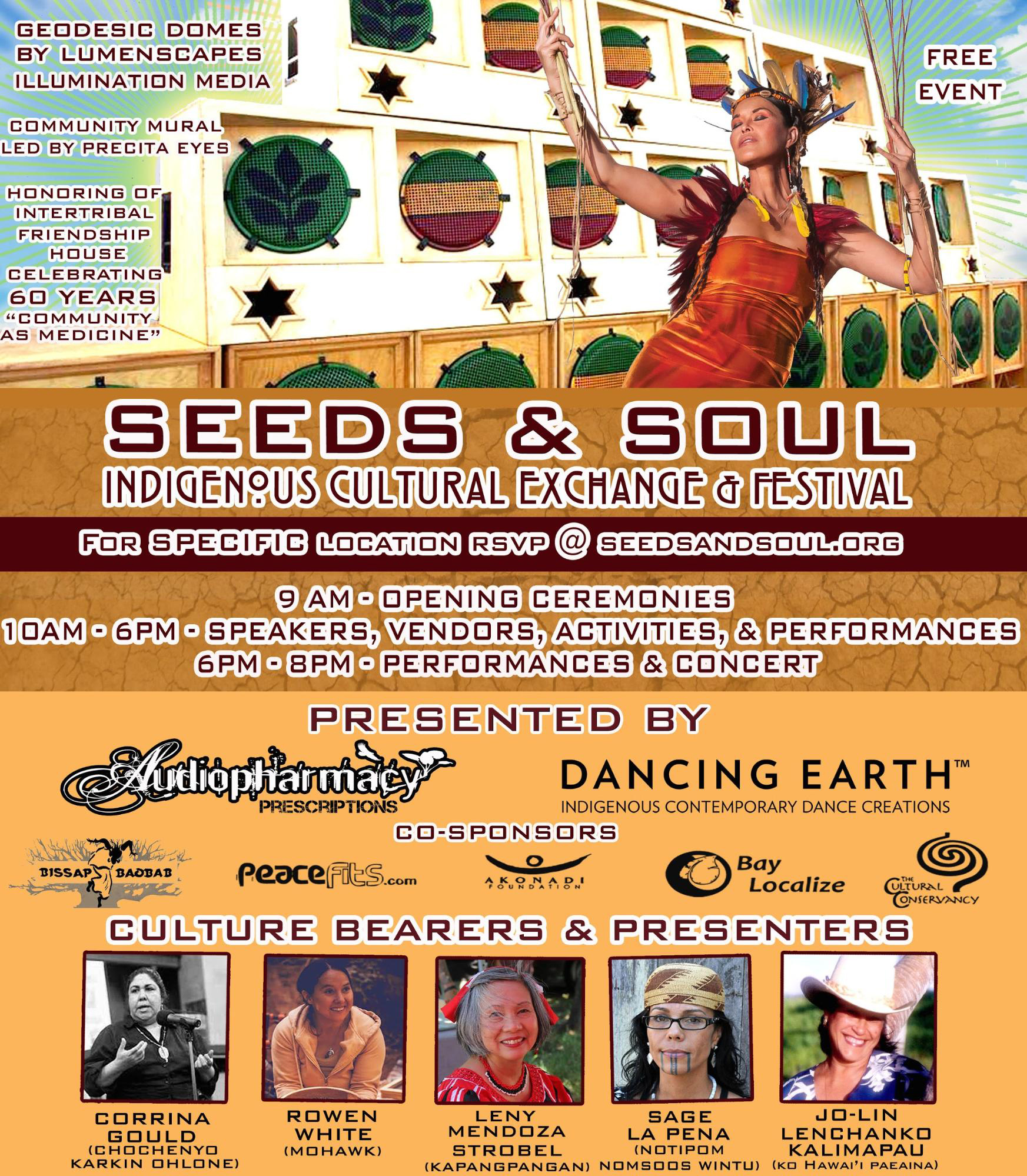 "As a land-based person, I felt honored to be able to tell my story...to have it resonate with people who are hungry for change, and hopeful for the future!"
- Lupita Salazar, DE Company Member & Indigenous Permaculture Student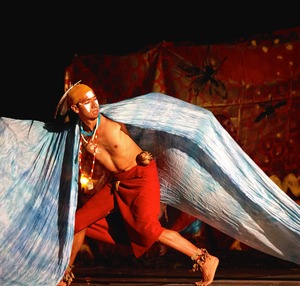 Special thanks to the incredible, heartfelt leadership of Javier Stell-Fresquez, Jo "Love" Cruz, all the volunteers, leaders, artists, speakers, elders and engaged participants!!!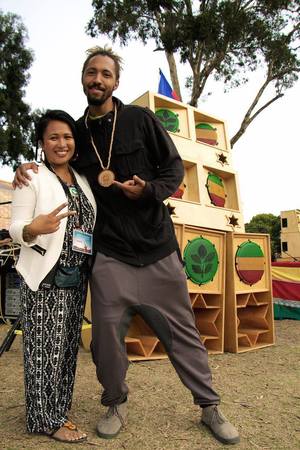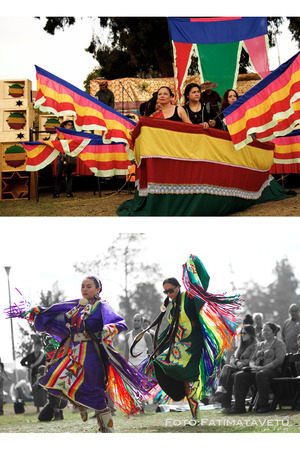 Photo Credits: Left and Top - Nikila Badua
Bottom right - Fatimata Vetu
---
First week of October, Trey Pickett guest teaches for Wingate High School's new Performing Arts program in Gallup, led by Natalie Benally.

Oct 12, Anne Pesata performs her BasketWeavers solo and co-leads a dance and poetry workshop for Buffalo Council's Indigenous Peoples Day event at Ft Lewis College, Durango.

Oct 28 FOOD EVENT at Institute of American Indian Art!

Our 2014 International Artist Ambassadors culture carriers/philosopher/artist /activists María Regina Firmino Castillo and Fidel Tohil Bernal return to NM for the screening of the Jaula de Oro, with Tohil and Bill Savila leading a post film discussion at African American Performing Arts Center in Albq. The film is about a small group of youth migrants from Mexico and Guatemala and the perils they face crossing the border. It is not a documentary, but it Speaks Truths.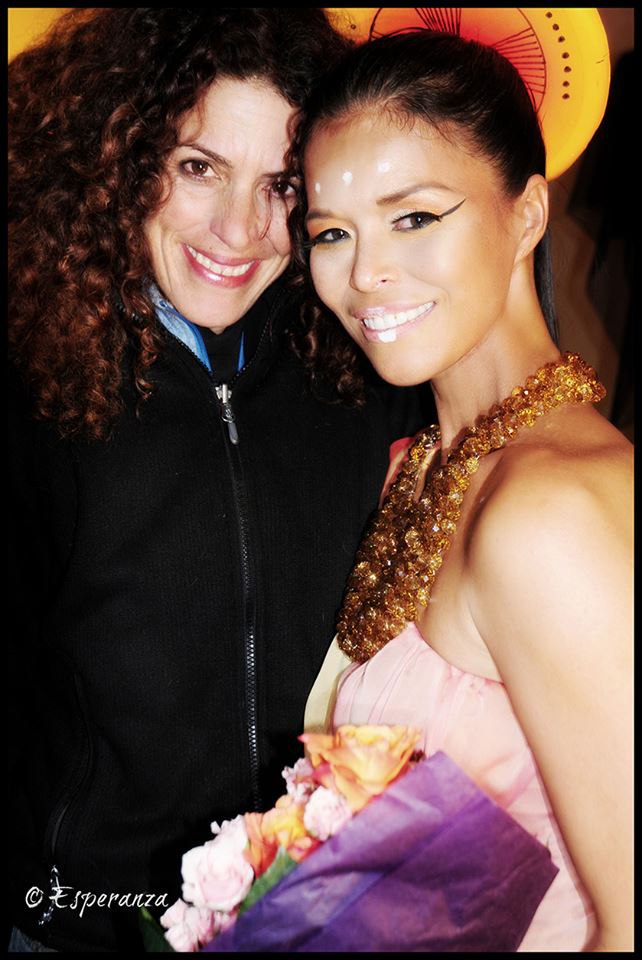 On Oct 29 Mayor Gonzales declares

RIMA MILLER DAY

, on the day of her birth. Here is an image from a few years back, at an event celebrated creativity, directed by designer Randolph Duke, as photographed by Jennifer Esperanza. Rulan says : "Rima, you live forever as one of the worlds' greatest and most playful creatives ! I am thankful that are lives intersected and you continue to impact my life ! with love and gratitude …" (Left image is another creative collaboration with Jennifer Esperanza, and Randolph Duke,
in an event celebrating creativity).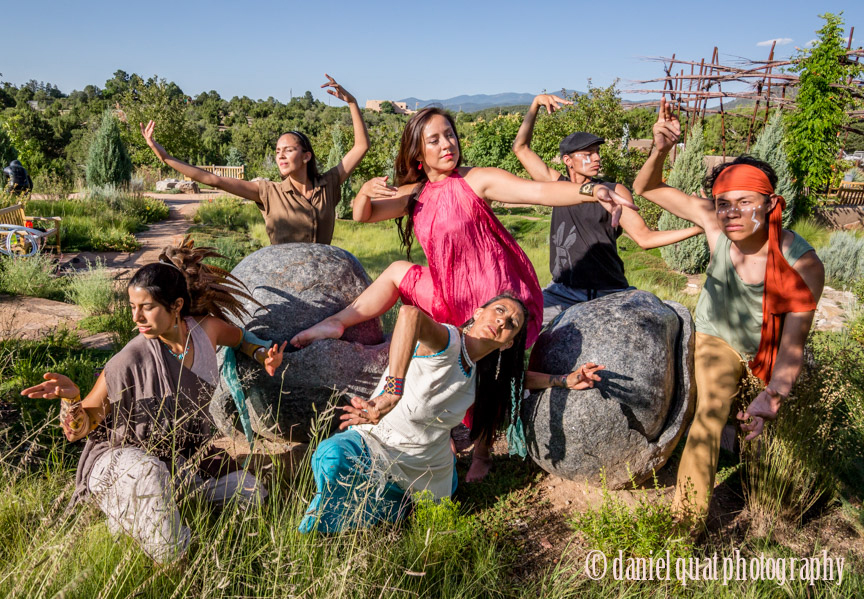 THANK YOU TO Guthrie Miller for housing guest dancers for Summer Institute! Amazing photographers Yoeme Homari. Alicia Ledezma, and Daniel Quat for photo shoots this summer!
(right photo by © Daniel Quat Photography)
Thanks in California to Rosy Simas, Lisa Wymore, Kanyon Sayers-Roods, Desirae Harp, Orlando Begay, Eddie Madril, Anecita Hernandez, Eric Kupers, Cara Romero, AVE and Embodiment Arts Collective! In NM, thanks to Ghost Ranch's Stephen Picha, Grand Canyon Trust's culture carriers, Teahonna James, Academy for the Love of Learning with McCune and Littleglobe!

And Dancing Earth's Lupita Salazar, Anne Pesata, Justin Giehm, Trey Pickett, Daniel Arizmendi, Deollo Johnson, Natalie Benally for an amazing fall season of Re-Generation!

Special thanks to Tom Pinkson for donation in support of our
Bay Area Indigenous Peoples month activities!

THANK YOU TO SAN FRANCISCO ARTS COMMISSION CULTURAL EQUITY PROGRAM
for support of our Bay Area workshops!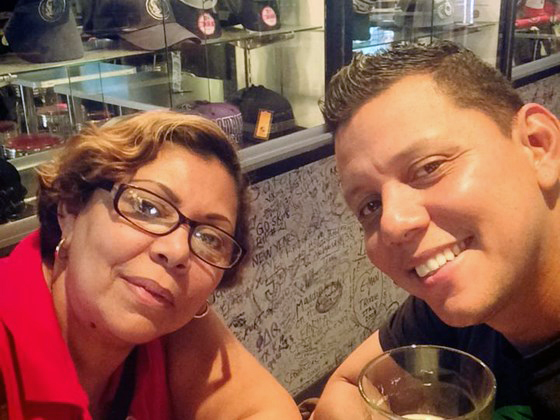 A personal note:
Family of Jesus Jacoh Cortes director of our associate Bay Area dance training program . The beloved mama of Jacoh – has overcome many challenges in her life, and having her initial cancer surgery is now courageously facing chemotherapy which some of you out there know is very very very expensive. She is continuing to work full time, as she has her whole life, so she can keep paying towards her treatment.
Please consider giving some support to this beloved and brave woman.

Friends, many of you have asked me how to best support Cancer patients, veterans and families impacted by this terrible disease. I have been vocal about my critique of the Pink Ribbon campaigns, asking people to do their research about the items/foundations that claim to benefit research (look at the percentage of the overall profits actually go to research).

What I see is the physical, emotional, psychological and financial devastation that face families in this situation and I suggested going to your nearest cancer ward and dropping off twenty dollars, or asking coordinators if you can donate to someone who needs help paying for their treatment, or make a homemade meal, or leave a voucher for groceries or gas, or sit with someone who is alone during their chemotherapy…
This is a very personal alternative to buying Pink Ribbon paraphernalia that is toxic, carcinogenic, and a highly commercialized, exploitive, sexualized campaign that dollar for dollar doesn't support enough research or support of cancer patients, in most cases…