We close this year

with sense of solemnity and urgency, with our Tech Director Robbie Pino out at Oceti Sakowin / Standing Rock at the Two Spirit camp helping build and winterize structure structures alongside many of our friends and relatives, as water protectors face pepper spray, rubber bullets, below freezing temperatures water cannons in protection of water.

We have been dancing tirelessly on behalf of water and seeds since 2012, with lived cultural research in the decades beforehand, and are grateful for inter-tribal elders to trust in the special artistic gifts of Dancing Earth to interpret important cultural-ecological themes.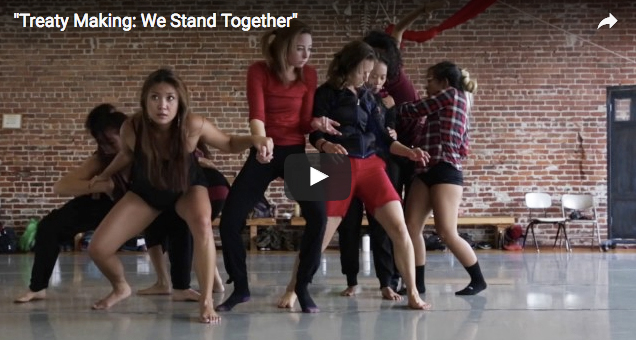 We recently initiated a Bay Area project of
TREATY MAKING,
previewed at Bioneers conference in Marin County CA on the lawn at sunset, and at Congress for Research in Dance in Pomona CA with volunteer dancers drawn from attendees. This inter-cultural work gathered dance allies of various backgrounds to stand together, uniting in embodied prayers and actions on behalf of water and land. We incorporate into soundtrack the Indigenous Womens Treaty Defending Mother Earth (as spoken by our beloved elders Pennie Opal Plant and Casey Horinek Camp - recently arrested and held in dog kennel at Standing Rock), a poem about the 'Black Snake' recorded on site at Standing Rock (Collective work credit: Cannupa Hanska Luger, Dylan Mclaughlin, Ginger Dunnill, Merritt Johnson, Nicholas Galani), and harmonies of women's voices from countries whose policies are not harmonious.

The Treaty Making project is activated by amazing Bay Area dancers: Christine Ferrer, Lydia Neff, Jordin Dudas, Ashley LeBlanc, Andreina Maldonado, Cristina Leyva, Jade Whaanga, Sammay Dizon, Natalie Aceves-ghezzi, Javier Stell-Fresquez.
PLEASE STAND WITH US TO


SUPPORT THIS INITIATIVE!
If you are in Bay Area, please attend on Dec 11's IN evening of the Festival for Latino Contemporary Choreographers at Dance Mission, tickets at www.flaccdanza.org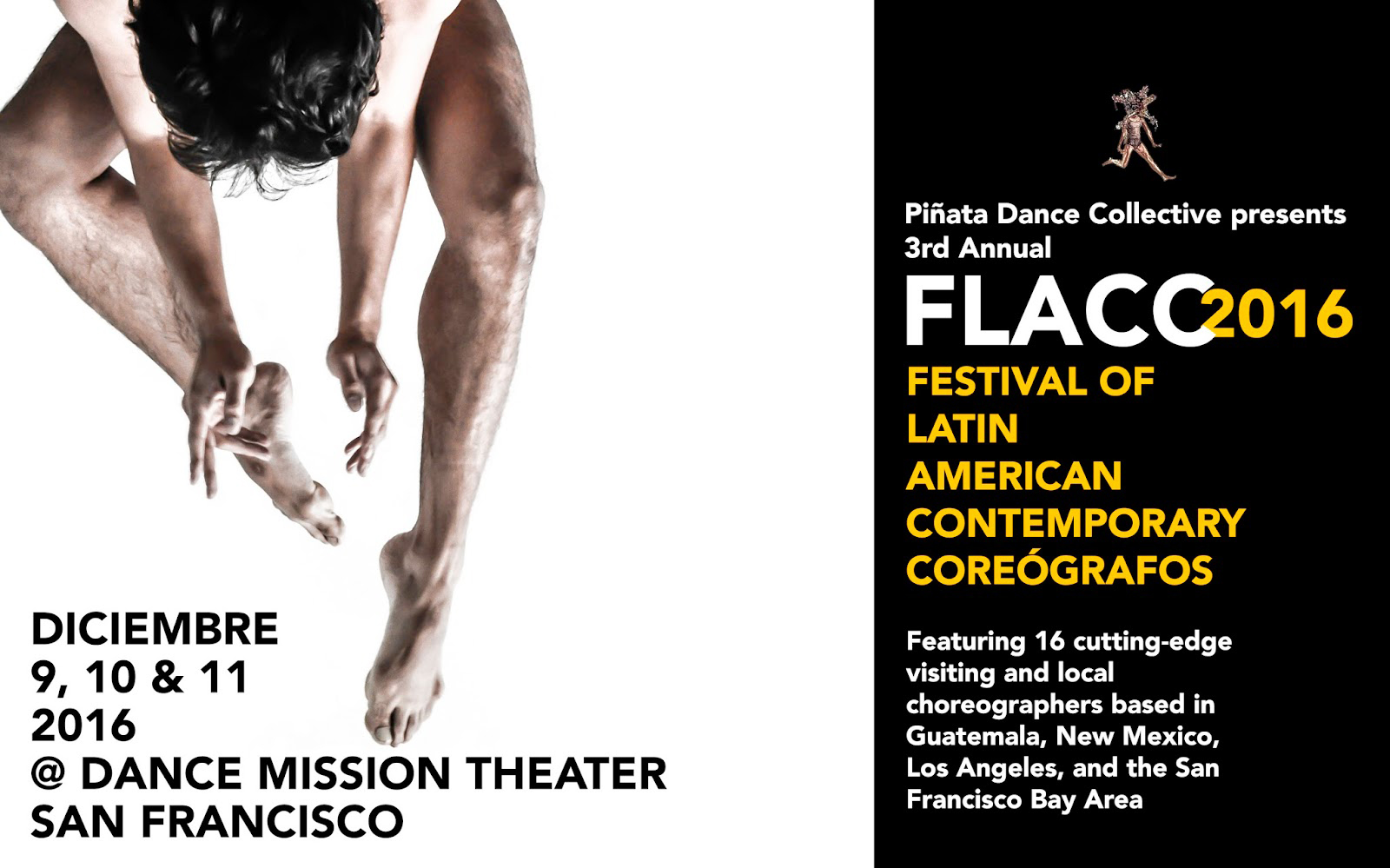 IN THE LAST MONTH,


We have been Staying in Motion!
We were on the road sharing our vision at Crystal Bridges Art Museum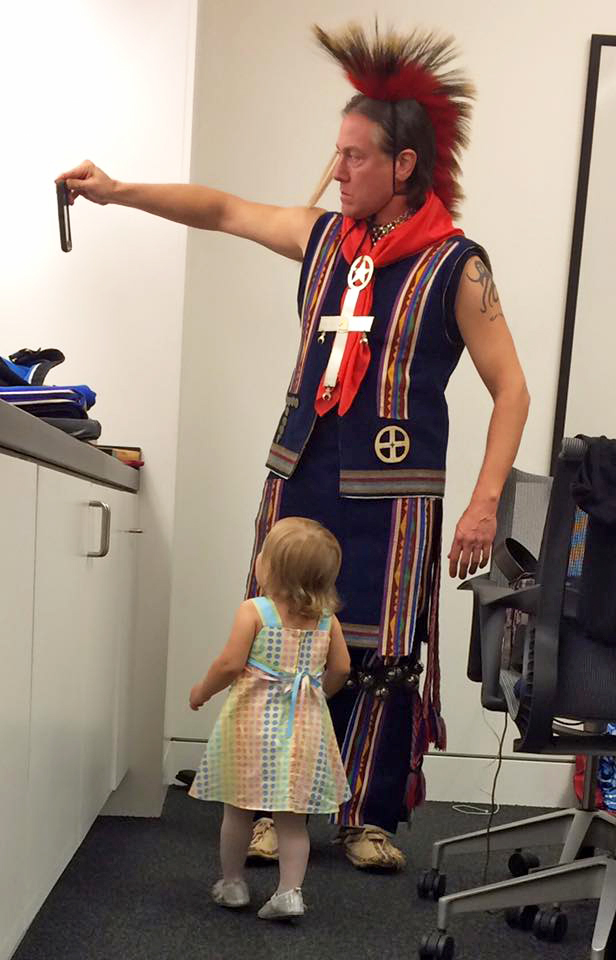 in Arkansas - an amazing site designed by architect Moshe Safdie, with a Frank Lloyd Wright structure on site that had a SEED stencil motif, as well as a James Turrell installation that brings the eye to the skyworld. The theater space was shaped like a turtle, and surrounded by water, thus we were renewing Eastern woodland creation stories of "Dancing on our turtle's back" - Leanne Simpson.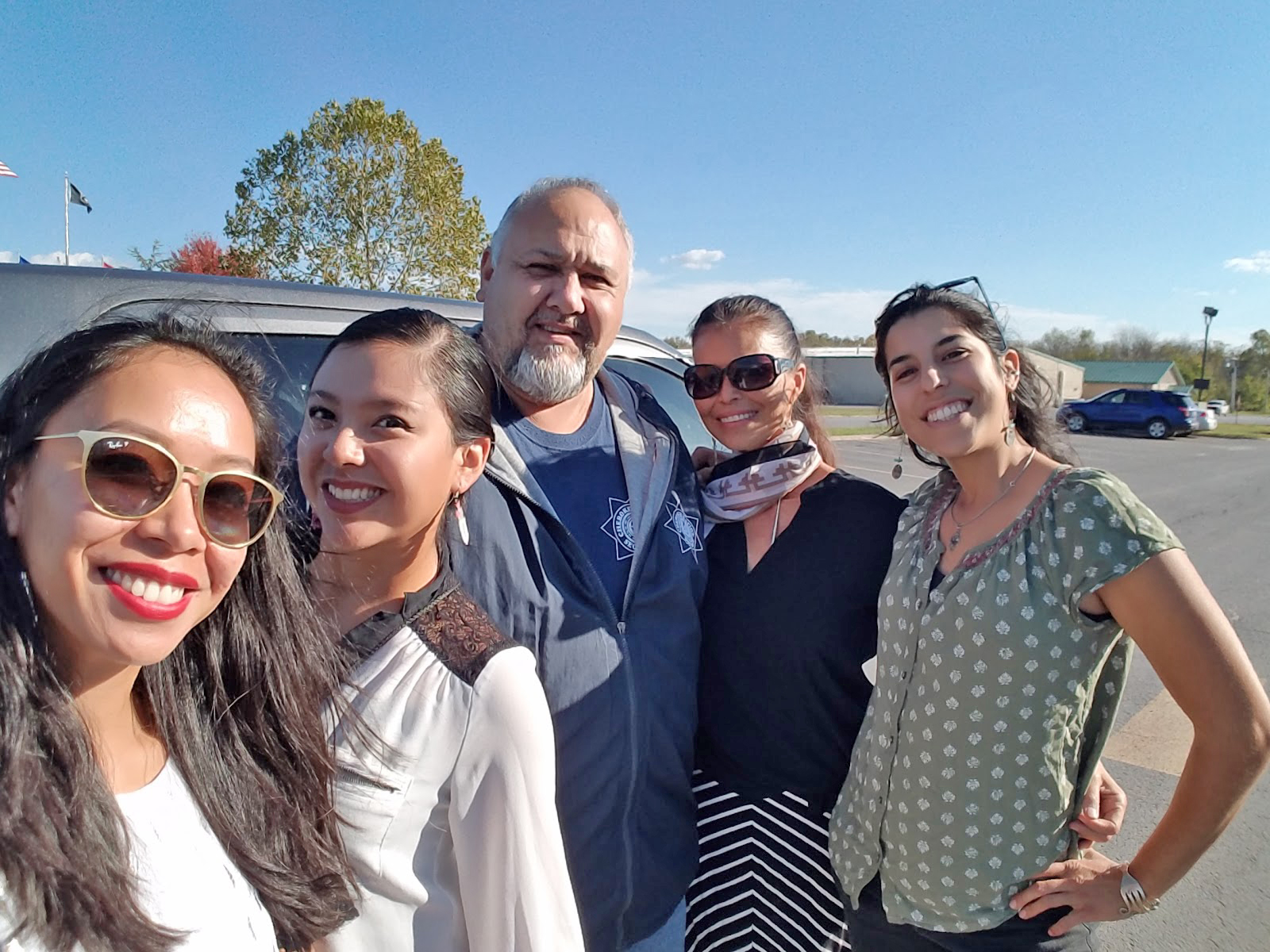 We met Jerry Ross to whom we offered cultural protocols at Tahlequah Oklahoma Cherokee tribal center, as well as our friend Russ Tallchief of the Osage original land stewards of the area. We were invited as as part of the incredible exhibition, "The Art of American Dance" which is a must see, with paintin
gs, sculptures, photographs and live performances by amazing dance comp
anies! We were very proud to be selected to represent.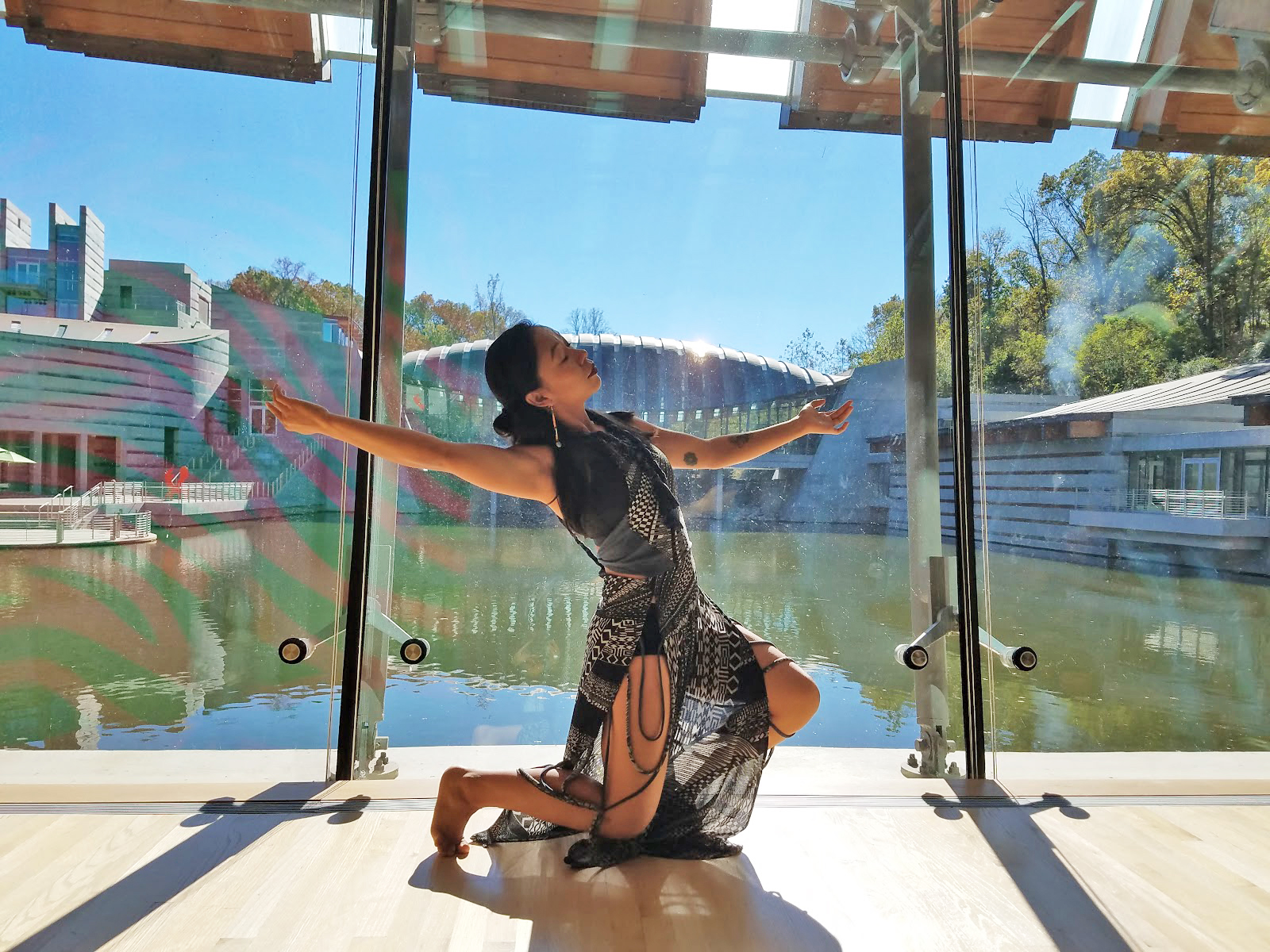 Anne Pesata performers 'Basket Weaver' solo in 21st
century bridge gallery at Crystal Bridges Museum of American Art.

Drawings from interdisciplinary activities with local college students at the exhibit. Thank you Sara and Brady for our awesome first visit to Arkansas, and we look forward to returning to Crystal Bridges in 2018, which connects with the Trail of Tears, and we hope to to create a site immersive work including local Osage and Cherokee consultation!
We participated in panels, workshops and performances in Southern California at UC Riverside's Indigenous Choreographers Symposium at Culver Art Center, and Congress for Research in Dance at Pomona with brilliant artists and academics involved in the Indigenous dance field. Below images were from a visit to Sherman High School, hosted by amazing intertribal student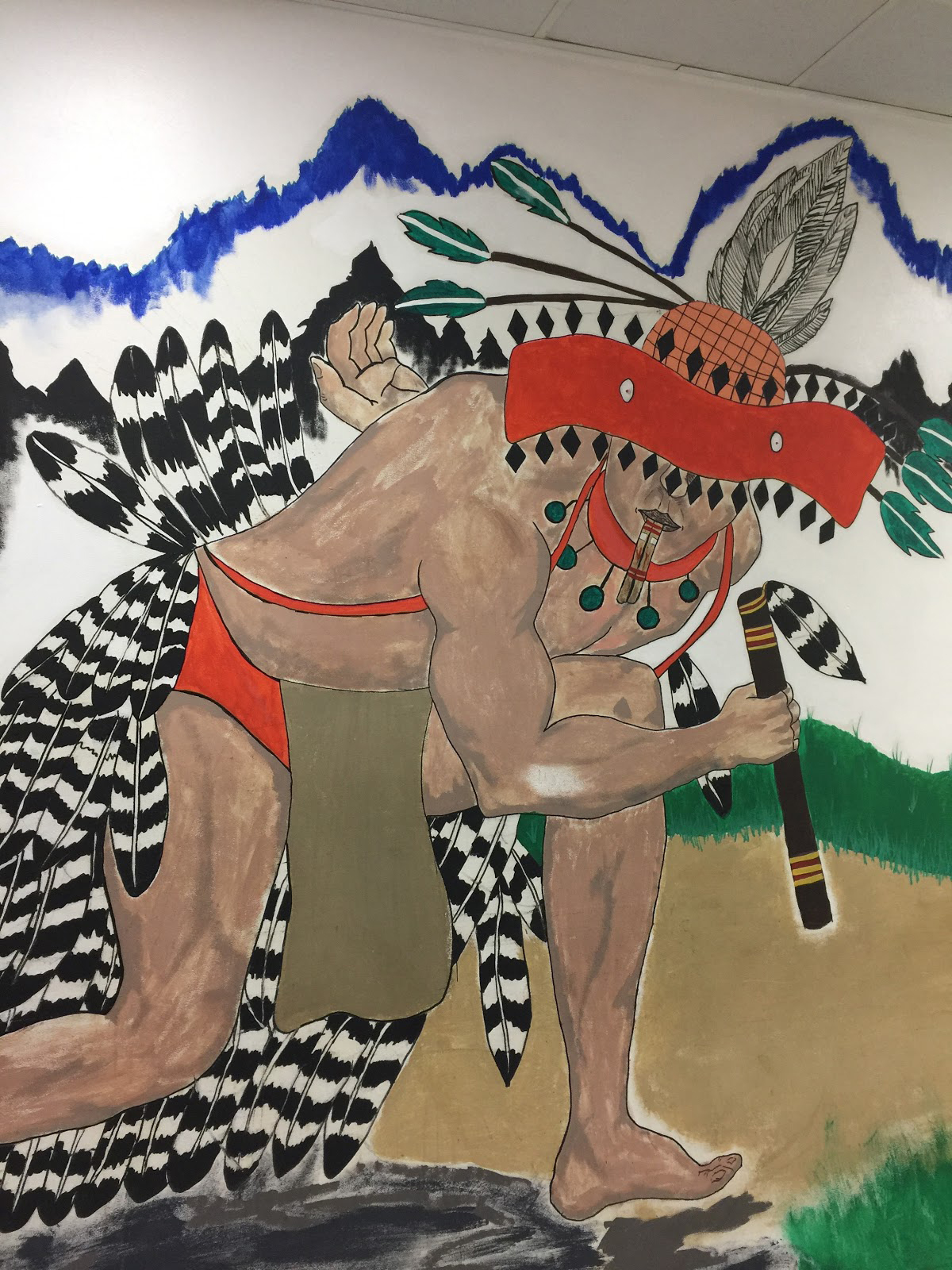 s!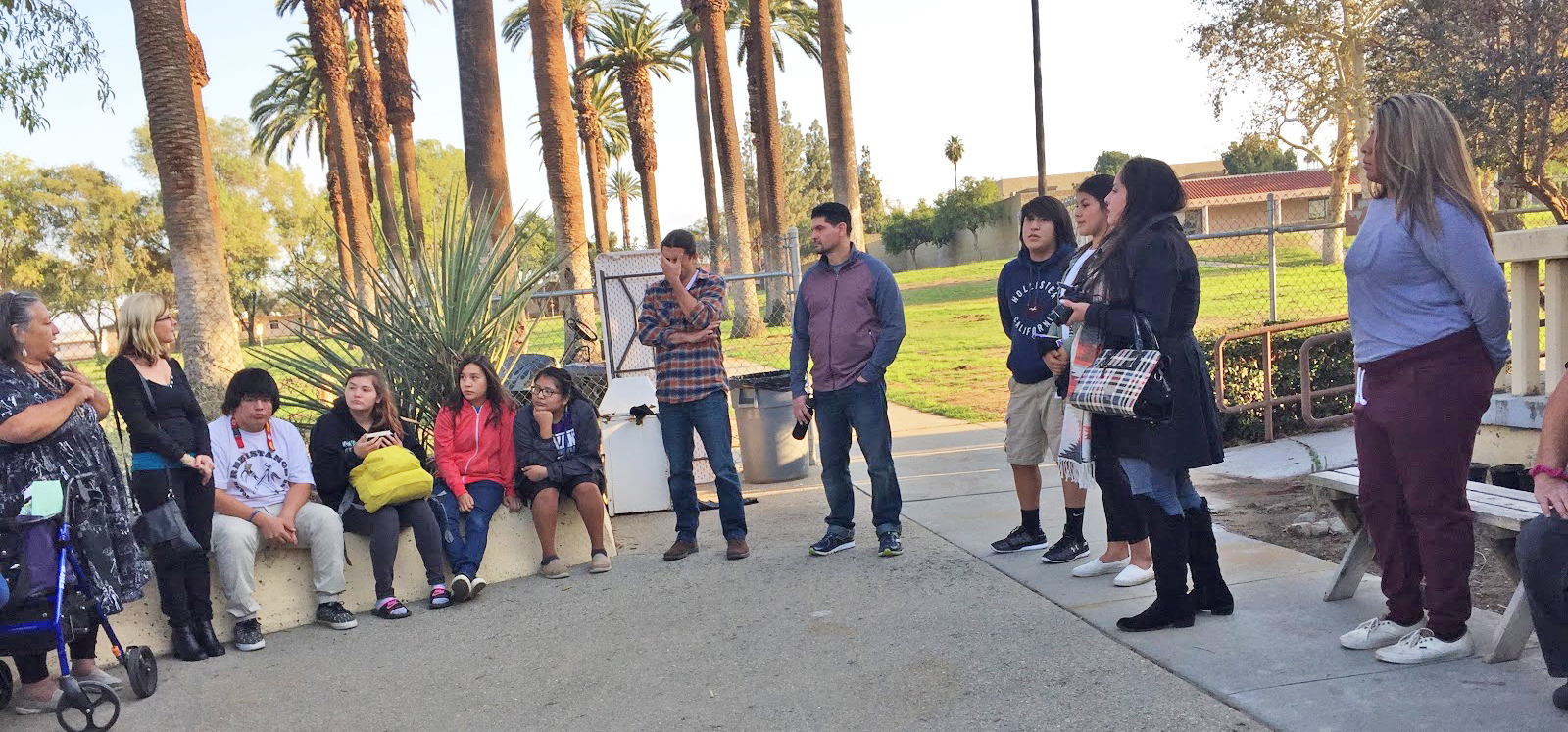 On the critical date of November 8th, sharing with 200 international intertribal elders including those who have nourished

"...SEEDS RE:GENERATION.."

by sharing their stories, at Buffalo Thunder resort for the Indigenous Peoples Gathering for Healthy Communities, Culture, and Climate.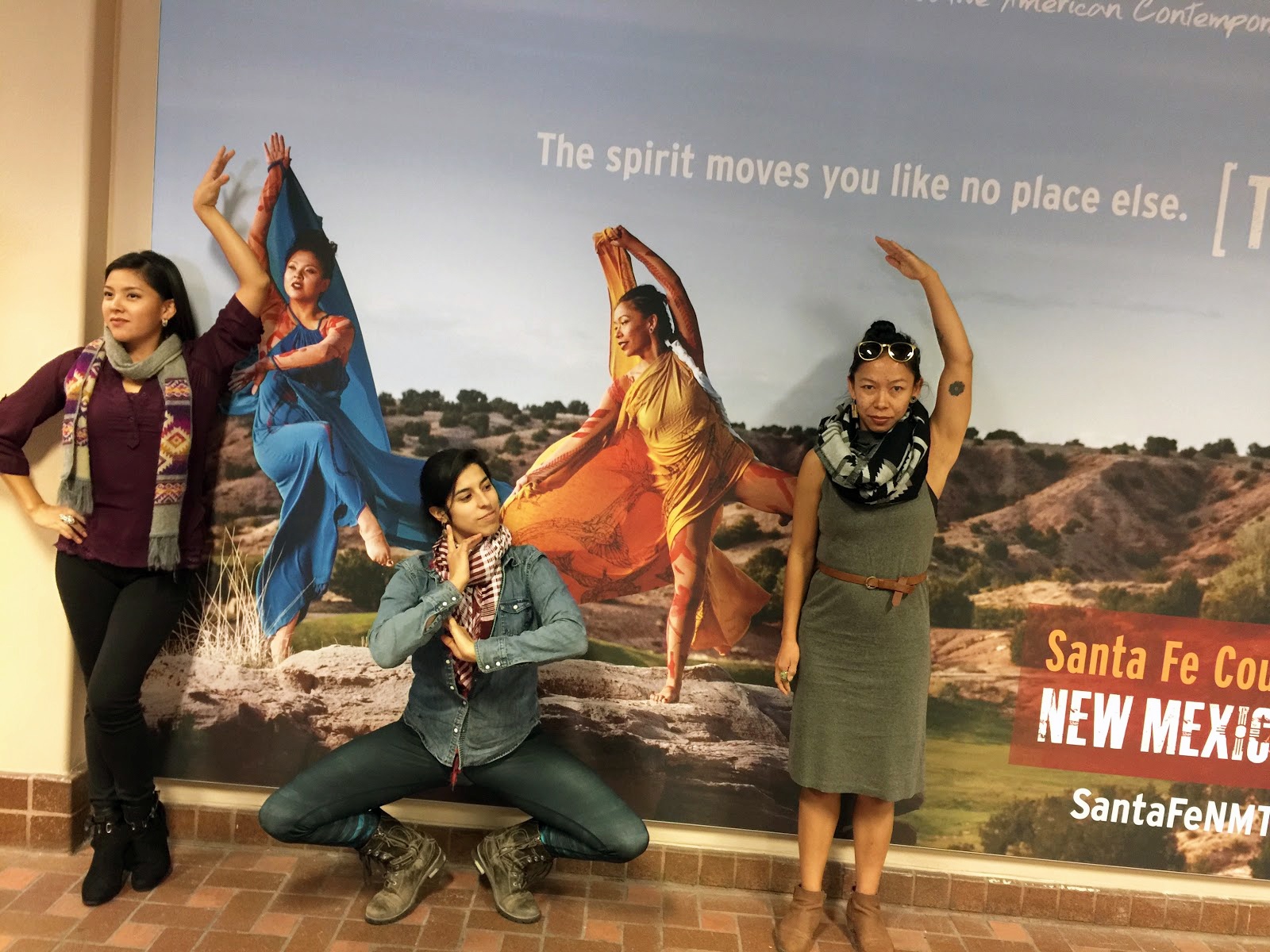 Getting home to Albuquerque airport, ran into OURSELVES at Southwest baggage claim - a life size poster for New Mexico True - "...spirit moves you …"
2016 was the year of
"...SEEDS : RE GENERATION..."
Led by Rulan, Anne, Lupita and Natalie and premiering with full cast in Four Corners region in the fall, with generous support of the National Dance Project.
We fulfilled our intentions of sharing our powerful and transformative work through Summer Institute at Ghost Ranch, Indigenous Womens Arts Leadership retreat at Academy for Love of Learning, Nurturing the Source project with Roxanne Swentzel's Flowering Tree Permaculture Institute through Catalyst Initiative, Waawiyekidewin ("We Stand Together" in Ontario Canada), the incredible convening of artists for A BLADE OF GRASS fellowship in New York City (awarded to Director Rulan Tangen), and performances, workshops, conferences in panels around the US and beyond including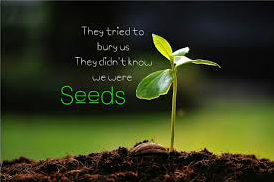 Nor
thern and Southern California, Canada, Oregon, 17 sites in Arizona, several locations in the Four
Corners areas of New Mexico and Colorado, as well as an unforgettable invitation by Sami people for cultural exchange and performance at the RIDDU RIDDU Festival in Northern Norway.
Since summer, people have been responding that our work seems more crucially relevant than ever, with developments of Standing Rock and the elections. We will move forward as artist - visionaries, taking to heart the charge to create the needed contemporary rituals for socio-ecological transformation. Now, more than ever, we welcome your support to sustain our programming which includes tireless community inter-cultural engagement through workshops, lectures, master classes, performance touring, collaborations creation of new work and our important Summer Institute which cultivates cultural artist-leaders.
---
Heartfelt thanks to all the amazing donors who have contributed to our Bay Area project crowdsourcing including Mitra Lujan.

We give special thanks to led by our amazing team Christina Leyva and David Karabelnikoff, Jade Whaanga and Javier Stell-Fresquez, as well as the generous Joana Cruz and Bissap Baobab for a delicious fundraising dinner!

Also many many thanks to: Susan Foster, Daniel Banks, Matthew Chase Daniels, Nara Shedd, Jane Kennedy, Alexandra Riggs, Ellen Tangen, Jacqueline Shea Murphy, Kathryn Sipowicz, Leny Strobel, Philip Miller, Deborah Plaza, Keryn Taylor.

We acknowledge our work has been made possible with additional support since 2015 from Catalyst Initiative, Arts for Social Change Award from Arts and Healing Network, McCune Charitable Foundation of New Mexico, US Embassy to Norway, Mid Atlantic Arts Foundation, USArtists International, and all our kind donors and supporters! We deeply appreciate additional volunteer, administrative and/or financial support from Lee Ann and Marshall Hunt, Randolph Duke, Kate Sweetser, Gabriela Perky, Maria Firmino Castillo, Liz Cameron, Michele LaRoe, Almah Rice, Jennifer Kilbourne, Solar Banner, Alma Rosa, Mitra Lujan, Intersection for the Arts, New Mexico Dance Coalition, Indigenous Arts Institute, Seth Fried, Rima Miller, Daniel Banks, Guthrie Miller, Amy Westphal and Michael Lujan, Pearl Potts, Alicia Piller, Angie Rizzo, Ezra and Sonia Leyba and Catalyst Water, Roshi Joan Halifax of Upaya Zen Center, Heryka Miranda, Javier Stell-Fresquez, Tamela Uzzetta, and our wonderful new agent and ally Andre Bouchard at Walrus Arts Management.

We are blessed for a continued relationship with Durango, Fort Lewis College and Concert Hall since 2011, with community calling us to return last year after the Animas River mining spill, to which we initially dedicated this performance, with additional intention as a functional ritual of transformation for other sources of sacred water and lands, including dancing our prayers in solidarity with friends, relatives and allies at Standing Rock in support of No Dakota Access Pipeline.
For more info and to take action please view this link and consider signing this petition at
www.change.org/p/jo-ellen-darcy-stop-the-dakota-access-pipeline