Caption: Rulan Tangen, 2016 Riddu Riddu Festival, Norway. Photo credit: Eirin Roseneng
SUMMER NEWS!
About our powerful cultural exchange and performance tour to




Sami and other Indigenous peoples of Sub Arctic Circle:




Connecting to Spiritual and Sisterly Hope!




Our amazing upcoming Summer Institute!




Get inspired by our August & September performances in New Mexico & Durango!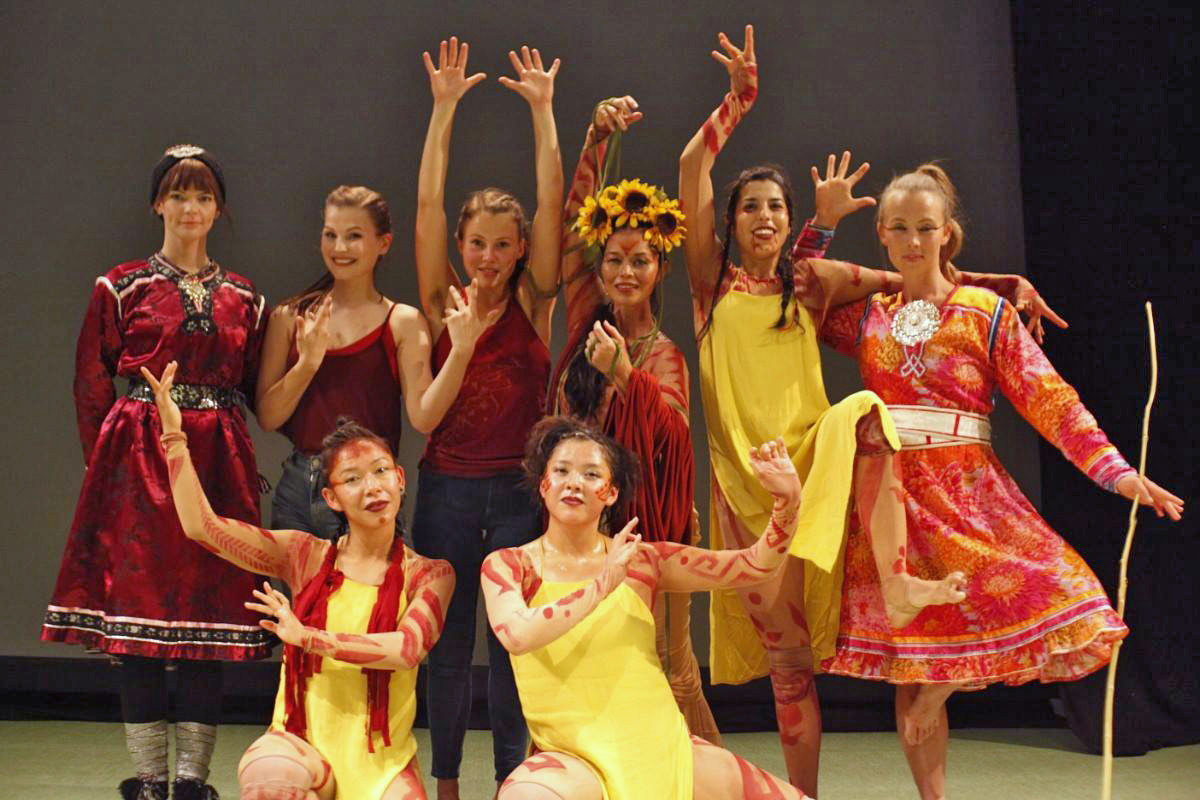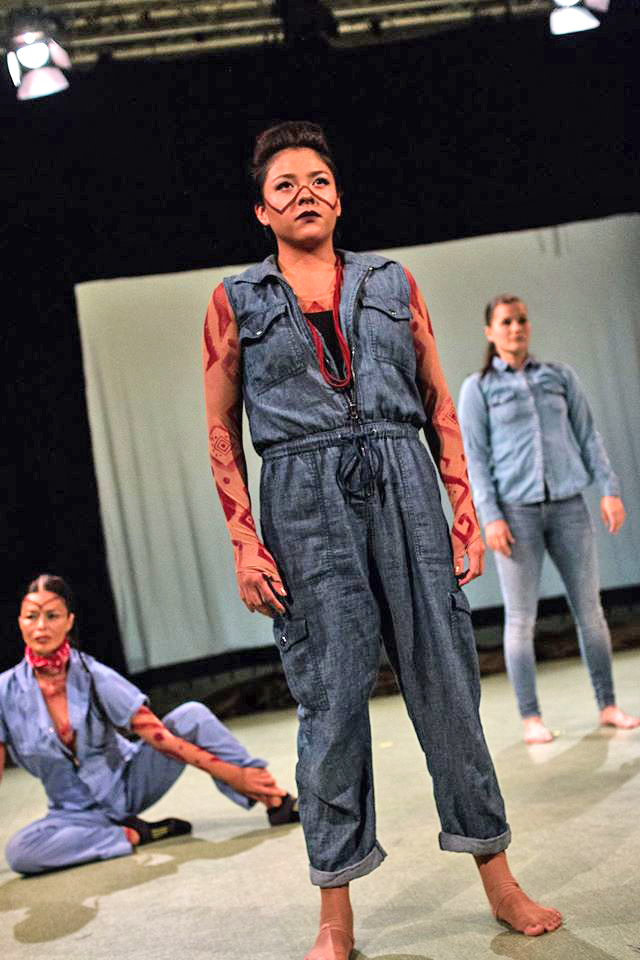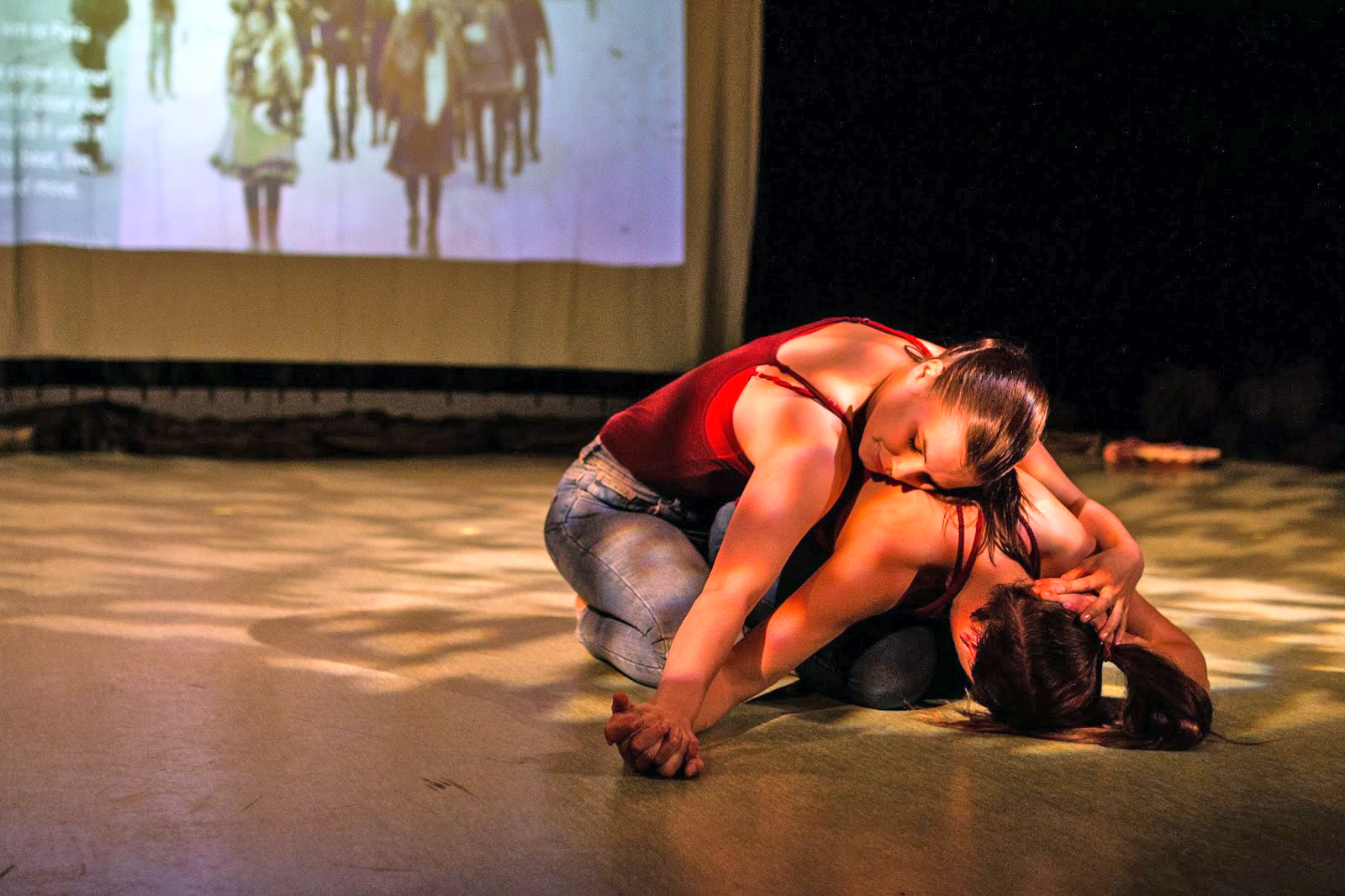 LEFT Caption: The cast of Dancing Earth with our amazing Sami collaborators after the performance at,
2016 Riddu Riddu Festival, Norway. Photo credit: Siv Eli Vuolab
CENTER Caption:
Dancing Earth's Rulan Tangen, Natalie Benally and
guest Marte Fjellheim, 2016 Riddu Riddu Festival, Norway. Photo credit: Eirin Roseneng
RIGHT Caption: Dancing Earth's guest artists Marte Fjellheim and Sarakka Gaup, Riddu Riddu Festival, Norway.
Photo credit: Eirin Rosining
Dancing Earth arrived to the fjords and mountains of Oimalvaggi, Sami territory in the sub arctic circle of Northern Norway, to a beautiful ceremony of
cultural protocols and welcome with Sami women who soon
became our sisters, collaborators and co-conspirators!

This small Sami village of 700 started a few decades with a barbecue, deciding that they wanted to do something to remind themselves about being Sami and being proud. This evolved into a powerful international indigenous arts festival: Riddu Riddu. According to the Festival website, this phrase translates to "little storm on the coast." It also "The has a focus on Sámi and Indigenous people's art and culture with a diverse program for children, youth and adults; like music, films, seminars, workshops, art, literature and theatre." To find out more information, please visit the Festival website at: http://riddu.no/en.
Caption: María Regina Firmino Castillo, Rulan Tange, Sarakka Gaup, Anne Pesata, Natalie Benally and Lupita Salazar, Outdoors at the Riddu Riddu Festival, Norway. Photo credit: Rulan Tangen
Dancing Earth was so proud to be invited to collaborate with Sami artists to create a version of our SEED: REd GENERATION performance that builds
relationship with
Sami people by including local cultural and creative perspectives.
Our sisters included the
extraordinary songstress Sofia Jannok - a fierce 'snow
lioness!'; the vibrant Sarakka Gaup of Giron Theater (both these women were at the front lines of the Indigenous protests at COP21 Paris); and Marte Fjellheim, a remarkable dancer.
Caption: This photo shows some of our collaborators and inspiration … The voices of Casey (front and center), and Pennie Opal Plant are featured in REd GENERATION speaking the text of the first Indigenous Women's Treaty Defending Mother Earth (as co-authors), with Sofia and Sarakka on far right of photo, from Paris COP21 Summit.
We were overwhelmed with the rich cultural offerings : the reindeer stew, the brilliance of international Indigenous performers and artists from Mongolia, Taiwan, and Scandinavia. Our cultural exchange included a 3Hr hike up to sacred rock, visit to fjords where we saw a whale - Natalie had opportunity to speak 'whale' as learned from her role as Dory in the Navajo language version of "Finding Nemo!", and we had a dip in glacial melt water where we offered songs, prayers and smoke of copal. Here is what Cultural Artist Ambassador Natalie had to say: "I've never experienced such a diverse multidisciplinary, celebration or gathering in my life as I did at RIDDU RIDDU festival. I met so many artists in so many artforms working hard to make a difference in this world. I've been inspired."
Our three performances had lines outside the door, with potential audiences turned away even with extra seating on floor. We are especially happy that we presented a special show for international students from 8 countries, which garnered response from a Russian Indigenous woman in the form of a beautiful song offered in her language!

Impressions from the audience included these words from H Kim Naysaether: "… this year, my heart has been touched in a way I never have felt before <3 The first experience was under Riddu Riddu, Dancing Earth the world renowned indigenous dance company, with collaboration with the young Sapmi ladies Marte Fjellheim Sara and Sarakka Gaup. This strong and inspiring performance, calling the woman to stand up for mother Earth, waken the spirit and the power was so touching and magical. Dancing Earth's message is so important, special in this time."
From one of our amazing Sami collaborators:
"To work with Dancing Earth, was life changing for me. With their love, energy and visions I refound political, spiritual and sisterly hope again. We have a tie just by being indigenous peoples. And to work political true movements, words and songs is maybe the most powerful weapon I will ever hold.
As a Saami actor and indigenous culture carrier, I found so much power in
our
work together with Dancing Earth in Olmmáivággi, Sápmi. To share worries, hopes, visions and common vs. new traditions with persons who after just som
e days felt like family, is worth living for! Our spirituality lives on, the love for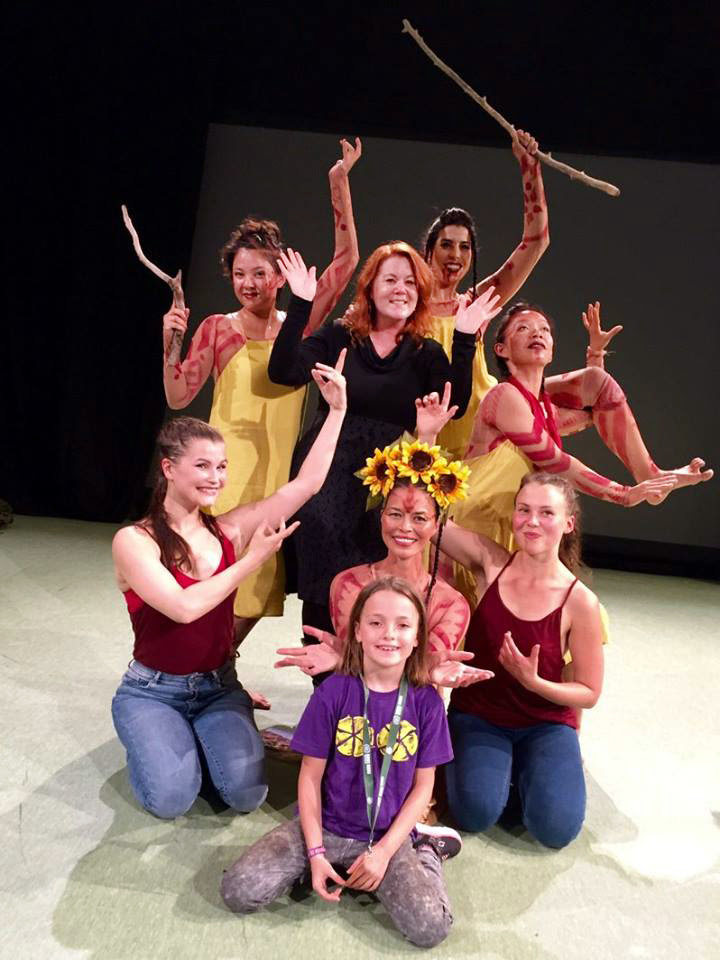 nature is not forgotten and together we are stronger than them."
-
Sarakka Gaup, Giron Theater, 2016 Riddu Riddu Festival
We send love and gratitude to All the amazing staff, volunteers, incredible international indigenous artists, and new friends made at Riddu Riddu - including Sofia, Sarakka, Marte, Rita, Karoline, Mama Riddu, Geir Ivar, Kristoffer, Ragne, Hans, Ragnhild.
We would also like to thank and acknowledge The Social Justice Research Grant of the California Institute of Integral Studies' Student Alliance for funding Dancing Earth dancer, María Regina Firmino-Castillo, and empowering her to be able to attend.
Caption: Dancing Earth performers, Sami performers and Public Affairs Officer Laura Gritzfrom the U.S. Embassy in Oslo. - in Oimalvaggi, Tromso.
---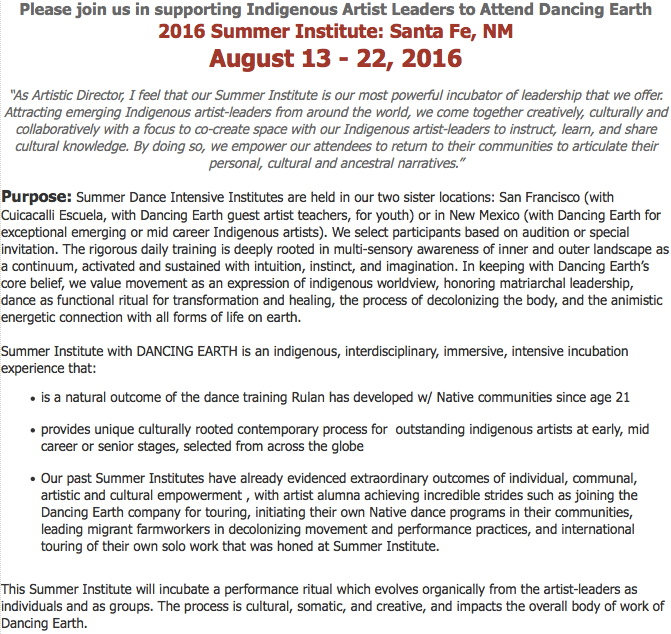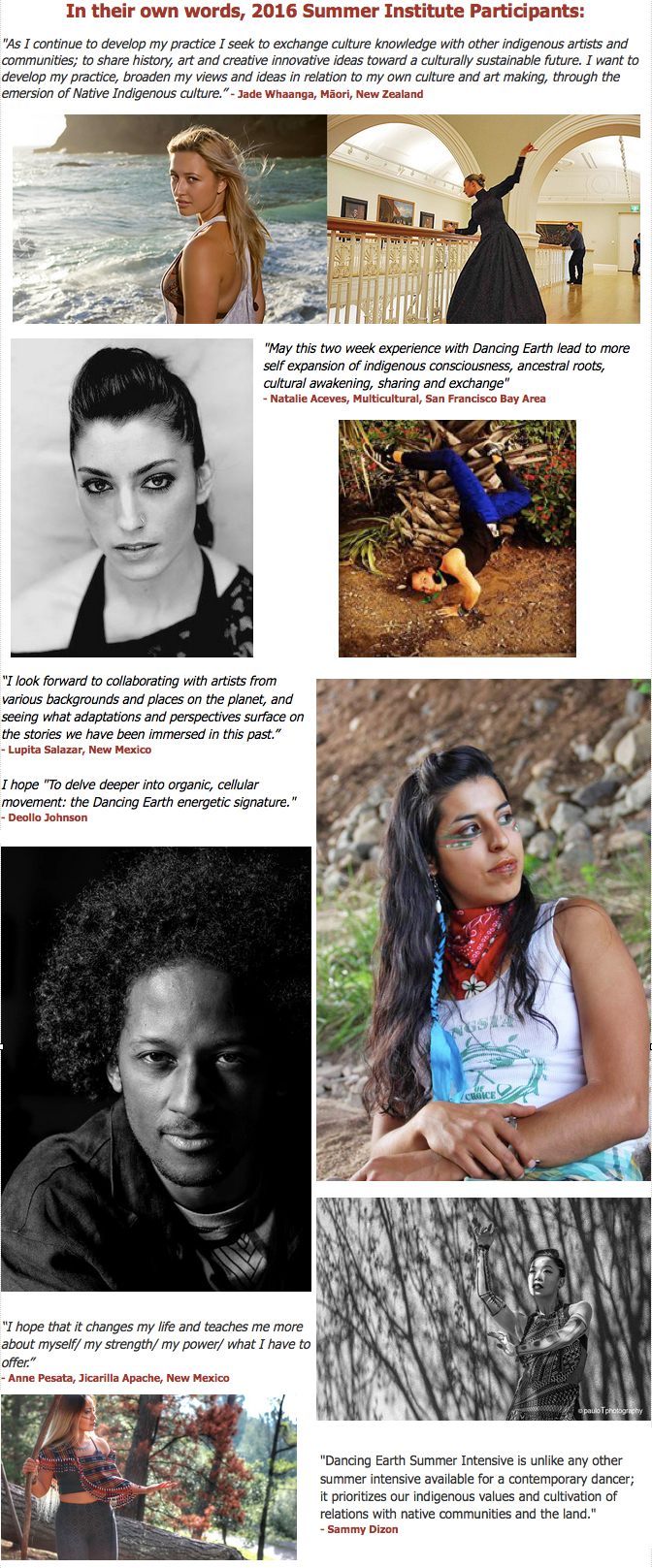 ---

NEXT MONTH:
TWO SPECIAL PERFORMANCE OFFERINGS FOR
OUR NEW MEXICO CIRCLE!
Acclaimed innovative inter-tribal contemporary dance ensemble of DANCING EARTH is led by Founding Artistic Director/Choreographer Rulan Tangen, offering a collaborative creative response to artist Cannupa Hanska Luger's work and words "...expresses natural through scale of universal ... interprets landscape and draws upon intercultural manifestation of nature through matriarchal forms.. the whole is more important that the sum of its parts .. "

DANCING EARTH welcomes cultural arts lovers to enter into a sensory world of body mind and spirit. This special 60min performance features a spellbinding visions, excerpts from RE(d)GENERATION; recently selected to represent First Nations of North America at the Riddu Riddu Festival in Norway. Created organically from powerful seeds of ancestral knowledge shared by inter-tribal elders, dances emerge from Cannupa's sculpture in a cycle of rebirth and renewal. Wine and refreshments to be served.

Donor events like this one are vital to artists; not only do they help support CCA exhibitions & programming, but specifically Dancing Earth. Dancing Earth creates from the ground up, making the costumes, generating promotional materials, and booking their own concerts. Donations allow Dancing Earth to continue to thrive here in Santa Fe, NM.
7 PM - 9 PM | $20 Advance, $25 at Door
Acclaimed innovative inter-tribal contemporary dance ensemble o
f DANCING EARTH is led by Founding Artistic Director/Choreographer Rulan Tangen, offering a collaborative creative response to artist Cannupa Hanska Luger's work and words: "... a fluidity of the human experience ... how diverse individuality reacts to a larger social structure. How society regardless of technological achievement, remains dependent on materials provided by the universe."
The international indigenous improvisers of DANCING EARTH perform a multi-sensory & interactive, mobile performance. This immersive experience will also involve seed exchange, live music, & spoken word.
photo of © Daniel Quat Photography
COMING SOON
We have very exciting news that we will share in the next newsletter about National recognition for our USA premiere of full length version of … : SEEDS.
September 9, 2016
Premier at Ft. Lewis Concert Hall in Durango, CO
Tickets HERE
Rulan expresses gratitude to A Blade of Grass Fellowship for support for the community engagement of this work, including amazing video documentation team of Blackhorse Films of NM and Rava Films of NYC, and cultural field researcher Dr John Paul Rangel!
---
Marissa, Randle and all the team at the beautiful campus of the *Academy for Love of Learning where we did our cultural artist ambassador leadership training prior to tour.
Caption: A powerful week of rehearsals for Norway: Anne Pesata ,Natalie Benally, and Lupita Salazar, Residency at
Academy for the Love of Learning, Santa Fe, NM.

Our DE circle who led our 'Friend-Raiser" Frances Madeson and Randolph Duke, Solar Banner, Rain Mateevicci, Adrian Tann, Lynette Kessler, Razelle Benally and Carmen Selam, Michael Chaves, Spencer, Alicia De Silva Rencountre and Saiko!
Mini Collage of the below pls credit Astrid Schumacher for photos, at the home of Randolph Duke.
The awesome Stephen Picha at Ghost Ranch, for support of our Summer Institute, and Roxanne Swentzel and Shash Yahzi for cultural welcoming!
We also are grateful for kind and generous donations for support of our national and international touring from Lee Ann and Marshall Hunt, Michelle Raheja, Greg Zuckert, David and Paula Olson of Theaterworks, Teresa Leger De Fernandez, Irene Salas, Ellen Berkovitch, Crowheart Babette Hartman, Astrid Schumacher, Lynda Atwood, Myra Krien, Ellen Berkovitch and Conrad Skinner.
GRATITUDE

We are so grateful to our nationwide communities of supporters who enrich us with stories, food, home hosting, artistic collaborations on costume and film, donations of equipment (thanks Jo Dean for the projector!), discounts on rehearsal space (Railyard Performance Center, and Dragons Rising) individual time and energy. And we thank our visionary funders and in kind supporter institutions:
We are a Member of Intersection for the Arts, providing fiscal sponsorship, networking and consulting for artists.


www.theintersection.org
Support from Jessica & Tim Harjo
Indigenous Biocultural Exchange Fund