ANNOUNCING
OUR UPCOMING
CROWDFUNDING

CAMPAIGN!
As a company, we have been so thrilled that our greatest supporters are our global community who reciprocate energy with us through ideas, spirit, emotions, food, laughter, in kind support, and funds!
Stay tuned to our Facebook Page to learn how you can support our upcoming Indigenous Festival in the Bay Area!

DANCING EARTH
GIVES THANKS
For the past year of amazing collaborative artists and concentric circles of people, land, spirit, and movement—moving within our tenth anniversary theme of ORIGI-NATION: Roots and Seeds.

We were involved with SeaAlaska Heritage gathering, Black Mesa and Big Mountain Healing Camp, L'Echappes Belles French television profile, Hakim Bellamy interview on KNME television, Aanmitaagzi's Ice Follies, Staging Sustainability summit in Toronto, new work on Julie Brette Adams and in Ottawa Christine, Yerba Buena Gardens Native Festival, NWI Athletic Leadership Academy, Cleo Parker Robinson summer program, a solo presentation of Anne's basket weiving piece at Healing of Ancestors gathering which included Gloria Steinem and Alice Walker, Bangka Journey, The Cultural Conservancy Foodways, Rooted in Community's national summit, Roxanne Swentzel's Pueblo Food Experience, Healing with Earth and Sky, new solos commissioned by Julie Brette Adams in Santa Fe and Christine Friday in Ottawa, Grand Canyon Trust, Audiopharmacy, DJs Teao Sense and Sol Bentley and Kino Benally.

Chi-Miigwetch to SEED's amazing cast of students and community members, our beloved volunteers, staff and cultural advisors, amazing people and land of Durango, the brilliant 2014 Cultural Artist Ambassadors from many countries and First Nations and our cultural welcoming at the Poeh Cultural Center and Museum, guest teaching for PAParts, New Mexico School for the Arts, SFUAD's Art and Science and Nature class, participating with amazing colleagues in UC Riverside's Indigenous Choreographers Symposium and the ceremony to receive the donation of Dancing Earth archives, for incredible film and photo collaborations, beautiful regalia gifts from Tasheena Lynn Bedaabin, Beverly Bear King Moran, Teri Nuhn, and Anne Pesata's artist mother, for ingenuity and resourcefulness, for seed savers, organic farmers, culinary arts, herbal medicines, solar power, pollen and bees, soil, water, air and many many other wondrous experiences, with love and gratitude
DANCING EARTH welcomes in an amazing new year! We continue with our profound creative and cultural explorations of themes of seeds, roots, plants and foods, with the 2015 theme of REGENERATION! We'll explore the concept of all that is temporal that must be renewed, as being a true source of living sustainability. Our songs, dances, foods, adobe walls and hide drums, our relatives and teachers, all last only for a finite time, but are remembered and revived into life, changing with each renewal to be more relevant and alive for each generation.



Like a great sunflower, the seeds of our dance have been spread to many locations beyond our hub sites of Bay Area and Southwest.
-

We are getting ready for community workshops, creative sessions and master classes in early March, early May, and October!
An invitation to folks in the BAY AREA
MARCH 8th
Community SEEDS OF SOVEREIGNTY movement workshop, in Santa Rosa
4-7PM



MARCH 14th
Native Arts circle potluck brunch



Space is limited, for details and to RSVP for either event email
Rulan@dancingearth.org
.
-

Classes are back in session with year round training programs at our associate programs, Cuicacalli Escelua De Danza and the Dance Zone. Rehearsals underway for "CICATRICES," a new choreography about immigration by Cuicacali's Jesus "Jacoh" Cortes, set to premiere in May at Brava Theater!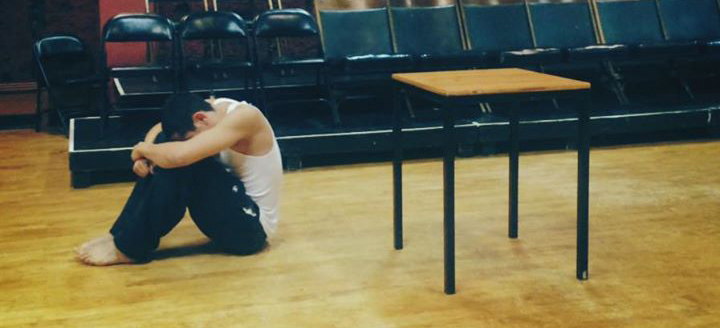 -

Bay Area Two Spirit powwow Feb 7th; Dancing Earth's Javier Stell-Fresquez and Daniel Arizmendi volunteered on the Powwow Committee, and Javier joined the circle of Aztec Dancers.
-

Director Tangen will lead lectures and master classes in March at The Cultural Conservancy, Sonoma State University, the Dance Zone, and San Francisco State University. To connect to community workshops available in Bay Area in March, May and October, please contact Rulan@dancingearth.org
-
In Redding, CA at Old
Market Hall,
t
hree of DANCING
EARTH's water
film
collaborations with Marion Wasserman, Louis Leray, and Jonathan Sims are showing as installations for Our Story: Water is Life Native Art Exhibition & Cultural Festival from January 9 - February 13, 2015. "Water is nourishment, water is healing, water is sacred... water is life." Please come and explore water and its importance through Indigenous eyes. Film screenings and interactive art activities, for more info please view.

-
Original founding company member Alejandro "Alex: Meraz, an accomplished dancer, painter, martial artist, filmmaker and actor (known for his ferocious appearance as werewolf Paul in Twilight series), launches a campaign to create his next film.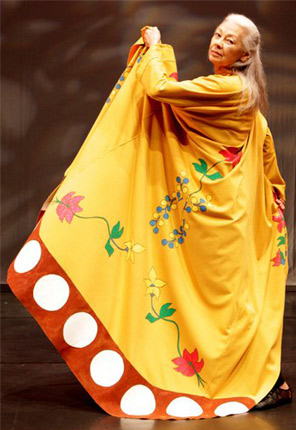 -
At UC Riverside, Daystar Rosalie Jones gave a lecture about creating Indigenou Performang Arts in Higher Education, VIEWABLE HERE and was awarded the COSTO MEDAL FOR EDUCATION, RESEARCH AND COMMUNITY SERVICE! Confratulations Daystar!
In New Zealand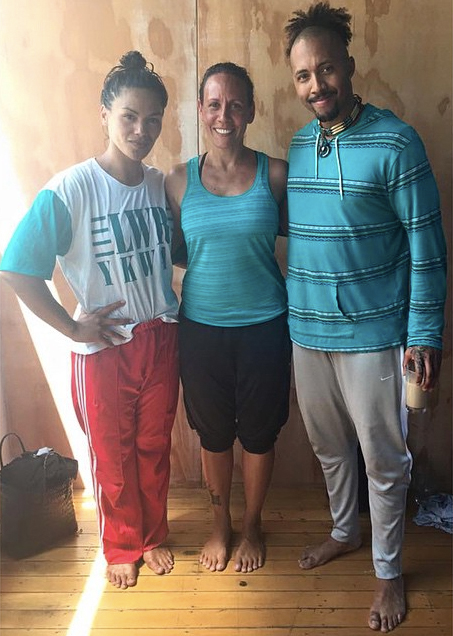 -
Our Cultural Artist Ambassadors Trey Pickett and Cathy Livermore join the Intercreate 'SCANZ 2015 International Celebration of Water and Peace, during which Dancing Earth's water themed dance films will be screened.
In SWEDEN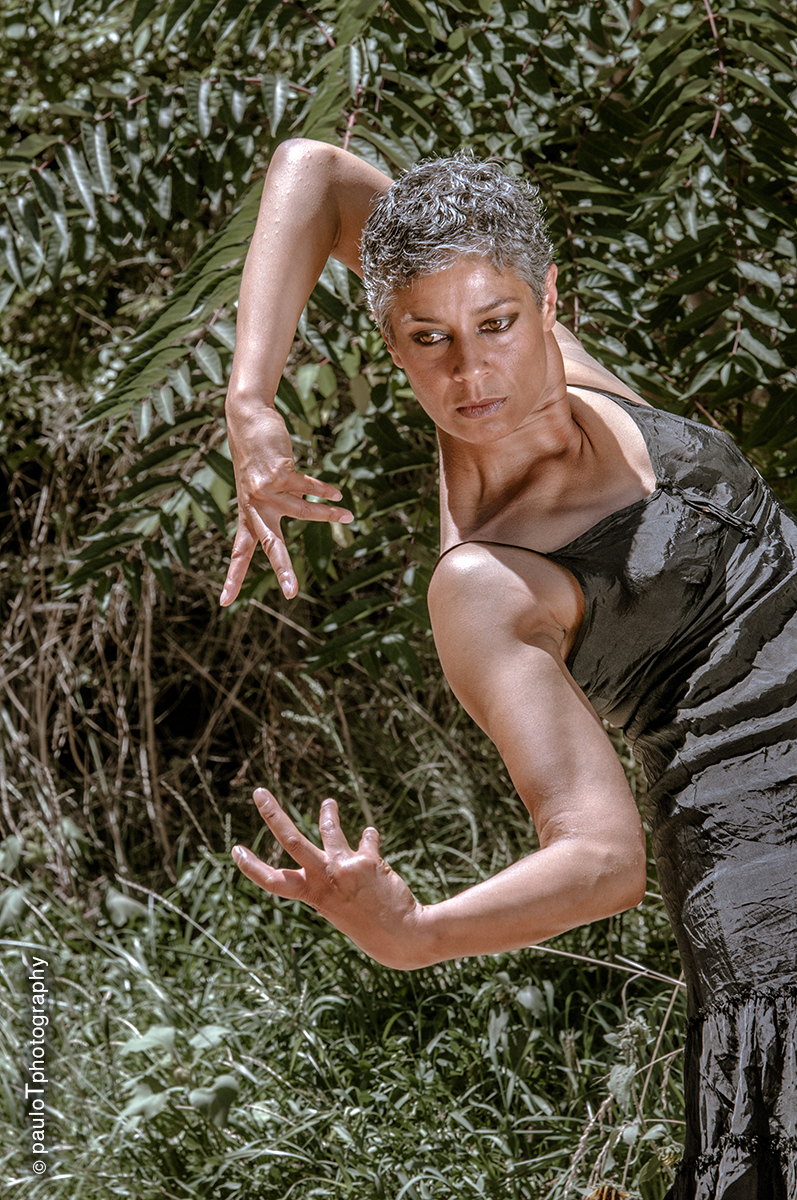 -
Our Cultural Artist Ambassador
s
M
aria
Na
idu premiered her solo, The
Life
and
Times of Ms. Karen Hend
erson which had been thematically explored during cultural research residency in India, and our
Southwest Summer Institute.
-
The Life and Times of M
s Karen Henderson
is available for
global touring! Please contact mnaidu@icloud.com for more info
.
In TORONTO
-
Cultural Artist Ambassador Norma Araiza was co-curator for Vanguardia Dance Festival "A View on Latin America" which also featured a solo by our long-time mentor Alejandro Ronceria.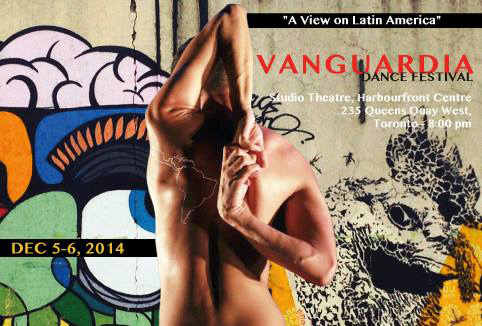 -
Dancing Earth artists have begun SEED reunion creative sessions in Durango, and local workshops and master classes on a monthly basis; the next one is Feb 28th! Denver March powwow March 20st - 22nd.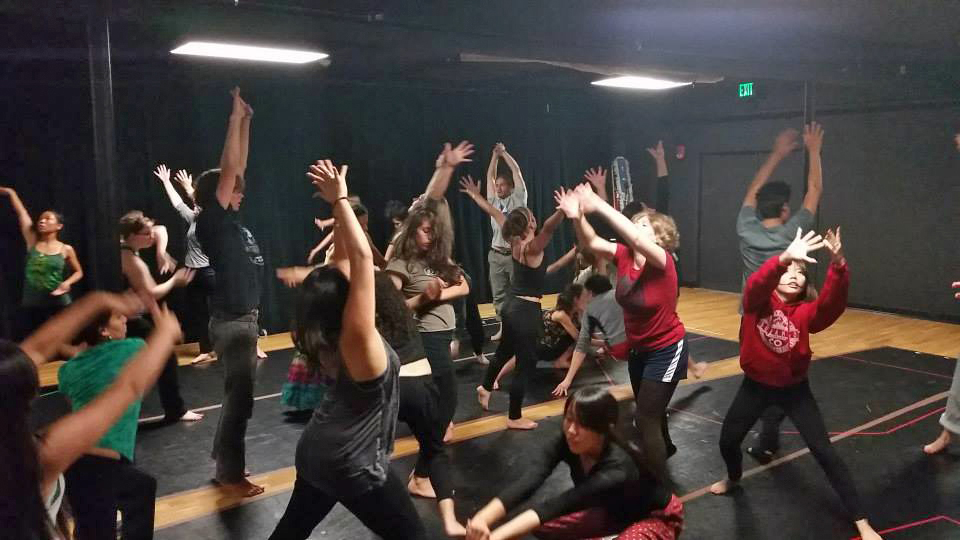 http://www.denvermarchpowwow.org; please contact Rulan@dancingearth.org for workshops, lectures or master classes in Colorado the week prior!

In NEW MEXICO
-
January 11th started the year with Repurposing, Recycling, Reusing, Renewing and Revitalizing women's swap meet of clothing, household goods, books, food and recipes at Pomegranate Dance Studio, with leftover items donated to sisters in need.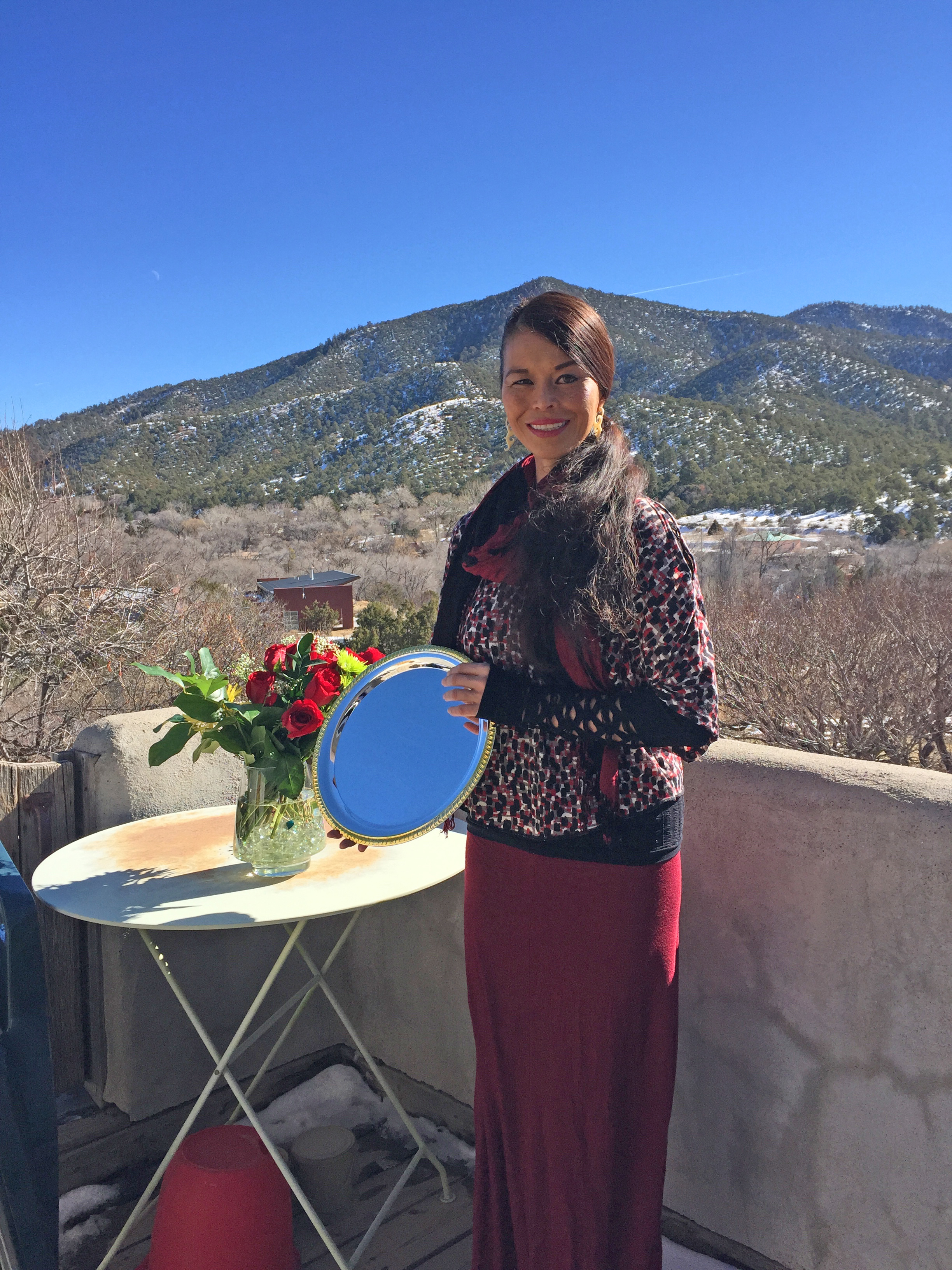 -
Jan 24th, Rulan receives a
COMMUNITY ARTS LEADERSHIP AWARD at the New Mexico School for the Arts winter dance concert. "The award honors exemplary state-wide arts leaders, who use and support dance in creating positive and lasting change in New Mexico. As Director of Dancing Earth, one of the world's foremost Indigenous contemporary dance companies, Ms. Tangen's dance cultural exchange projects bring dance to serve as functional ritual for personal, social and environmental health and harmony."
-
Jan 29 - Feb 1 Theater without Borders/ Revolutions Symposium "The Ritual of Story On Stage" hosted by Tricklock Theater in Albuquerque, with Director Rulan invited to speak at Jan 30 RoundTable. Extraordinary artists including Ukranian singer Mariana Sadowska and Israeli performance artist Gabrielle Neuhaus participated in a series of performances, workshops, and panel discussions around storytelling. Questions explored: How has the way we tell stories in theatre evolved over the last 20 years? How are we telling stories of nation, culture, and identity in today's world of post-industrial societies? What is the impact of our stories?

-
February and March guest master classes at Santa Fe University of Art and Design's class on Art, Science and Nature, and IAIA's new theater class.
-
Creative movement classes start again at Keres Montessori on Cochiti Pueblo, led by our Southwest Educational Director Deollo Johnson.
-
Jicarilla Apache powwow Feb 13th - 14th in Dulce, NM.

-
In February, students from UC Hayward will visit New Mexico and experience some cultural and creative exchange with local arts groups, please contact Rulan@dancingearth.org for invitation to any open public creative sessions and showcase on Feb 18th
.
In UTAH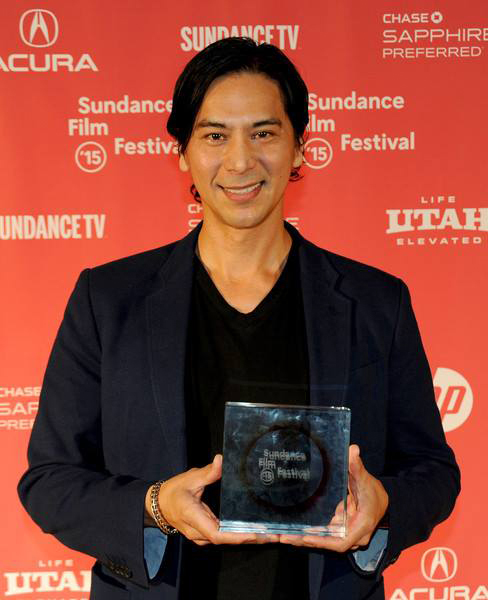 -
We congratulate collaborator Kalani Queypo, who attended the Sundance Film Festival for debut of a film in which we co-starred, with Michael Fassbender. The film was awarded the Grand Jury Prize for World Cinema, and Kalani was selected to read the Director's notes for acceptance speech!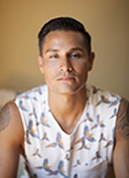 In ARIZONA
-

Founding Dancing Earth artist Anthony "Thosh" Collins debuts a new traditional fitness training program for the Native Wellness Institute, on

March 18

th! Congrats Thosh for your ongoing encouragement of healthy Native communities! CLICK HERE for more information.